#WorkYourOssoff: Thousands of Georgia Volunteers Sign On To Flip a Red District Blue
Grassroots progressives are powering Jon Ossoff's campaign in the first contested congressional race of the Trump era.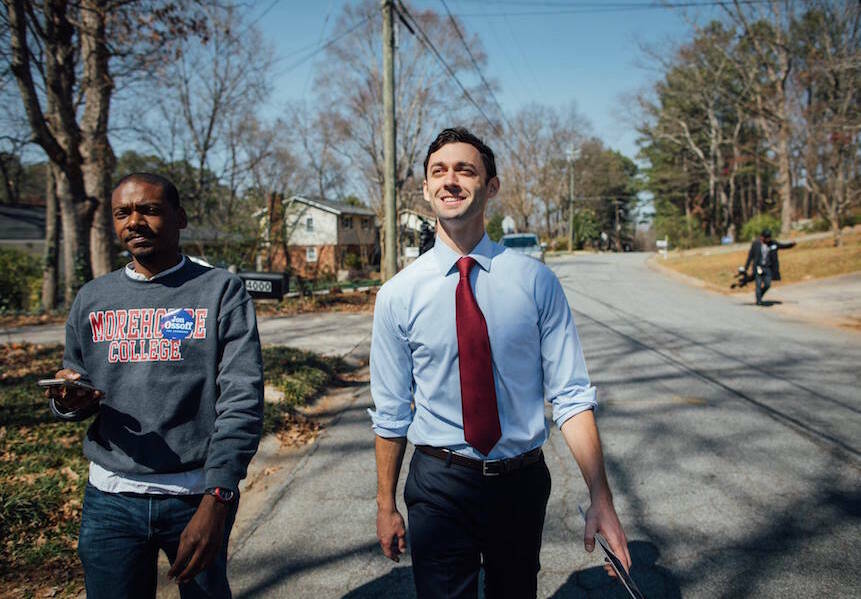 Stage One was march­es and protests. Stage Two was calls and emails to Con­gress. Now, the vol­un­teers at Demo­c­rat Jon Ossoff's head­quar­ters are deep into Stage Three — chan­nel­ing anti-Trump move­ment ener­gy into flip­ping Georgia's Sixth Con­gres­sion­al District.
One volunteer, who brought his 13-year-old son, said his Ossoff­ yard sign had encouraged some red-state neighbors to "come out of the closet" as liberals.
The dis­trict is hold­ing a spe­cial elec­tion April 18 to fill the House seat of Tom Price, recent­ly con­firmed as sec­re­tary of Health and Human Ser­vices. The out­come car­ries a lot of weight, and not only because it's among the first con­gres­sion­al races of the Trump era.
This afflu­ent dis­trict has been a sym­bol of Repub­li­can pow­er since Newt Gin­grich won in 1978. In 2016, Price took the seat by a whop­ping 23-point mar­gin, but the Repub­li­can hold may be weak­en­ing: Hillary Clin­ton lost it by just one point in November.
The 30-year-old Ossoff was a nation­al secu­ri­ty aide to Rep. Hank John­son (D‑Ga.) for five years before tak­ing the reins of a small Lon­don-based doc­u­men­tary film busi­ness that inves­ti­gates cor­rupt offi­cials and orga­nized crime.
He's joined on the bal­lot by four oth­er Democ­rats, but he's the one donors are bet­ting on. In three months, his cam­paign has net­ted more than $8 mil­lion, from near­ly 200,000 donors (many of them read­ers of the Dai­ly Kos). He has endorse­ments from John­son and civ­il rights icon Rep. John Lewis (D‑Ga.), and sup­port from a grow­ing team of vol­un­teers, some of who have tak­en up the hash­tag #WorkY­ourOssoff.
But all of this advance praise left some Geor­gia pro­gres­sives wary. Fear­ing a repeat of the pres­i­den­tial pri­ma­ry, where Democ­rats rushed to coro­nate a fron­trun­ner with­out prop­er­ly con­sid­er­ing alter­na­tives, plen­ty of skep­tics were among the more than 500 to attend a Demo­c­ra­t­ic forum March 12 to judge Ossoff for themselves.
Mary Ann Chap­man and Anne McQuade had heard the buzz about Ossoff, but as Chap­man puts it, ​"I don't like to be told what to think." On stage, she says, Ossoff comes across as intel­li­gent and pol­i­cy-ori­ent­ed. ​"He seems like the kind of per­son that, if you went to D.C. to talk to him, he'd listen."
His stands on issues don't dif­fer much from the oth­er can­di­dates, but the crowd seemed to appre­ci­ate his poise. When for­mer state sen­a­tor Ron Slotin tried to attack Osso­ff for bas­ing his com­pa­ny in Lon­don, Osso­ff drew cheers for his sim­ple response: ​"I don't think inter­na­tion­al expe­ri­ence in this day and age is disqualifying."
Ossoff­ then announced his real advan­tage: the 7,500 vol­un­teers who have signed up to knock on doors and make calls. He not­ed this ground game would be espe­cial­ly impor­tant in an o­ff-term elec­tion, when much of the elec­torate needs to be alert­ed about the race.
After the forum, Chap­man and McQuade were impressed with Osso­ff — and they weren't alone. A straw poll favored Ossoff­ with 73 per­cent sup­port; the next clos­est can­di­date had only 10 per­cent. The two women can't actu­al­ly vote in the elec­tion because they live in a neigh­bor­ing dis­trict, but McQuade has since vol­un­teered to phone bank with Ossoff­'s team.
The next week­end, hun­dreds of vol­un­teers showed up at one of Osso­ff's cam­paign offices to can­vass and phone bank. About two-thirds were women, and most said they had nev­er can­vassed before. One neo­phyte, who brought his 13-year-old son, said his Ossoff­ yard sign had encour­aged some red-state neigh­bors to ​"come out of the clos­et" as lib­er­als. ​"Two of them asked for signs them­selves, but the oth­ers didn't seem ready to go pub­lic yet."
It's clear that Ossoff­ has beat­en the oth­er Democ­rats for mon­ey and vol­un­teers. Now he needs to beat the Repub­li­cans. He's still a long shot, but the for­mat of this race — a ​"jun­gle pri­ma­ry" — could favor the par­ty with one strong can­di­date. All can­di­dates from all par­ties will be on the April 18 bal­lot at the same time. If no can­di­date breaks 50 per­cent, there will be a runo­ff between the top two on June 20.
A March poll of like­ly vot­ers shows Osso­ff has momen­tum. He leads the field with 41 per­cent (up 9 per­cent from Feb­ru­ary). The only oth­er Demo­c­rat on the poll — Slotin — has 3 percent.
Of those polled, 47 per­cent picked one of six list­ed GOP can­di­dates, who range from staunch Trump sup­port­ers to more Trump-skep­ti­cal estab­lish­ment con­ser­v­a­tives. But no indi­vid­ual Repub­li­can reached even 17 per­cent. Sev­en per­cent were unde­cid­ed or ​"vot­ing for some­one else."
The Ossoff­ cam­paign is fight­ing to take it all in the first round, before the Repub­li­cans can coa­lesce resources behind one can­di­date. It's also tra­di­tion­al­ly more dif­fi­cult to get Democ­rats out for a sec­ond round of voting.
Osso­ff's momen­tum undoubt­ed­ly has the GOP ner­vous. Ads from thee Con­gres­sion­al Lead­er­ship Fund, a Repub­li­can super PAC, are try­ing to paint the can­di­date as a wild and inex­pe­ri­enced frat boy — two ads show a col­lege-age Ossoff­ dressed as Han Solo, play­ing a drink­ing game. In one, Ossoff­ has the phrase ​"he worked for Al Jazeera" super­im­posed across his chest (his com­pa­ny has pro­duced films for Al Jazeera).
Osso­ff's sup­port­ers hope that unde­cid­eds and even some Repub­li­cans are weary of these fear tac­tics. ​"I've nev­er been involved what­ev­er in pol­i­tics," says McQuade, ​"but after 45 got elect­ed … I just can't sit by and watch every­thing that's been accom­plished — espe­cial­ly health­care — get ripped apart. I'm fac­ing med­ical bills that will only get worse, and I may lose my house — it's that bad."
Most cit­i­zens in Georgia's Sixth Dis­trict — the wealth­i­est in the state — may be insu­lat­ed from the worst­ effects of Trump's pres­i­den­cy. Many may even stand to gain. But Ossoff­ is also bank­ing on vot­ers car­ing about what he calls ​"core Amer­i­can val­ues," and many of his fol­low­ers echo that sentiment.
"I nev­er knew how much I took for grant­ed things like the checks and bal­ances of the three branch­es, a free press and being a nation of immi­grants, until it's all come under attack," Lin­da Col­lett said at the forum, draped in a fac­sim­i­le of the Amer­i­can flag. ​"I think we should all be about claim­ing these sym­bols for us, and not ced­ing them to the Republicans."
Beth Maschinot
, Ph,D., has writ­ten for nation­al non-prof­its on the effect of trau­ma on chil­dren. She is a for­mer
In These Times
staff writer and the wid­ow of James Wein­stein, found­ing edi­tor and pub­lish­er of
In These Times
. She lives in Chicago.