The Ethics of Mob Justice
A 'Boston bombing victim' Halloween costume brought out the Internet's pitchforks.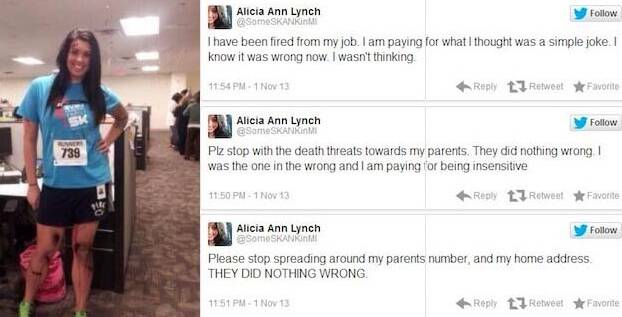 On April 15 of this year, two pres­sure cook­er bombs explod­ed at the fin­ish line of the Boston Marathon. Three peo­ple died; more than 250 were injured; some vic­tims lost their limbs. And then, sev­en months lat­er, Ali­cia Ann Lynch debuted her Hal­loween cos­tume. The pho­to of Lynch dressed as a Boston Marathon vic­tim — com­plete with T‑shirt, run­ner num­ber and fake blood run­ning down her leg — quick­ly went viral, and the Internet's well-estab­lished sham­ing wing kicked into action. It was to be expect­ed: Lynch poked at one of the sor­est spots in the Amer­i­can pub­lic con­scious­ness with what appeared to be an upraised mid­dle finger.
Internet backlash can hit the harmful and the harmless alike. White supremacists who want black families to move out of their neighborhoods now have the option to send death threats through untraceable e-mail accounts.
The means of that retal­i­a­tion, how­ev­er, were alarm­ing. Along with some hon­or­able, jus­ti­fied respons­es from sur­vivors of the bomb­ing — ​"You should be ashamed, my moth­er lost both her legs and I almost died in the marathon," reads one Tweet list­ed in a Buz­zfeed arti­cle about the response—Lynch was also the vic­tim of retal­ia­to­ry sex­u­al harass­ment. Nude pic­tures were locat­ed and cir­cu­lat­ed with the inten­tion of sham­ing her. She was fired from her job — no rea­son stat­ed, but her oppo­nents had found her employ­er's name. She says that she's received rape threats (Lynch iden­ti­fies as a rape sur­vivor) and death threats, includ­ing a promise to blow up her best friend's house. Her license infor­ma­tion was post­ed online, lend­ing those threats an alarm­ing lev­el of cred­i­bil­i­ty. And the dia­logue that was­n't com­prised of threats was, ah, not focused on pub­lic morals: ​"I would hate fuck her and then punch her in the mouth," said one com­menter on the offend­ing (and not linked here) web­site, Barstool Sports. ​"I hope she gets impreg­nat­ed by a black guy," added anoth­er. Bogjunas2 fan­cied him­self a man of the world, and a con­nois­seur: ​"she's a dumb bitch but those are some tit­ties. and all of them are kin­da dumb."
Lynch's cos­tume was wrong, and harm­ful. Regard­less of her intent, she mocked and made light of trag­ic vio­lence in a man­ner that caused pain to its vic­tims. It is entire­ly fair to express hurt or anger. But Lynch did not threat­en or attempt vio­lence, of any form, and in any way, towards those sur­vivors. That was done to her. Some peo­ple think that her actions mean we ​"don't have to feel sor­ry," and an alarm­ing num­ber of us — name­ly, the folks who sent the threats in the first place — are oper­at­ing under the assump­tion that all this com­pris­es pro­por­tion­ate response. It's entire­ly rea­son­able to say that Lynch should feel shame for her insen­si­tiv­i­ty toward trau­ma vic­tims. What's not rea­son­able is the idea that we can raise sen­si­tiv­i­ty toward the vic­tims of trau­ma and ter­ror by trau­ma­tiz­ing and ter­ror­iz­ing more peo­ple. Protest­ing a wrong-head­ed atti­tude toward bomb­ings with bomb threats is, rough­ly, like protest­ing arson by break­ing into some­one's house with a jug of gaso­line and a book of match­es. And aggres­sive, vio­lent misog­y­ny rarely tends to win over its targets.
If there's one place where the out­rage about the var­i­ous ​"dumb bitch" and ​"impreg­nat­ed by black guy" com­ments, not to men­tion the rape threats, might be expect­ed to out­weigh the out­rage over Lynch's cos­tume, the com­ment sec­tion of an often-fem­i­nist blog would be that place. And yet, here's a com­ment on Jezebel: ​"I don't con­done rape threats but I don't have to feel sor­ry for you." The com­menter, cassiebear­RAWR, for­mat­ted her lack of sym­pa­thy as a Bat­man GIF. ​"This is per­fect," anoth­er com­menter respond­ed. ​"I think I love you," added a third. The 14 oth­er com­ments on the thread are all in effu­sive agree­ment with Batman.
This isn't a prob­lem with any one per­son, or set of peo­ple, or even with Lynch's spe­cif­ic case. Thanks to the Inter­net, and its capa­bil­i­ties for rain­ing Hell down on strangers, every one of us is being forced to decide how our morals about refrain­ing from offen­sive behav­ior and caus­ing harm extend to cov­er peo­ple who are offen­sive and even harmful.
The use of intim­i­da­tion and humil­i­a­tion to enforce social norms didn't begin with the Inter­net. Cole Stryk­er has point­ed out that soci­eties have always relied on pub­lic sham­ing to enforce both laws and social con­ven­tions, from scar­let let­ters to sex offend­er reg­istries. Stryk­er argues that we didn't stop using shame-based pun­ish­ments; we sim­ply aban­doned cer­tain meth­ods because, in large cities linked togeth­er by swift, reli­able trans­porta­tion sys­tems, it was far eas­i­er to lose track of the intend­ed tar­gets. It's no use order­ing some­one to wear a dunce cap in Brook­lyn when he can just take it off and hop the next bus to Philadel­phia. But while the Inter­net didn't cre­ate weaponized shame, it did improve logis­tics: Whether you're in small-town Illi­nois or the mid­dle of Los Ange­les, the pub­lic can find and con­tact you. Add this to the Internet's econ­o­my of infor­ma­tion — which runs on quick response, mass inter­est, vis­cer­al reac­tions and frag­men­tary, some­times inac­cu­rate infor­ma­tion — and you have a breed­ing ground for exact­ly the sort of wide­spread, gut-lev­el rage that hit Lynch. The ​"glob­al vil­lage" every­one was so excit­ed about in the 1990s has, indeed, come to pass, and it's the vil­lage from The Lot­tery.
Claim­ing that I'm too enlight­ened to shame my fel­low human beings is, admit­ted­ly, beyond me; I've shamed plen­ty of folks in my time. I've con­duct­ed online protest cam­paigns and writ­ten arti­cles for the very pur­pose of sham­ing peo­ple. I could tell you I nev­er threat­ened to blow up some­body's house, but that's a very low bar. The fact is, in my heart of hearts, there are some peo­ple I would love to see clamped in the stocks and pelt­ed with garbage. And I believe that sham­ing, in and of itself, isn't an evil. It's a tool. When some­one uses a ham­mer to build hous­es, the ham­mer is a won­der­ful tool; when some­one uses a ham­mer to bash in his neigh­bor's skull, I think we ought to take that tool away from him. When we encour­age peo­ple to view homo­pho­bia as shame­ful, that's help­ful; when we encour­age peo­ple to view same-sex attrac­tion as shame­ful, inno­cent peo­ple suf­fer. I don't object to the exis­tence of shame, but to the means — dan­ger­ous, big­ot­ed, inva­sive, dis­pro­por­tion­ate, or just plain direct­ed at inno­cent peo­ple — with which it's some­times deployed. And I draw a dis­tinc­tion between encour­ag­ing healthy remorse and inspir­ing ter­ror. If we can't dis­own the human impulse that fuels Inter­net vengeance, or reverse the evo­lu­tion of tech­nol­o­gy to stop it from hap­pen­ing, we can at least argue tactics.
Just as sex offend­er reg­istries have been used to shame both rapists and gay men entrapped by police come-ons, Inter­net back­lash can hit the harm­ful and the harm­less alike. White suprema­cists who want black fam­i­lies to move out of their neigh­bor­hoods now have the option to send death threats through untrace­able e‑mail accounts. Trans­pho­bic pseu­do-fem­i­nists can uti­lize ​"doxxing" to find and post the home address­es of trans blog­gers who crit­i­cize them. The forces of dig­i­tal-vig­i­lante col­lec­tive Anony­mous can be called down to expose and tor­ment the Steubenville gang-rapists, and they have. They can also be called down to tor­ment, shame and lie about peo­ple pur­su­ing rape charges, as they did Julian Assange's accusers — promis­ing to be Assange's ​"loy­al army," they attacked web­sites and spread mis­in­for­ma­tion that the accu­sa­tions he faced ​"would nev­er amount to rape."
These extreme tac­tics can feel right­eous, like lev­el­ing the play­ing field: Peo­ple who aren't served by the jus­tice sys­tem can now ensure just deserts. Sim­i­lar­ly, oppos­ing some of this can feel deeply wrong; no right-mind­ed per­son wants to make life eas­i­er for the Steubenville rapists. It's tempt­ing to argue that extreme tac­tics like doxxing aren't a prob­lem, as long as they're used by peo­ple with good agen­das, or against peo­ple with bad ones. But then, peo­ple make the same argu­ment for assault rifles, and shoot­ing sprees keep on happening.
Sim­i­lar­ly, trust­ing the use of this destruc­tive pow­er to be gov­erned by pub­lic opin­ion is a fool's errand; if there's one thing his­to­ry con­tin­u­al­ly bears out, it's that peo­ple may be bril­liant and kind, but pub­lic opin­ion is blood­thirsty and irra­tional. In 19th-cen­tu­ry New Eng­land, tuber­cu­lo­sis was so wide­spread and peo­ple were so pan­icked by the death toll that every­one start­ed blam­ing it on vam­pires. At one point, a young girl's body was exhumed so that her broth­er could drink her heart and there­by destroy her rav­en­ous undead spir­it. Tech­nol­o­gy has advanced, but our abil­i­ty to resist fear and emo­tion­al­ly charged group­think hasn't: Just last fall, a young man by the name of Ryan Lan­za was bom­bard­ed with death threats, and had to shut down his Face­book page. He hadn't done any­thing wrong, and he said so repeat­ed­ly, but his broth­er Adam Lan­za had shot up a school build­ing, and ear­ly reports had used the wrong name. We're more capa­ble of mobi­liz­ing in groups than ever before, but those groups haven't got­ten a whole lot more thought­ful since the time we col­lec­tive­ly decid­ed to blame, muti­late and eat a dead woman in response to a com­mon lung disease.
But, again, there's no elim­i­nat­ing the exis­tence of Inter­net sham­ing, even if you want­ed to — and if you did, you'd elim­i­nate a lot of healthy dia­logue and teach­able moments right along with it. At best, pro­gres­sive peo­ple who rec­og­nize the neces­si­ty of some healthy shame can only alter the forms sham­ing takes. If we regard­ed ​"hav­ing nude pic­tures tak­en" as less shame­ful than ​"post­ing some­one's address online," for exam­ple, we could chan­nel our nat­ur­al human bloody-mind­ed­ness away from slut-sham­ing and misog­y­ny, and toward ensur­ing that peo­ple who endan­ger anoth­er human being's life out of spite are treat­ed as outcasts.
So we're left with uphold­ing struc­tur­al prin­ci­ples, and this brings me to the Internet's oth­er poi­soned gift to social jus­tice: Even as it enhances our abil­i­ty to cen­sure those who vio­late the social con­tract, it makes the indi­vid­ual mem­bers of that soci­ety more vis­i­ble, warts and all. Where the rad­i­cals of pre­vi­ous gen­er­a­tions could spout high-mind­ed rhetoric about the Com­mon Man, Wom­ankind or the Human Spir­it while inter­act­ing main­ly with the lim­it­ed cir­cle of peo­ple they found tol­er­a­ble, we con­tem­po­rary activists have to uphold our prin­ci­ples while deal­ing with the fact that actu­al com­mon men, women and human spir­its are con­tin­u­al­ly being pre­sent­ed to us in harsh­ly lit, unflat­ter­ing close-up, includ­ing peo­ple like Ali­cia Ann Lynch.
If I, as a fem­i­nist, deplore gen­dered insults and vio­lence used as a tool to sup­press women, I am there­fore eth­i­cal­ly bound to defend Ali­cia Ann Lynch against the gen­dered insults and vio­lence used to sup­press her, and I am bound not to min­i­mize or ratio­nal­ize that vio­lence, no mat­ter what I think of her actions when un-sup­pressed. I can under­stand pub­lic anger, but I have to oppose any man­i­fes­ta­tion of that anger that man­i­fests as gen­dered insults, gen­dered vio­lence, or the wish to ter­ror­ize her or inflict phys­i­cal harm. Ali­cia Ann Lynch has said, on the record, that she's ​"not a ter­ri­ble per­son." I don't know her, and I don't know what kind of per­son she is. I've only seen a pho­to of her online, like every­body else. But no mat­ter who she is, I have to oppose what's been done to her, not only because it's misog­y­nist, but also because I don't want to live in a world where a woman can be stalked, threat­ened, sex­u­al­ly harassed or dri­ven into pover­ty for wear­ing a bad out­fit. Masked, pseu­do­ny­mous vig­i­lantes enact jus­tice in com­ic books, wreak hav­oc every­where else, and no mat­ter how fit we may think we are for the task, no one should try to act like Batman.
Note: Lynch denies hav­ing writ­ten the apolo­getic Tweets pic­tured above, say­ing her account was hacked, but thanked the writer for look­ing out for her.