The Failed Prophet
As Wall Street collapses, so does Milton Friedman's legacy.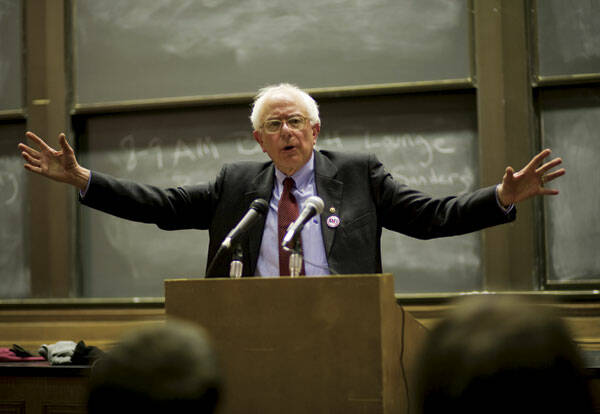 The late Mil­ton Fried­man was a provoca­tive teacher at my alma mater, the Uni­ver­si­ty of Chica­go. He got his stu­dents involved with their stud­ies. He was a gift­ed writer and com­mu­ni­ca­tor. And he received a Nobel Prize for his con­tri­bu­tions to economics.
If I went before a town hall meeting in Vermont and asked if people thought it would be a good idea to abolish Social Security, Medicare and Medicaid, people would think I was crazy.
But Fried­man was more than an aca­d­e­m­ic. He was an advo­cate for, and pop­u­lar­iz­er of, a rad­i­cal right-wing eco­nom­ic ideology.
In today's polit­i­cal and social real­i­ty, the Uni­ver­si­ty of Chicago's estab­lish­ment of a $200 mil­lion Mil­ton Fried­man Insti­tute (in the build­ing that has long housed the renowned Chica­go The­o­log­i­cal Sem­i­nary) will not be per­ceived as sim­ply a sign of appre­ci­a­tion for a promi­nent for­mer fac­ul­ty mem­ber. Instead, by found­ing such an insti­tu­tion, the uni­ver­si­ty sig­nals that it is align­ing itself with a reac­tionary polit­i­cal pro­gram sup­port­ed by the wealth­i­est, greed­i­est and most pow­er­ful peo­ple and insti­tu­tions in this coun­try. Friedman's ide­ol­o­gy caused enor­mous dam­age to the Amer­i­can mid­dle class and to work­ing fam­i­lies here and around the world. It is not an ide­ol­o­gy that a great insti­tu­tion like the Uni­ver­si­ty of Chica­go should be seek­ing to advance.
Those who defend the Mil­ton Fried­man Insti­tute will assure us that it will encour­age a free and open exchange of ideas. That may very well be true. But if the goal of the insti­tute is sim­ply to do non-ide­o­log­i­cal research, there are a lot of names that one could come up with oth­er than that of the most polem­i­cal and ide­o­log­i­cal econ­o­mist of his time.
My sus­pi­cions only deep­en when I read on the Uni­ver­si­ty of Chica­go web­site that donors who con­tribute more than $1 mil­lion to the project will have a spe­cial rela­tion­ship with the Insti­tute as mem­bers of a Mil­ton Fried­man Soci­ety and will be expect­ed to facil­i­tate the institution's ​"con­nec­tions to lead­ers in busi­ness and government."
I work in Wash­ing­ton, D.C., and I know about the pow­er that big mon­ey has over process. When the insur­ance com­pa­nies and the drug com­pa­nies and the oil com­pa­nies and the banks and the mil­i­tary-indus­tri­al com­plex make con­tri­bu­tions to polit­i­cal cam­paigns, we usu­al­ly know exact­ly what it is they want in return.
Maybe I'm being cyn­i­cal and maybe these big play­ers who are kick­ing in mil­lions for the Mil­ton Fried­man Insti­tute are mere­ly inter­est­ed in pro­mot­ing open aca­d­e­m­ic dis­cus­sion and research. Maybe that is the case.
Frankly, I doubt it.
The tim­ing of this project is a lit­tle iron­ic. Fried­man earned his bread by denounc­ing gov­ern­ment at vir­tu­al­ly every turn. He, like his acolyte, for­mer Fed­er­al Reserve Chair Alan Greenspan, believed that a large­ly unreg­u­lat­ed free mar­ket con­sti­tut­ed the most supe­ri­or form of eco­nom­ic orga­ni­za­tion imag­in­able. Well, the tune of the right-wing free mar­ke­teers has changed a bit in the last few months.
My col­leagues in the Sen­ate and I are now pick­ing up the pieces of a bank­ing sys­tem brought to the edge of col­lapse by this the­o­ry of dereg­u­la­tion and by the insa­tiable greed of a small num­ber of wealthy financiers play­ing in the mar­ket and engag­ing in incred­i­bly risky – if not ille­gal – behavior.
In the rush to bail out Wall Street, we saw Pres­i­dent Bush, Trea­sury Sec­re­tary Hen­ry Paul­son, the peo­ple in U.S. Cham­ber of Com­merce and the Busi­ness Round­table – folks who loved Friedman's ideas and who, no doubt, would be pre­pared to finan­cial­ly sup­port a Mil­ton Fried­man Insti­tute – reverse their long­stand­ing rhetor­i­cal oppo­si­tion to gov­ern­ment intervention.
Instead, they demand­ed that we come to the res­cue of the finan­cial firms that had lined up in front of Con­gress for their emer­gency wel­fare checks.
For years, all of these peo­ple, includ­ing the pres­i­dent of the Unit­ed States, have been telling us that gov­ern­ment should not be involved in ensur­ing health­care for all Amer­i­cans as a right of cit­i­zen­ship. ('What a ter­ri­ble idea!')
They have been telling us that the gov­ern­ment should not be involved in mak­ing qual­i­ty edu­ca­tion afford­able to all peo­ple, that the gov­ern­ment should not be empow­ered to ensure that we reverse green­house gas emis­sions, that gov­ern­ment should not reg­u­late pol­lu­tion that con­t­a­m­i­nates our air and water and land, and that the gov­ern­ment should not pro­vide a strong safe­ty net for our chil­dren, for our seniors or for the disabled.
Well, it turns out that when the shoe is pinch­ing their foot, they have become the strongest believ­ers in gov­ern­ment inter­ven­tion – espe­cial­ly if work­ing peo­ple and the mid­dle class are bail­ing them out.
But the issue here is not just eco­nom­ic pol­i­cy. It goes deep­er than that. It touch­es on the core of who we are as a soci­ety and as a peo­ple. Are we as human beings sup­posed to turn around and not see the suf­fer­ing that so many of our broth­ers and sis­ters are expe­ri­enc­ing? Are we con­tent to be liv­ing in a nation where, thanks in part to the Fried­man­ite ide­ol­o­gy, the rich­est 1 per­cent owns more than the bot­tom 90 per­cent and the top one-tenth per­cent owns more than the bot­tom 50 percent?
Should we ignore the real­i­ty that under Bush, more and more bil­lion­aires were cre­at­ed in a peri­od when we had, by far, the high­est rate of child­hood pover­ty in the indus­tri­al­ized world? Some 18 per­cent of our kids are liv­ing in pover­ty and we are shocked that we have more peo­ple in jail than any oth­er coun­try on earth, includ­ing Chi­na. Are we sup­posed to ignore those realities?
With all due respect to the late Mil­ton Fried­man, his eco­nom­ic pro­gram is noth­ing more than a wish list for the greed­i­est, the most monied inter­ests in our soci­ety. At the same time that this ide­ol­o­gy is sup­port­ed by the rich and pow­er­ful – except when they're lin­ing up in Wash­ing­ton for their wel­fare checks – this same ide­ol­o­gy is almost unan­i­mous­ly opposed by work­ing fam­i­lies and mid­dle-class peo­ple across this country.
If I went before the peo­ple in a town hall meet­ing in Ver­mont and asked for a show of hands of how many peo­ple thought it would be a good idea to abol­ish Social Secu­ri­ty, Medicare and Med­ic­aid, peo­ple would think I was crazy. Not one per­son in a hun­dred would sup­port that idea because it is so patent­ly absurd.
Even in the case of con­ser­v­a­tive Repub­li­cans, no GOP can­di­date would ever run on a plat­form of abol­ish­ing Social Secu­ri­ty, Medicare and Med­ic­aid. They may attempt to abol­ish these pro­grams while in office, but they will nev­er dis­cuss that agen­da on the cam­paign trail.
What would some of the items on Friedman's wish list be? First of all, the Fried­man­ites would be sup­port­ive of the con­cept of a cul­ture of greed. They want peo­ple mak­ing bil­lions of dol­lars on the cov­ers of Time and Newsweek because these peo­ple are sup­posed to be our nation­al heroes. We are not sup­posed to rec­og­nize a teacher who makes $40,000 a year open­ing up the minds of young peo­ple. We are not sup­posed to rec­og­nize a child­care work­er who makes $18,000 a year giv­ing poor chil­dren an oppor­tu­ni­ty to grow intel­lec­tu­al­ly and emo­tion­al­ly. Those jobs are not con­sid­ered impor­tant work.
But if you're a bil­lion­aire on Wall Street cre­at­ing exot­ic finan­cial instru­ments that end up being worth noth­ing, you are con­sid­ered a hero. The fact that this cul­ture of greed has per­me­at­ed our polit­i­cal cul­ture means that cor­po­rate CEOs can now earn more than 400 times what their work­ers earn with­out fear­ing a polit­i­cal backlash.
This wish list for the rich would include hav­ing the wealthy pay as lit­tle as pos­si­ble in tax­es. It would include the destruc­tion of the Amer­i­can labor move­ment, abol­ish­ing the min­i­mum wage and doing away with reg­u­la­tions that ensure work­place safe­ty and keep our food and prod­ucts safe.
Now we have a case study for what hap­pens when the ide­ol­o­gy of Mil­ton Fried­man becomes the oper­at­ing ide­ol­o­gy of the gov­ern­ment. Under Bush, the medi­an fam­i­ly income has declined by thou­sands of dol­lars. Mil­lions of Amer­i­cans have entered the ranks of the poor. Some 7 mil­lion have lost their health insur­ance. Some 3 mil­lion have lost their pen­sions. And the gap between the very rich and every­body else has grown much wider.
Right-wing econ­o­mists have argued that we can sim­ply trust wealthy peo­ple and large cor­po­ra­tions to do the right thing. Recent his­to­ry has demon­strat­ed what a sil­ly idea that is.
Our coun­try is due for a trans­for­ma­tion. We have endured years of right-wing ide­ol­o­gy and we are eager to move in a dif­fer­ent direc­tion. I believe that we will see a major reorder­ing of social and eco­nom­ic pri­or­i­ties, and that this last gen­er­al elec­tion rep­re­sent­ed a repu­di­a­tion of right-wing eco­nom­ic arguments.
We will see the day when health­care is a right of cit­i­zen­ship in the Unit­ed States.
We will see a U.S. with­draw­al from Iraq and an under­stand­ing that nev­er, ever again can we allow an admin­is­tra­tion to manip­u­late and deceive its way into a war.
Our role as pro­gres­sives is to remind our coun­try that alter­na­tives are pos­si­ble, that social demo­c­ra­t­ic move­ments in North­ern Europe and else­where have secured uni­ver­sal access to qual­i­ty health­care and have effec­tive­ly abol­ished the kinds of pover­ty and home­less­ness we see in our soci­ety. This will not hap­pen on its own: it will require pop­u­lar engage­ment and orga­ni­za­tion. But the chang­ing polit­i­cal land­scape has pro­vid­ed us with an oppor­tu­ni­ty to advance the cause of social and eco­nom­ic justice.
In the Bush era – a peri­od in which some of Friedman's great­est admir­ers man­aged the U.S. econ­o­my – the top 400 fam­i­lies in this coun­try saw their wealth increase by $670 billion.
Yet we have chil­dren in this coun­try who have no health­care, chil­dren who are under­nour­ished and chil­dren who sleep out on the streets. From an eco­nom­ic per­spec­tive, from a moral per­spec­tive and from a philo­soph­i­cal per­spec­tive, the ide­ol­o­gy of Mil­ton Fried­man is dead wrong. And the Uni­ver­si­ty of Chica­go is mak­ing a seri­ous mis­take in estab­lish­ing a new plat­form for its failed ideas.

Bernie Sanders
(I‑Vt.) was elect­ed to the U.S. Sen­ate in
2006
after serv­ing
16
years in the House of Rep­re­sen­ta­tives. He is the longest serv­ing inde­pen­dent mem­ber of Con­gress in Amer­i­can his­to­ry. Elect­ed May­or of Burling­ton, Vt., by
10
votes in
1981
, he served four terms. Before his
1990
elec­tion as Ver­mon­t's at-large mem­ber in Con­gress, Sanders lec­tured at the John F. Kennedy School of Gov­ern­ment at Har­vard and at Hamil­ton Col­lege in upstate New York. Read more at his
web­site
.