The Climate Movement Goes to War with Trump
But to save the planet, we need to remake the Democratic Party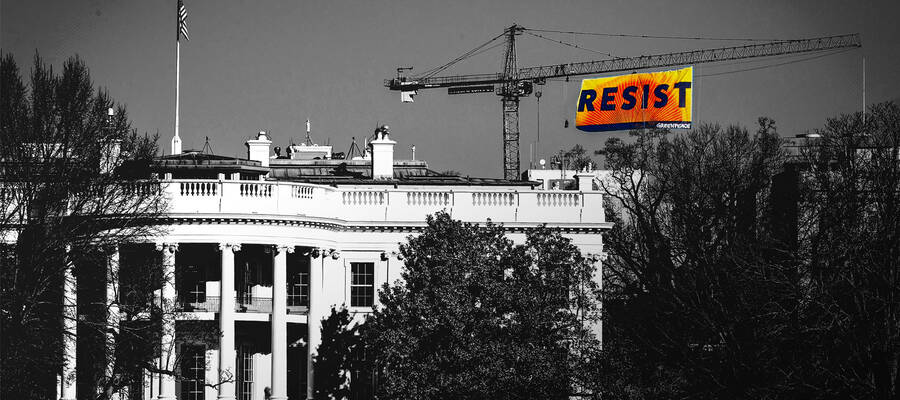 Art Tanderup's Farm has been busy place these last few years. In 2012, a rep­re­sen­ta­tive of the oil giant Trans-Cana­da showed up at his door, offer­ing a hand­some check to let the com­pa­ny build a pipeline across his land, which sits atop Nebraska's Ogal­lala Aquifer. He said no. Since then, Tanderup Farms has become a base of resis­tance to the Key­stone XL pipeline, host­ing every­thing from a music fes­ti­val (guests includ­ed Willie Nel­son and Neil Young) to sacred corn plant­i­ngs by Pon­ca elders.
We need a Democratic Party that eschews the politics of compromise and embraces a low-carbon populism that is unafraid to take on big business.
But the mood at the farm has been less than fes­tive since Novem­ber 8. ​"As soon as the elec­tion was over, we had a feel­ing," says Tanderup. ​"We didn't know how soon, but we knew [Key­stone] was prob­a­bly on Trump's agenda."
Tanderup is speak­ing with me by phone from his home in Ante­lope Coun­ty. We last talked in ear­ly 2015, dur­ing the height of the fight against the 1,179-mile pipeline exten­sion, which NASA sci­en­tist James Hansen has dubbed ​"the fuse to the biggest car­bon bomb on the planet."
Fol­low­ing years of fierce oppo­si­tion from Native tribes, cli­mate groups and landown­ers like Tanderup, the Oba­ma admin­is­tra­tion reject­ed per­mits for Key­stone in Novem­ber 2015, stop­ping the pipeline in its tracks.
Then Don­ald Trump arrived at the Oval Office. Just four days after his inau­gu­ra­tion, Key­stone was back on the table by way of exec­u­tive mem­o­ran­dum— along with the Dako­ta Access pipeline (DAPL), halt­ed by the U.S. Army Corps of Engi­neers late last year.
The first days of the Trump admin­is­tra­tion can only be described as a full frontal attack on the cli­mate. With­in an hour of Trump being sworn in, the new admin­is­tra­tion scrubbed all men­tions of cli­mate change from the White House web­site. Instead, the site is now home to ​"An Amer­i­ca First Ener­gy Plan," which promis­es to repeal Obama's Cli­mate Action Plan, ramp up oil and gas drilling on pub­lic land and revi­tal­ize the coal industry.
Then, on Feb­ru­ary 1, a career oil­man, for­mer Exxon Mobil CEO Rex Tiller­son, was con­firmed as sec­re­tary of state, effec­tive­ly putting U.S. for­eign pol­i­cy in the hands of an indus­try that threat­ens civ­i­liza­tion as we know it.
Judith LeBlanc, direc­tor of the Native Orga­niz­ers Alliance and a mem­ber of the Cad­do Nation of Okla­homa, was on the ground in Stand­ing Rock, N.D., when Trump resus­ci­tat­ed the pipelines. She has been a fre­quent vis­i­tor to the encamp­ments that water pro­tec­tors set up to block DAPL in spring 2016, and she says few there were sur­prised by the news. ​"Peo­ple here," she told me, ​"see Trump as a clear and present dan­ger to everyone."
That same night, orga­niz­ers around the coun­try staged emer­gency anti pipeline ral­lies. The two largest, in Wash­ing­ton, D.C., and New York City, drew thou­sands of pro­test­ers. LeBlanc and oth­ers are heart­ened by these rapid respons­es. But accom­pa­ny­ing protests, she argues, must be a dri­ve to trans­late grass­roots lead­er­ship into gov­ern­ing power.
WHAT THE WORLD NEEDS NOW
One thing is clear: A Trump pres­i­den­cy pre­cludes any real hope of decreas­ing U.S. car­bon emis­sions lev­els. The task at hand, sci­en­tists say, is to rapid­ly decar­bonize the econ­o­my and keep some 75 per­cent of known fos­sil fuel reserves under­ground in order to avoid a 2 degree Cel­sius glob­al tem­per­a­ture rise. Right now, the White House and GOP are mov­ing at break­neck speed in the oppo­site direc­tion. The plan­et can't wait this out for eight years: Trump must go, and soon.
So the cli­mate move­ment needs to make sure a Demo­c­rat defeats Trump in 2020. But even that won't nec­es­sar­i­ly be enough. Democ­rats, unlike their GOP coun­ter­parts, clear the low bar of acknowl­edg­ing that cli­mate change is real. But giv­en the chance, cen­trist Democ­rats tend to opt for indus­try friend­ly mea­sures like cap and trade, whose com­plex, tech­no­crat­ic frame­work leaves plen­ty of wig­gle room for pol­luters and fails to inspire pub­lic enthu­si­asm. To beat Trump — and stave off cli­mate cat­a­stro­phe — we need a Demo­c­ra­t­ic Par­ty that eschews the pol­i­tics of com­pro­mise and embraces a low-car­bon pop­ulism that is unafraid to take on big business.
How do we get the par­ty we need? We build it from the ground up. At the local lev­el, pop­ulist plat­forms ani­mat­ed by a con­cern for the cli­mate are already win­ning at the bal­lot box and chang­ing local and state poli­cies — even in the face of strong oil indus­try and Repub­li­can oppo­si­tion. This down-bal­lot insur­gency can build the momen­tum need­ed for both a fight­ing Demo­c­ra­t­ic Par­ty and real cli­mate action.
AS GOES ARVIN…
Take the small town of Arvin, Calif., where grass­roots envi­ron­men­tal­ism is already win­ning elec­tions. In Novem­ber 2016, the town elect­ed as its may­or 23-year-old Jose Gur­ro­la, who ran on a plat­form of ban­ning new frack­ing wells and reg­u­lat­ing exist­ing ones. Gur­ro­la defeat­ed two oppo­nents, both Demo­c­ra­t­ic coun­cil­men unwill­ing to take on the oil and gas industry.
Arvin is fer­tile ground for this com­bi­na­tion of pop­ulist and cli­mate-focused pol­i­tics. Nes­tled in California's Cen­tral Val­ley, the town was home to the first migrant labor­er hous­ing built as part of the New Deal, immor­tal­ized as the Weed­patch Camp in Steinbeck's The Grapes of Wrath. Today, Arvin is home to just over 20,000 peo­ple, many of them undoc­u­ment­ed farm­work­ers. Gas and oil wells dot the town. Because of Kern County's unique geog­ra­phy — sur­round­ed on three sides by moun­tains — the tox­ins spewed out by extrac­tion and agri­cul­ture remain trapped in the air above the small city.
As a result, Arvin faces a mount­ing pub­lic health cri­sis, with air qual­i­ty oscil­lat­ing between the worst and sec­ond-worst in the nation, depend­ing on the month. Frack­ing-relat­ed flares spout flames and tox­ic chem­i­cals into the air. Some res­i­dents have already been dis­placed as the result of con­t­a­m­i­nat­ed water.
In 2015, the Cen­ter on Race, Pover­ty and the Envi­ron­ment (CRPE), a Cen­tral Val­ley envi­ron­men­tal jus­tice group, tried to ban frack­ing in Arvin via a city ordi­nance. When that failed, CRPE orga­niz­er Lupe Mar­tinez and his col­leagues real­ized that the only way to stop indus­try from pulling the strings of local pol­i­tics was to elect their own advocate.
Through its elec­toral arm, the group became the force behind Gurrola's cam­paign. Using a tex­ting app bor­rowed from the Bernie Sanders cam­paign and going door to door, Gur­ro­la and CRPE staff talked to vot­ers about the air pol­lu­tion ram­pant in Arvin and the need for clean energy.
But Gur­ro­la and CRPE also under­stand that envi­ron­men­tal issues can't be addressed in isolation.
Trump's embrace of the oil and gas indus­try rep­re­sents a clear and present dan­ger to res­i­dents of Arvin, but so, too, does his dra­con­ian immi­gra­tion agen­da. Arvin is one of 12 towns in Cal­i­for­nia where few­er than half of res­i­dents are U.S. cit­i­zens, and many are already report­ing an uptick in ICE raids since Trump's inauguration.
"Our com­mu­ni­ties are so scared of what's hap­pen­ing nation­al­ly," says Mar­tinez. ​"We need to take care of the fear first." For many, he says, the stakes are sim­ple: ​"If I've got a prob­lem with my green card … I can't help you with the oth­er things you're doing on methane or on water. It can't be just one is sue that we're focused on."
So as Gur­ro­la works to ban frack­ing local­ly, he's also search­ing for ways to defend his con­stituents against depor­ta­tion. The city has begun draft­ing a res­o­lu­tion that would lim­it local police coop­er­a­tion with fed­er­al immi­gra­tion authorities.
Mean­while, CRPE is also think­ing about how local cli­mate fights can serve as a launch­pad to pro­pel grass­roots lead­ers into pro­gres­sive­ly high­er office. ​"At some point," says Mar­tinez, ​"Gur­ro­la is prob­a­bly going to get the expe­ri­ence to become a [Cal­i­for­nia] assem­bly­man. And I hope he does … I'm hop­ing that's what we've start­ed here." Mar­tinez, who worked for years with the Unit­ed Farm Work­ers, also hopes that Gur­ro­la will be the first of many green can­di­dates to run in Kern County.
It's not hard to imag­ine this brand of inde­pen­dent pol­i­tics tak­ing root in oth­er towns like Arvin. A 2014 In These Times inves­ti­ga­tion found that frack­ing wells in Cal­i­for­nia are most like­ly to be sit­u­at­ed in low-income com­mu­ni­ties. That such com­mu­ni­ties are already bear­ing the brunt of gas and oil drilling may help explain why a Novem­ber 2015 Pew poll found that 37 per­cent of Amer­i­cans mak­ing less than $50,000 annu­al­ly were con­cerned that cli­mate change would harm them per­son­al­ly, com­pared to just 21 per­cent of those mak­ing more than $50,000 a year.
WHAT'S THE MAT­TER WITH DAVOS?
At last year's UN cli­mate talks in Moroc­co, a for­mer cli­mate advis­er to the British gov­ern­ment issued a pre­scient warn­ing: ​"If [mit­i­gat­ing] cli­mate change is labeled as an elit­ist, glob­al project, which is what UKIP and [Marine] Le Pen want to do, then it's dead."
Like the cli­mate cri­sis itself, Trump­ism is a glob­al phe­nom­e­non, tied to an upris­ing against the impacts of neolib­er­al eco­nom­ic poli­cies that have con­cen­trat­ed glob­al cap­i­tal in a few hands and left whole coun­tries and com­mu­ni­ties dev­as­tat­ed. Le Pen, Trump and oth­er right-wing pop­ulists have suc­cess­ful­ly cast this as a con­flict between a lib­er­al cul­tur­al elite and a belea­guered work­ing class, obscur­ing the role of unfet­tered cap­i­tal­ism. That Davos reg­u­lars like Al Gore, Elon Musk and Leonar­do DiCaprio are some of the cli­mate movement's most rec­og­niz­able faces should be deeply trou­bling to any­one invest­ed in a liv­able future. If cli­mate change is con­sid­ered a trendy, elite cause, the plan­et is doomed.
Part of the prob­lem is that even the most pas­sion­ate of cli­mate activists would be hard-pressed to find an emo­tion­al stake in poli­cies like cap and trade, usu­al­ly nego­ti­at­ed behind closed doors to offer few, if any, ben­e­fits to ordi­nary peo­ple. Nav­i­gat­ing the path toward a low-car­bon future in the era of Trump, then, means giv­ing ordi­nary peo­ple a stake in cli­mate pol­i­cy, and mak­ing it about much more than science.
That's exact­ly what People's Action hopes to do. Root­ed in Saul Alin­sky style com­mu­ni­ty orga­niz­ing, the nation­al orga­ni­za­tion has in recent years adopt­ed cli­mate change and the envi­ron­ment as cen­tral issues, along­side local and state efforts to beat back aus­ter­i­ty. Mak­ing these two fights one and the same has led to the group's great­est suc­cess­es, says Jor­dan Este­vao, one of its senior strategists.
In late 2016, for exam­ple, People's Action helped to pass the Illi­nois Future Ener­gy Jobs Bill — which funds renew­able ener­gy, as well as job train­ing and ener­gy effi­cien­cy pro­grams tar­get­ed at low-income com­mu­ni­ties — through its two affil­i­ates in the state, Illi­nois People's Action and Fair Econ­o­my Illi­nois. Key to doing that, says Este­vao, was empha­siz­ing how much these mea­sures could bring down ener­gy bills and dri­ve local eco­nom­ic growth in areas that need­ed it most.
"Until we're affir­ma­tive­ly nam­ing how these changes are going to ben­e­fit our com­mu­ni­ties, folks are going to be dis­in­ter­est­ed, if not opposed," says Estevao.
A sim­i­lar mea­sure is now being pushed in New York state by NY Renews, a coali­tion of labor, cli­mate and racial jus­tice groups aim­ing to hold Gov. Andrew Cuo­mo to his promise to act as Trump's pro­gres­sive foil.
Cam­paigns like those in Illi­nois and New York can pres­sure Democ­rats to line up behind pro­gres­sives' plans, dri­ving a greater wedge between the par­ty and the GOP. As state-lev­el efforts mul­ti­ply, they can change the nation­al con­ver­sa­tion about what cli­mate action looks like, attract­ing a diverse group of sup­port­ers and dis­man­tling the image of envi­ron­men­tal­ism as the prove­nance of elite pol­i­cy wonks. Designed well, cli­mate leg­is­la­tion can deliv­er real jobs and sav­ings, pos­ing a tan­gi­ble alter­na­tive to Trump's fab­ri­cat­ed job claims.
In addi­tion to orga­niz­ing and pol­i­cy work, People's Action serves as a lead­er­ship pipeline. The pro­gram grooms orga­niz­ers who get involved in its cam­paigns to run for office, first at the hyper­local lev­el and then for high­er posts.
The Native Orga­niz­ers Alliance, a People's Action affil­i­ate, has a sim­i­lar phi­los­o­phy. Found­ed out of the strug­gle to extend the Afford­able Care Act to Indi­an Coun­try, it has been build­ing up a net­work of grass­roots lead­ers across Native Amer­i­can com­mu­ni­ties on a num­ber of fronts, includ­ing cli­mate. ​"There's a frac­tur­ing of the GOP and the Demo­c­ra­t­ic Par­ty," says Judith LeBlanc, who serves as the alliance's direc­tor. ​"That opens up oppor­tu­ni­ties for more inde­pen­dent pol­i­tics root­ed and based on val­ues and issues."
The kind of pol­i­tics she envi­sions is one led by grass­roots orga­niz­ers who pos­sess a deep under­stand­ing of how fed­er­al and state poli­cies impact their communities.
NEBRASKA'S PAR­TY CRASHERS
This might look some­thing like the polit­i­cal rev­o­lu­tion under­way in Nebras­ka, where pipeline fight­ers and Sanders Democ­rats have tak­en con­trol of their state Demo­c­ra­t­ic Par­ty. Thanks to Sanders' win in the state's Demo­c­ra­t­ic cau­cus in March, his sup­port­ers made up the major­i­ty of del­e­gates to the party's June con­ven­tion. These del­e­gates helped vote a slate of pro­gres­sive reform­ers into the party's top positions.
Jane Kleeb, the new chair of the Nebras­ka Demo­c­ra­t­ic Par­ty, was a Sanders sur­ro­gate dur­ing the cau­cus fight. She now serves on the board of Our Rev­o­lu­tion, the offi­cial next phase of the Sanders cam­paign, which works to elect can­di­dates in down-bal­lot races nation­wide. But long before that, she spent four years criss­cross­ing Nebras­ka as one of the most vis­i­ble faces in the state's fight against Keystone.
After found­ing the pro­gres­sive group Bold Nebras­ka in 2010, the self described ​"mom in a mini-van" (she and her hus­band, Scott, have three daugh­ters) embarked on a quest to end what she calls ​"emi­nent domain for pri­vate gain." That entailed recruit­ing ranch­ers and farm­ers like Art Tanderup, whose land the pipeline threat­ened, to join law­suits aim­ing to slow or stop the project. Some of these suits are ongo­ing, she notes, which will mean a lengthy legal process for Tran­sCana­da if it wants to con­tin­ue construction.
"We were able to cre­ate this real move­ment in Nebras­ka against Key­stone XL, not because of the sci­ence behind cli­mate change, but because of the emo­tion­al tie to the land and water," says Kleeb.
Kleeb also hopes to use her posi­tion at the helm of the state Demo­c­ra­t­ic par­ty to test out a more blue-col­lar approach to decreas­ing Nebraska's car­bon emis­sions. ​"Democ­rats should talk about why we need a hard-hat rev­o­lu­tion of clean ener­gy — not only to tack­le cli­mate change, but to bring steady, good-pay­ing jobs to our rur­al and urban com­mu­ni­ties," she says. ​"That is a com­plete­ly dif­fer­ent frame than talk­ing about elec­tric cars."
For exam­ple, she hopes to pitch green jobs to the state's vot­ers as a dri­ver of both eco­nom­ic growth and emis­sions reduc­tions, with a heavy empha­sis on the for­mer. The state party's plat­form on ener­gy oppos­es frack­ing, fos­sil fuel sub­si­dies and Key­stone while sup­port­ing renew­ables — the near-oppo­site of Trump's.
So while the pipeline's specter once again haunts the heart­land, vet­er­ans of the fight against it are on stronger foot­ing than ever.
The kind of bot­tom-up, move­ment dri­ven pol­i­tics tak­ing root on Nebras­ka ranch­es and Cal­i­for­nia oil fields is anti­thet­i­cal to the way the cur­rent Demo­c­ra­t­ic estab­lish­ment oper­ates. But if the par­ty hopes to stop its slide into obliv­ion and pose a real chal­lenge to Trump's right-wing pop­ulism, it will have to take its cues from local lead­ers who are try­ing a dif­fer­ent way of doing things. ​"This is not a mat­ter of chang­ing mes­sen­gers in an attempt to recruit peo­ple to the same old pro­grams," says Jor­dan Este­vao. Top Demo­c­ra­t­ic oper­a­tives will ​"have to learn to lis­ten to and fol­low the lead­er­ship of non-elite, diverse work­ing-class people."
Out of ​"peo­ple who under­stand the link between move­ments and pol­i­cy change," LeBlanc says, ​"I think we're going to see, across the board, more work­ing-class peo­ple, peo­ple of col­or and Indi­ans who see this as our time to turn."
Our last best shot at curb­ing cli­mate change, in oth­er words, is hand­ing over the reins of the Demo­c­ra­t­ic Par­ty to the peo­ple capa­ble of build­ing the kind of low-car­bon democ­ra­cy we need.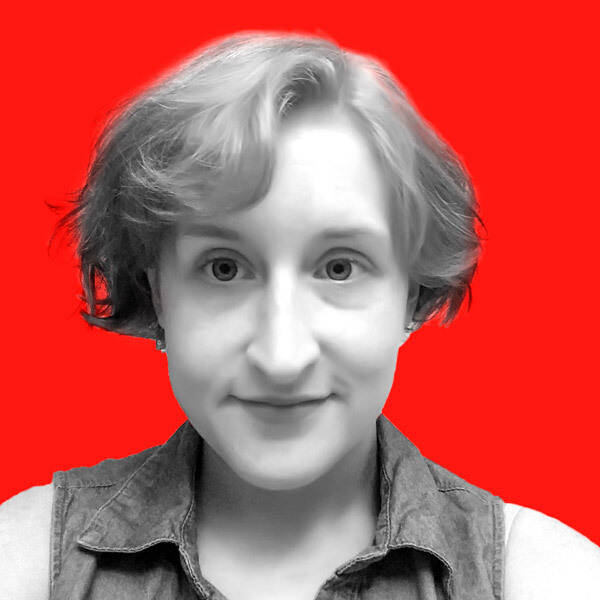 Kate Aronoff
is a Brook­lyn-based jour­nal­ist cov­er­ing cli­mate and U.S. pol­i­tics, and a con­tribut­ing writer at The Inter­cept. Fol­low her on Twit­ter @katearonoff.