The Filmmakers Behind 'Criminal Queers' Explain Why "Queer Liberation is Prison Abolition"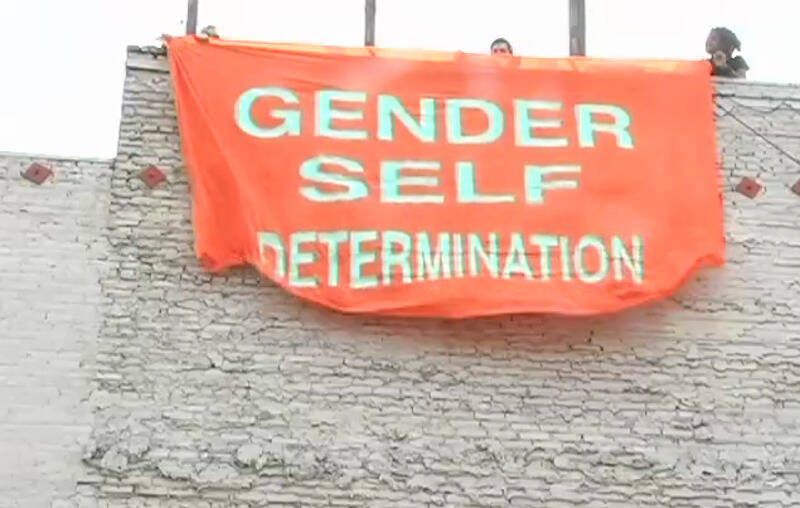 When queer and trans­gen­der peo­ple fought back against police bru­tal­i­ty dur­ing the riots at Stonewall Inn in New York City and Compton's Cafe­te­ria in San Fran­cis­co back in the 1960s, it was a time when you could go to jail for how you dressed or who you had sex with. The Supreme Court recent­ly ruled in favor of mar­riage equal­i­ty for LGBT peo­ple. But how much has actu­al­ly changed?
The LGBT progress nar­ra­tive pro­mot­ed by the main­stream media applies main­ly to the whitest and most afflu­ent among us. With the rise of mass incar­cer­a­tion, today the prob­lem of queer crim­i­nal­iza­tion is arguably worse. Queer and trans peo­ple of col­or and those from low-income back­grounds suf­fer the most — and are impris­oned in high­er num­bers than in those ear­ly days of the gay lib­er­a­tion move­ment. (Black trans women are the most tar­get­ed: one in every five black trans women has spent time behind bars.)
One cop­ing mech­a­nism for queer and trans peo­ple deal­ing with the harsh real­i­ties of crim­i­nal­iza­tion and vio­lence: ​"camp" that makes light of the sys­tem keep­ing them down.
Made over eight years for a few thou­sand dol­lars, Eric A. Stan­ley and Chris Vargas's film Crim­i­nal Queers does exact­ly that — deft­ly mock­ing the prison indus­tri­al com­plex with a fic­tion­al gang of queer con­spir­ers that includes the real Angela Davis, as well as Stonewall vet­er­an Miss Major and mil­len­ni­al abo­li­tion­ist icon CeCe McDon­ald. (The lat­ter two will soon be the sub­jects of their own bio-doc­u­men­taries cur­rent­ly in pro­duc­tion, MAJOR and Free CeCe.)
Crim­i­nal Queers is a sequel to Homo­topia, anoth­er film that cri­tiques assim­i­la­tion and gay mar­riage, pre­sent­ing an inter­ven­tion against the main­stream LGBT movement's respectabil­i­ty pol­i­tics. This time around, the cri­tique is dressed up as a prison break com­e­dy with an aes­thet­ic style that is unde­ni­ably born out of the con­tem­po­rary Bay Area queer activist art scene.
Crim­i­nal Queers pre­miered in June at Out­side the Frame: Queers for Pales­tine Film Fes­ti­val in San Fran­cis­co. Below, the film­mak­ers explain how, as a scene from the movie declares, ​"Queer Lib­er­a­tion is Prison Abolition."
Why did you decide to make a movie about prison abo­li­tion from the point of view of queer and trans people?
Eric A. Stan­ley: The vio­lent log­ics of the prison indus­tri­al com­plex (PIC) inhab­it every cor­ner of trans/​queer exis­tence, and yet we find our­selves in a his­toric moment where many LGBT peo­ple and orga­ni­za­tions repro­duce the same ​"law and order" pol­i­tics that have dev­as­tat­ed so many lives. We want­ed to recall past trans/​queer strug­gles against the PIC so that we might help col­lec­tive­ly build alter­na­tive futures that did not give epis­temic bru­tal­i­ty a rain­bow makeover and call it progress.
Chris Var­gas: Queer and trans lib­er­a­tion is born out of respons­es to the hyper-polic­ing of our bod­ies and cul­tur­al spaces. Too many peo­ple assume that when all gay peo­ple ben­e­fit from mar­riage rights then we've made it, and of course that's not true.
The most mar­gin­al­ized among us expe­ri­ence the most vio­lence at the hands of the state in the form of hyper-sur­veil­lance and incar­cer­a­tion. We thought this an impor­tant issue to address.
The movie sug­gests that it takes a move­ment, not a few indi­vid­u­als, to upend the racist, clas­sist, anti-queer and trans prison sys­tem. We see lit­er­al­ly hun­dreds of dif­fer­ent char­ac­ters all help­ing to plot the down­fall of the sys­tem in this film. Talk about a few notable ones.
EAS: I am real­ly excit­ed that we were able to include liv­ing leg­ends like Miss Major, who is a vet­er­an of the Stonewall upris­ing and exec­u­tive direc­tor of the Trans­gen­der, Gen­der Vari­ant and Inter­sex Jus­tice Project, who holds it down for for­mal­ly incar­cer­at­ed trans women of col­or. We also want­ed to keep things inter­gen­er­a­tional, because in trans and queer sub­cul­tures cross-gen­er­a­tional orga­niz­ing is fair­ly uncom­mon. Because of HIV/AIDS, and oth­er forms of struc­tured aban­don­ment, we have miss­ing gen­er­a­tions of trans/​queer bril­liance, so I think it's real­ly impor­tant that we learn with and from peo­ple of dif­fer­ent generations.
CV: It's so hard to pick a favorite. There are so many bril­liant peo­ple in the movie! Angela Davis, CeCe McDon­ald, Miss Major – just to name a few. The whole film fea­tures a ton of peo­ple — long­time friends, strangers, lovers, exes, artists, activists, schol­ars, all with their own per­for­mance style, and it's so amaz­ing they all appear togeth­er in one project.
Any oth­er queer lumi­nar­ies you wish could've made cameos?
Chris: I would have loved to fea­ture Chelsea Man­ning some­how, but Eric and I nev­er found our­selves in Fort Leav­en­worth, Kansas where she is being detained. Also, it would've been great to include a cameo of Mon­i­ca Jones, who ignit­ed a nation­al cam­paign against ​"walk­ing while trans" and the crim­i­nal­iza­tion of trans sex work­ers of color.
How does some­body make a fea­ture-length movie with a bud­get of a few thou­sand dollars?
CV: Lying, cheat­ing, and steal­ing, most­ly. But seri­ous­ly: over the years we've shown rough cuts of the movie at col­leges and uni­ver­si­ties, and been giv­en screen­ing fees for doing so. We've used those funds to pay for the rel­a­tive­ly inex­pen­sive props, cos­tumes and food for the cast and crew. We also final­ly got our first grant just recent­ly, which has helped to pay an edi­tor to do the final edit. Thank you, Trans Jus­tice Fund­ing Project! But most­ly, we thrift­ed all the cos­tumes, nev­er paid to rent a loca­tion — we either had it donat­ed or just showed up and shot guerilla-style.
EAS: The idea that a rad­i­cal project could even be fund­ed is fair­ly recent. We see Crim­i­nal Queers in the long geneal­o­gy of scam-artist that have, as Chris said, fig­ured out ways to build the kinds of worlds we want to inhab­it, and this includes our aes­thet­ic worlds. Impro­vi­sa­tion is both an ana­lyt­ic and a skill that I think is worth col­lec­tive­ly grow­ing. By this I mean that while we shouldn't fetishize the deep lack of resources trans, queer, and gen­der non­con­form­ing artists have access to, I also don't want to sup­port the myth that if a project is not finan­cial­ly backed that it can­not be fabulous.
Why did it take eight years to fin­ish this film?
EAS: There are both mate­r­i­al and the­o­ret­i­cal answers to this ques­tion. We did not approach this film project in a tra­di­tion­al way — mean­ing a tight script or sto­ry­boards or any of that. We had some ideas of where we want­ed the nar­ra­tive to go, but dur­ing film­ing some­thing unex­pect­ed might hap­pen that would recon­fig­ure the plot structure.
We have some­times talked about the process as a dura­tional per­for­mance where we can return again to the film and re-edit and re-shoot parts, so it is con­stant­ly chang­ing and in con­ver­sa­tion with our shift­ing polit­i­cal land­scape. We have been screen­ing the film in dif­fer­ent ver­sions for the past five or so years, and almost every time it's a slight­ly dif­fer­ent film.
CV: Also, I've sus­pect­ed all along that, just like one of our favorite movies of all time and a major inspi­ra­tion for the movie, Born in Flames, that it would also take us 10 years to make this. But in fact, it's only tak­en eight. It's tak­en so long because we were nev­er that con­cerned with sell­ing the movie, or sub­mit­ting it to high-pro­file, com­mer­cial­ly ori­ent­ed film fes­ti­vals. We also weren't behold­en to fun­ders so didn't have to make sure we paid out on anyone's investment.
We start­ed the project in 2007 at a moment where queer and trans anti-PIC orga­niz­ing was start­ing to gain lots of momen­tum and I think the film does a good job high­light­ing the move­ment and all the incred­i­ble ener­gy, as well as many peo­ple, asso­ci­at­ed with it.
Why did you decide to pre­mière this movie at a Pales­tine sol­i­dar­i­ty film fest orga­nized by queer activists, rather than a more main­stream film festival?
EAS: We are at this par­tic­u­lar moment where peo­ple are con­fus­ing sup­port­ing films with sup­port­ing move­ments. I think films and every kind of art are vital to the work of build­ing mass move­ments. How­ev­er, it's impor­tant to ask why a film can raise $100,000 or more through crowd­fund­ing, while at the same time rais­ing mon­ey for direct sup­port for peo­ple is almost impos­si­ble (includ­ing the peo­ple the film is about). To this end, I'm inter­est­ed in how Crim­i­nal Queers can be of ser­vice to our strug­gles and not sim­ply use them as a way to build an artis­tic brand.
This is per­haps a long way to say that we see the strug­gle for Pales­tin­ian lib­er­a­tion bound up with prison abo­li­tion and trans/​queer lib­er­a­tion strug­gles. This is par­tic­u­lar­ly clear when we under­stand the occu­pied ter­ri­to­ries to be what some have called, ref­er­enc­ing Gaza, ​"the largest open air prison in the world." This is not to say that these strug­gles are inter­change­able, as they are geopo­lit­i­cal­ly and his­tor­i­cal­ly sit­u­at­ed. How­ev­er, these con­nec­tions and the fric­tions can help us build transna­tion­al sol­i­dar­i­ties, which is per­haps empire's worst fear.
ITT: What's behind the deci­sion to make all your screen­ings free?
CV: Our ratio­nale behind mak­ing screen­ings of the film free relates to our aver­sion to crowd­fund­ing. There are bet­ter places to take mon­ey than from our own com­mu­ni­ty. I under­stand that the U.S. is ter­ri­ble when it comes to fed­er­al fund­ing for the arts, so peo­ple resort to crowd­sourc­ing to make their work. But instead of spend­ing the ener­gy ask­ing $20 from all my friends, I'd rather bark up wealth­i­er trees or do projects cheap or free. This relates to the screen­ings as well; we'd rather give back to our com­mu­ni­ties by way of a free screen­ing than make a few bucks off them. Plus, free admis­sion ensures that any­one regard­less of income can attend if they want to.
EAS: Under glob­al cap­i­tal­ism, we usu­al­ly have to choose between bad and worse options. So know­ing that there is no way out­side sys­tems of accu­mu­la­tion, we still want­ed to at least try to dis­rupt them. For us, that has meant think­ing about the pro­duc­tion and dis­tri­b­u­tion of our films as part of the polit­i­cal project. Before the total com­mod­i­fi­ca­tion of every mar­gin­al­ized iden­ti­ty by way of the niche film fes­ti­val cir­cuit, cre­at­ing alter­na­tive screen­ing venues was how we got our work shown.
Are you work­ing on any upcom­ing film or art projects?
CV: Since 2013, I've been work­ing on a project called Muse­um of Trans­gen­der Hirsto­ry & Art (MOTHA), a con­cep­tu­al muse­um project that is ded­i­cat­ed to high­light­ing the cul­tur­al work of trans artists, hirsto­ri­ans and schol­ars. The project is also ambiva­lent in regards to the process­es of grant­i­ng insti­tu­tion­al legit­i­ma­cy. MOTHA is an imag­i­nary muse­um and is for­ev­er ​"under con­struc­tion," and it occa­sion­al­ly takes the form of tem­po­rary autonomous events, includ­ing per­for­mances, exhi­bi­tions, pan­el dis­cus­sions, pub­lic pro­grams, and oth­er occa­sions. Right now I'm work­ing on a series of gallery exhi­bi­tions and an even­tu­al cat­a­log enti­tled ​"Trans Hirsto­ry in 99 Objects."
EAS: Although it is not a project I am direct­ly involved with, I'm real­ly excit­ed about is Reina Gos­sett & Sasha Wortzel's new film Hap­py Birth­day Mar­sha. It's still in pre-pro­duc­tion, but it's using hirsto­ry and nar­ra­tive cin­e­ma to think about Mar­sha P. John­son and Sylvia Rivera's lives as pre­fig­ur­ing the cur­rent tran­s/queer/­gen­der-non­con­form­ing prison abo­li­tion­ist moment we are in. These are exact­ly the kinds of films we need.
At some point, I want to work on an exper­i­men­tal doc­u­men­tary about Gay Shame, a rad­i­cal trans/​queer direct action col­lec­tive I've been orga­niz­ing with for a long time. How­ev­er, because we are still active, I don't want the project to turn Gay Shame's work into a rem­nant of time. I've been think­ing a lot about how to make the film a tool rather than a cul­tur­al arti­fact. I'm guess­ing, like Crim­i­nal Queers, it might take a decade or more, but hope­ful­ly will be worth it.
Toshio Meronek
is San Fran­cis­co-based writer who has report­ed for Al Jazeera,
The Nation
and Vice. His work also appears in
Cap­tive Gen­ders: Trans Embod­i­ment and the Prison-Indus­tri­al Com­plex
and
The Long Term: Sur­viv­ing and Resist­ing Life in Prison.
He is a for­mer edi­tor of
The Abo­li­tion­ist
, the news­pa­per of the anti-prison indus­tri­al com­plex orga­ni­za­tion Crit­i­cal Resis­tance. Fol­low him on Twit­ter at @tmeronek.