Trans Prisoners Fight Abuse
Trans prisoners and queer-rights groups protest unfair treatment behind bars.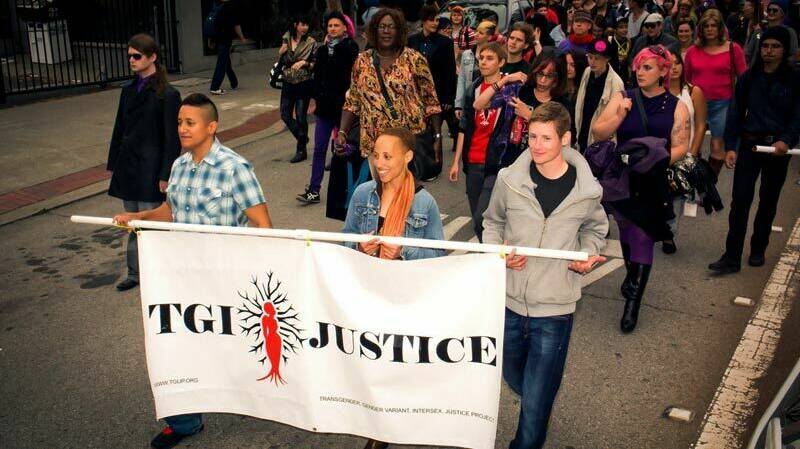 ​"Imag­ine being told, ​'You have no right to be who you are,' " says Faith Phillips, remark­ing on her first days in prison. The tran­si­tion was even hard­er for Phillips than it is for most pris­on­ers: Phillips, a trans­gen­der (trans) woman, was held in a men's prison.
While marriage and military enlistment have monopolized the mainstream gay rights agenda, a trans/queer prisoner justice movement has been quietly gaining momentum.
Accord­ing to recent stud­ies, 16 – 33 per­cent of trans peo­ple have spent time behind bars, com­pared with less than 4 per­cent of the gen­er­al U.S. pop­u­la­tion. Anoth­er sta­tis­tic pro­vides a clue as to why: 26 per­cent of trans­gen­der peo­ple report being fired because of their gen­der iden­ti­ty. Forced into the under­ground econ­o­my, some enter prison for ​"sur­vival crimes" such as sex work. Once inside, peo­ple who don't con­form to the gen­der reg­u­la­tions — both writ­ten and unwrit­ten — face a form of pun­ish­ment far harsh­er than their orig­i­nal sentences.
Grow­ing up in California's San Bernardi­no Coun­ty, Phillips was abused by her trans­pho­bic father and was one of the few peo­ple of col­or in her com­mu­ni­ty. When she land­ed in cen­tral California's Ave­nal State Prison at 21, she wit­nessed the same ill treat­ment of trans peo­ple she'd expe­ri­enced as a child. So, in March 2008, when a queer pris­on­er was threat­ened with a trans­fer to a ward where he knew he'd be unsafe, she staged a protest, refus­ing to leave the prison yard when the cor­rec­tion­al offi­cers (COs) announced that it was time.
​"Might as well take me to the hole, because I'm not mov­ing," she remem­bers telling the COs. ​"Then the whole queer com­mu­ni­ty said, ​'We're going to the hole, too.' " Night fell. The tem­per­a­ture dropped. Pris­on­ers who were inside man­aged to push blan­kets out to the pro­tes­tors under­neath a door­way. Even­tu­al­ly, the trans­fer of the at-risk pris­on­er was cancelled.
Phillips and her fel­low prison-yard occu­piers also came up with a list of demands that includ­ed HIV and sex edu­ca­tion, the return of appro­pri­ate­ly gen­dered clothes that had been tak­en from them, an end to harass­ment by staff, and a les­bian, gay, bisex­u­al, trans, queer and inter­sex sup­port group. The prison's war­den agreed to their demands (apart from the cloth­ing) after a sym­pa­thet­ic cap­tain pled their case.
In ret­ri­bu­tion for her activism, Phillips says, she was put through a series of prison trans­fers, drugged and sent to soli­tary con­fine­ment. She claims prison admin­is­tra­tors threat­ened, ​"If you ever think about doing this again, we'll bury you." But Phillips soon became an infor­ma­tion col­lec­tor for the San Fran­cis­co-based Trans­gen­der, Gen­der Vari­ant, Inter­sex Jus­tice Project (TGI­JP), one of a hand­ful of trans pris­on­er sup­port orga­ni­za­tions that doc­u­ments abus­es inside prisons.
While mar­riage and mil­i­tary enlist­ment have monop­o­lized the main­stream gay rights agen­da, a trans/​queer pris­on­er jus­tice move­ment has been qui­et­ly gain­ing momen­tum. But the movement's cri­tique of the prison sys­tem often brings it into con­flict with LGBT rights groups that advo­cate for hate-crime leg­is­la­tion or oth­er strate­gies that rely on police to secure jus­tice for queer peo­ple. Cur­rent­ly, only 12 states include gen­der iden­ti­ty or expres­sion in their hate crime laws. When New York State was con­sid­er­ing leg­is­la­tion that would have extend­ed hate crimes statutes to trans­gen­der peo­ple, groups rep­re­sent­ing queer peo­ple of col­or, such as the Audre Lorde Project, opposed the bill on the grounds that it gave ​"a deeply flawed, trans­pho­bic, and racist crim­i­nal legal sys­tem" the dis­cre­tion to impose longer sentences."
Wes­ley Ware, direc­tor of the New Orleans-based project Break­OUT!, which orga­nizes queer youth around prison issues, says that his group is focused on chang­ing the con­ver­sa­tion from hate-crime leg­is­la­tion to how ​"the police are ter­ror­iz­ing black trans­gen­der women on the street, every sin­gle day." This July, Break­OUT! helped to secure a land­mark legal decree from the Depart­ment of Jus­tice man­dat­ing trans-sen­si­tive prac­tices at the noto­ri­ous­ly dis­crim­i­na­to­ry New Orleans Police Depart­ment. If a fed­er­al judge approves the decree, the NOPD could not legal­ly stop peo­ple based on sex­u­al ori­en­ta­tion or gen­der, would have to con­duct same-gen­der search­es accord­ing to the subject's gen­der iden­ti­ty and would have to refer to trans peo­ple by their pre­ferred names and gen­der pronouns.
Queer-rights groups also suc­cess­ful­ly lob­bied for California's Gen­der Non-Dis­crim­i­na­tion Act (AB 887), which went into effect in Jan­u­ary and includes pro­vi­sions that may trans­late into more liv­able con­di­tions for trans pris­on­ers. Among oth­er things, the act's clause regard­ing ​"pub­lic accom­mo­da­tions" has meant that more trans peo­ple are now held at more trans­friend­ly pris­ons. But prob­lems remain. Two trans women went on a hunger strike in Sep­tem­ber to protest their unfair treat­ment in a San Diego prison.
Though leg­isla­tive reforms like AB 887 may bring mate­r­i­al improve­ments, TGI­JP remains focused on unit­ing queer pris­on­ers and allies to sup­port each oth­er and chal­lenge the pris­onin­dus­tri­al com­plex as a whole. Now out of prison, Phillips is pur­su­ing a law degree and con­tin­ues to orga­nize with TGI­JP in Los Ange­les. She and oth­er authors have put out the guide­book Sur­viv­ing Prison in Cal­i­for­nia: Advice by and for Trans­gen­der Women. Along with point­ers on how to get HIV treat­ment, the authors stress that com­mu­ni­ty pow­er is one of the best ways to stay safe. ​"If [the police] can divide us into dif­fer­ent groups … then we are unable, as a unit­ed com­mu­ni­ty, to fight the real ene­my… the cor­rupt sys­tem that defiles and oppress­es us as human beings."
Toshio Meronek
is San Fran­cis­co-based writer who has report­ed for Al Jazeera,
The Nation
and Vice. His work also appears in
Cap­tive Gen­ders: Trans Embod­i­ment and the Prison-Indus­tri­al Com­plex
and
The Long Term: Sur­viv­ing and Resist­ing Life in Prison.
He is a for­mer edi­tor of
The Abo­li­tion­ist
, the news­pa­per of the anti-prison indus­tri­al com­plex orga­ni­za­tion Crit­i­cal Resis­tance. Fol­low him on Twit­ter at @tmeronek.