YIMBYs Exposed: The Techies Hawking Free Market "Solutions" to the Housing Crisis
Anti-displacement activists hate them. Tech firms and big developers love them—and shower them with cash.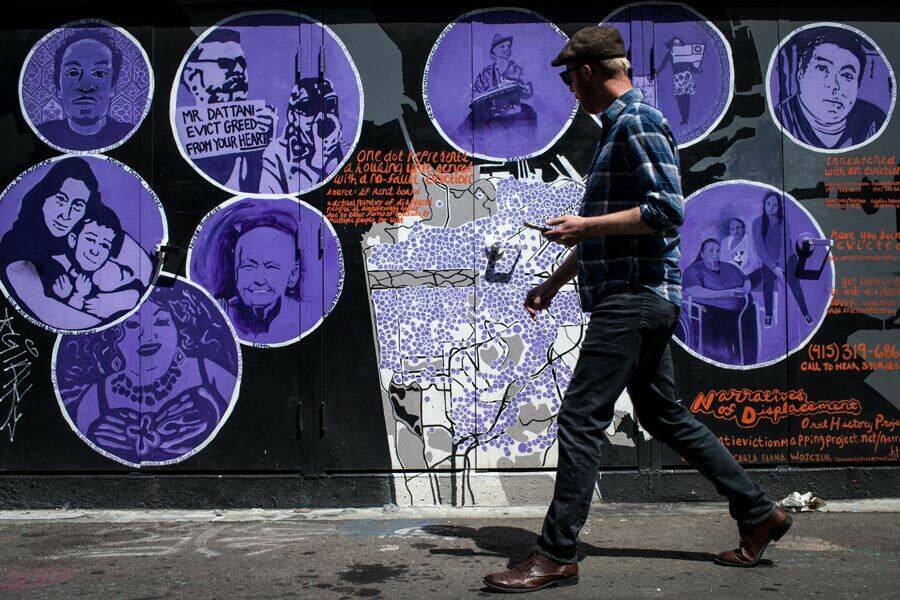 SAN FRAN­CIS­CO — Ten­sions over the hous­ing afford­abil­i­ty cri­sis were on full dis­play at an April 3 ral­ly against a Cal­i­for­nia hous­ing devel­op­ment bill, SB 827. Low-income hous­ing activists, large­ly seniors and peo­ple of col­or, crowd­ed the steps of San Francisco's City Hall to protest a mea­sure they believed would dis­place their communities.
The YIMBYs find themselves at odds with social justice-oriented anti-displacement activists. YIMBYs tend to paint such activists as mistakenly allied with NIMBYs.
When a white counter-pro­test­er, Son­ja Trauss, wad­ed into the crowd for a pho­to op next to their signs, she got into a phys­i­cal alter­ca­tion and was removed by a sher­iff ​'s deputy. Trauss says she was shoved.
The 36-year-old has gained nation­al acclaim as the founder of the YIM­BY move­ment, as in ​"Yes, In My Back­yard." YIM­BYs are self-described ​"grass­roots, pro-hous­ing" agi­ta­tors who have become a major pres­ence in high-cost, rapid­ly gen­tri­fy­ing mar­kets like San Fran­cis­co, Los Ange­les, New York City and Seat­tle. Their strat­e­gy is ground­ed in the freemar­ket log­ic of sup­ply and demand: Build more hous­ing and hous­ing costs will go down.
YIM­BYs pose them­selves as the anti­dote to the prob­lem of not-in-my-back­yard-ism. In San Fran­cis­co, that NIM­BY stereo­type has a basis in real­i­ty: ​"Con­cerned" neigh­bor­hood groups have, time and again, blocked new hous­ing for rea­sons that range from aes­thet­ic dis­taste to pearl-clutch­ing about crime rates.
But as Trauss and her fel­low YIM­BYs chant­ed ​"Read the bill!" on the steps of City Hall, NIM­BYs weren't the tar­get. Hous­ing activists of col­or were. Charles Dupigny, the Black co-direc­tor of the group Afford­able Divis (short for Divisadero, a major thor­ough­fare), shout­ed over the YIM­BY noise: ​"I say to these indi­vid­u­als: Start doing some research, look into who actu­al­ly gets those homes, look at … who's behind the bills."
The San Fran­cis­co Exam­in­er report­ed that a 77-year-old woman with the Chi­na­town Com­mu­ni­ty Ten­ants Asso­ci­a­tion ​"was so dis­turbed by the YIM­BY shout­ing that she lat­er faint­ed and was fer­ried by ambu­lance" to the hos­pi­tal. ​"I think the YIM­BY have no heart," Asso­ci­a­tion Pres­i­dent Wing Hoo Leung told the newspaper.
Ral­ly speak­er Shan­ti Singh, a mem­ber of the local chap­ter of the Demo­c­ra­t­ic Social­ists of Amer­i­ca (DSA), tweet­ed after­ward, ​"What I saw today hap­pen to Black, Lat­inx and Asian activists from work­ing-class SF com­mu­ni­ties when they tried to speak about their strug­gle … was absolute­ly infu­ri­at­ing and pathet­ic. Shout­ed over by white peo­ple. Is there a more per­fect encap­su­la­tion of our urban history?"
Though only about three years old, the YIM­BY move­ment Trauss helped cre­ate has become one of the loud­est voic­es in Bay Area and Los Ange­les hous­ing. YIM­BYs reg­u­lar­ly show up at city plan­ning meet­ings, issue influ­en­tial vot­ing guides, sue local gov­ern­ments to over­turn hous­ing restric­tions and have draft­ed con­tro­ver­sial Cal­i­for­nia hous­ing bills, such as 827. The Cal­i­for­nia play­book is being dupli­cat­ed else­where; the site YIMBY.wiki lists more than 100 YIM­BYi­den­ti­fied groups in cities around the world, from YIM­BY Upp­sala in Swe­den, to Bet­ter Boul­der in Col­orado, to Walk­a­ble Prince­ton in New Jersey.
YIM­BY­ism has caught fire, in part, because of the need for hous­ing solu­tions. Accord­ing to the lat­est annu­al report of the Har­vard Joint Cen­ter for Hous­ing Stud­ies, one-third of peo­ple in the Unit­ed States spend more than 30 per­cent of their income on rent or mort­gages. In Los Ange­les and New York City, that pro­por­tion ris­es to more than 44 per­cent of res­i­dents. In the YIM­BY strong­hold of San Fran­cis­co, it's 38 percent.
YIM­BYs seem to offer a straight­for­ward pre­scrip­tion that doesn't upend the free mar­ket, and nation­al media out­lets love it. In 2017, Politi­co named Trauss one of the ​"Politi­co 50" — peo­ple whose ideas are ​"blow­ing up Amer­i­can pol­i­tics." The Atlantic laud­ed the ​"pro­gres­sivist" movement's ​"coop­er­a­tive" approach to work­ing with devel­op­ers. New York Times tech­nol­o­gy cor­re­spon­dent Conor Dougher­ty described the July 2017 YIM­BY con­fer­ence, a 200-per­son gath­er­ing in Oak­land, Calif., as ​"like Wood­stock, but for hous­ing activists."
But Trauss and the YIM­BYs are a deeply polar­iz­ing force in the Bay. Ren­dered invis­i­ble by this YIM­BY-NIM­BY divide are the estab­lished hous­ing advo­ca­cy groups that have been fight­ing the dis­place­ment of work­ing-class com­mu­ni­ties of col­or for decades, like the anti-827 crowd at the April 3 ral­ly. The Los Ange­les chap­ter of DSA even coined the term PHIM­BY — Pub­lic Hous­ing In My Back­yard — to rep­re­sent this side­lined per­spec­tive. In San Fran­cis­co, these hous­ing advo­cates are wary of the YIM­BYs' free-mar­ket bent, par­tic­u­lar­ly when the move­ment is made up of so many young, white tech workers.
Maria Zamu­dio is an orga­niz­er with the Plaza 16 Coali­tion, an anti-gen­tri­fi­ca­tion group based in San Francisco's Mis­sion Dis­trict. When she first saw the term YIM­BY in 2016, she was inter­est­ed — although sus­pi­cious of the homoge­nous white­ness of the group. She thought the ​"pos­i­tive, solu­tionori­ent­ed" build-more-hous­ing cam­paign helped demys­ti­fy com­pli­cat­ed issues like land use and zoning.
But she was even­tu­al­ly soured by Trauss' racial­ly charged com­ments. Trauss has pub­licly com­pared Lat­inx anti-gen­tri­fi­ca­tion activists to anti-immi­grant Trump sup­port­ers, and tweet­ed that ​"gen­tri­fi­ca­tion is an unmit­i­gat­ed pos­i­tive phe­nom­e­non for Black home­own­ers. Full stop." She lat­er delet­ed the tweet.
Zamu­dio now sees the YIM­BY ethos as an over­sim­pli­fi­ca­tion that doesn't take into account the racist his­to­ry of devel­op­ment: ​"They're like, ​'Just build hous­ing, you stu­pid brown peo­ple! I moved here last week, and I need a place to live!' " Zamu­dio has come to believe the YIM­BY move­ment ​"is about devel­op­ers and spec­u­la­tors who are start­ing to get a bad rap and need to rebrand themselves."
In order to sort through the wild­ly diver­gent por­traits of the YIM­BYs, In These Times looked at the ide­ol­o­gy, lob­by­ing efforts and fund­ing of Bay Area YIM­BY groups. Are YIM­BYs the mis­un­der­stood allies of anti-dis­place­ment activists? Or are they sim­ply car­ry­ing water for devel­op­ers who want to build hous­ing for the wealthy at the expense of any­one else?
The oft-told YIM­BY ori­gin sto­ry goes like this: Trauss, a math teacher who lived in the gen­tri­fy­ing neigh­bor­hood of West Oak­land, was frus­trat­ed by her high rent. She believed that San Francisco's fail­ure to pro­vide hous­ing for tech work­ers was hav­ing a spillover effect. In 2014, she began cross­ing the Bay to tes­ti­fy at plan­ning meet­ings and recruit­ed oth­ers to speak in favor of 300 new units in San Francisco's Potrero Hill neighborhood.
Trauss' ear­ly mes­sag­ing sound­ed like hard­line free-mar­ket cap­i­tal­ism: Dereg­u­late and build. ​"I don't want sub­si­dized, super­vised afford­able hous­ing," Trauss wrote in 2015 for the Lib­er­tar­i­an Par­ty of San Fran­cis­co. ​"I want to con­sume hous­ing the way I con­sume all oth­er products."
The mes­sage res­onat­ed with the tech indus­try, which helped launch Trauss' one-woman cru­sade into a move­ment. In 2015, she received a per­son­al gift of $10,000 from Yelp CEO Jere­my Stop­pel­man, who told the San Fran­cis­co Busi­ness Times it was ​"ridicu­lous to blame com­pa­nies — tech or non-tech — for rapid­ly adding jobs" and praised Trauss as rep­re­sent­ing ​"a mas­sive seg­ment of the pop­u­la­tion that's been large­ly ignored in the dis­cus­sion on Bay Area hous­ing — renters.
Trauss used the dona­tion to, among oth­er things, start the real-estate news and opin­ion web­site SFY​im​by​.com, and to pay her rent. Stop­pel­man went on to donate at least $100,000 to the first YIM­BY group Trauss found­ed, the SF Bay Area Renters' Fed­er­a­tion, or SFBARF.
There are now more than two dozen YIM­BY-affil­i­at­ed groups in the Bay Area, by YIMBY.wiki's count. In These Times inves­ti­gat­ed the fil­ings of three that are reg­is­tered as PACs, which must dis­close their donors by law: Yes in My Back­yard, Afford­able Hous­ing for Teach­ers and Work­ing Fam­i­lies, and the SFBARF PAC. Togeth­er, they have raised $377,000 since 2015, most­ly in dona­tions of $100 or $500.
Forty-three per­cent of that mon­ey came from employ­ees of tech firms. The next-largest pro­por­tion, 10 per­cent, came from real estate employ­ees. Archi­tects, real estate attor­neys and oth­er PACs and YIM­BY groups also showed up fre­quent­ly in the donor rolls.
The tech mon­ey came from the mid­dle or upper ech­e­lons of Sil­i­con Val­ley. Donors includ­ed top exec­u­tives at Cis­co Sys­tems, Palan­tir Tech­nolo­gies, tech incu­ba­tor Y Com­bi­na­tor and cloud com­mu­ni­ca­tions firm Twilio, as well as soft­ware engi­neers at com­pa­nies like Google and Facebook.
In sum­mer 2017, tech exec­u­tives, includ­ing Microsoft's Nat Fried­man, gave half a mil­lion dol­lars to form the statewide lob­by­ing group Cal­i­for­nia YIM­BY. By Decem­ber, Cal­i­for­nia YIM­BY had raised near­ly $1 mil­lion with Friedman's help, accord­ing to the New York Times.
Asked about the tech industry's dona­tions, Trauss says that big employ­ers like Google have ​"a work­force hous­ing issue." On this, she says, ​"work­ers and their employ­ers are on the same page."
Tech has also been a hotbed of YIM­BY recruit­ment. Palo Alto­based engi­neer Max Kapczyn­s­ki, 25, who moved to Sil­i­con Val­ley in 2015 to work for Ver­i­ly (for­mer­ly Google Life Sci­ences), esti­mates he now spends 8 to 10 hours a week pro­mot­ing the YIM­BY mes­sage. Though his efforts are large­ly online, he notes that his sta­ble, well-pay­ing job affords him time for advo­ca­cy: ​"I have the lux­u­ry of being able to leave at 5 or 6 and sit at a city coun­cil meet­ing for hours … before I make a pub­lic comment."
Cal­i­for­nia YIM­BY co-founder Bri­an Han­lon (a for­mer grant writer for the U.S. For­est Ser­vice) explained to real estate blog The Real Deal why he thinks techies are drawn to YIM­BY­ism: ​"I think tech peo­ple are used to solv­ing to [sic] hard prob­lems. They're used to think­ing in terms of scale."
Even for those out­side of tech, it's easy to see the appeal of the stat­ed goal of YIM­BY­ism — bring down the cost of hous­ing through increased den­si­ty. Where the YIM­BY ethos con­flicts with many hous­ing experts' opin­ions is the belief that more hous­ing alone will bring down prices.
Mar­ket-rate hous­ing often ​"actu­al­ly cre­ates its own demand," writes Rice Uni­ver­si­ty urban plan­ning pro­fes­sor Bill Ful­ton, in the July 2015 issue of the jour­nal Cal­i­for­nia Plan­ning & Devel­op­ment Report. In already expen­sive cities such as Lon­don, New York and San­ta Bar­bara, Calif., Ful­ton writes, the wealthy ​"dri­ve up home prices by pay­ing pre­mi­um prices, often for hous­es they don't actu­al­ly occu­py very often."
In a Decem­ber 2015 study of nine Bay Area coun­ties, the Uni­ver­si­ty of Cal­i­for­nia, Berkeley's Urban Dis­place­ment Project found ​"no clear rela­tion­ship or cor­re­la­tion between build­ing new hous­ing and keep­ing hous­ing afford­able in a par­tic­u­lar neigh­bor­hood." The study not­ed oth­er research show­ing that mar­ket-rate hous­ing may alle­vi­ate a hous­ing short­age over a region, but can exac­er­bate dis­place­ment with­in a giv­en neigh­bor­hood. The researchers esti­mat­ed it would take 50 years for mar­ket-rate devel­op­ment in Cal­i­for­nia to make addi­tion­al hous­ing avail­able to peo­ple who earn less than 50 per­cent of the medi­an income.
The Berke­ley study's rec­om­men­da­tions includ­ed expe­dit­ing the build­ing of low-cost hous­ing, cou­pled with mea­sures like ten­ants' rights pro­tec­tions and rent sta­bi­liza­tion. Sim­i­lar­ly, anti-dis­place­ment activists tend to push decom­mod­i­fy­ing approach­es such as rent con­trol, high­er tax­es on invest­ment prop­er­ties and increas­ing pub­lic hous­ing stock.
City plan­ning depart­ments favor more mar­ket-based solu­tions. The lat­est buzz­word is ​"inclu­sion­ary zon­ing," in which new mar­ket-rate hous­ing can be built only if some per­cent­age is affordable.
The stan­dard def­i­n­i­tion of ​"afford­able" is hous­ing that does not cost more than 30 per­cent of one's income. San Fran­cis­co then uses the area medi­an income (AMI), cur­rent­ly $82,900 for a sin­gle per­son or $118,400 for a fam­i­ly of four, to cal­cu­late afford­abil­i­ty. Depend­ing on the project, ​"afford­able" rentals can range any­where from hous­ing geared to ​"very low-income" peo­ple mak­ing up to 55 per­cent of the AMI to ​"mod­er­ate income" peo­ple mak­ing 110 per­cent of the AMI.
San Fran­cis­co cur­rent­ly requires 18 per­cent of units to be afford­able (down from 25 per­cent). Often, devel­op­ers ful­fill the require­ment by promis­ing to build a sep­a­rate afford­able hous­ing project lat­er, some­where else. The effect is that very lit­tle afford­able hous­ing gets built. As this issue went to press, San Francisco's offi­cial hous­ing web­site, where peo­ple can enter a lot­tery for afford­able rentals, list­ed no avail­able units.
As the YIM­BY move­ment has grown, there has been ​"a pret­ty strong shift toward inclu­sion­ary hous­ing," says Steven Buss, head of Mis­sion YIM­BY. ​"A lot of peo­ple with­in YIM­BY … know the mar­ket could not pos­si­bly serve every­one." Mis­sion YIM­BY, he says, ​"only shows up for afford­able hous­ing projects. … Mar­ket-rate devel­op­ers [in the Mis­sion] don't need our help."
When asked about her pre­vi­ous dis­dain for ​"sub­si­dized, super­vised afford­able hous­ing," Trauss insists her views have nev­er changed. She says the empha­sis was on super­vised: ​"The way non­prof­it afford­able hous­ing is man­aged can be super dis­re­spect­ful to the residents."
Trauss says she sup­ports pub­licly sub­si­dized hous­ing and rent con­trol for big devel­op­ers. One YIM­BY group, East Bay for Every­one, even wrote a let­ter of sup­port for over­turn­ing California's statewide restric­tions on rent con­trol, though it sug­gest­ed a ​"rolling phase-in period."
But the heart of the YIM­BY move­ment remains prode­vel­op­ment: YIM­BYs advo­cate afford­able hous­ing only if it doesn't con­flict with the goal of more hous­ing. Believ­ing it would damp­en devel­op­ment, YIM­BYs were the loud­est voice against Prop C, a June 2016 San Fran­cis­co bal­lot ini­tia­tive that raised the afford­abil­i­ty require­ment for new build­ing projects from 12 per­cent to 25 per­cent. Trauss and her younger broth­er, Milo, spoke against the mea­sure. (The younger Trauss serves as the YIM­BY Party's pol­i­cy direc­tor while work­ing as a con­sul­tant for GCA Strate­gies, the self­styled ​"top pub­lic affairs firm" for ​"mobi­liz­ing com­mu­ni­ty sup­port for real estate proposals.")
In Cal­i­for­nia alone, YIM­BYs have backed hun­dreds of local devel­op­ments, by Trauss' esti­mate. That's why activists like Zamu­dio sus­pect YIM­BYs of serv­ing to lend a (false) grass­roots face to real estate interests.
For exam­ples, YIM­BYs have spo­ken for sev­er­al projects by Lennar, the nation's largest home devel­op­er. Lennar has had a run of bad press going back a decade, when it played a major role in the sub­prime mort­gage cri­sis. Its rede­vel­op­ment of Hunters Point Ship­yard, a Navy Super­fund site on San Francisco's south­east coast, is the sub­ject of an ongo­ing law­suit. Res­i­dents charge the development's con­struc­tion ille­gal­ly emit­ted asbestos-laced dust that caused high asth­ma rates among chil­dren in the sur­round­ing, low-income neighborhood.
While devel­op­ers were not the top over­all donors to the YIM­BY PACs, they have poured mon­ey into YIM­BY lob­by­ing on spe­cif­ic mea­sures. The YIM­BY group San Fran­cis­co Hous­ing Action Coali­tion raised $1.8 mil­lion for its suc­cess­ful cam­paign oppos­ing a 2015 bal­lot ini­tia­tive, Prop I, that would have placed a mora­to­ri­um on mar­ket-rate build­ing in the Mis­sion District.
Accord­ing to In These Times' research, at least 45 per­cent of this mon­ey came from the real estate indus­try, includ­ing banks that fund real estate devel­op­ment. Lennar gave $82,500; the firm behind the ​"Beast on Bryant," the largest pro­posed com­plex in the Mis­sion, gave $137,500; and the head of Max­imus, the firm behind the con­tro­ver­sial ​"Mon­ster in the Mis­sion" project, gave $450,000. Prop I was defeat­ed 57 per­cent to 43 percent.
YIM­BYs are also mak­ing advances on state pol­i­tics. Start­ing in 2016, YIM­BY-orga­nized lob­by­ing trips to Sacra­men­to helped push law­mak­ers to pass what is arguably the first piece of YIM­BY leg­is­la­tion in the Unit­ed States: California's SB 35. Bri­an Han­lon helped Demo­c­ra­t­ic state Sen. Scott Wiener draft the bill, which allows for the over­ride of local zon­ing require­ments in cities deemed to have insuf­fi­cient hous­ing. A March report by the state deter­mined that 97 per­cent of Cal­i­for­nia cities qual­i­fy. In Berke­ley, with the sup­port of YIM­BY groups, a devel­op­er is invok­ing the law to build 260 apart­ments on an Ohlone tribe sacred bur­ial site.
Wiener, a YIM­BY dar­ling who spoke at YIM­BY Action's Novem­ber 2017 gala, has con­tin­ued push­ing for statewide over­rides of local con­trol. His lat­est mea­sure, SB 827, draft­ed by Han­lon, began as a hard­line pro-devel­op­ment bill. Crit­ics said the mea­sure would have allowed for the demo­li­tion of rent­con­trolled hous­ing around tran­sit cen­ters, among oth­er con­tro­ver­sial pro­vi­sions. Over time it was tem­pered with afford­able hous­ing require­ments. Even so, it was so unpop­u­lar that it did not make it out of com­mit­tee. Mem­bers of Wiener's own par­ty vot­ed it down.
In a num­ber of these bat­tles, the YIM­BYs con­tin­ue to find them­selves at odds with social jus­tice­ori­ent­ed anti-dis­place­ment activists. YIM­BYs tend to paint such activists as mis­tak­en­ly allied with NIM­BYs. Trauss, in a 2014 pre­sen­ta­tion, said that YIM­BYs aim to ​"dis­rupt" the ​"alliance between rent con­trol advo­cates and afford­able hous­ing advocates."
Trauss express­es sim­i­lar sen­ti­ments today. She says she believes anti-dis­place­ment activists who dis­like YIM­BYs are mis­di­rect­ing their ener­gy. ​"You don't get afford­able hous­ing by oppos­ing mar­ket-rate hous­ing. You get it by build­ing afford­able hous­ing," she says. ​"I've nev­er seen as much ener­gy ask­ing the may­or to set aside mon­ey for afford­able hous­ing. They need to iden­ti­fy the goal and take steps to get them to that goal. … I'm nobody. They could have done every­thing I did if they wanted."
Asked about a Novem­ber 2016 hear­ing in which she com­pared Lat­inx Mis­sion activists to xeno­pho­bic Trump sup­port­ers, she stood by the com­ments. ​"Refusal to build hous­ing is anti-migrant," she tells In These Times. ​"And almost every com­menter said their oppo­nent was like Trump. … As long as we're throw­ing that around … I real­ly had to say it."
Tony Rob­les, head of the Mani­la­town Her­itage Foun­da­tion, a Fil­ipino cul­tur­al orga­ni­za­tion in San Fran­cis­co, says YIM­BYs ​"haven't paid their dues enough to real­ly be talk­ing in the arro­gant ways … that they do." Orga­niz­ers ​"put in years here, fight­ing" for ten­ant pro­tec­tions that are being whit­tled away by YIM­BYs and their devel­op­er fun­ders, he adds.
Tony Rob­les is mixed-race. His Black great-grand­par­ents made their way to San Fran­cis­co in the 1920s, dur­ing the Great Migra­tion. At that time, San Fran­cis­co was home to what Rob­les called the ​"Span­ish Harlem of the West, but Black and Fil­ipino and Japan­ese, instead of Puer­to Rican."
In the 1950s, the Mani­la­town neigh­bor­hood was the Fil­ipino cen­ter of the city, and the site of a large long-term hotel (the ​"Inter­na­tion­al Hotel") for Fil­ipino immi­grant work­ers. In the 1970s, San Francisco's Rede­vel­op­ment Agency deemed the area ​"blight­ed" and slat­ed it for demo­li­tion. ​"This land is too valu­able to per­mit poor peo­ple to park on it," said the agency's exec­u­tive direc­tor, Justin Her­man. In 1977, police forcibly evict­ed the last of the Inter­na­tion­al Hotel residents.
In 2005, the Mani­la­town Her­itage Foun­da­tion helped reclaim the land of the for­mer Inter­na­tion­al Hotel and turned it into 104 units of low-income senior hous­ing. But Rob­les sees the removal of poor peo­ple con­tin­u­ing to play out now.
The real estate web­site Zil­low esti­mates that in the past five years, the medi­an rental price for a one-bed­room in San Francisco's his­tor­i­cal­ly Lat­inx Mis­sion Dis­trict rose from $2,752 to $3,695. Hous­ing activists attribute the rise to the Mission's mar­ket-rate con­do boom. As rents have shot up, so have evic­tions, increas­ing 67 per­cent between 2010 and 2015, accord­ing to the local Rent Board.
Skin tones are get­ting lighter, too, as whites replace low­in­come Lat­inx peo­ple who have been the vic­tims of an evic­tion plague, whether because they couldn't afford ris­ing rents or because their land­lords found a pre­text in order to rede­vel­op. A city-fund­ed report found the neighborhood's Lat­inx pop­u­la­tion will fall from 60 per­cent in 2000 to 31 per­cent by 2025 because of gentrification.
Pritz­ka Rios, 27, was evict­ed from their Mis­sion apart­ment in 2017. Rios, who is of Lat­inx her­itage and gen­der­PHO­TO BY JOEL ANGEL JUAREZ In the Mis­sion District's Clar­i­on Alley, a pedes­tri­an strolls past a mur­al by the Anti-Evic­tion Map­ping Project. The mur­al maps no-fault evic­tions in the city since 1997 and spot­lights eight San Fran­cis­cans who have fought evic­tion. 3 6 IN THESE TIMES + JUNE 2018 queer, grew up in California's Cen­tral Val­ley and was spurned by a fam­i­ly who didn't accept their gen­der. They came to the Bay Area for its rep­u­ta­tion as more accept­ing, and the Mis­sion in par­tic­u­lar because of its Lat­inx her­itage. Rios became involved in local anti-gen­tri­fi­ca­tion activism, like a 2014 action to dis­rupt an ​"evic­tion boot­camp" work­shop for land­lords put on by real estate lawyers. For sev­en years, Rios lived in a rent-con­trolled Lat­inx co-op home, until their land­lord used the ​"nui­sance evic­tion" jus­ti­fi­ca­tion to evict every­one. The murky ​"nui­sance" law holds a ten­ant evictable for ​"low-fault" issues like hang­ing laun­dry out­doors, leav­ing a stroller in the hall­way or bring­ing in anoth­er ten­ant — although, as in Rios' case, land­lords don't have to dis­close the alleged nuisance.
Rios worked a min­i­mum wage job at a hard­ware store and couldn't afford to hire a lawyer. ​"It felt like there was noth­ing I could do," says Rios, who describes the sit­u­a­tion as the ​"worst expe­ri­ence in my life." Like many oth­er Lat­inx res­i­dents of the Mis­sion, Rios was forced to leave the city, even­tu­al­ly land­ing in Oak­land, across the Bay.
In the Mis­sion and places like it, Miri­am Zuk of the Urban Dis­place­ment Project sees what she describes as ​"the break­ing up of com­mu­ni­ties in terms of advo­ca­cy pow­er, social sup­port. Their neigh­bor who used to babysit their kids no longer lives there. No one talks about the cul­tur­al dis­place­ment, feel­ing like you're no longer a part of the neigh­bor­hood any­more. … It may be hard­er for young pro­fes­sion­als [such as the YIM­BY crowd] to under­stand why that's a big deal … that feel­ing of belonging."
On the streets of the Mis­sion, the hos­til­i­ty over dis­place­ment is pal­pa­ble. Side­walks are crowd­ed with lines of most­ly white and Asian techies head­ed to Sil­i­con Val­ley cam­pus­es aboard ​"Google bus" shut­tles. A Lat­inx youth program's mur­al that depict­ed Día de los Muer­tos icons and the words ​"Our Cul­ture Is Not For Sale" was deemed ​"too dark" by a busi­ness own­er, who pre­ferred a flo­ral-themed mur­al. The Lat­inx youth won out, and the flo­ral-themed mur­al went up in anoth­er spot. A day lat­er, it was tagged with graf­fi­ti. Soon after, the anti-gen­tri­fi­ca­tion group Gay Shame began post­ing stick­ers on light poles that read, ​"MAKE GEN­TRI­FIERS' LIVES UNLIVABLE."
A major flash­point for anti-gen­tri­fi­ca­tion anger has been the ​"Mon­ster in the Mis­sion," a 10-sto­ry, 331-unit build­ing that devel­op­er Max­imus Real Estate Part­ners wants to build at the cor­ner of 16th and Mis­sion, next to a busy BART stop. Just 41 of the units would be afford­able, with anoth­er 49 promised ​"off-site." The devel­op­ment has been stalled since 2013, and the Plaza 16 Coali­tion wants to kill it for good or get a com­mit­ment to 100 per­cent affordability.
In 2015, Trauss and oth­er YIM­BYs spoke in favor of the project at pub­lic hear­ings. That year, YIM­BYs also threw resources into oppos­ing Prop I, the mora­to­ri­um on mar­ket-rate devel­op­ment that would have halt­ed the Mon­ster. Trauss has since backed away from the Mon­ster, say­ing that Max­imus mis­han­dled the project by threat­en­ing access to the BART plaza.
Max­imus' own PR for the project can sound remark­ably YIM­BY. Last fall, Max­imus ran a $46,000 ​"I Am Not a Mon­ster" ad cam­paign to pro­mote the devel­op­ment, as part of a $363,200 cam­paign to build com­mu­ni­ty sup­port. For months, ads ran at the 16th and Mis­sion BART sta­tion, fea­tur­ing local fire­fight­ers, small busi­ness own­ers and nurs­es who, the ads pur­port­ed, would ben­e­fit from the increase in hous­ing stock.
A local ele­men­tary school teacher, Nan­cy Ana Lucero, told the blog Mis­sion Local she'd been tricked into appear­ing in the cam­paign by a fam­i­ly friend who was a Max­imus rep, who asked her to appear in an ​"afford­able hous­ing" ad. ​"I was shocked," she told the blog. ​"I thought it was real­ly dis­hon­est." (The rep insists she nev­er mis­led Lucero.)
Steven Buss of Mis­sion YIM­BY is also crit­i­cal of the Mon­ster: ​"Build­ing new upscale devel­op­ments … does raise the rents of near­by build­ings. A lot of YIM­BYs will say that isn't true, but it is." He notes that the area has a lot of sin­gle-room occu­pan­cy, or SRO, build­ings — low-rent, bare-bones hous­ing often rent­ed by the for­mer­ly home­less — and the Mon­ster would ​"put a lot of pres­sure on SRO own­ers to rede­vel­op." Still, he adds, ​"I'd like to see some­thing get built there. Dou­ble the height, get a ton of afford­able units in."
At El Metate, a long-stand­ing bur­ri­to restau­rant in the Mis­sion Dis­trict, one table of patrons stands out. It's the one at which Mis­sion YIM­BY is hold­ing its Jan­u­ary meet­ing. One Asian woman and eight white peo­ple, includ­ing Buss and employ­ees of Airbnb and Uber, sit dis­cussing SB 827 among tables of most­ly Span­ish-speak­ing lunch­ers. Asked if it feels strange to be a table of most­ly white tech ​"migrants" in a Lat­inx scene, Buss says that yes, it some­times does.
Buss, 31, has set him­self and Mis­sion YIM­BY the her­culean task of bridg­ing the divide between the YIM­BY move­ment and groups like Plaza 16. On the advice of social-jus­tice activists in his net­works who sug­gest that white peo­ple need to learn how to lis­ten, he's been attend­ing meet­ings of Lat­inx anti-dis­place­ment groups, sit­ting qui­et­ly in the back. (He also took two months off from his job at Google to vol­un­teer for Trauss' cam­paign; she is run­ning for a seat on San Francisco's board of supervisors.)
Zamu­dio, of Plaza 16, gets frus­trat­ed when hous­ing pol­i­cy con­ver­sa­tions focus on sup­ply and demand rather than the real-world impacts on peo­ple, like those in the Mis­sion who have been evict­ed from their homes or busi­ness­es. She says she tries to keep one ques­tion in mind: ​"How deeply ground­ed is our work in the expe­ri­ence of peo­ple in rent-con­trolled hous­ing and SROs?"
This sto­ry was sup­port­ed by the Leonard C. Good­man Insti­tute for Inves­tiga­tive Reporting.
Toshio Meronek
is San Fran­cis­co-based writer who has report­ed for Al Jazeera,
The Nation
and Vice. His work also appears in
Cap­tive Gen­ders: Trans Embod­i­ment and the Prison-Indus­tri­al Com­plex
and
The Long Term: Sur­viv­ing and Resist­ing Life in Prison.
He is a for­mer edi­tor of
The Abo­li­tion­ist
, the news­pa­per of the anti-prison indus­tri­al com­plex orga­ni­za­tion Crit­i­cal Resis­tance. Fol­low him on Twit­ter at @tmeronek.