"To speak behind others' backs is the ventilator of the heart."
This pearl of wisdom from Marjane Satrapi's grandmother propels Satrapi's new graphic memoir, Embroideries, which recounts the conversation of a group of Iranian women over tea. The women at the center of Embroideries include Satrapi's family, friends, neighbors and the author herself. Their discussions of love, marriage and sex open a window into the culture and sexual politics of Iran.
Satrapi was born in Rasht, Iran, in 1969, and her first graphic memoir Persepolis documents her life in Tehran from 1974 to 1983, where she witnessed the Islamic Revolution firsthand. The book's sequel, Persepolis 2, continues her tale – the years she spent abroad in Austria and her return to Tehran, where she attended university to study art and lived under the rule of the mullahs. The book chronicles the years from 1984 until her preparation for a second move abroad in 1994.
Satrapi's simple black and white drawings, and the combination of personal and political themes in the memoirs, earned her books comparisons to the Pulitzer Prize-winning comic artist Art Spiegelman's Maus and Maus II, in which Spiegelman documents his father's experiences during the Holocaust. Journalists made the comparison so many times that Satrapi actually called Spiegelman in 2003 to apologize, and their conversation marked the beginning of a close friendship.
Like Spiegelman, Satrapi loves to smoke, and is appalled by the restrictions on smoking in the United States. ​"In France, you can smoke everywhere!" she exclaims. Satrapi is articulate (even in English, which is her fourth language), and her conversation is peppered with jokes and bemused observations about politics and people. ​"There is a big part of Iranian life that is based on humor. People love to sit and talk and tell really funny stories and make fun of each other and make fun of other people. I wanted to write a book about this part of Iran that you cannot so much see and taste in Persepolis," says Satrapi, who has lived for the past 11 years in Paris, where Embroideries was originally published (between Persepolis and Persepolis 2). Satrapi has not returned to Iran, where her parents still reside, since the publication of her first book.
Stylistically, Embroideries departs from the Persepolis memoirs. She dispenses with the panel format that characterizes those books, allowing multiple scenes to happen on a page. ​"I wanted the form to be as fluid as the conversation itself," she says. ​"I wanted the reader to feel the conversation, even in the way the book was made."
Satrapi's intended audience is not Iranians, but people who are unfamiliar with – or have stereotypes about – Iran, Iranian women and Iranian culture. The women portrayed in Embroideries are incredibly candid and irreverent about sex, which has surprised some readers in the United States and Europe. ​"I had someone who told me, ​'We didn't know that Iranian women had a sexual life,' " says Satrapi. ​"Can you believe that? The population of Iran has doubled in the last 25 years!"
The humor at the heart of Satrapi's books reflects Iranian culture, Satrapi herself and her outlook on life. ​"Nothing is as subversive as laughing," says Satrapi. And laughing is something the women in Embroideries do. They laugh at everything from the male sexual organ to themselves. Despite living in an overtly patriarchal society, Satrapi wanted to show that Iranian women have a substantial measure of power and a great deal of fun. ​"I have never seen any Iranian woman as a martyr," says Satrapi. ​"I never thought of my mother or grandmother as being no one. They were real people. And they had a real character and power. And that is the way I see Iranian women." She says, ​"I hate the way people outside talk about us, like ​'Oh, you poor thing, you are miserable.' We are not miserable at all."
"Comic art," ​"visual journalism" and ​"graphic memoir" are a few of the terms that have been applied to Satrapi's work. Yet Satrapi won't be pigeon-holed. ​"I do what I do," she says with a shrug. Satrapi admits that her books allow her to ventilate her own heart. ​"I try not to solve my problems through my books," she says – her stories are true accounts, but the identities of most of her characters are camouflaged. ​"But, oh my God, I love the gossip!"
Be one of the first
Help kick off the new era of In These Times! Without a media that brings people together and creates a written record of the struggles of workers, their voices will be fragmented and forgotten.
The mission of In These Times is to be that written record, and to guide and grow those movements.
We have a lot of work ahead of us, and that work starts today. Early support is the most valuable support, and that's why we're asking you to pitch in now. If you are excited for this new era of In These Times, please make a donation today.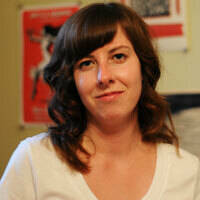 Emily Udell
is a writer for Angie's List Magazine in Indianapolis. In
2009
, she finished a stint drinking bourbon and covering breaking news for
The Courier-Journal
in Louisville, Ky. Her eclectic media career also includes time at the Associated Press,
Punk Planet
(R.I.P.),
The Daily Southtown
in southwest Chicago, and Radio Prague in the Czech Republic. She co-hosted and co-produced
In These Times
' radio show ​
"
Fire on the Prairie
" from
2003
to
2006
.