The Great Charter: It's Fate, Our Fate
Revisiting the Magna Carta.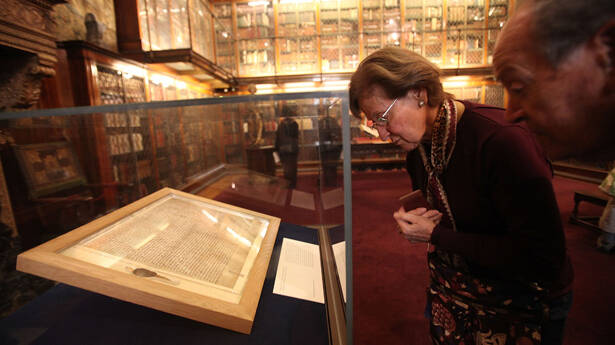 Editor's note: This col­umn is adapt­ed from an address by Noam Chom­sky on June 19 at the Uni­ver­si­ty of St. Andrews in Fife, Scot­land, as part of its 600th anniver­sary celebration.

Recent events trace a threat­en­ing tra­jec­to­ry, suf­fi­cient­ly so that it may be worth­while to look ahead a few gen­er­a­tions to the mil­len­ni­um anniver­sary of one of the great events in the estab­lish­ment of civ­il and human rights: the issuance of Magna Car­ta, the char­ter of Eng­lish lib­er­ties imposed on King John in 1215.
What we do right now, or fail to do, will deter­mine what kind of world will greet that anniver­sary. It is not an attrac­tive prospect – not least because the Great Char­ter is being shred­ded before our eyes.
The first schol­ar­ly edi­tion of the Magna Car­ta was pub­lished in 1759 by the Eng­lish jurist William Black­stone, whose work was a source for U.S. con­sti­tu­tion­al law. It was enti­tled ​"The Great Char­ter and the Char­ter of the For­est," fol­low­ing ear­li­er prac­tice. Both char­ters are high­ly sig­nif­i­cant today.
The first, the Char­ter of Lib­er­ties, is wide­ly rec­og­nized to be the cor­ner­stone of the fun­da­men­tal rights of the Eng­lish-speak­ing peo­ples – or as Win­ston Churchill put it more expan­sive­ly, ​"the char­ter of every self-respect­ing man at any time in any land."
In 1679 the Char­ter was enriched by the Habeas Cor­pus Act, for­mal­ly titled ​"an Act for the bet­ter secur­ing the lib­er­ty of the sub­ject, and for pre­ven­tion of impris­on­ment beyond the seas." The mod­ern harsh­er ver­sion is called ​"ren­di­tion" – impris­on­ment for the pur­pose of torture.
Along with much of Eng­lish law, the Act was incor­po­rat­ed into the U.S. Con­sti­tu­tion, which affirms that ​"the writ of habeas cor­pus shall not be sus­pend­ed" except in case of rebel­lion or inva­sion. In 1961, the U.S. Supreme Court held that the rights guar­an­teed by this Act were "©onsid­ered by the Founders as the high­est safe­guard of liberty."
More specif­i­cal­ly, the Con­sti­tu­tion pro­vides that no ​"per­son (shall) be deprived of life, lib­er­ty or prop­er­ty, with­out due process of law (and) a speedy and pub­lic tri­al" by peers.
The Depart­ment of Jus­tice has recent­ly explained that these guar­an­tees are sat­is­fied by inter­nal delib­er­a­tions in the exec­u­tive branch, as Jo Beck­er and Scott Shane report­ed in The New York Times on May 29. Barack Oba­ma, the con­sti­tu­tion­al lawyer in the White House, agreed. King John would have nod­ded with satisfaction.
The under­ly­ing prin­ci­ple of ​"pre­sump­tion of inno­cence" has also been giv­en an orig­i­nal inter­pre­ta­tion. In the cal­cu­lus of the president's ​"kill list" of ter­ror­ists, ​"all mil­i­tary-age males in a strike zone" are in effect count­ed as com­bat­ants ​"unless there is explic­it intel­li­gence posthu­mous­ly prov­ing them inno­cent," Beck­er and Shane sum­ma­rized. Thus post-assas­si­na­tion deter­mi­na­tion of inno­cence now suf­fices to main­tain the sacred principle.
This is the mer­est sam­ple of the dis­man­tling of ​"the char­ter of every self-respect­ing man."
The com­pan­ion Char­ter of the For­est is per­haps even more per­ti­nent today. It demand­ed pro­tec­tion of the com­mons from exter­nal pow­er. The com­mons were the source of sus­te­nance for the gen­er­al pop­u­la­tion – their fuel, their food, their con­struc­tion mate­ri­als. The For­est was no wilder­ness. It was care­ful­ly nur­tured, main­tained in com­mon, its rich­es avail­able to all, and pre­served for future generations.
By the 17th cen­tu­ry, the Char­ter of the For­est had fall­en vic­tim to the com­mod­i­ty econ­o­my and cap­i­tal­ist prac­tice and moral­i­ty. No longer pro­tect­ed for coop­er­a­tive care and use, the com­mons were restrict­ed to what could not be pri­va­tized – a cat­e­go­ry that con­tin­ues to shrink before our eyes.
Last month the World Bank ruled that the min­ing multi­na­tion­al Pacif­ic Rim can pro­ceed with its case against El Sal­vador for try­ing to pre­serve lands and com­mu­ni­ties from high­ly destruc­tive gold min­ing. Envi­ron­men­tal pro­tec­tion would deprive the com­pa­ny of future prof­its, a crime under the rules of the investor rights régime mis­la­beled as ​"free trade."
This is only one exam­ple of strug­gles under way over much of the world, some with extreme vio­lence, as in resource-rich east­ern Con­go, where mil­lions have been killed in recent years to ensure an ample sup­ply of min­er­als for cell­phones and oth­er uses, and of course ample profits.
The dis­man­tling of the Char­ter of the For­est brought with it a rad­i­cal revi­sion of how the com­mons are con­ceived, cap­tured by Gar­rett Hardin's influ­en­tial the­sis in 1968 that ​"Free­dom in a com­mons brings ruin to us all," the famous ​"tragedy of the com­mons": What is not pri­vate­ly owned will be destroyed by indi­vid­ual avarice.
The doc­trine is not with­out chal­lenge. Eli­nor Olstrom won the Nobel Memo­r­i­al Prize in Eco­nom­ic Sci­ences in 2009 for her work show­ing the supe­ri­or­i­ty of user-man­aged commons.
But the doc­trine has force if we accept its unstat­ed premise: that humans are blind­ly dri­ven by what Amer­i­can work­ers, at the dawn of the indus­tri­al rev­o­lu­tion, called ​"the New Spir­it of the Age, Gain Wealth for­get­ting all but Self" – a doc­trine they bit­ter­ly con­demned as demean­ing and destruc­tive, an assault on the very nature of free people.
Huge efforts have been devot­ed since to incul­cat­ing the New Spir­it of the Age. Major indus­tries are ded­i­cat­ed to what polit­i­cal econ­o­mist Thorstein Veblen called ​"fab­ri­cat­ing wants" – direct­ing peo­ple to ​"the super­fi­cial things" of life, like ​"fash­ion­able con­sump­tion," in the words of Colum­bia Uni­ver­si­ty mar­ket­ing pro­fes­sor Paul Nystrom.
That way peo­ple can be atom­ized, seek­ing per­son­al gain alone and divert­ed from dan­ger­ous efforts to think for them­selves, act in con­cert and chal­lenge authority.
It's unnec­es­sary to dwell on the extreme dan­gers posed by one cen­tral ele­ment of the destruc­tion of the com­mons: the reliance on fos­sil fuels, which courts glob­al dis­as­ter. Details may be debat­ed, but there is lit­tle seri­ous doubt that the prob­lems are all too real and that the longer we delay in address­ing them, the more awful will be the lega­cy left to gen­er­a­tions to come. The recent Rio+20 Con­fer­ence is the lat­est effort. Its aspi­ra­tions were mea­ger, its out­come derisory.
In the lead in con­fronting the cri­sis, through­out the world, are indige­nous com­mu­ni­ties. The strongest stand has been tak­en by the one coun­try they gov­ern, Bolivia, the poor­est coun­try in South Amer­i­ca and for cen­turies a vic­tim of West­ern destruc­tion of its rich resources.
After the igno­min­ious col­lapse of the Copen­hagen glob­al cli­mate change sum­mit in 2009, Bolivia orga­nized a People's Sum­mit with 35,000 par­tic­i­pants from 140 coun­tries. The sum­mit called for very sharp reduc­tion in emis­sions, and a Uni­ver­sal Dec­la­ra­tion on the Rights of Moth­er Earth. That is a key demand of indige­nous com­mu­ni­ties all over the world.
The demand is ridiculed by sophis­ti­cat­ed West­ern­ers, but unless we can acquire some of the sen­si­bil­i­ty of the indige­nous com­mu­ni­ties, they are like­ly to have the last laugh – a laugh of grim despair.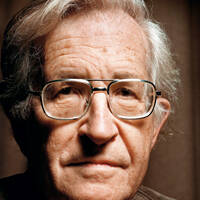 Noam Chom­sky
is Insti­tute Pro­fes­sor and Pro­fes­sor of Lin­guis­tics (Emer­i­tus) at the Mass­a­chu­setts Insti­tute of Tech­nol­o­gy, and the author of dozens of books on U.S. for­eign pol­i­cy. His most recent book is
Who Rules the World?
from Met­ro­pol­i­tan Books.