In most of the world, May Day is an inter­na­tion­al work­ers' hol­i­day, bound up with the bit­ter 19th-cen­tu­ry strug­gle of Amer­i­can work­ers for an eight-hour day. The May Day just past leads to somber reflection.
A decade ago, a useful word was coined in honor of May Day by radical Italian labor activists: "precarity."
A decade ago, a use­ful word was coined in hon­or of May Day by rad­i­cal Ital­ian labor activists: ​"pre­car­i­ty." It referred at first to the increas­ing­ly pre­car­i­ous exis­tence of work­ing peo­ple ​"at the mar­gins" – women, youth, migrants. Then it expand­ed to apply to the grow­ing ​"pre­cari­at" of the core labor force, the ​"pre­car­i­ous pro­le­tari­at" suf­fer­ing from the pro­grams of deu­nion­iza­tion, flex­i­bi­liza­tion and dereg­u­la­tion that are part of the assault on labor through­out the world.
By that time, even in Europe there was mount­ing con­cern about what labor his­to­ri­an Ronal­do Munck, cit­ing Ulrich Beck, calls the ​"Brazil­ian­iza­tion of the West – the spread of tem­po­rary and inse­cure employ­ment, dis­con­ti­nu­ity and loose infor­mal­i­ty into West­ern soci­eties that have hith­er­to been the bas­tions of full employment."
The state-cor­po­rate war against unions has recent­ly extend­ed to the pub­lic sec­tor, with leg­is­la­tion to ban col­lec­tive bar­gain­ing and oth­er ele­men­tary rights. Even in pro-labor Mass­a­chu­setts, the House of Rep­re­sen­ta­tives vot­ed right before May Day to sharply restrict the rights of police offi­cers, teach­ers, and oth­er munic­i­pal employ­ees to bar­gain over health­care – essen­tial mat­ters in the U.S., with its dys­func­tion­al and high­ly inef­fi­cient pri­va­tized health-care system.
The rest of the world may asso­ciate May 1 with the strug­gle of Amer­i­can work­ers for basic rights, but in the Unit­ed States that sol­i­dar­i­ty is sup­pressed in favor of a jin­go­ist hol­i­day. May 1 is ​"Loy­al­ty Day," des­ig­nat­ed by Con­gress in 1958 for ​"the reaf­fir­ma­tion of loy­al­ty to the Unit­ed States and for the recog­ni­tion of the her­itage of Amer­i­can freedom."
Pres­i­dent Eisen­how­er pro­claimed fur­ther that Loy­al­ty Day is also Law Day, reaf­firmed annu­al­ly by dis­play­ing the flag and ded­i­ca­tion to ​"Jus­tice for All," ​"Foun­da­tions of Free­dom" and ​"Strug­gle for Justice."
The U.S. cal­en­dar has a Labor Day, in Sep­tem­ber, cel­e­brat­ing the return to work after a vaca­tion that is far briefer than in oth­er indus­tri­al countries.
The feroc­i­ty of the assault against labor by the U.S. busi­ness class is illus­trat­ed by Washington's fail­ure, for 60 years, to rat­i­fy the core prin­ci­ple of inter­na­tion­al labor law, which guar­an­tees free­dom of asso­ci­a­tion. Legal ana­lyst Steve Charnovitz calls it ​"the untouch­able treaty in Amer­i­can pol­i­tics" and observes that there has nev­er even been any debate about the matter.
Washington's dis­missal of some con­ven­tions sup­port­ed by the Inter­na­tion­al Labor Orga­ni­za­tion (ILO) con­trasts sharply with its ded­i­ca­tion to enforce­ment of monop­oly-pric­ing rights for cor­po­ra­tions, dis­guised under the man­tle of ​"free trade" in one of the con­tem­po­rary Orwellisms.
In 2004, the ILO report­ed that ​"eco­nom­ic and social inse­cu­ri­ties were mul­ti­ply­ing with glob­al­iza­tion and the poli­cies asso­ci­at­ed with it, as the glob­al eco­nom­ic sys­tem has become more volatile and work­ers were increas­ing­ly shoul­der­ing the bur­den of risk, for instance, though pen­sion and health care reforms."
This was what econ­o­mists call the peri­od of the Great Mod­er­a­tion, hailed as ​"one of the great trans­for­ma­tions of mod­ern his­to­ry," led by the Unit­ed States and based on ​"lib­er­a­tion of mar­kets" and par­tic­u­lar­ly ​"dereg­u­la­tion of finan­cial markets."
This paean to the Amer­i­can way of free mar­kets was deliv­ered by Wall Street Jour­nal edi­tor Ger­ard Bak­er in Jan­u­ary 2007, just months before the sys­tem crashed – and with it the entire edi­fice of the eco­nom­ic the­ol­o­gy on which it was based – bring­ing the world econ­o­my to near disaster.
The crash left the Unit­ed States with lev­els of real unem­ploy­ment com­pa­ra­ble to the Great Depres­sion, and in many ways worse, because under the cur­rent poli­cies of the mas­ters those jobs are not com­ing back, as they did through mas­sive gov­ern­ment stim­u­lus dur­ing World War II and the fol­low­ing decades of the ​"gold­en age" of state capitalism.
Dur­ing the Great Mod­er­a­tion, Amer­i­can work­ers had become accus­tomed to a pre­car­i­ous exis­tence. The rise of an Amer­i­can pre­cari­at was proud­ly hailed as a pri­ma­ry fac­tor in the Great Mod­er­a­tion that brought slow­er eco­nom­ic growth, vir­tu­al stag­na­tion of real income for the major­i­ty of the pop­u­la­tion, and wealth beyond the dreams of avarice for a tiny sec­tor, a frac­tion of 1 per­cent, most­ly CEOs, hedge fund man­agers and the like.
The high priest of this mag­nif­i­cent econ­o­my was Alan Greenspan, described by the busi­ness press as ​"saint­ly" for his bril­liant stew­ard­ship. Glo­ry­ing in his achieve­ments, he tes­ti­fied before Con­gress that they relied in part on ​"atyp­i­cal restraint on com­pen­sa­tion increas­es (which) appears to be main­ly the con­se­quence of greater work­er insecurity."
The dis­as­ter of the Great Mod­er­a­tion was sal­vaged by hero­ic gov­ern­ment efforts to reward the per­pe­tra­tors. Neil Barof­sky, step­ping down on March 30 as spe­cial inspec­tor gen­er­al of the bailout pro­gram, wrote a rev­e­la­to­ry New York Times op-ed about how the bailout worked.
In the­o­ry, the leg­isla­tive act that autho­rized the bailout was a bar­gain: The finan­cial insti­tu­tions would be saved by the tax­pay­er, and the vic­tims of their mis­deeds would be some­what com­pen­sat­ed by mea­sures to pro­tect home val­ues and pre­serve homeownership.
Part of the bar­gain was kept: The finan­cial insti­tu­tions were reward­ed lav­ish­ly for caus­ing the cri­sis, and for­giv­en for out­right crimes. But the rest of the pro­gram floundered.
As Barof­sky writes: ​"Fore­clo­sures con­tin­ue to mount, with 8 mil­lion to 13 mil­lion fil­ings fore­cast over the program's life­time" while ​"the biggest banks are 20 per­cent larg­er than they were before the cri­sis and con­trol a larg­er part of our econ­o­my than ever. They rea­son­ably assume that the gov­ern­ment will res­cue them again, if nec­es­sary. Indeed, cred­it rat­ing agen­cies incor­po­rate future gov­ern­ment bailouts into their assess­ments of the largest banks, exag­ger­at­ing mar­ket dis­tor­tions that pro­vide them with an unfair advan­tage over small­er insti­tu­tions, which con­tin­ue to struggle."
In short, Pres­i­dent Obama's pro­grams were ​"a give­away to Wall Street exec­u­tives" and a blow in the solar plexus to their defense­less victims.
The out­come should sur­prise only those who insist on hope­less naïveté about the design and imple­men­ta­tion of pol­i­cy, par­tic­u­lar­ly when eco­nom­ic pow­er is high­ly con­cen­trat­ed and state cap­i­tal­ism has entered into a new stage of ​"cre­ative destruc­tion," to bor­row Joseph Schumpeter's famous phrase, but with a twist: cre­ative in ways to enrich and empow­er the rich and pow­er­ful, while the rest are free to sur­vive as they may, while cel­e­brat­ing Loy­al­ty and Law Day.
This arti­cle appeared in the June 2011 issue of In These Times under the head­line ​"Hap­py Loy­al­ty Day."
© The New York Times News Service/​Syndicate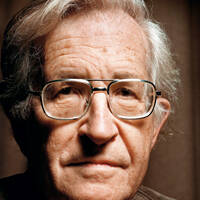 Noam Chom­sky
is Insti­tute Pro­fes­sor and Pro­fes­sor of Lin­guis­tics (Emer­i­tus) at the Mass­a­chu­setts Insti­tute of Tech­nol­o­gy, and the author of dozens of books on U.S. for­eign pol­i­cy. His most recent book is
Who Rules the World?
from Met­ro­pol­i­tan Books.