Slavoj Zizek: The Greek Apocalypse: Versailles or Brest-Litovsk?
A response to my critics and the case for a guerrilla war within the Eurozone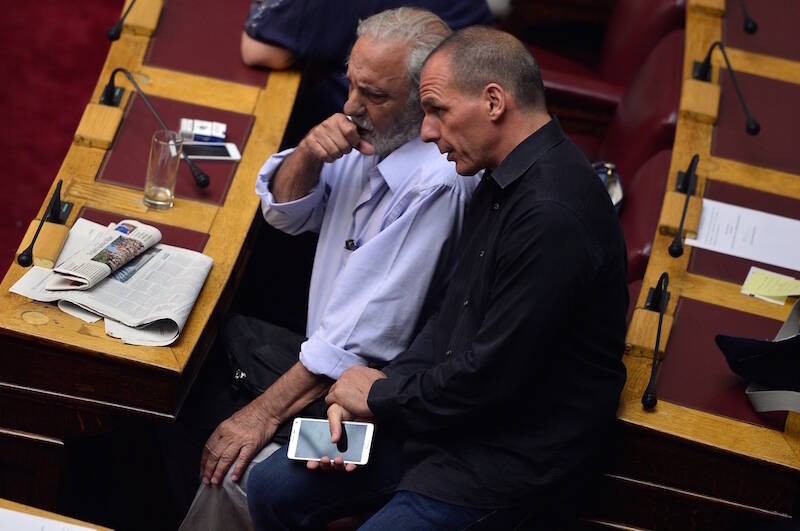 When my essay on Greece after the ref­er­en­dum ​"The Courage of Hope­less­ness" was repub­lished by In These Times, its title was changed to ​"How Alex­is Tsipras and Syriza Out­ma­neu­vered Angela Merkel and the Euro­crats." The sub­stance of what I wrote how­ev­er, was far less opti­mistic. Yet I have been attacked by many on the Left because I refuse to think of Tsipras's accep­tance of the EU terms as a sim­ple defeat, because I refuse to con­demn Tsipras's ​"trea­son."
The entire rhetoric, so beloved by the New Left, of acting at a distance from the state, has to be abandoned.
The rever­sal of the ​"No" of ref­er­en­dum to the ​"Yes" to Brus­sels was a dev­as­tat­ing shock, a shat­ter­ing, painful cat­a­stro­phe. More pre­cise­ly, it was an apoc­a­lypse in both sens­es of the term: the usu­al one (cat­a­stro­phe) and the orig­i­nal, lit­er­al one (dis­clo­sure, rev­e­la­tion) — the basic antag­o­nism, the dead­lock, of the sit­u­a­tion was clear­ly dis­closed. But many left­ist com­men­ta­tors (Jür­gen Haber­mas includ­ed) got it wrong when they read the con­flict between the EU and Greece as the con­flict between tech­noc­ra­cy and pol­i­tics. The EU treat­ment of Greece is not tech­noc­ra­cy but pol­i­tics at its purest, a pol­i­tics that even runs against eco­nom­ic inter­ests. After all, the IMF, a true rep­re­sen­ta­tive of cold eco­nom­ic ratio­nal­i­ty, declared the bailout plan unwork­able. If any­thing, it was Greece that stood for eco­nom­ic ratio­nal­i­ty and the EU that embod­ied politi­co-ide­o­log­i­cal pas­sion. After the Greek banks and stock exchange reopened, there was a tremen­dous flight of cap­i­tal and fall of stock prices. This was not pri­mar­i­ly a sign of dis­trust of the Syriza gov­ern­ment, but rather of the dis­trust of the imposed EU mea­sures — a clear bru­tal mes­sage that — as we put it in today's ani­mistic terms — cap­i­tal (as rep­re­sent­ed by gov­ern­ing bod­ies like the IMF) itself does not believe the EU bailout plan will work. (Of course, but bank­ing indus­try loves the bailout. Most of the mon­ey giv­en to Greece goes to the West­ern pri­vate banks, which means that Ger­many and oth­er EU super­pow­ers are spend­ing tax­pay­ers' mon­ey to save their own banks, which made the mis­take of giv­ing bad loans. Not to men­tion the fact that Ger­many prof­it­ed tremen­dous­ly from the escape of the Greek cap­i­tal from Greece to Germany.)
When for­mer Greek finance min­is­ter Yanis Varo­ufakis jus­ti­fied his vote against the mea­sures imposed by Brus­sels, he com­pared the deal to the Ver­sailles Treaty, an unjust inter­na­tion­al agree­ment that har­bored a new war. Although his par­al­lel is accu­rate, I pre­fer to com­pare the EU mea­sures to the Brest-Litovsk treaty between Sovi­et Rus­sia and Ger­many at the begin­ning of 1918, in which, to the con­ster­na­tion of many of its par­ti­sans, the Bol­she­vik gov­ern­ment ced­ed to Germany's out­ra­geous demands. It's true, Sovi­et Rus­sia retreat­ed, but this gave them a breath­ing space to for­ti­fy their pow­er and wait. The same goes for Greece today: We are not at the end. The Greek retreat is not the last word for the sim­ple rea­son that the cri­sis will hit again, in a cou­ple of years if not soon­er, and not only in Greece. The task of the Syriza gov­ern­ment is to get ready for that moment, to patient­ly occu­py posi­tions and plan options. Hold­ing onto polit­i­cal pow­er in these impos­si­ble con­di­tions nonethe­less pro­vides a min­i­mal space to pre­pare the ground for future action and for polit­i­cal education.
There­in resides the para­dox of the sit­u­a­tion: Although the bailout plan will not work, one should not lose one's nerve and exit the sit­u­a­tion, but rather fol­low it until the next explo­sion. Why? Because Greece was obvi­ous­ly not pre­pared for the bru­tal pres­sure from the EU — and next time, it must be. Until now, the Syriza gov­ern­ment has oper­at­ed with­out real­ly con­trol­ling the state appa­ra­tus, with its 2 mil­lion employ­ees. The police and judi­cia­ry most­ly belong to the polit­i­cal Right, and the gov­ern­ment admin­is­tra­tion is part and par­cel of the cor­rupt­ed clien­telist machine. It is pre­cise­ly this vast state machin­ery that the Syriza gov­ern­ment will have to rely on in the case of the immense work required for a Grex­it, or in the even more chal­leng­ing case of regain­ing mon­e­tary auton­o­my while remain­ing with­in the Euro­zone. (This was the pol­i­cy advo­cat­ed by Varo­ufakis: to regain mon­e­tary auton­o­my by sup­plant­i­ng Euro with a par­al­lel currency.)
A thorn in the Eurozone
We should also bear in mind that Grex­it was the enemy's plan. There are even rumors that Schauble offered bil­lions to Greece if it would leave the Euro­zone. What makes the Syriza gov­ern­ment so trou­bling to the Euro­crats is pre­cise­ly the fact that it is the gov­ern­ment of a coun­try inside the Euro­zone. Writ­ing on Open Democ­ra­cy, Stathis Gour­gouris observed, ​"The inter­na­tion­al sig­nif­i­cance of this event and the vehe­mence with which it has been opposed is due pre­cise­ly to Greece's exis­tence with­in the Euro­zone. Who would real­ly care, now that there is no Cold War, if a gov­ern­ment of the left had come to pow­er in a lit­tle coun­try with drach­ma as its currency?"
What space does the Syriza gov­ern­ment have to maneu­ver when it is reduced to enact­ing the pol­i­tics of its ene­my? Should it step down rather than enact a pol­i­cy that is direct­ly opposed to its pro­gram? Such a move is all too easy. It is ulti­mate­ly a new ver­sion of what Hegel called the Beau­ti­ful Soul: the posi­tion of a moral­ist who crit­i­cizes real­i­ty from a com­fort­able dis­tance, ignor­ing the way he is part of this real­i­ty. As Eti­enne Bal­ibar put it, Syriza needs most of all to gain time, and the EU pow­ers are doing every­thing they can to deprive Syriza of time — they try to push Syriza into a cor­ner, enforc­ing a fast deci­sion: either total capit­u­la­tion (step down and open up the way for an ​"apo­lit­i­cal" expert gov­ern­ment of nation­al uni­ty) or Grex­it. Time for what? Not only for prepar­ing itself for the next cri­sis. We should always bear in mind that the basic task of the Syriza gov­ern­ment is not the Euro nor the set­tling of accounts with the EU but, above all, the rad­i­cal reor­ga­ni­za­tion of Greece's long-cor­rupt social and polit­i­cal insti­tu­tions. ​"Syriza's extra­or­di­nary prob­lem," writes Gour­gouris, ​"which would not be faced by any oth­er polit­i­cal par­ty in gov­ern­ment, was to alter inter­nal insti­tu­tion­al frame­works under con­di­tions of exter­nal insti­tu­tion­al assault" — much like Ger­many itself did it in ear­ly 1800 under French occupation.
The prob­lem Greece is con­fronting now, writes Gour­gouris, is the one of the ​"left gov­ern­mentabil­i­ty," in oth­er words, the hard real­i­ty of what it means for the rad­i­cal Left to gov­ern in the world of glob­al cap­i­tal. What options does the gov­ern­ment have? The obvi­ous can­di­dates — sim­ple social democ­ra­ti­za­tion, state social­ism, with­draw­al from state and reliance on social move­ments — are obvi­ous­ly not enough, The first two belong to the era pri­or to the new phase of glob­al cap­i­tal­ism that began three decades ago.We have to accept that the epoch of the Wel­fare State is over, and that the solu­tion for the Left is not to return to the gold­en era of social democ­ra­cy. As for the third can­di­date, the true nov­el­ty of the Syriza gov­ern­ment is that it is a gov­ern­men­tal event: the first time that a West­ern rad­i­cal Left (rather than an old style Com­mu­nist one) took state pow­er. The entire rhetoric, so beloved by the New Left, of act­ing at a dis­tance from the state, has to be aban­doned. One has to hero­ical­ly assume full respon­si­bil­i­ty for the wel­fare of the entire peo­ple and leave behind the basic left­ist ​"crit­i­cal" atti­tude of find­ing a per­verse sat­is­fac­tion in pro­vid­ing sophis­ti­cat­ed expla­na­tions of why things had to take a wrong turn.
The choice the Syriza gov­ern­ment faced was an actu­al dif­fi­cult choice that should be dealt with in bru­tal prag­mat­ic terms, not a big prin­ci­pled choice between the true act and oppor­tunis­tic betray­al. The accu­sa­tions of the Syriza government's ​"betray­al" are made to avoid the tru­ly big ques­tions: How does one con­front cap­i­tal in the shape it is today? How does one gov­ern, how does one run a state, ​"with people"?
It is all too easy to say, as Gour­gouris does, that Syriza is not just a gov­ern­ment par­ty but has its roots in pop­u­lar mobi­liza­tion and social movements:
[Syriza] is a loose, self-con­tra­dic­to­ry, and inter­nal­ly antag­o­nis­tic coali­tion of left­ist thought and prac­tice, very much depen­dent on the capac­i­ty of social move­ments of all kinds, thor­ough­ly decen­tral­ized and dri­ven by the activism of sol­i­dar­i­ty net­works in a broad sphere of action across class lines of con­flict, gen­der and sex­u­al­i­ty activism, immi­gra­tion issues, anti-glob­al­iza­tion move­ments, civ­il and human rights advo­ca­cy, etc.
Okay. How­ev­er, the ques­tion remains: How does, or how should, this reliance on pop­u­lar self-orga­ni­za­tion affect run­ning a government?
In his essay in the Lon­don Review of Books, ​"Greece Has Been Betrayed," Tariq Ali wrote:
At the begin­ning of the month they were cel­e­brat­ing the ​'No' vote. They were pre­pared to make more sac­ri­fices, to risk life out­side the Euro­zone. Syriza turned its back on them. The date 12 July 2015, when Tsipras agreed to the EU's terms, will become as infa­mous as 21 April 1967 [the day the Greek gen­er­als staged a coup d'état.
After he resigned as finance min­is­ter, Varo­ufakis put it this way:
In the coup d'état the choice of weapon used in order to bring down democ­ra­cy then was the tanks. Well, this time it was the banks. The banks were used by for­eign pow­ers to take over the gov­ern­ment. The dif­fer­ence is that this time they're tak­ing over all pub­lic property.
This par­al­lel between 2015 and 1967 is con­vinc­ing but simul­ta­ne­ous­ly pro­found­ly deceiv­ing. Yes, tanks does rhyme with banks, which means: Greece is now de fac­to under finan­cial occu­pa­tion, with strong­ly reduced sov­er­eign­ty, all gov­ern­ment pro­pos­als have to be approved by the ​"Troi­ka" before they are sub­mit­ted to par­lia­ment. In today's Greece, not only finan­cial deci­sions, but even finan­cial data, are more and more under for­eign con­trol. (Varo­ufakis didn't have access to the data of his own min­istry — he is now accused by the Greek judi­cia­ry of trea­son for try­ing to access it). And, to add insult to injury, inso­far as the demo­c­ra­t­i­cal­ly elect­ed gov­ern­ment obeys these rules, it vol­un­tar­i­ly pro­vides a demo­c­ra­t­ic mask to this finan­cial dic­tate. (As to the recent charges against Varo­ufakis for trea­son, they dis­play obscen­i­ty it its purest: While bil­lions dis­ap­peared in the last decades, and the state man­u­fac­tured fab­ri­cat­ed finan­cial reports, the only per­son charged was the jour­nal­ist who ren­dered pub­lic the names of the own­ers of ille­gal for­eign bank accounts. But Varo­ufakis was now instant­ly charged on ridicu­lous pre­text. If there is an authen­tic hero in the entire Greek cri­sis sto­ry, it is Varoufakis.)
Should Greek exit?
Should, then, Grex­it have been risked? We are con­fronting here la ten­ta­tion even­e­men­tielle, the even­tal temp­ta­tion — the temp­ta­tion, in a dif­fi­cult sit­u­a­tion, to accom­plish the crazy act, to do the impos­si­ble, to take the risk and step out what­ev­er the costs, with the under­ly­ing log­ic is that ​"things can­not be worse than they are now." The catch is that they cer­tain­ly can get much worse, up to explod­ing into a full social and human­i­tar­i­an cri­sis. The key ques­tion is: Was there real­ly an objec­tive pos­si­bil­i­ty of a prop­er eman­ci­pa­to­ry act of draw­ing all politi­co-eco­nom­ic con­se­quences from the ​"No" of ref­er­en­dum? When Alain Badiou talks about an eman­ci­pa­to­ry Event, he always empha­sizes that an occur­rence is not an Event in itself — it only becomes one retroac­tive­ly, through its con­se­quences, through the hard and patient ​"work of love" of those who fight for it, who prac­tice fideli­ty to it.
We should thus aban­don our attach­ment to the dis­tinc­tion between the ​"nor­mal" run of things and the dis­rup­tive, excep­tion­al Event. Here is how the sto­ry of that dis­tinc­tion goes: We are immersed in our dai­ly cares and rit­u­als, and then some­thing hap­pens, and we Awak­en, in a sec­u­lar ver­sion of a mir­a­cle, the social eman­ci­pa­to­ry explo­sion. If we are faith­ful to this Event, our entire life changes, we are engaged in the »work of love« and endeav­or to inscribe the Event into our real­i­ty. At some point, then, the even­tal sequence is exhaust­ed and we return to the nor­mal flow of things.
But what if the true pow­er of a socio-polit­i­cal Event should be mea­sured pre­cise­ly by its dis­ap­pear­ance — the extent to which the Event is erased, and »nor­mal« life changes?
So, back to Greece, it is easy to count on the hero­ic ges­ture of promis­ing blood, sweat and tears, to repeat the mantra that authen­tic pol­i­tics means one should not remain with­in the con­fines of the pos­si­ble but to risk the impos­si­ble, but what would this imply in the case of Grexit?
The options before us
First, let's not for­get that the ref­er­en­dum was nei­ther about the Euro (75 per­cent of Greeks pre­fer to stay in the Euro­zone) nor about stay­ing in the EU or not. The ques­tion was: ​"Do you want this sit­u­a­tion to con­tin­ue or not?" Which means that the result also can­not be read as a sign that the Greek peo­ple are ready to endure sac­ri­fices and more suf­fer­ing in order to assert their sov­er­eign­ty. The ​"No" vote was a ​"No" to their con­tin­u­ing sit­u­a­tion, which was the sit­u­a­tion of aus­ter­i­ty, pover­ty, etc. It was a demand for bet­ter life, not a readi­ness for more suf­fer­ing and sac­ri­fice. Any new addi­tion­al suf­fer­ing brings the risk of the grow­ing dis­sat­is­fac­tion with the Syriza gov­ern­ment, even of a revolt. (In gen­er­al, the motif of ​"readi­ness for immense suf­fer­ing" is extreme­ly problematic.)
Sec­ond, in the case of Grex­it, would the Greek state not be com­pelled to enforce a series of mea­sures (nation­al­iza­tion of banks, high­er tax­es, etc.) which are sim­ply a revival of the old nation­al-sov­er­eign­ty-state-social­ist eco­nom­ic pol­i­tics? Noth­ing against such pol­i­tics, but would they work in the spe­cif­ic con­di­tions of today's Greece, with its inef­fi­cient state appa­ra­tus and as a part of glob­al econ­o­my? Here are the three main points of Syriza's Left Plat­form​'s anti-aus­ter­i­ty plan, list­ing a series of ​"absolute­ly man­age­able" measures:
(1) The rad­i­cal reor­ga­ni­za­tion of the bank­ing sys­tem, its nation­al­iza­tion under social con­trol, and its reori­en­ta­tion towards growth.

(2) The com­plete rejec­tion of fis­cal aus­ter­i­ty (pri­ma­ry sur­plus­es and bal­anced bud­gets) in order to effec­tive­ly address the human­i­tar­i­an cri­sis, cov­er social needs, recon­struct the social state, and take the econ­o­my out of the vicious cir­cle of recession.

(3) The imple­men­ta­tion of the begin­ning pro­ce­dures lead­ing to exit from the euro and to the can­cel­la­tion of the major part of the debt. There are absolute­ly man­age­able choic­es that can lead to a new eco­nom­ic mod­el ori­ent­ed towards pro­duc­tion, growth, and the change in the social bal­ance of forces to the ben­e­fit of the work­ing class and the people.
Plus two addi­tion­al specifications:
The elab­o­ra­tion of a devel­op­ment plan based on pub­lic invest­ment, which will how­ev­er also allow in par­al­lel pri­vate invest­ment. Greece needs a new and pro­duc­tive rela­tion­ship between the pub­lic and pri­vate sec­tors to enter a path to sus­tain­able devel­op­ment. The real­iza­tion of this project will become pos­si­ble once liq­uid­i­ty is reestab­lished, com­bined with nation­al saving.

Regain­ing con­trol of the domes­tic mar­ket from import­ed prod­ucts will revi­tal­ize and enhance the role of small and medi­um-sized enter­pris­es, which remain the back­bone of the Greek econ­o­my. At the same time exports will be stim­u­lat­ed by the intro­duc­tion of a nation­al currency.
It is dif­fi­cult to see in all this any­thing more than the usu­al set of state-inter­ven­tion­ist mea­sures: return­ing to nation­al cur­ren­cy, print­ing mon­ey, financ­ing big pub­lic works, sup­port­ing domes­tic indus­try. Such mea­sures, if prop­er­ly cal­i­brat­ed, may work — but would they work in today's Greece, with an enor­mous for­eign debt not only of the state but also of pri­vate indi­vid­u­als and com­pa­nies (which can­not be can­celled with­out cut­ting off these indi­vid­u­als and com­pa­nies from their for­eign part­ners), with an econ­o­my ful­ly inte­grat­ed into and depen­dent on West­ern Europe, rely­ing on food, indus­tri­al and med­ical imports? In oth­er words, where, in what out­side, would Greece find itself? In an out­side of Belarus and Cuba? These are ques­tions that the 25 Greek MP's who were mem­bers of the Left Plat­form and who left Syriza and formed the Pop­u­lar Uni­ty par­ty — have yet to address.
As Paul Krug­man recent­ly wrote, one has to admit that nobody real­ly knows what the con­se­quences of the Grex­it would be — it's an unchart­ed ter­ri­to­ry. But one thing is nonethe­less clear, as Gour­gouris writes, ​"Grex­it is a name for none oth­er than a pol­i­tics of nation­al inde­pen­dence." No won­der that some par­ti­sans of the Left Plat­form even resort to the extreme­ly prob­lem­at­ic and (for me) total­ly inac­cept­able char­ac­ter­i­za­tion of their stance as ​"nation­al pop­ulism." (Inci­den­tal­ly, one has to reject both opti­mistic myths, the Left Plat­form myth that there is a clear ratio­nal way to do Grex­it and bring new pros­per­i­ty, as well as the obverse myth — advo­cat­ed by, among oth­ers, Jef­frey Frankel—that, by faith­ful­ly enforc­ing the bailout plan, Tsipras can become a new Lula.)
So the choice was nev­er sim­ply ​"Grex­it or capit­u­la­tion." There is a third option. The Syriza gov­ern­ment finds itself in an unusu­al sit­u­a­tion, oblig­ed to do what it is opposed to. The third option is nei­ther to capit­u­late nor to risk the Grex­it but remain with­in the Euro­zone and fight a gueril­la war­fare with­in it, slow­ly occu­py­ing strate­gic posi­tions. To per­sist, while still not buy­ing into the EU's plans is true courage. This is why the tru­ly dan­ger­ous ene­my of the Syriza gov­ern­ment is now not the for­mer mem­bers of the Left Plat­form but those who take the defeat ​"sin­cere­ly" and real­ly want to play the EU card.
As Varo­fakis told me, this dan­ger becomes clear when one takes into account the effect of the capit­u­la­tion on Syriza itself:
[The capit­u­la­tion] de-rad­i­calised those left in the min­istries, the result being that they are either inca­pable of or unwill­ing to (lest they upset the Troi­ka) plan for the next rup­ture. More­over the Troi­ka is keep­ing them like guinea pigs on a tread­mill, mak­ing them run faster and faster to imple­ment its tox­ic mea­sures. With­in days they have become co-opt­ed and inca­pable of plan­ning any­thing of the sort.

Last­ly on this point, and cru­cial­ly, the Troi­ka is clev­er­ly forc­ing upon the gov­ern­ment leg­is­la­tion that spreads and entrench­es fur­ther its own fief­doms with­in the state. So, the tax fight­ing units are now absorbed by the Gen­er­al Sec­re­tari­at of Pub­lic Rev­enues (whose own­er­ship by the Troi­ka I exposed) so that the gov­ern­ment has no instru­ments left at its dis­pos­al to fight tax eva­sion by the oli­garchs. Sim­i­lar­ly with pri­vati­sa­tions. The Troi­ka is set­ting up new ​'organs' that it con­trols fully.
Is then any hope left? The true mir­a­cle of the sit­u­a­tion, and one of the few sources of mod­est hope, is that, in spite of the capit­u­la­tion to Brux­elles, it seems that around 70 per­cent of Greek vot­ers still sup­port the Syriza gov­ern­ment. The expla­na­tion is that the major­i­ty per­ceives the Syriza gov­ern­ment as doing the right thing in an impos­si­ble sit­u­a­tion. This is why Tsipras made the right choice when he stepped down and opened up the way for new elec­tions — with the hope to return to pow­er stronger than ever.
There is no clear a pri­ori answer here. Any deci­sion can only be retroac­tive­ly jus­ti­fied by its con­se­quences. There is a risk that the Syriza capit­u­la­tion will turn out to be just that and noth­ing more, enabling the full rein­te­gra­tion of Greece into EU as a hum­ble bank­rupt mem­ber, in the same way that there is a risk of Grex­it turn­ing into a large scale cat­a­stro­phe. What one should fear is not only the prospect of the fur­ther suf­fer­ing of the Greek peo­ple, but also the prospect of anoth­er fias­co which will dis­cred­it the Left for years to come — and at the same time allow the sur­viv­ing left­ists to argue that their defeat proves yet again the per­fid­i­ous­ness of the cap­i­tal­ist system.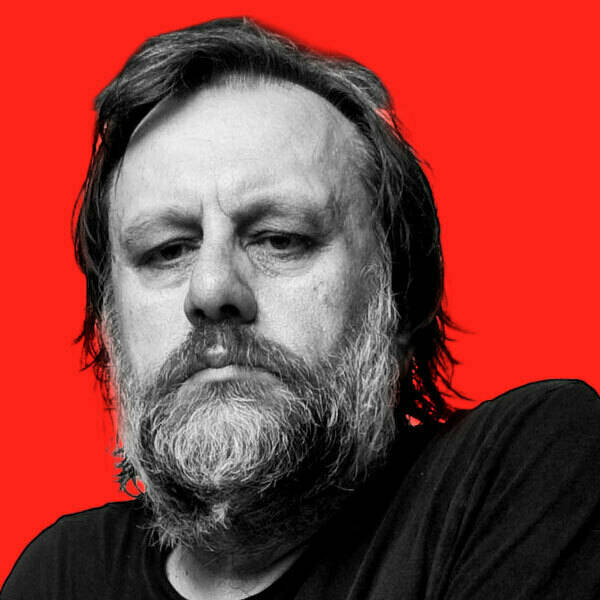 Slavoj Žižek
, a Sloven­ian philoso­pher and psy­cho­an­a­lyst, is a senior researcher at the the Insti­tute for Human­i­ties, Birk­beck Col­lege, Uni­ver­si­ty of Lon­don. He has also been a vis­it­ing pro­fes­sor at more than
10
uni­ver­si­ties around the world. Žižek is the author of many books, includ­ing Liv­ing in the End Times, First As Tragedy, Then As Farce, The Year of Dream­ing Dan­ger­ous­ly and Trou­ble in Paradise.