The HQ2 Scam: How Amazon Used a Bidding War to Scrape Cities' Data
The news of the lucky winners—New York and Virginia—exposes the bad faith of Amazon's much-hyped search.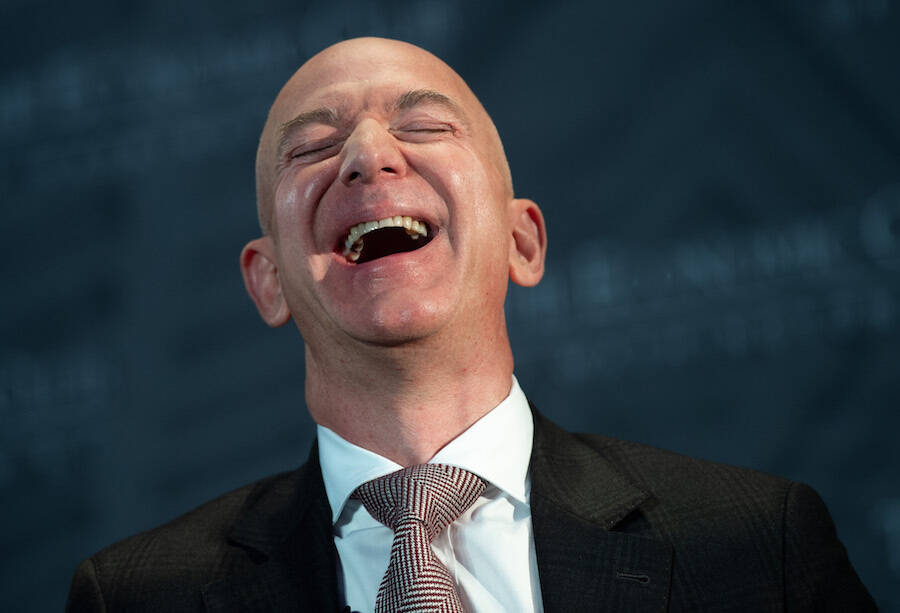 UPDATE: Ama­zon has for­mal­ly announced that it will locate two new cor­po­rate out­posts, which it is refer­ring to as its ​"head­quar­ters," in Long Island City, New York and the Crys­tal City sec­tion of Arling­ton, Vir­ginia (which it has arbi­trar­i­ly decid­ed to call ​"Nation­al Land­ing"). The details of the arrange­ments are as bad as expected.
Those bids didn't just include the size of the bribe; they included a wealth of important data about plans for transportation, housing, education and workforce development. Amazon now has a treasure trove of non-public information about America's future.
Ama­zon is set to receive well over $1.5 bil­lion, for the Long Island City facil­i­ty. That includes $48,000 per job cre­at­ed through New York State's Excel­sior Pro­gram and a $325 mil­lion cash grant from Empire State Devel­op­ment for occu­py­ing office space. Ama­zon also stands to receive up to near­ly $1 bil­lion from New York City's Relo­ca­tion and Employ­ment Assis­tance Pro­gram (REAP), in addi­tion to oth­er as-of-right incen­tives from New York City's Indus­tri­al and Com­mer­cial Abate­ment Pro­gram (ICAP), a Pay­ment In Lieu Of Tax (PILOT) pro­gram where the city sub­sti­tutes its fund­ing for Ama­zon's prop­er­ty tax­es. State Sen­a­tor Mike Gia­naris and New York City Coun­cil mem­ber Jim­my Van Bramer, who rep­re­sent the area, put the expect­ed total at $3 bil­lion. ​"We are wit­ness to a cyn­i­cal game in which Ama­zon duped New York into offer­ing unprece­dent­ed amounts to one of the wealth­i­est com­pa­nies on Earth," they said in a statement.
The Vir­ginia site could yield Ama­zon anoth­er $573 mil­lion in sub­si­dies, and an addi­tion­al $200 mil­lion if they expand, accord­ing to the mem­o­ran­dum of under­stand­ing. This mon­ey comes in a cash grant of $22,000 per job, and a por­tion of the growth from hotel tax­es in the city of Arling­ton. Under the con­tract, Ama­zon got a com­mit­ment from the state for ​"reg­u­la­to­ry flex­i­bil­i­ty" that will light­en reg­u­la­tions on the com­pa­ny. Ama­zon also retains the right to seek a pro­tec­tive order if any enti­ty seeks more infor­ma­tion about the deal.
In all, this is a multi­bil­lion-dol­lar haul to place offices in two loca­tions where Ama­zon already had a pres­ence and would have to expand into if it want­ed to main­tain sta­tus as a glob­al com­pa­ny. It's a fleec­ing of bil­lions of dol­lars that could have been put toward improv­ing qual­i­ty of life in these areas, attract­ing com­pa­nies to the desir­able loca­tions. Instead, New York and Vir­ginia hand­ed over a bribe.
Over the past year, may­ors and gov­er­nors nation­wide have fall­en over them­selves to offer cash bribes to Ama­zon to court its sec­ond head­quar­ters, billed as a ​"full equal" to its Seat­tle home base. Two hun­dred and thir­ty-eight cities sub­mit­ted bids to attract HQ2, as it was quaint­ly known, stuffed with bil­lions of dol­lars in gov­ern­ment sub­si­dies and detailed plans for how to accom­mo­date Ama­zon employ­ees' hous­ing and trans­porta­tion needs. Some of these bids were bor­der­line absurd: Chica­go offered Ama­zon the income tax receipts from its own staff.
Prac­ti­cal­ly every oth­er multi­na­tion­al cor­po­ra­tion in the world opens branch offices in oth­er cities with­out fan­fare. Google's offices in Berlin, Lon­don and New York are not con­sid­ered sec­ond or third head­quar­ters – they're just region­al offices. Google is report­ed­ly expand­ing its New York foot­print, in fact.
HQ2 was sup­posed to bring 50,000 jobs and $5 bil­lion in invest­ment to the lucky win­ner. But then the New York Times broke the sto­ry this week that Ama­zon will place offices in Crys­tal City, Vir­ginia — home of the Pen­ta­gon—and Long Island City, New York. That means the promised jobs and invest­ment will be cut in half. Will the sub­sidy pack­ages be halved as well? We have no idea, because the HQ2 bids from Vir­ginia and New York City are offi­cial­ly a secret.
If it was impos­si­ble for one com­pa­ny to have two head­quar­ters, it's real­ly impos­si­ble to have three. These are just region­al offices. In fact, they're exten­sions of the offices Ama­zon already have in the New York and Wash­ing­ton metro areas. The two cities have the tech-savvy work­force, trans­porta­tion hubs, and edu­ca­tion pipelines Ama­zon asked for in its solicitations.
They are also crit­i­cal to Amazon's not-at-all-secret quest for world dom­i­na­tion. Ama­zon thrives on gov­ern­ment con­tracts and close col­lab­o­ra­tions with defense and intel­li­gence oper­a­tions, so D.C. is a nat­ur­al fit. It's also where Ama­zon CEO Jeff Bezos just bought a giant man­sion in which to hold salons, and the local news­pa­per. Bezos also has a home in New York, which is the cen­ter of the cor­po­rate uni­verse, home to the head offices of Ama­zon sup­pli­ers and part­ners, as well as the nation's adver­tis­ing mec­ca, a field that Ama­zon has been aggres­sive­ly push­ing into late­ly.
Cities of the stature of New York or Wash­ing­ton have been pulling away from the rest of the coun­try eco­nom­i­cal­ly for years. Of course Ama­zon would need to have per­son­nel there. Ama­zon knew that cre­at­ing the pre­tense of a bid­ding war would pres­sure major cities to offer lav­ish pack­ages, run­ning up the pay­outs the com­pa­ny could extract. But we should raise the ques­tion: Why would any politi­cian give away ten cents in sub­si­dies to bring in a com­pa­ny that they know will set up shop anyway?
That's a ques­tion Ama­zon has been able to hold off for years. Since 2000, Ama­zon has been award­ed sub­sidy deals worth at least $1.6 bil­lion for data cen­ters and ware­hous­es, as it promis­es rapid ship­ping every­where and con­stant­ly expands its cloud com­put­ing ser­vice. This num­ber has been accel­er­at­ing over time as Ama­zon has grown and made more promis­es; $230 mil­lion has come in just in 2018. Ama­zon just announced its 14th ware­house in the Inland Empire of Cal­i­for­nia alone.
As Prime ship­ping goes from two-day guar­an­tees to one-day to a mat­ter of hours, Ama­zon will need to store inven­to­ry in every cor­ner of the coun­try. Yet it con­tin­ues the lucra­tive ploy of get­ting cities des­per­ate for jobs to vie with one anoth­er for infra­struc­ture Ama­zon has to build any­way. Pub­lic offi­cials con­tin­ue to back up the truck for the world's rich­est man and his com­pa­ny, for no dis­cernible reason.
But the biggest suck­ers on HQ2 aren't New York and Vir­ginia; it's the oth­er 236 cities that bid on a head­quar­ters they were nev­er going to get. Those bids didn't just include the size of the bribe; they includ­ed a wealth of impor­tant data about plans for trans­porta­tion, hous­ing, edu­ca­tion and work­force devel­op­ment. Ama­zon now has a trea­sure trove of non-pub­lic infor­ma­tion about America's future, in addi­tion to know­ing how much cash cities are will­ing to part with to land an Ama­zon facil­i­ty. And it got all that, along with a giant PR ben­e­fit from the bid­ding war, for free.
If you knew a city was going to build a road in a par­tic­u­lar place, you could make a lot of mon­ey buy­ing up the real estate there. Imag­ine that on a nation­al scale and you can see how Ama­zon will grow far wealth­i­er from the data it col­lect­ed than even the raw dol­lars extract­ed from HQ2's big win­ners. In fact, this was the real rea­son Ama­zon orches­trat­ed the whole charade.
Ama­zon can now go back to every city that put in a bid and offer a ware­house or data cen­ter or satel­lite office for one of its 16 sub­sidiary com­pa­nies. The com­pa­ny will have sig­nif­i­cant lever­age in those nego­ti­a­tions, because the oth­er side has already made an ini­tial offer. Just as impor­tant, Ama­zon can set up oper­a­tions with the fore­knowl­edge of what cities have divulged to them. It can build its con­ve­nience stores or book­seller out­lets where cities have planned rapid devel­op­ment and pop­u­la­tion growth. It can locate its ware­hous­es where a new high­way expan­sion is immi­nent. It can shift knowl­edge jobs to areas where uni­ver­si­ties will soon be built and high-tech edu­ca­tion projects funded.
It can even poten­tial­ly sell this data to oth­er com­pa­nies who long for sim­i­lar deals, or at least start up a new busi­ness line in nego­ti­at­ing deals between com­pa­nies and munic­i­pal governments.
Mon­e­tiz­ing of this new data trove will yield untold bil­lions of dol­lars in val­ue. It will also embed Ama­zon deep­er and deep­er into Amer­i­can life, com­mit­ting politi­cians at the state and fed­er­al lev­el to become human shields for the com­pa­ny. For exam­ple, no sen­a­tor from New York or Vir­ginia, with Ama­zon in its back­yard, will want to speak too loud­ly about Amazon's monop­oly attempts. And no may­or or city coun­cil mem­ber, eager to secure that next ware­house, will have much to say either.
We already know that Ama­zon runs on data — from its cus­tomers, its sup­pli­ers, its cloud com­put­ing clients — to increase its pow­er. It can antic­i­pate what shop­pers want from the pur­chas­ing his­to­ry. It can see what third-par­ty prod­ucts are sell­ing on the site, and repli­cate them. Now it can make mon­ey off of knowl­edge about the future of cities. There was no rea­son for elect­ed offi­cials to fall for this game. But they have been lured by the promise of jobs — in many cas­es a false promise, as stud­ies show that cor­po­rate wel­fare sub­si­dies are usu­al­ly not worth it — into hand­ing a gold­mine over to Amazon.