Language of the Unheard: 50 Years On, the Flames of the Detroit Uprising Still Burn
The structural injustices that laid the groundwork for Detroit's uprising still exist.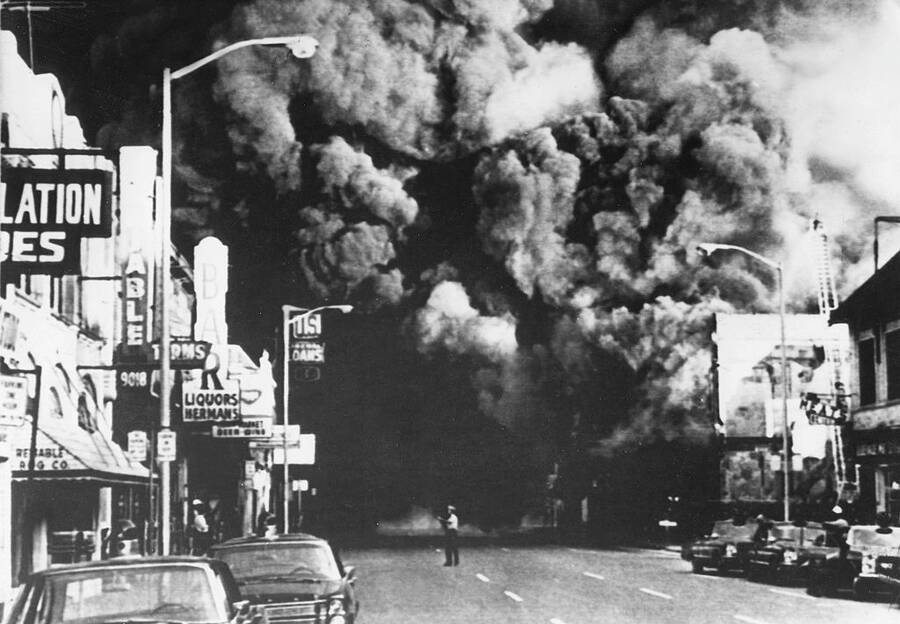 Ear­ly on the morn­ing of July 23, 1967, police in Detroit raid­ed an ille­gal after-hours bar and began to arrest all 85 peo­ple there. A crowd gath­ered, and, soon, alle­ga­tions of police bru­tal­i­ty were fly­ing — along with bot­tles and rocks thrown by fed-up Detroi­ters. Over the next sev­er­al days, 2,509 build­ings were dam­aged, 7,231 peo­ple were arrest­ed and 43 died, most of them killed by police or the Michi­gan Nation­al Guard.
Ask any native Detroiters old enough to remember about their reflections on the "Detroit riot" and you are likely to hear vivid memories of burning buildings, tanks in the streets, or neighbors protecting one another's homes.
Fifty years lat­er, the struc­tur­al injus­tices that laid the ground­work for Detroit's upris­ing still exist. Oppres­sive police forces, wide­spread pover­ty and hous­ing seg­re­ga­tion per­vade U.S. cities, and cit­i­zens are again in the streets. The excerpts below are tak­en from Detroit 1967: Ori­gins, Impacts, Lega­cies, a new col­lec­tion edit­ed by Joel Stone of the Detroit His­tor­i­cal Society.
The fol­low­ing excerpt comes from the book's fore­word, writ­ten by native Detroi­ter Thomas J. Sug­rue, pro­fes­sor of his­to­ry at New York University.
Detroit's 1967 riot is con­ven­tion­al­ly por­trayed as a moment of col­lec­tive law­less­ness and dis­or­der or as an irra­tional out­pour­ing of rage. Those descrip­tions are woe­ful­ly inad­e­quate. The events in late July were an out­growth of years of protest. To use the con­test­ed lan­guage of the 1960s, black Detroi­ters engaged in an upris­ing against a racial­ly unequal sta­tus quo, a rebel­lion against bru­tal police and exploita­tive shop­keep­ers. There is no evi­dence that the burn­ing, loot­ing and van­dal­ism that hap­pened on the city's streets in July 1967 was orga­nized, despite per­va­sive con­spir­a­cy the­o­ries that out­side agi­ta­tors, whether com­mu­nists or advo­cates of black pow­er, had orches­trat­ed the riot. But there is abun­dant evi­dence that many of those who took to the streets saw their actions as a chal­lenge to the legit­i­ma­cy of white author­i­ties. Many of the par­tic­i­pants in the 1967 riot took the oppor­tu­ni­ty to exact revenge for eco­nom­ic hard­ship. Loot­ers sin­gled out mer­chants, espe­cial­ly own­ers of food stores who rou­tine­ly over­charged their inner-city cus­tomers. Some saw loot­ing as redis­trib­u­tive justice.
Like all rebel­lions, Detroit's had unan­tic­i­pat­ed con­se­quences. Few who took to the streets had a vision for what the post-riot city would look like. In the after­math of July events, Detroit's civic lead­er­ship — for a time — chan­neled mon­ey into com­mu­ni­ty eco­nom­ic-devel­op­ment projects. Foun­da­tions spon­sored job train­ing and cre­ation pro­grams. City offi­cials halt­ing­ly imple­ment­ed pro­grams to diver­si­fy the pub­lic employ­ee work­force, even though they faced fierce resis­tance, espe­cial­ly among the city's over­whelm­ing­ly white police force. But the long, hot sum­mer also fueled an already intense, bipar­ti­san demand for tough ​"law and order" pol­i­tics, includ­ing mil­i­ta­riz­ing police depart­ments and expand­ing the prison sys­tem. The fall­out from the urban upris­ings also gave whites who had long fierce­ly opposed hous­ing and edu­ca­tion­al inte­gra­tion a new jus­ti­fi­ca­tion for keep­ing blacks out of their neigh­bor­hoods and schools. Half a cen­tu­ry after 1967, Detroit remains near the top of the list of America's most racial­ly divid­ed met­ro­pol­i­tan areas. Many whites con­tin­ue to ral­ly around calls for tough polic­ing and con­tin­ue to dis­count African-Amer­i­can griev­ances as spe­cial-inter­est pleading.
Fifty years after Detroit's upris­ing, the events of 1967 are sad­ly rel­e­vant. The protests in Fer­gu­son, Mo., after the 2014 police shoot­ing of Michael Brown; the burn­ing and loot­ing in Bal­ti­more in the spring of 2015 after the death of Fred­die Gray while in police cus­tody; the anti-police-bru­tal­i­ty march­es in vio­lent Chica­go in 2016; and the upris­ings in Mil­wau­kee and Char­lotte, N.C., in August and Sep­tem­ber 2016 are all reminders of the fact that many of the under­ly­ing caus­es of the long, hot sum­mers of the 1960s remain unaddressed.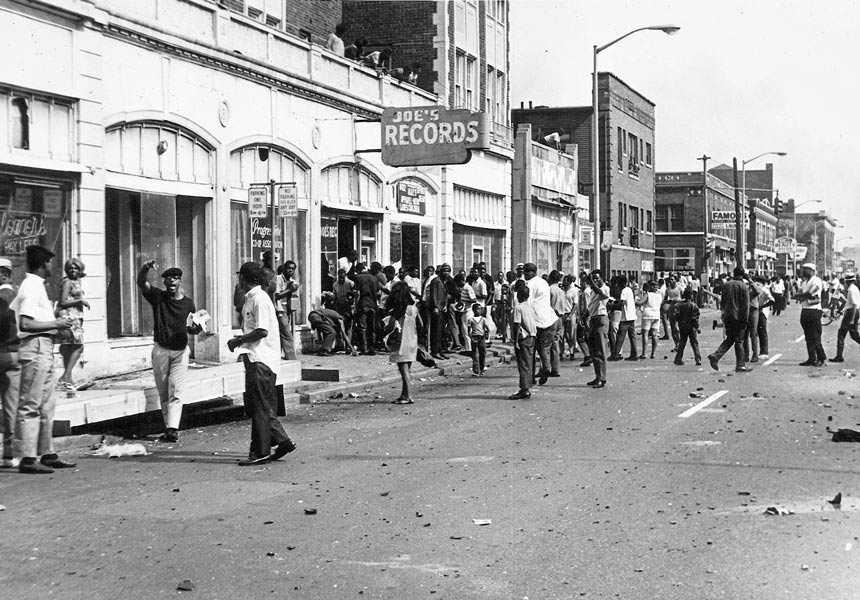 Above: Detroi­ters loot a record store on 12th Street, part of an ebb and flow of activ­i­ty that con­fused offi­cials attempt­ing to deter­mine appro­pri­ate coun­ter­mea­sures. (Detroit His­tor­i­cal Soci­ety Col­lec­tion, reprint­ed with per­mis­sion from Wayne State Uni­ver­si­ty Press)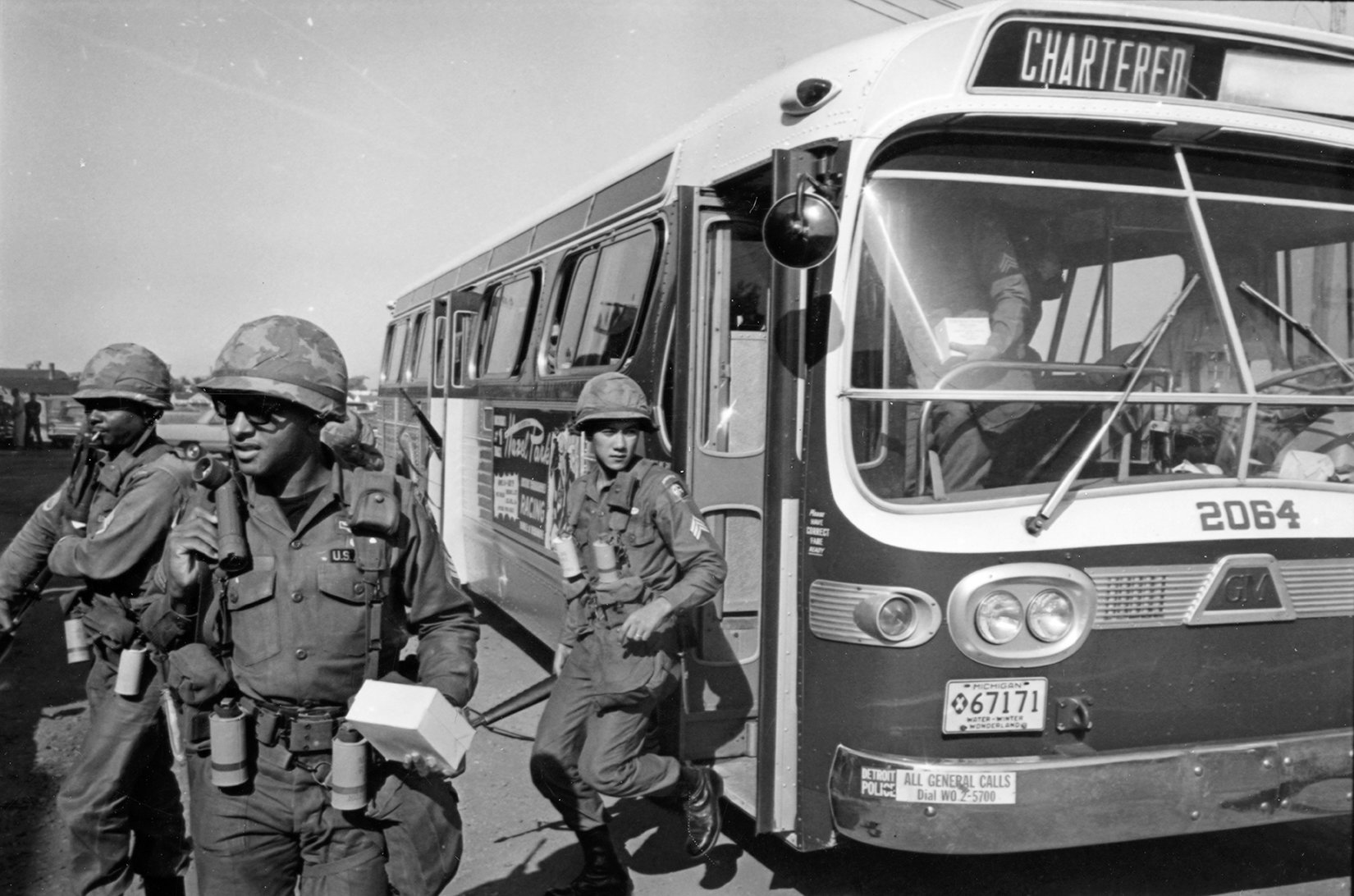 Above: Fed­er­al troops of the 82nd Air­borne Divi­sion were shut­tled by char­tered bus­es to var­i­ous stag­ing points near the con­flict zones. (Image cour­tesy of Thomas Dig­gs, all images reprint­ed with per­mis­sion from Wayne State Uni­ver­si­ty Press)
From ​"The Prob­lem Was the Police," by Mel­ba Joyce Boyd, pro­fes­sor of African-Amer­i­can stud­ies at Wayne State University:
Karl Gre­go­ry, a com­mu­ni­ty activist and a pro­fes­sor at Wayne State at the time, described his encounter with the Nation­al Guard in July 1967 dur­ing an oral his­to­ry ses­sion with the Detroit His­tor­i­cal Society.
It occurred on the east side of Detroit when he was patrolling the streets with Alvin Har­ri­son, try­ing to get peo­ple to return to their homes dur­ing the civ­il erup­tion. We con­tin­ued until late that evening dur­ing a cur­few. The Nation­al Guard stopped us. There was a young white guards­man who dis­mount­ed from his vehi­cle, approached, and told me, ​"Pull your win­dow down." I was dri­ving. [He] point­ed his gun at me. I was con­cerned, but I wasn't afraid then. His hand was shak­ing … on the trig­ger. And I said, ​"Look, I'm a col­lege pro­fes­sor. I am just try­ing to get the peo­ple off the street." And he looked like he was try­ing to deter­mine whether or not I was a riot­er (or what have you), and a sergeant came by and said some­thing like, ​"Cool it." But this guards­man [the kid] was more afraid of me than I was of him. I don't know how many black per­sons, if any, that youth had been in con­tact with before in his entire life.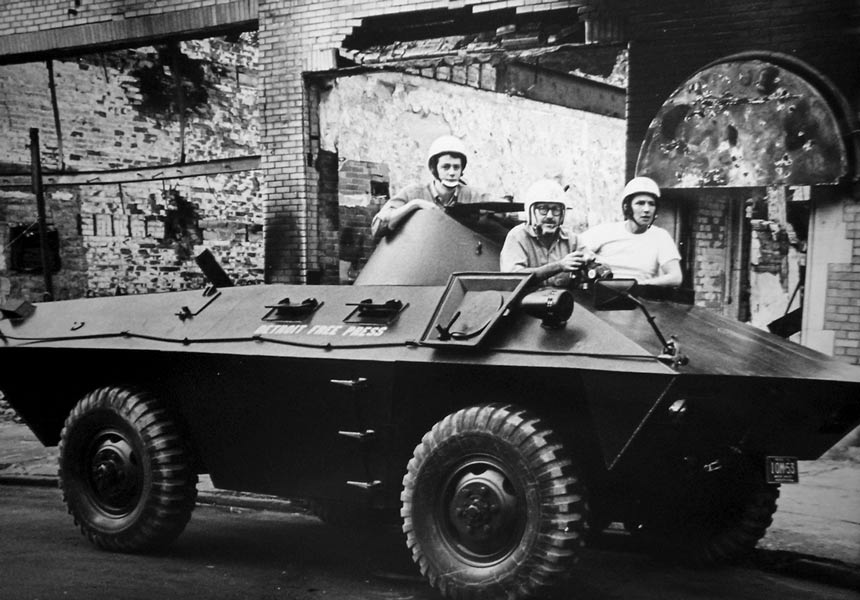 Above: Detroit Free Press staff entered the con­flict area in an armored per­son­nel car­ri­er loaned to the news­pa­per by the Chrysler Cor­po­ra­tion. They includ­ed (left to right) copy­boy Tom De Lisle, pho­tog­ra­ph­er Ira Rosen­berg and reporter Gene Goltz. (Tim­o­thy Kiska and the Detroit Free Press, reprint­ed with per­mis­sion from Wayne State Uni­ver­si­ty Press)
From ​"Hind­sight: The Shift in Media Fram­ing," by Casan­dra E. Ulbrich, vice pres­i­dent for col­lege advance­ment and com­mu­ni­ty rela­tions at Macomb Com­mu­ni­ty Col­lege in south­east Michigan:
Ask any native Detroi­ters old enough to remem­ber about their reflec­tions on the ​"Detroit riot" and you are like­ly to hear vivid mem­o­ries of burn­ing build­ings, tanks in the streets, or neigh­bors pro­tect­ing one another's homes. They will tell you about the smell of the smoke, the crack­ling of break­ing glass, or the fear that comes from the unmis­tak­able sound of gun­fire in the distance.
But you are also like­ly to hear a refu­ta­tion of the word riot. ​"It wasn't a riot," some will tell you. ​"It was a rebel­lion." And just like that, the images just described assume a com­plete­ly dif­fer­ent mean­ing. The actions of those who were involved are trans­formed, as are the actors them­selves. The his­tor­i­cal con­text is rede­fined, and soci­etal respon­si­bil­i­ty sud­den­ly becomes part of the discussion.
Copy­right © 2017 Wayne State Uni­ver­si­ty Press, with the per­mis­sion of Wayne State Uni­ver­si­ty Press