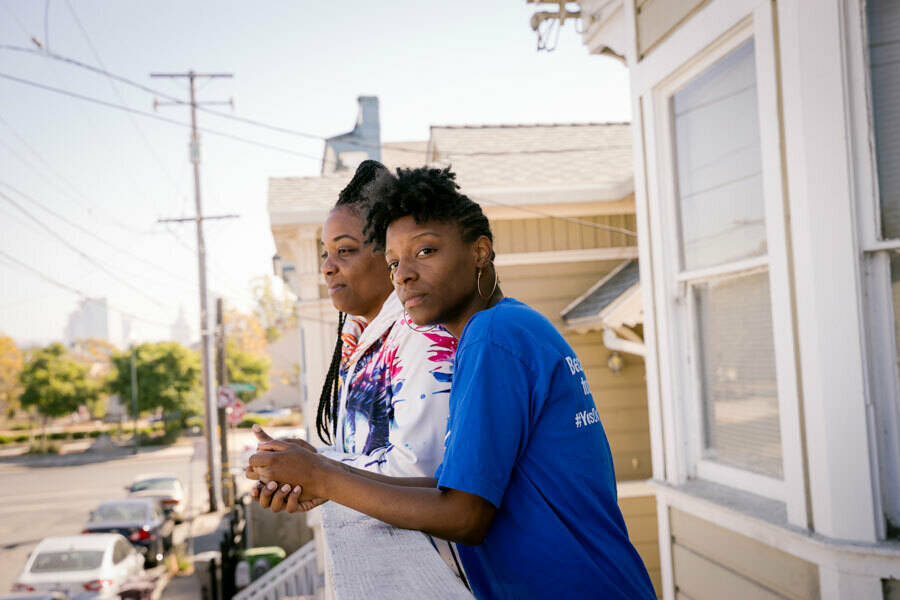 OAKLAND, CALIF. — On a Monday evening in September, the headquarters of the Alliance of Californians for Community Empowerment (ACCE) is full of volunteers, mostly Black and Latina women fresh off of grinding shifts in retail, fast food, housekeeping and janitorial jobs.
With an insatiable demand for Bay Area housing thanks to the tech boom, working-class people of color fear they represent a vanishing demographic in a rapidly gentrifying Oakland.
As working-class people of color, they represent a vanishing demographic in a rapidly gentrifying Oakland. They're here to resist the forces trying to uproot them from the city.
ACCE's volunteers are phonebanking and door-knocking on behalf of two November ballot measures that aim to put the brakes on gentrification. Prop 10, a statewide measure, would let California cities like Oakland pass their own rent control laws, and Measure Y, a county initiative, would expand Oakland's ​"just cause" protections against unjustified evictions.
Lifelong Oaklanders Terema Pettus, 45, and Robin Jones, 48, discovered this July how precarious life as a renter can be.
Pettus, an X-ray technician at Kaiser Permanente, lives with her children and grandchildren. Jones, a college-educated retail worker, supports a child with special needs. They live in separate units in a triplex in Oakland's historic Lower Bottoms. On July 10, they received eviction notices. It didn't matter that they haven't been accused of violating any portion of the lease. It's all perfectly legal. Once the property owners' son moved in, Jones and Pettus became tenants of an owner-occupied triplex, which exempts owners from providing a cause for eviction. Measure Y would change this.
With the tech boom creating insatiable demand for Bay Area housing, Oakland is gentrifying fast, pushing out Black and brown communities that have long called it home. According to the Anti-Eviction Mapping Project, the average apartment rent in Oakland rose from $1,624 in 2011 to $2,813 in 2016. Meanwhile, the city lost more than 40,000 Black residents between 2000 and 2014, over 30 percent of its Black population.
In the 1960s, Oakland emerged as the Black Power movement's center of gravity. The Lower Bottoms, where Jones and Pettus live, once housed the Black Panther Party's headquarters. Here, Panthers co-founder Huey Newton took his final breath after being gunned down August 22, 1989.
Today's Oakland is home to luxury condos and swanky or intentionally grungy artisanal shops along rapidly evolving streetscapes where people of color now stand out. ​"It's shocking," says Pettus' daughter, Donmonique Daniels, 26.
"They used to say it takes a village to raise a kid," Jones says. ​"We don't have that type of thing now. … There's nothing neighborly about it."
Jones and Pettus decided they weren't going to leave quietly. Soon after being served their 60-day eviction notices, when they were debating whether to hang on and fight it (risking sudden homelessness) or to follow other Oaklanders pushed to distant suburbs, they found ACCE. The statewide grassroots organization fights for workingclass issues such as housing, labor and environmental justice.
Since connecting with ACCE, Jones and Pettus have sprinted from the outskirts of political life to the front lines of grassroots hellraising.
In mid-September, Jones, Daniels and Pettus led a protest outside the Oakland restaurant Boot and Shoe, where one of their landlords, Bradley Ceynowa, works as executive chef. Perched in the window was a Black Lives Matter sign.
The 20-odd picketers were met with both sympathy and malice, Jones says: A restaurant worker promised to send an email to the absent chef on the protesters' behalf, while a patron threw their f lyer to the ground in contempt.
Despite ginning up public support, each received a court summons in October. In exchange for the right to stay through January 2019, they gave up the ability to evoke Measure Y if it passes.
Only 21 cities in California and a handful of states offer just cause protections, yet Oakland's situation is shared by many Black metropolises around the country. Residential segregation once walled in generations of Black families. Now, many of those families are being banished to far-flung locales in favor of whiter and wealthier tenants.
November 6 will test whether ACCE's months of work can defeat the oligarchy of landlords and real estate interests (including both the California and National Association of Realtors) that have dumped roughly $160,000 into defeating Measure Y.
ELI DAY was an inves­tiga­tive fel­low with In These Times' Leonard C. Good­man Insti­tute for Inves­tiga­tive Report­ing. He's also a Detroi­ter, where he writes about pol­i­tics, pol­i­cy, racial and eco­nom­ic jus­tice. His work has appeared in Vox, Current Affairs, Mother Jones, and the New Republic, among others.