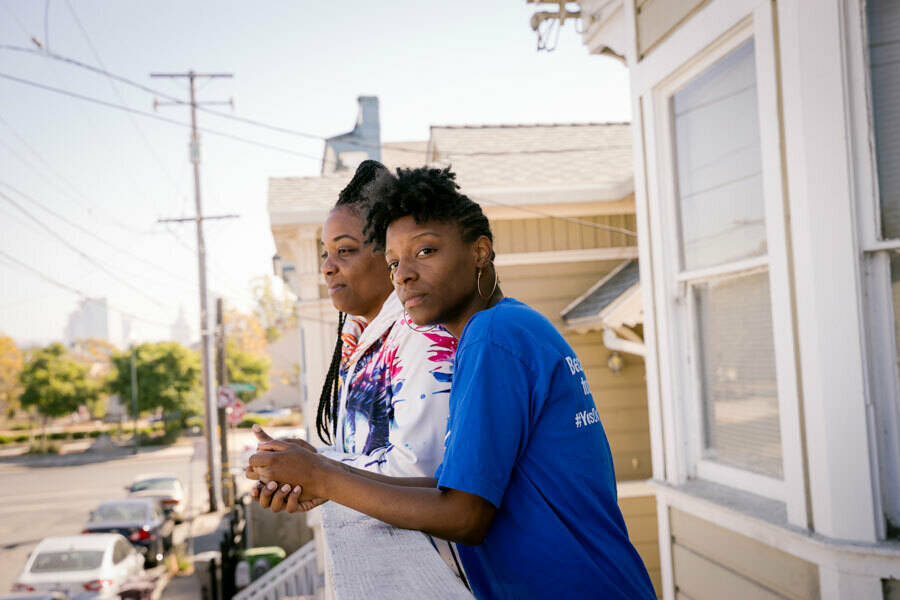 OAK­LAND, CALIF. — On a Mon­day evening in Sep­tem­ber, the head­quar­ters of the Alliance of Cal­i­for­ni­ans for Com­mu­ni­ty Empow­er­ment (ACCE) is full of vol­un­teers, most­ly Black and Lati­na women fresh off of grind­ing shifts in retail, fast food, house­keep­ing and jan­i­to­r­i­al jobs.
With an insatiable demand for Bay Area housing thanks to the tech boom, working-class people of color fear they represent a vanishing demographic in a rapidly gentrifying Oakland.
As work­ing-class peo­ple of col­or, they rep­re­sent a van­ish­ing demo­graph­ic in a rapid­ly gen­tri­fy­ing Oak­land. They're here to resist the forces try­ing to uproot them from the city.
ACCE's vol­un­teers are phonebank­ing and door-knock­ing on behalf of two Novem­ber bal­lot mea­sures that aim to put the brakes on gen­tri­fi­ca­tion. Prop 10, a statewide mea­sure, would let Cal­i­for­nia cities like Oak­land pass their own rent con­trol laws, and Mea­sure Y, a coun­ty ini­tia­tive, would expand Oakland's ​"just cause" pro­tec­tions against unjus­ti­fied evictions.
Life­long Oak­lan­ders Tere­ma Pet­tus, 45, and Robin Jones, 48, dis­cov­ered this July how pre­car­i­ous life as a renter can be.
Pet­tus, an X‑ray tech­ni­cian at Kaiser Per­ma­nente, lives with her chil­dren and grand­chil­dren. Jones, a col­lege-edu­cat­ed retail work­er, sup­ports a child with spe­cial needs. They live in sep­a­rate units in a triplex in Oakland's his­toric Low­er Bot­toms. On July 10, they received evic­tion notices. It didn't mat­ter that they haven't been accused of vio­lat­ing any por­tion of the lease. It's all per­fect­ly legal. Once the prop­er­ty own­ers' son moved in, Jones and Pet­tus became ten­ants of an own­er-occu­pied triplex, which exempts own­ers from pro­vid­ing a cause for evic­tion. Mea­sure Y would change this.
With the tech boom cre­at­ing insa­tiable demand for Bay Area hous­ing, Oak­land is gen­tri­fy­ing fast, push­ing out Black and brown com­mu­ni­ties that have long called it home. Accord­ing to the Anti-Evic­tion Map­ping Project, the aver­age apart­ment rent in Oak­land rose from $1,624 in 2011 to $2,813 in 2016. Mean­while, the city lost more than 40,000 Black res­i­dents between 2000 and 2014, over 30 per­cent of its Black population.
In the 1960s, Oak­land emerged as the Black Pow­er movement's cen­ter of grav­i­ty. The Low­er Bot­toms, where Jones and Pet­tus live, once housed the Black Pan­ther Party's head­quar­ters. Here, Pan­thers co-founder Huey New­ton took his final breath after being gunned down August 22, 1989.
Today's Oak­land is home to lux­u­ry con­dos and swanky or inten­tion­al­ly grungy arti­sanal shops along rapid­ly evolv­ing streetscapes where peo­ple of col­or now stand out. ​"It's shock­ing," says Pet­tus' daugh­ter, Don­monique Daniels, 26.
"They used to say it takes a vil­lage to raise a kid," Jones says. ​"We don't have that type of thing now. … There's noth­ing neigh­bor­ly about it."
Jones and Pet­tus decid­ed they weren't going to leave qui­et­ly. Soon after being served their 60-day evic­tion notices, when they were debat­ing whether to hang on and fight it (risk­ing sud­den home­less­ness) or to fol­low oth­er Oak­lan­ders pushed to dis­tant sub­urbs, they found ACCE. The statewide grass­roots orga­ni­za­tion fights for work­ing­class issues such as hous­ing, labor and envi­ron­men­tal justice.
Since con­nect­ing with ACCE, Jones and Pet­tus have sprint­ed from the out­skirts of polit­i­cal life to the front lines of grass­roots hellraising.
In mid-Sep­tem­ber, Jones, Daniels and Pet­tus led a protest out­side the Oak­land restau­rant Boot and Shoe, where one of their land­lords, Bradley Ceynowa, works as exec­u­tive chef. Perched in the win­dow was a Black Lives Mat­ter sign.
The 20-odd pick­eters were met with both sym­pa­thy and mal­ice, Jones says: A restau­rant work­er promised to send an email to the absent chef on the pro­test­ers' behalf, while a patron threw their f lyer to the ground in contempt.
Despite gin­ning up pub­lic sup­port, each received a court sum­mons in Octo­ber. In exchange for the right to stay through Jan­u­ary 2019, they gave up the abil­i­ty to evoke Mea­sure Y if it passes.
Only 21 cities in Cal­i­for­nia and a hand­ful of states offer just cause pro­tec­tions, yet Oakland's sit­u­a­tion is shared by many Black metrop­o­lis­es around the coun­try. Res­i­den­tial seg­re­ga­tion once walled in gen­er­a­tions of Black fam­i­lies. Now, many of those fam­i­lies are being ban­ished to far-flung locales in favor of whiter and wealth­i­er tenants.
Novem­ber 6 will test whether ACCE's months of work can defeat the oli­garchy of land­lords and real estate inter­ests (includ­ing both the Cal­i­for­nia and Nation­al Asso­ci­a­tion of Real­tors) that have dumped rough­ly $160,000 into defeat­ing Mea­sure Y.
ELI DAY was an inves­tiga­tive fel­low with In These Times' Leonard C. Good­man Insti­tute for Inves­tiga­tive Report­ing. He's also a Detroi­ter, where he writes about pol­i­tics, pol­i­cy, racial and eco­nom­ic jus­tice. His work has appeared in Vox, Cur­rent Affairs, Moth­er Jones, and the New Repub­lic, among others.