The Looming Writers Strike Is About Much More Than What's On TV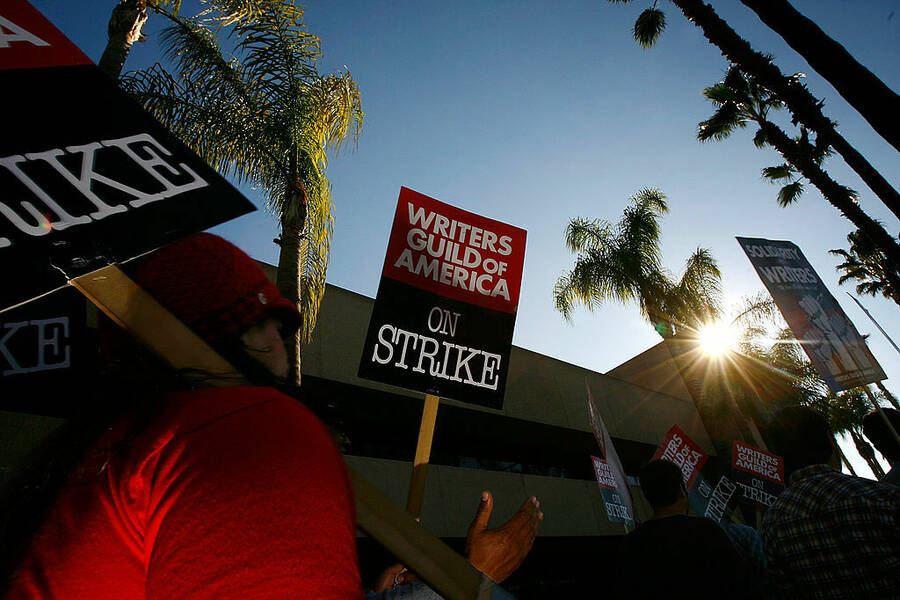 Peo­ple say we're liv­ing in the gold­en age of tele­vi­sion. Fans enjoy more high-qual­i­ty choic­es than at any time in his­to­ry. But this could all grind to a halt if the Writ­ers Guild of Amer­i­ca (WGA) fol­lows through with autho­riz­ing a strike, which would start May 2 bar­ring any last-minute deals with the major studios.
In the short-term, late-night talk and sketch shows could go dark or resort to impro­vi­sa­tion, and the fall broad­cast sched­ule could be threat­ened. (The WGA cov­ers screen­writ­ers as well, but movies oper­ate on such a long time­frame that a strike wouldn't affect releas­es for over a year.) But more broad­ly, the bat­tle would deter­mine who ben­e­fits from the bil­lions of dol­lars slosh­ing around Hol­ly­wood: well-off stu­dio exec­u­tives or the cre­ators who bring unfor­get­table char­ac­ters to life.
As Mad Men cre­ator Matthew Wein­er told col­leagues in rec­om­mend­ing a strike, writ­ers sim­ply want ​"to par­tic­i­pate in this wind­fall we cre­at­ed in the last five years."
Squeezed on all sides
Writ­ers last walked out in 2007 – 2008, when YouTube was three years old and the con­cept of deliv­er­ing orig­i­nal script­ed pro­gram­ming over the Inter­net was scarce­ly in anyone's head. The WGA had the fore­sight to secure rev­enues from stream­ing resid­u­als in that con­tract. But nobody was pre­pared for how the indus­try would change.
Increas­ing­ly, script­ed shows have short­er and short­er sea­sons. Six­ty-eight per­cent of all pro­grams aired 13 episodes or few­er last sea­son, accord­ing to WGA cal­cu­la­tions, rather than the tra­di­tion­al 22. Because writ­ers are com­pen­sat­ed on a per-episode basis, that change amounts to a halv­ing of their pay.
In addi­tion, stu­dios are giv­ing shows more time to make those lim­it­ed num­bers of episodes, which is great for the craft but bad for writ­ers' bot­tom line. Oth­er behind-the-scenes tal­ent gets paid based on their pres­ence at work; only writ­ers lose mon­ey when they get three weeks per episode instead of two.
You might think short­er runs allow writ­ers to hook onto more shows over their careers. But under cur­rent terms, writ­ers sign exclu­sive con­tracts, with an option to return to their show if it gets renewed. They can't stack up three shows in a year to make up for lost wages. And exclu­sive holds can last a full year, if net­works delay in con­firm­ing a defin­i­tive air date. If the delays last long enough, writ­ers can become inel­i­gi­ble for union health­care and oth­er benefits.
In the past, writ­ers filled these gaps with resid­ual pay­ments. But net­works, fear­ful of tough com­pe­ti­tion, air far few­er re-runs now. Instead, they sell entire sea­sons to video-on-demand (VOD) ser­vices. Writ­ers make less mon­ey from these for­mats than from net­work resid­u­als. For exam­ple, a net­work repeat for a 1‑hour show yields a writer more than $24,000, while an ad-sup­port­ed VOD air­ing nets just $1,228 for the writer, accord­ing to union con­tract rates.
For movie writ­ers, the issues are dif­fer­ent. The big stu­dios are mak­ing few­er movies, down to 139 releas­es in 2016 from 204 in 2006, lim­it­ing writ­ers' oppor­tu­ni­ties. Stu­dios have also begun to reduce script ​"devel­op­ment," even demand­ing free rewrites instead of offer­ing paid time to hone and per­fect a screen­play. The van­ish­ing of DVD rev­enues has also tak­en a bite. Earn­ings for screen­writ­ers today are rough­ly equiv­a­lent to earn­ings from 2000, the WGA esti­mates.
Final­ly, the WGA has a large gap in its health­care fund: It expects a $56 mil­lion deficit over the next three years. While nego­ti­a­tions seem like they will yield high­er base wages for writ­ers, health­care has become a crit­i­cal stick­ing point. The stu­dios have agreed to fill much of the gap, but with ​"wage diver­sions" that would effec­tive­ly come out of writ­ers' pay­checks. The WGA wants a much high­er con­tri­bu­tion from man­age­ment to fund a rainy-day reserve. The two sides are rough­ly $45 mil­lion apart.
"

A very, very big pie"

TV and film remains very prof­itable, at least for exec­u­tives and share­hold­ers. The ​"Big Six" stu­dios (Fox, Warn­er Bros., Para­mount, Sony, Uni­ver­sal, and Dis­ney) report­ed oper­at­ing prof­its of $51 bil­lion last year, twice as much as in 2007. Upfront TV ad rates increased last year to well over $9 bil­lion, as live pro­gram­ming becomes high­ly val­ued in an era of ad-block­ers and DVRs. Upstarts like Net­flix or Ama­zon have even more rich­es at their dis­pos­al to pay for programming.

The stu­dios are most­ly arms of large con­glom­er­ates, whose par­ent com­pa­nies run telecom­mu­ni­ca­tions or elec­tron­ics busi­ness­es. Leslie Moonves, head of Viacom/Paramount's CBS Corp., earned $69 mil­lion last year. These giant cor­po­ra­tions with diverse, world­wide rev­enue streams clear­ly car­ry the abil­i­ty to pay writ­ers fair­ly for what they gen­er­ate in val­ue. Sto­ries about slow growth in box office receipts or sig­nif­i­cant stu­dio chal­lenges mask the tremen­dous cash still avail­able to multi­na­tion­al giants.

But the stu­dios want to hang onto their boun­ty, and they have resources to take the sting out of a writer's strike. A decade ago, the full cat­a­logs of prac­ti­cal­ly every tele­vi­sion show ever made weren't as read­i­ly avail­able on demand. Plus, not incor­po­rat­ing real­i­ty show sto­ry­tellers into the 2008 con­tract could come back to burn the WGA now, as this would become the non-union scab pro­gram­ming replac­ing side­lined script­ed shows on many net­works. Add to that a Hol­ly­wood strike's impact on thou­sands of oth­er ancil­lary jobs — from stage­hands to cater­ing to limo ser­vices to hair and make­up — and the WGA could have some chal­lenges this time around.

This would be the sixth WGA strike since 1960, and pre­vi­ous efforts have secured impor­tant advances for the back­bone of the enter­tain­ment indus­try. More­over, they have become teach­able moments for a coun­try unused to labor strife — a way to direct­ly explain the con­cepts of fair wages and work­ers demand­ing to share in a company's success.

But now, writ­ers are fight­ing con­cen­trat­ed pow­er bro­kers who have devised all sorts of ways to main­tain a stran­gle­hold on the bil­lions of peo­ple world­wide who fork over mon­ey to watch their favorite characters.

Glen Maz­zara, for­mer showrun­ner for The Walk­ing Dead, per­haps put it best on the WGA web­site: ​"We're just try­ing to get a lit­tle big­ger piece of a very, very big pie."