The Midwest Union Rollback
Newly elected Republican governors nix public workers' collective bargaining rights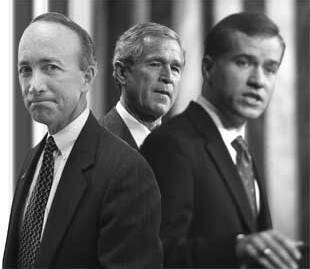 Someone in the Republican Party is obviously paying attention to the last decade's statistics on union growth, which show the biggest gains among public employees. A recent wave of decisions against public workers in Midwest states is threatening to reverse that trend.
Recently elected Republican governors in both Indiana and Missouri have rescinded previous measures that extended state employees collective bargaining rights. Governor Ernie Fletcher did the same last year in Kentucky. And public sector bargaining is under siege in Iowa and Oklahoma.
At a time when the labor movement is declining, and now represents only 12.5 percent of the workforce, these attacks have intensified the crisis of declining union density by aiming at an area where, at least in terms of numbers, unions have been most successful.
In Missouri, Gov. Matt Blunt had promised that he would end collective bargaining for state workers during his campaign, and he did just that within days of taking office. Workers hadn't had bargaining rights that long — it was only in 2001 that then-Gov. Bob Holden, a Democrat, issued an executive order allowing them to form unions and negotiate contracts.
Of the state's 61,000 workers, about 25,000 joined the American Federation of State, County and Municipal Employees (AFSCME) and the Service Employees International Union. Thus far, the two unions have negotiated agreements covering 9,000 people, including probation and parole workers, maintenance employees, nurses and other healthcare workers. Clauses that require membership as a condition of employment are illegal under Missouri's ​"right to work" law, so those contracts have agency-fee provisions that require workers to pay unions a fee for bargaining, even if they don't belong.
As secretary of state, Blunt had previously challenged Holden's order allowing agency fees, but an administrative law judge ruled against him. Upon taking office, Blunt claimed that the already-negotiated contracts were void, since they hadn't been reviewed and approved by the Missouri General Assembly. The legislature, controlled by Republicans, would not likely approve any union contracts, even if it got the chance.
In Indiana, Gov. Mitch Daniels hadn't warned anyone of his intention to cancel bargaining during his election campaign, but no sooner had he been sworn in than he too ended collective bargaining for state workers.
The process in Indiana was much more firmly established. In an intra-union battle royal in the early ​'90s, a number of unions competed fiercely for representation rights after Democratic Gov. Evan Bayh signed the initial executive order in 1989. Of Indiana's 35,000 state employees, 14,000 finally won representation by the Unity Team, a partnership between the United Auto Workers and the American Federation of Teachers. Another 8,600 workers belong to AFSCME, while 1,400 state police and law enforcement personnel belong to the International Union of Police Associations.
Like those in Missouri, the union contracts covered vacations, seniority rights, job training and education, and grievance procedures, in addition to wages. While half the state's employees earn less than $29,738 a year, the unions were successful in pushing salaries upward, and in one year some workers received raises as much as 20 percent. Daniels' order made all of this subject to unilateral decision by state bureaucrats. In place of grievance procedures, he gave state workers the right to appeal discipline decisions to the State Employees Appeals Commission, which has a record of reversing only 2 percent of managerial decisions.
Indiana's public bargaining arrangement has to be reauthorized every term by each incoming governor. After Bayh, Governors Frank O'Bannon and Joe Kernan each issued the required executive order. Daniels refused to do so. While public sector collective bargaining bills have been introduced into the legislature every session, a Republican majority has blocked it each time.
Democrats in the legislature have sworn to take action if Daniels doesn't reverse course, but it's difficult to imagine what they could do. State Rep. Patrick Bauer admitted it was a long shot, but said, ​"The people of Indiana will know who stands in their corner." AFSCME is discussing a media and public education campaign. The Unity Team has threatened a lawsuit. In the meantime, Fuzz LeMay, president of Unity Local 9212, put an appeal on their Web site urging workers not to pay attention to managers saying the union was out of business. ​"I simply say to you brothers and sisters, stay in this fight!" he exhorted. ​"Your union dues are not that high. There will be better days ahead!"
Meanwhile, in Oklahoma, collective bargaining for municipal workers (other than fire and police) was declared unconstitutional by County District Judge Daniel Owens, in a case brought by the city of Enid. The law giving public workers union rights in cities with more than 35,000 people was only passed last year, but already legislation has been introduced to repeal it if the judge's order fails. And in Iowa, Republican Rep. Bill Dix has unveiled a proposal that would authorize the legislature and governor to intervene in negotiations involving state workers.
All these efforts take their political cue from the Bush administration, which has mounted a concerted campaign to roll back the union rights of federal workers since it first came to power. After 9/11, Bush voided collective bargaining for 186,000 workers in the Homeland Security Department, and has threatened to do the same in the even-larger Defense Department.
The assault on Midwest public workers, says AFL-CIO President John J. Sweeney, ​"echoes a message coming from the White House down to men and women on the front lines of our struggles against poverty, disease, crime and terrorism all across our country: ​'We expect first-class devotion, service and sacrifice, but we will treat you like second-class citizens.'"
In the current discussions over the direction of the labor movement, some voices have proposed a more militant response. Now that the attack on workers has spread to the states, such proposals are sure to be raised more frequently, and more loudly.
David Bacon
is a writer, photographer and former union organizer. He is the author of The Right to Stay Home: How US Policy Drives Mexican Migration (
2013
), Illegal People: How Globalization Creates Migration and Criminalizes Immigrants (
2008
), Communities Without Borders (
2006
), and The Children of NAFTA: Labor Wars on the US/​Mexico Border (
2004
). His website is at dba​con​.igc​.org.