The Myth of the Hardhat Hawk
Was the working class really the biggest proponent of the Vietnam War?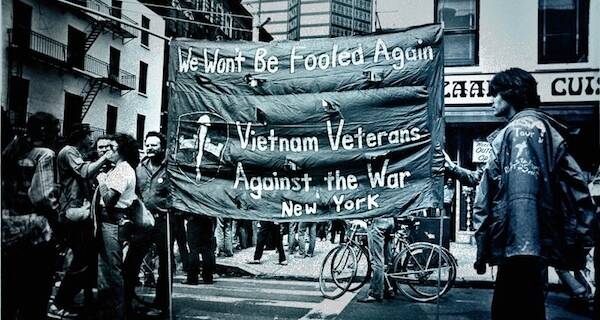 In 1969, Richard Nixon com­mend­ed ​"the great silent major­i­ty" of Amer­i­cans who sup­port­ed the Viet­nam War while Vice Pres­i­dent Spiro Agnew denounced the ​"effete corps of impu­dent snobs" who opposed it. This sto­ry has become ingrained in our nation­al mythos: Blue-col­lar work­ers dri­ven by patri­o­tism sup­port­ed the war, while resis­tance came from lib­er­al intel­lec­tu­als and degen­er­ate hip­pies. But City Uni­ver­si­ty of New York soci­ol­o­gist Pen­ny Lewis argues in Hard­hats, Hip­pies and Hawks: The Viet­nam Anti-War Move­ment as Myth and Mem­o­ry that this dichoto­my is a craft­ed fiction.
Penny Lewis' book is a sound reminder that further progress will find its enemies among the ranks of the ruling class, not workers.
Icon­ic events of that peri­od did fuel notions of a pro-war work­ing class. In 1965, AFL-CIO Pres­i­dent George Meany said that ​"for Amer­i­ca to sur­ren­der, to with­draw, to aban­don its solemn com­mit­ment to South Viet­nam would be the first step toward a world holo­caust." And in 1970, con­struc­tion work­ers in Man­hat­tan phys­i­cal­ly assault­ed demon­stra­tors at an anti-war ral­ly. Then there was the invent­ed his­to­ry, apoc­ryphal sto­ries of vet­er­ans thank­less­ly defend­ing lib­er­ty abroad only to be spat on when they returned home.
Lewis' own expe­ri­ence helped her re- cov­er the lost ​"coun­ter­mem­o­ry" of this peri­od. The daugh­ter of two ser­vice mem­bers, she grew up with vet­er­ans, many of whom were suf­fer­ing from eco­nom­ic hard­ship and deeply opposed the war. The poll data she sum­mons sug­gests her expe­ri­ences were the rule, not the excep­tion: Elites were more like­ly to sup­port the war, work­ers more like­ly to oppose it. By 1971, 60 per­cent of those with col­lege degrees sup­port­ed with­draw­al, but even more — 80 per­cent — with only a grade- school edu­ca­tion did as well.
Close to a quar­ter of those who served in Viet­nam par­tic­i­pat­ed in the mil­i­tary anti-war move­ment. Black youth from dis­ad­van­taged back- grounds num­bered dis­pro­por­tion­ate­ly in the ranks of non-reg­is­trants and desert­ers. They knew they had lit­tle at stake in the Viet­nam War.
Lewis' argu­ment is not that the work­ing class was uni­form­ly rad­i­cal, but rather that it was split along a left-right divide. Not every­one was against the war, but sig­nif­i­cant num­bers were. Sim­i­lar­ly, many work­ers were shop-floor mil­i­tants. In 1970, 5,600 work stop­pages led to 6.2 mil­lion lost work­er-days. In 1971, 2.5 mil­lion work­ers were involved in major strikes. The era didn't begin, or end, with flower power.
But the ​"hard­hat hawk"/ ​"hip­pie dove" dichoto­my was mas­ter­ful­ly ped­dled by con­ser­v­a­tive forces in advance of the Rea­gan rev­o­lu­tion. Lib­er­als, too, were com­plic­it in its con­struc­tion. Nixon's re-elec­tion in 1972 and the specter of white work­ing-class con­ser­vatism gave cov­er to Demo­c­ra­t­ic Par­ty elites wary of bub­bling social move­ments. Chica­go May­or Richard J. Daley over­saw the infa­mous police riot dur­ing the party's 1968 con­ven­tion and Hubert Humphrey warned of rad­i­cal­ism from with­in the George McGov­ern camp. Both men, and oth­ers with­in the par­ty, were quick to tout the tur­moil of the peri­od as a cri­sis of democracy.
The real cri­sis, of course, was one of polit­i­cal legit­i­ma­cy. The Demo­c­ra­t­ic Par­ty, essen­tial­ly a par­ty of cap­i­tal, even dur­ing the height of the New Deal coali­tion, failed to rep­re­sent the class inter­ests of work­ers, bridge racial divides, or con­nect increas­ing­ly mil­i­tant rank-and-file labor actions to the new social movements.
A dif­fer­ent type of par­ty, though cer­tain­ly desir­able, has too often been a cure-all for the Left, a trap Lewis drifts toward. The chal­lenges of orga­niz­ing against Amer­i­can cap­i­tal­ism would not have been solved by a vic­to­ri­ous McGov­ern cam­paign or even the emer­gence of a tru­ly mass work­ers' party.
Today, com­men­ta­tors on out­lets like CNN use the term ​"work­ing class" to denote a small sub­set of white, male work­ers in the Rust Belt who may or may not want to have a beer with a John Ker­ry or a Barack Oba­ma. Democ­rats pan­der to the nar­ra­tive by pin­ing for the days when they com­mand­ed the sup­port of those who would lat­er become ​"NASCAR dads" in the South. These are signs of a ten­den­cy, in both acad­e­mia and the media, to see class not as a cat­e­go­ry of exploita­tion, but rather as a nar­row identity.
​"Work­ing-class" vot­ers in Colum­bus, Ohio, then, are ​"on the fence" every elec­tion cycle, while ​"African-Amer­i­can" vot­ers line up for hours in Cincin­nati. The refusal to acknowl­edge peo­ple of col­or, care work­ers, pub­lic employ­ees and oth­ers as legit­i­mate faces of the work­ing class serves con­ser­v­a­tive ends. ​"The aim of the Right," as the late labor jour­nal­ist Robert Fitch not­ed, ​"is always to restrict the scope of class con­flict — to bring it down to as low a lev­el as pos­si­ble. The small­er and more local the polit­i­cal unit, the eas­i­er it is to run it oligarchically."
But it's get­ting hard­er to pre­tend that oppos­ing mil­i­tarism and oppres­sion is a past-time for the priv­i­leged. A gen­er­a­tion has grown up after the Cold War, immu­nized against the red-bait­ing that under­mined rad­i­cal orga­niz­ing in the past. Con­tin­ued cul­tur­al lib­er­al­iza­tion is wide­ly pop­u­lar, a cause of con­stant con­cern among Republicans.
Lewis' book is a sound reminder that fur­ther progress will find its ene­mies among the ranks of the rul­ing class, not workers.
Bhaskar Sunkara
is the found­ing edi­tor of Jacobin mag­a­zine. Fol­low him on Twit­ter: @sunraysunray.