The New AFL-CIO
The federation has four new strategies to create a 'new working-class movement.' Will they work?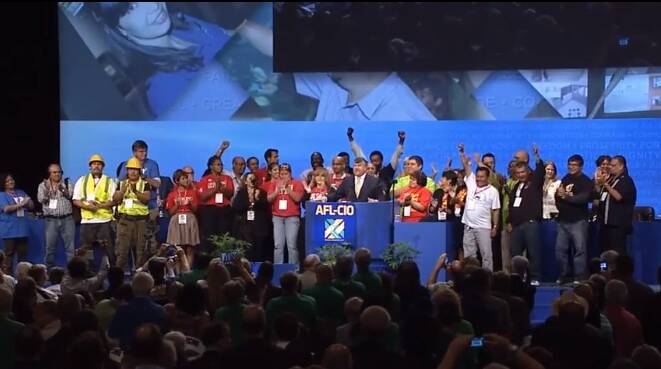 Dream. Inno­vate. Act.
The political climate looks grim now, but the AFL-CIO hopes uniting a broader working class movement and its allies around a program for shared prosperity can change the playing field.
That was the slo­gan for the AFL-CIO's con­ven­tion held in Los Ange­les last month. It would have cap­tured the mood of the gath­er­ing bet­ter if it had start­ed with the word ​"cri­sis." The con­ven­tion reflect­ed a con­tin­u­ing strug­gle by labor lead­ers to find new strate­gies, trig­gered by a sense that the ongo­ing decline in size and pow­er of their move­ment has under­mined its abil­i­ty to fight trends toward record eco­nom­ic inequal­i­ty, more inse­cure work­places, and stingy pub­lic pro­vi­sion of rights and rewards for work­ing people.
AFL – CIO Pres­i­dent Richard Trum­ka expressed hope that a new work­ing class move­ment, using tac­tics and orga­ni­za­tion­al forms both old and new, can reach and include every work­ing per­son in the coun­try. All work­ers need a col­lec­tive voice, Trum­ka said: ​"They have to have a voice in the work­place, they have to have a voice in the econ­o­my, and they have to have a voice in politics."
Despite weak legal pro­tec­tion and employ­er hos­til­i­ty, Trum­ka hopes that more work­ers will join tra­di­tion­al unions, but he envi­sions many more par­tic­i­pat­ing through new orga­ni­za­tions and forms of mem­ber­ship includ­ing groups open to all work­ing peo­ple, even if they do not have a union con­tract at work. ​"Our job is to cre­ate a work­ing-class move­ment strong enough to lift up all work­ers in this coun­try," Trum­ka said, which would play a major role as well in build­ing a stronger pro­gres­sive movement.
​"Our move­ment is greater than any par­tic­u­lar orga­ni­za­tion," the federation's cen­tral res­o­lu­tion on eco­nom­ics declared. ​"It is a move­ment of all who work and all who seek social and eco­nom­ic jus­tice," with the goal of ​"shared prosperity."
But what are the inno­va­tions that will make that dream come true? And what kind of action will be required?
Strat­e­gy 1: Orga­niz­ing a New Work­ing-Class Movement
Mem­ber­ship in the AFL-CIO has large­ly been lim­it­ed to unions that rep­re­sent­ed work­ers on the job and nego­ti­at­ed con­tracts, but his­tor­i­cal­ly the labor move­ment has involved oth­er insti­tu­tions, from banks and coop­er­a­tives to labor par­ties. The con­ven­tion accept­ed Trumka's rec­om­men­da­tion, reflect­ing trends already under­way, to broad­en the ranks of the AFL-CIO not only through con­ven­tion­al orga­niz­ing but also through new forms of orga­ni­za­tion and recruit­ment among cur­rent­ly unrep­re­sent­ed regions, occu­pa­tions and industries.
Nei­ther Trum­ka nor any­one else holds out much hope that Con­gress will soon strength­en pro­tec­tion of work­ers' right to orga­nize and bar­gain with their employ­ers. Yet even under these con­di­tions, many labor lead­ers believe that unions can — and must — con­tin­ue tra­di­tion­al orga­niz­ing. Even in indus­tries where unions have a foothold and a like­ly advan­tage in orga­niz­ing — like auto man­u­fac­tur­ing, hotels and hos­pi­tal­i­ty, gro­cery stores, and hos­pi­tals — mil­lions of work­ers remain unorganized.
Trum­ka focused, how­ev­er, on expand­ing into new areas and using new tac­tics. For exam­ple, he encour­aged orga­niz­ing in neglect­ed, bare­ly-orga­nized occu­pa­tions and indus­tries such as car­wash­ing, an area that has recent­ly seen some small-scale orga­niz­ing vic­to­ries in Los Ange­les and New York.
The AFL-CIO is also call­ing for more orga­niz­ing of mem­bers into unions even when they can­not engage in col­lec­tive bar­gain­ing. For exam­ple, many state laws, espe­cial­ly in the South, do not grant pub­lic employ­ees bar­gain­ing or oth­er rights that fed­er­al laws pro­vide most pri­vate sec­tor work­ers. Oth­er unions, such as the Com­mu­ni­ca­tions Work­ers (CWA), Amer­i­can Fed­er­a­tion of Teach­ers (AFT), and the Amer­i­can Fed­er­a­tion of State, Coun­ty and Munic­i­pal Employ­ees (AFSCME), have also orga­nized such many work­ers who can advo­cate for their inter­ests even if they can­not nego­ti­ate contracts.
Mil­lions of pro-union work­ers also toil in work­places where a major­i­ty vot­ed against union­iza­tion or where there has not been enough sup­port even to call an elec­tion. The AFL-CIO's new strat­e­gy implic­it­ly encour­ages unions to keep these pro-union work­ers as mem­bers, or at least steer them to its com­mu­ni­ty affil­i­ate, Work­ing Amer­i­ca. (How­ev­er, it does not explic­it­ly embrace the idea of ​"pre-major­i­ty" unions that attempt to act like unions, even bar­gain­ing for their mem­bers, although they rep­re­sent only a minor­i­ty of employees.)
Trum­ka also wants union affil­i­ates to help devel­op plans for orga­niz­ing more aggres­sive­ly in the South, an idea that goes back at least to the failed Oper­a­tion Dix­ie of the CIO in the 1950s. The South remains a daunt­ing chal­lenge for unions, but a big win at a poul­try proces­sor in Alaba­ma last year and the recent Unit­ed Auto Work­ers' announce­ment that half of the employ­ees at the Volk­swa­gen plant in Ten­nessee have signed union cards both sug­gest that union­iz­ing in the South is not impossible.
Trum­ka wants each affil­i­ate to sub­mit annu­al orga­niz­ing plans. The AFL-CIO has been mak­ing efforts since 1995 to play a big­ger role in orga­niz­ing, but the federation's suc­cess has main­ly been in bring­ing union orga­niz­ing direc­tors togeth­er to share ideas, pro­vid­ing strate­gic advice to small unions, and train­ing new orga­niz­ers. The federation's indi­vid­ual unions have been reluc­tant to cede much author­i­ty over orga­niz­ing, except for turn­ing to the AFL-CIO to resolve con­flicts over which union has the right to orga­nize a group of work­ers or one union's raid­ing of another's mem­bers. (Even that does not always suc­ceed. On the eve of the con­ven­tion, the West Coast-based Inter­na­tion­al Long­shore and Ware­house Union, his­tor­i­cal­ly an influ­en­tial and pro­gres­sive union, resigned from the AFL-CIO, in part because it held that the fed­er­a­tion had failed to pro­tect it prop­er­ly from juris­dic­tion­al chal­lenges from oth­er unions.)
Ulti­mate­ly, orga­niz­ing work­place by work­place, whether in new indus­tries or regions, may not work to stop unions' slide with­out some polit­i­cal, eco­nom­ic, or cul­tur­al con­ver­gence that trig­gers a wide­spread work­er upsurge. And that most like­ly will require as well sparks of mil­i­tant action — pos­si­bly resem­bling the recent strikes of Wal-Mart, fast food, retail, and ware­house workers.
Strat­e­gy 2: Expand­ing Work With Non-Union Work­er Organizations
Unions once saw non-union work­er orga­ni­za­tions as rivals; now, Trum­ka says, they want to be part­ners with such groups, and the AFL-CIO has great hopes for its own non-union ​"union" as a key part of the new work­ing class movement.
In recent decades, a net­work non-union ​"work­er cen­ters" have emerged as advo­cates, ser­vice-providers, law enforcers, and often orga­niz­ers of work­ers, many of whom fall through the cracks in labor law and union struc­tures, such as undoc­u­ment­ed immi­grants and work­ers not legal­ly per­mit­ted to orga­nize (such as domes­tic workers).
Ini­tial­ly, work­er cen­ters and unions were often wary of each oth­er, but in 2006 the AFL-CIO embraced the Nation­al Day Labor­er Orga­niz­ing Net­work as a part­ner, and today, the fed­er­a­tion and some affil­i­ates work close­ly with groups such as the Restau­rant Oppor­tu­ni­ties Cen­ter Unit­ed, the Nation­al Domes­tic Work­ers Alliance (which has won a domes­tic work­er bill of rights in New York and Cal­i­for­nia) and the New York Taxi Work­ers Alliance. In an action that con­firms the fed­er­a­tion's hopes for a new and clos­er rela­tion­ship with these groups, the con­ven­tion elect­ed Bhairavi Desai, a young Indi­an woman who heads the New York Taxi Work­ers Alliance, as the first rep­re­sen­ta­tive of non-tra­di­tion­al labor groups on the AFL-CIO Exec­u­tive Council.
Work­ing Amer­i­ca, the 10-year-old AFL-CIO ​"com­mu­ni­ty affil­i­ate," is one of the main inspi­ra­tions for the idea that a new work­ing-class move­ment can grow based on dif­fer­ent forms of mem­ber­ship. Work­ing Amer­i­ca start­ed orga­niz­ing non-union work­ers by knock­ing on doors in their neigh­bor­hoods. Today it claims three mil­lion mem­bers — rough­ly one-fourth the num­ber of AFL-CIO union mem­bers — and has proven polit­i­cal­ly effective.
Found­ing direc­tor Karen Nuss­baum says that Work­ing Amer­i­ca plans with­in five years to become active in all 50 states (cur­rent­ly, mem­ber­ship is ​"sig­nif­i­cant" in just half), more finan­cial­ly self-sus­tain­ing, and more involved with ​"new forms of advo­ca­cy in the work­place and for work­place con­cerns." That could involve, for exam­ple, cre­at­ing ​"asso­ciate mem­ber­ships for peo­ple with an inter­est in the field," as New Mex­i­co Work­ing Amer­i­ca has done, work­ing with the Inter­na­tion­al Asso­ci­a­tion of The­atri­cal and Stage Employ­ees to orga­nize 1000 work­ers in the state's film indus­try into Reel Work­ing Amer­i­ca. And Nuss­baum says the group antic­i­pates recruit­ing work­ers who have left union jobs or favored a union in a major­i­ty anti-union rep­re­sen­ta­tion vote.
Com­bin­ing unions and non-union work­er groups into this broad­er ​"new work­ing class move­ment" could in itself make a labor upsurge more like­ly. And it would like­ly give work­ing class inter­ests a stronger voice in any new pro­gres­sive partnerships.
Strat­e­gy 3: A New Pro­gres­sive Alliance
​"At the end of the day, it's up to us to build a move­ment not for the 99 per­cent, but of the 99 per­cent," Trum­ka told the del­e­gates. ​"Not just the 11 per­cent we are right now. The 99 percent."
That requires alliance — such as the way labor — a large part of it, any­way — allied itself with Mar­tin Luther King, Jr., and vice ver­sa. ​"Dr. King did not hold a union card," Trum­ka said. ​"But he walked down a line of Nation­al Guard bay­o­nets with us. And he died in Mem­phis with our union broth­ers and sisters."
The labor move­ment has for many decades main­tained alliances with select lib­er­al groups, such as the NAACP or the advo­ca­cy group Nation­al Farm­ers Union. It also tried to ​"broad­en" its reach through groups that it close­ly con­trolled (for exam­ple, Front­lash, a 1970s youth group with a very small fol­low­ing). But it rarely joined coali­tions or protests it could not effec­tive­ly con­trol (includ­ing the March on Wash­ing­ton for Jobs and Free­dom 50 years ago).
Unions and oth­er groups often have allied tem­porar­i­ly and expe­di­ent­ly, such as a union join­ing envi­ron­men­tal groups in attack­ing a com­pa­ny as a pol­luter as part of a ​"com­pre­hen­sive cam­paign" against a cor­po­rate adver­sary, then drop­ping inter­est in the pol­lu­tion once its fight is resolved. Trum­ka wants to replace these ​"trans­ac­tion­al" alliances with clos­er ​"trans­for­ma­tion­al" rela­tion­ships that end up chang­ing allies into partners.
Trum­ka seemed to give spe­cial empha­sis to ​"bridg­ing our dif­fer­ences" with envi­ron­men­tal groups. AFL-CIO polit­i­cal direc­tor Michael Pod­horz­er says that the fed­er­a­tion will soon mount a major effort to work on a com­mon agen­da, more ambi­tious than the long dia­logue Sweeney under­took with lit­tle success.
But much as the appar­ent major­i­ty of unions sup­port more coali­tion work, there are lim­its. Many union lead­ers shot down Trumka's tri­al bal­loon in late sum­mer sug­gest­ing that allies like the Sier­ra Club might take a seat on the Exec­u­tive Coun­cil and become for­mal­ly part of the AFL-CIO. ​"We had con­cerns about the direct affil­i­a­tion of out­side groups," said Ter­ence O'Sullivan, Labor­ers' Inter­na­tion­al Union of North Amer­i­ca, though he said mak­ing labor part of a pro­gres­sive coali­tion ​"sounds fine."
O'Sullivan remains upset at the Sier­ra Club's oppo­si­tion to the Key­stone XL pipeline, which he saw as ​"tak­ing food off the table" of his mem­bers, but he was equal­ly upset with oth­er unions that took a stand against the pipeline, such as the Com­mu­ni­ca­tions Work­ers, who see cli­mate change as a legit­i­mate union issue affect­ing their mem­bers. ​"If it's good for fel­low union broth­ers and sis­ters, you have two choic­es: sup­port it or keep your mouth shut," said O'Sul­li­van, reflect­ing the tra­di­tion of def­er­ence in the AFL-CIO to whichev­er union is most affect­ed by a policy.
Once a mem­ber of the Blue­Green Alliance, which con­sid­ers cli­mate change a seri­ous labor issue, O'Sullivan is will­ing to work again with envi­ron­men­tal­ists under terms many of them might not like. ​"If they want to talk about pass­ing com­pre­hen­sive cli­mate change leg­is­la­tion with an ​'all of the above' [sources of ener­gy] strat­e­gy, we'd be more than will­ing and inter­est­ed to sit down with them. The ener­gy sec­tor is very big for us, but at this point, absent that dis­cus­sion, there are not very many places where I see us able to work col­lab­o­ra­tive­ly with envi­ron­men­tal groups."
Oth­er union lead­ers see more promise in labor-envi­ro­men­tal part­ner­ships. CWA pres­i­dent Lar­ry Cohen helped orga­nize the Democ­ra­cy Ini­tia­tive with unions, envi­ron­men­tal­ists and oth­er groups. They have fought to elim­i­nate the easy Sen­ate fil­i­busters, and Cohen argues that with­out such a coali­tion work­ing togeth­er last sum­mer, Con­gress would not have approved the full slate of nom­i­nees for the nation­al Labor Rela­tions Board and oth­er stalled nom­i­na­tions, includ­ing the head of the Envi­ron­men­tal Pro­tec­tion Agency.
Union lead­ers are also excit­ed about their clos­er con­nec­tion with stu­dents, and after the con­ven­tion, the AFL-CIO announced that its first com­mu­ni­ty part­ner­ship would be with Unit­ed Stu­dents Against Sweat­shops. Stu­dents and unions have also come togeth­er over issues such as reliev­ing stu­dent debt or sup­port­ing union­iza­tion of cam­pus workers.
The AFL-CIO has reached out aggres­sive­ly to young work­ers since the last con­ven­tion, as well as to women and peo­ple of col­or. ​"This is the most ener­gy I've seen from young peo­ple [at an AFL-CIO con­ven­tion] and most diver­si­ty," Steel­work­ers pres­i­dent Leo Ger­ard said. ​"It's real­ly uplift­ing to see these younger peo­ple. It looks good for the future."
But the enthu­si­asts for the laud­able pro­gres­sive coali­tion strat­e­gy may promise more than any part­ner­ships can deliv­er soon. For exam­ple, Amer­i­can Fed­er­a­tion of Teach­ers pres­i­dent Ran­di Wein­garten, one of many sup­port­ers of the new coali­tion strat­e­gy, declared that ​"union and com­mu­ni­ty togeth­er is the new den­si­ty." ("Den­si­ty" refers to the share of an indus­try or local mar­ket that is union­ized.) But much as sup­port from com­mu­ni­ty and issue allies can help the labor move­ment, espe­cial­ly on pol­i­tics, it is no sub­sti­tute for den­si­ty of unionization.
It's also impor­tant to remem­ber that many pro­gres­sive groups rely, as one com­mu­ni­ty orga­niz­er not­ed, on ​"smoke and mir­rors" to ampli­fy their mes­sage. Many groups with which labor wants to ally have a shal­low rela­tion­ship with mem­bers who do lit­tle more than send in a check, while oth­ers rely on large fun­ders and have few mem­bers. For the pro­gres­sive coali­tion to suc­ceed, the actions will have to be more pro­found than click­ing on an e‑mail mes­sage. Labor could show the way by mobi­liz­ing more of its mem­bers, many of whom have a weak rela­tion­ship to their union.
Dif­fer­ences will per­sist, Trum­ka acknowl­edged, be he added that dif­fer­ences can be bridged if the part­ner­ships start with a good foun­da­tion. It seems as if plan­ning for such rela­tion­ships may be trans­form­ing the AFL-CIO, and oth­er pro­gres­sive groups will ben­e­fit if they incor­po­rate more of a work­ing-class perspective.
Strat­e­gy 4: A ​"New Work­ing Class" Politics?
The strat­e­gy adopt­ed by the AFL-CIO may encour­age new orga­niz­ing, but ulti­mate­ly it makes pol­i­tics its pri­or­i­ty — that is, giv­ing work­ers a voice in gov­ern­ment and eco­nom­ic pol­i­cy through con­test­ing elec­tions, pro­mot­ing leg­is­la­tion, engag­ing in direct action, and oth­er tactics.
The polit­i­cal cli­mate looks grim now, but the AFL-CIO hopes unit­ing a broad­er work­ing class move­ment and its allies around a pro­gram for shared pros­per­i­ty can change the play­ing field.
The focus on pol­i­tics, rather than, say, the work­place, part­ly reflects the lim­it­ed role that the AFL-CIO plays in orga­niz­ing, bar­gain­ing, work­place activ­i­ties and inter­nal union affairs. But pol­i­tics plays a role in cre­at­ing a cli­mate for orga­niz­ing and for expand­ing the social con­tract. Despite some dif­fer­ences, most unions man­age to work togeth­er on pol­i­tics fair­ly well and often more effec­tive­ly through the AFL-CIO than on their own.
When work­ers win polit­i­cal pow­er, the entire nation gains, Trum­ka argued, cit­ing the accom­plish­ments of Luiz Ina­cio Lula da Sil­va, the for­mer met­al­work­ers union pres­i­dent and the two-term pres­i­dent of Brazil from 2002 to 2010, whose poli­cies made the econ­o­my grow faster and dra­mat­i­cal­ly reduced pover­ty. Of course, Lula had a vehi­cle to polit­i­cal pow­er in a par­lia­men­tary sys­tem — the Work­ers' Par­ty. With unions shrink­ing and the new work­ing class move­ment still a dream, and with a polit­i­cal-legal sys­tem hos­tile to new par­ties, the AFL-CIO faces a dif­fi­cult chal­lenge with­in the U.S. politics.
With­out a clear polit­i­cal vehi­cle for unions or the broad­er pro­gres­sive move­ment, the labor move­ment strug­gles with its polit­i­cal iden­ti­ty. Labor wants to lead a pro­gres­sive coali­tion, and its pro­gram is not much dif­fer­ent from that of major labor/​social demo­c­ra­t­ic par­ties, but main­stream lead­er­ship of the Democ­rats are more conservative.
Many union lead­ers feel a pro­found ambiva­lence about the lead­er­ship of the Demo­c­ra­t­ic Par­ty: They need them but can­not entire­ly trust them. I asked Ger­ard if he was sat­is­fied with the per­for­mance of the Democ­rats. ​"No, no, who the hell could be?" he answered, but he also strong­ly affirmed, ​"I'm not going to sup­port an attack on the president."
The frus­tra­tions of labor's polit­i­cal sit­u­a­tion was most evi­dent in the convention's dis­cus­sion of Oba­macare, or the Afford­able Care Act (ACA). Although labor and the pro­gres­sive move­ment played a big role in win­ning pas­sage of Oba­macare, they lost crit­i­cal bat­tles against not only busi­ness oppo­nents but also top Democ­rats. At the con­ven­tion, the hottest top­ic was over how force­ful­ly to crit­i­cize Oba­macare for its dis­ad­van­tag­ing the mul­ti-employ­er plans under joint union-employ­er man­age­ment that exist in many indus­tries, such as build­ing trades and hospitality.
In the end, this convention's res­o­lu­tion reaf­firms strong sup­port for sin­gle-pay­er health insur­ance. But Labor­ers union pres­i­dent Ter­ry O'Sullivan believed that the cri­tique of how the ACA treats mul­ti-employ­er plans was too weak and called for repeal of the ACA if the admin­is­tra­tion refused to fix the prob­lem — which it seems unlike­ly to do. AFL-CIO polit­i­cal direc­tor Pod­horz­er says the new pro­gres­sive coali­tion might help vot­er turnout, not­ing that in the crit­i­cal 2010 mid-term elec­tions, union vot­ers split 61 to 37 for Democ­rats, but over­all turnout on the left dropped as it increased on the right. Sim­i­lar coali­tions could shake up local pol­i­tics, as has already start­ed in the old indus­tri­al town of Lynn, Mass­a­chu­setts. ​"We need stronger part­ner­ships," Pod­horz­er said. And an added ben­e­fit, he said, is that ​"as we move for­ward and align more close­ly [in the new coali­tion], we will have more impact on the candidates."
The AFL-CIO affirmed that the key to labor's new pol­i­tics is build­ing a big­ger, stronger pro­gres­sive coali­tion, but the res­o­lu­tions and dis­cus­sion at the con­ven­tion also made it clear that greater sol­i­dar­i­ty among unions and their mem­bers is as impor­tant, if not more so.
A union's most nat­ur­al sup­port should come from oth­er unions, which the­o­ret­i­cal­ly is why unions form fed­er­a­tions. One top union staffer there­fore saw the return of the Unit­ed Food and Com­mer­cial Union to the AFL-CIO from the break­away Change to Win as the most impor­tant devel­op­ment at the con­ven­tion: that was con­crete; every­thing else was ​"aspi­ra­tional."
Through the AFL-CIO mem­ber unions do coop­er­ate on polit­i­cal work (while often break­ing ranks over pri­ma­ry elec­tions), and in recent elec­tions, the AFL-CIO, Change to Win, and the Nation­al Edu­ca­tion Asso­ci­a­tion have collaborated.
Many unions still have a men­tal­i­ty that ​"we can take care of our own fights," reflect­ing bygone days of union pow­er. While dif­fer­ences can impede sol­i­dar­i­ty, in egre­gious cas­es of employ­er attacks unions still often ral­ly togeth­er, as in the recent case of a prof­itable coal com­pa­ny deny­ing pen­sions to thou­sands of retirees by putting them in a shell cor­po­ra­tion that declared bankruptcy.
After many years dur­ing which there was an under­cur­rent of resent­ment against for­eign work­ers in indus­tries exposed to glob­al com­pe­ti­tion and against immi­grant work­ers in the U.S., the labor move­ment has much more strong­ly joined the fight for immi­gra­tion reform and has iden­ti­fied with the glob­al union move­ment. Many unions have forged increas­ing­ly strong glob­al alliances. The Steel­work­ers, for exam­ple, have merged to some degree with UNITE, a promi­nent British union, and work hard on behalf of Los Mineros, the Mex­i­can min­ers' union. And because of ties the Com­mu­ni­ca­tions Work­ers have with the Ger­man union, Ver.di, thou­sands of Deutsche Telekom work­ers wore T‑shirts recent­ly say­ing ​"We are all Josh," in sup­port of a fired work­er, Josh Cole­man, who was try­ing to orga­nize call cen­ter work­ers in the U.S. sub­sidiary of the Ger­man firm T‑Mobile.
Still, as unions reach for part­ners out­side the coun­try and out­side the tra­di­tion­al labor move­ment, they may be miss­ing the great­est poten­tial new source of strength through sol­i­dar­i­ty — their own members.
Today, when unions call for ral­lies, pick­ets or protests, the turnout in even a big city labor strong­hold — take Chica­go — rarely adds up to more than a few hun­dred. There are excep­tions, such as march­es by thou­sands of teach­ers and hotel work­ers before recent con­tract expi­ra­tions, but they are rare.
Union lead­ers talk about how they may not have the mon­ey that the rich spend on pol­i­tics, but they have peo­ple pow­er. How­ev­er, they still mobi­lize a tiny frac­tion of their poten­tial. It may be true that it's hard to get more mem­bers involved, as union lead­ers and staff claim, but a few unions have made progress.
More impor­tant, if mem­bers can't be moti­vat­ed to become engaged in labor and polit­i­cal action for them­selves and for oth­er union mem­bers, how do unions imag­ine their new part­ners will mobi­lize sup­port for unions?
The obsta­cle to greater mem­ber moti­va­tion may not be sole­ly lack of inter­est or sol­i­dar­i­ty: Often, lead­ers don't want high­ly engaged mem­bers who might be hard to con­trol.
Ulti­mate­ly, the new strat­e­gy is unlike­ly to suc­ceed if the AFL-CIO unions can­not turn at least one per­cent of mem­bers — just 130,000 work­ers — into active vol­un­teer orga­niz­ers of unor­ga­nized work­ers, oth­er cur­rent mem­bers, and the pro­gres­sive coalition.
Tak­ing action
Will all the affil­i­ates get behind the new pro­gram? ​"Those who are inter­est­ed will do it," says Cohen. ​"It's not about every­body. But it is a sig­nal that the only way to growth is through orga­niz­ing and partnerships."
The con­ven­tion adopt­ed a new ​"com­mon sense eco­nom­ics" edu­ca­tion effort that will argue — as both Trum­ka and Nobel prize-win­ning econ­o­mist Joseph Stiglitz told del­e­gates — that the econ­o­my is not like the weath­er. It can be changed. ​"We cre­at­ed this inequal­i­ty," Stiglitz said, and the econ­o­my is work­ing poor­ly as a result, ​"It is plain that the only true and sus­tain­able pros­per­i­ty is a shared prosperity."
It is no sur­prise that many of the ideas under dis­cus­sion amount to redis­cov­er­ies or rein­ven­tions of ear­li­er prac­tices, some of them harken­ing back to the Knights of Labor, a pow­er­ful orga­ni­za­tion in the 1870s and 1880s that aimed to unite all work­ing peo­ple, includ­ing all trades, indus­tries and skills along with ​"pro­duc­ers," such as shop­keep­ers and farm­ers. It focused on pol­i­tics, not strikes, to over­throw ​"wage slav­ery" and build an econ­o­my based on work­er cooperatives.
On the oth­er hand, the inno­va­tions pro­posed at the AFL-CIO con­ven­tion owe less — and less than they should — to anoth­er labor ances­tor that also dreamed of unit­ing work­ers in ​"one big union": the Indus­tri­al Work­ers of the World. The Wob­blies large­ly eschewed pol­i­tics in favor of indus­tri­al action at work, from strikes to sabotage.
Strikes are rare and dif­fi­cult to win these days, but a union move­ment that does not chal­lenge employ­ers on the job, in the streets and at the bal­lot box is not like­ly to revive the work­ers' movement.
Work­ers need a voice at work, in pol­i­tics, and in eco­nom­ic pol­i­cy, Trum­ka said. But in order to do so, both his­to­ry and con­tem­po­rary expe­ri­ence sug­gest that work­ers need to have the ulti­mate voice in their own demo­c­ra­t­ic orga­ni­za­tions. And they need the full tool­box of tac­tics that max­i­mize their pow­er, from stop­ping pro­duc­tion to forg­ing work­er sol­i­dar­i­ty and cre­at­ing ide­o­log­i­cal­ly coher­ent, pro­gres­sive major­i­ty coali­tions. The time is ripe for the mes­sage and strat­e­gy the AFL-CIO adopt­ed, but only if it includes ener­giz­ing and orga­niz­ing the union mem­bers them­selves, the nec­es­sary foun­da­tion for its success.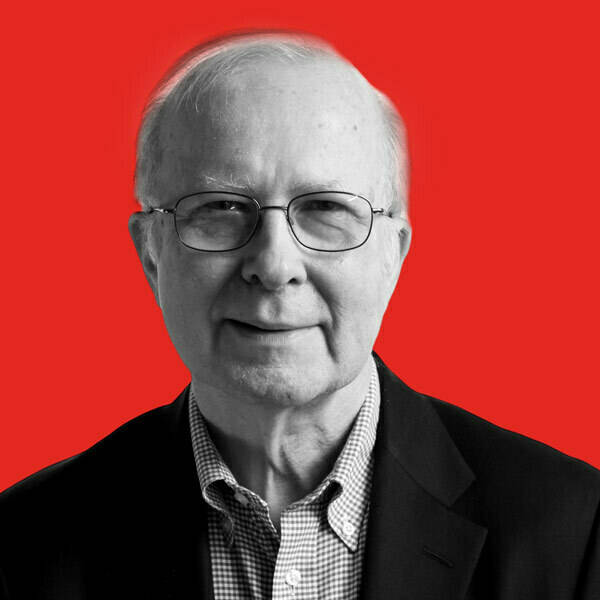 David Moberg, a senior edi­tor of In These Times, has been on the staff of the mag­a­zine since it began pub­lish­ing in 1976. Before join­ing In These Times, he com­plet­ed his work for a Ph.D. in anthro­pol­o­gy at the Uni­ver­si­ty of Chica­go and worked for Newsweek. He has received fel­low­ships from the John D. and Cather­ine T. MacArthur Foun­da­tion and the Nation Insti­tute for research on the new glob­al economy.