The Iraqi elec­tions appear to authen­ti­cate the state­ment George W. Bush made in his Jan­u­ary inau­gu­ra­tion speech: ​"Amer­i­ca will not pre­tend that jailed dis­si­dents pre­fer their chains or that women wel­come humil­i­a­tion and servitude."
It is dif­fi­cult to dis­agree with Bush here: He effec­tive­ly did touch the Achilles' heel of many West­ern pro­gres­sives, who were often dis­armed by the one good argu­ment, repeat­ed­ly evoked by Christo­pher Hitchens, for the war against Iraq: The major­i­ty of Iraqis were Saddam's vic­tims, and they would be real­ly glad to get rid of him. He was such a cat­a­stro­phe for his coun­try that an Amer­i­can occu­pa­tion in what­ev­er form would be prefer­able to them in terms of dai­ly sur­vival and much low­er lev­els of fear. We are not talk­ing here of ​"bring­ing West­ern democ­ra­cy to Iraq," but of sim­ply get­ting rid of the night­mare called Sad­dam. To this major­i­ty, the cau­tion expressed by West­ern lib­er­als can only appear deeply hyp­o­crit­i­cal — do they real­ly care about how the Iraqi peo­ple feel?
Why, then, does the old sto­ry repeat itself in Iraq? Amer­i­ca brings new hope and democ­ra­cy to peo­ple, but instead of hail­ing the U.S. Army, the ungrate­ful peo­ple do not want it. They look the prover­bial gift horse in the mouth, and Amer­i­ca then responds like a sullen child in reac­tion to the ingrat­i­tude of those it self­less­ly helped.
With the glob­al Amer­i­can ide­o­log­i­cal offen­sive, the fun­da­men­tal insight of Gra­ham Greene's The Qui­et Amer­i­can is more rel­e­vant than ever: We wit­ness the resur­gence of the fig­ure of the ​"qui­et Amer­i­can," a naïve, benev­o­lent agent who sin­cere­ly wants to bring democ­ra­cy and West­ern free­dom. It is just that his inten­tions total­ly mis­fire, or, as Greene put it: ​"I nev­er knew a man who had bet­ter motives for all the trou­ble he caused."
The under­ly­ing pre­sup­po­si­tion is that under our skin, if we scratch the sur­face, we are all Amer­i­cans. That is our true desire — all that is need­ed is just to give peo­ple a chance, lib­er­ate them from their imposed con­straints and they will join us in our ide­o­log­i­cal dream. It's fit­ting that in Feb­ru­ary 2003 the right-wing jour­nal­ist Stephen Schwartz used the phrase ​"cap­i­tal­ist rev­o­lu­tion" to describe what Amer­i­cans are now doing: export­ing their rev­o­lu­tion around the entire world. No won­der they moved from ​"con­tain­ing" the ene­my to a more aggres­sive stance.
It is the Unit­ed States that is now, as the defunct USSR was decades ago, the sub­ver­sive agent of a world rev­o­lu­tion. When Bush said, ​"Free­dom is not America's gift to the world, it is the almighty God's gift to every man and woman in the world," his appar­ent mod­esty nonethe­less con­cealed, in the best total­i­tar­i­an fash­ion, its very opposite.
Recall the stan­dard claim of a total­i­tar­i­an leader that he him­self is noth­ing at all — his strength is only the strength of the peo­ple who stand behind him, he only express­es their deep­est striv­ings. The catch, of course, is that those who oppose the leader do not only oppose him, but also oppose the deep­est and noblest striv­ings of the peo­ple. And does the same not hold for Bush's claim? If free­dom effec­tive­ly were to be just America's gift to oth­er nations, things would have been much eas­i­er — those oppos­ing U.S. pol­i­cy would be doing just that, oppos­ing the pol­i­cy of the Unit­ed States as a sin­gle nation state. How­ev­er, if free­dom is God's gift to human­i­ty (and — here­in resides the hid­den pro­vi­so — if the Unit­ed States per­ceives itself as the cho­sen instru­ment for dis­trib­ut­ing this divine gift to all the nations of the world), then those who oppose U.S. pol­i­cy are eo ipso reject­ing the noblest gift of God to human­i­ty. No won­der many authen­tic the­olo­gians are appalled by these kinds of state­ments from Bush, detect­ing in them a ter­ri­fy­ing sac­ri­lege. We there­fore know now what ​"bring­ing democ­ra­cy" means: The Unit­ed States and its ​"will­ing part­ners" impose them­selves as the ulti­mate judges who decide if a coun­try is ripe for democracy.
Bush was again right in oppos­ing the idea of export­ing free­dom, when he said: ​"Free­dom, by its nature, must be cho­sen." The hid­den catch here is that pre­cise­ly in the case of Iraq, this rule was vio­lat­ed. The choice was obvi­ous­ly a forced one, not only in the sense that free­dom was imposed, but also in the sense that the alleged­ly benev­o­lent impos­er reserved for him­self the right to define what free­dom is. It is instruc­tive to remem­ber the case of Iran: not today's, but the Shah's. Did not Reza Pahlavi also want to impose West­ern mod­ern­iza­tion, with the para­dox­i­cal result of giv­ing birth to a ​"fun­da­men­tal­ist" rev­o­lu­tion? From this per­spec­tive, the ​"suc­cess­ful" elec­tions did not change any­thing — the true test for the Unit­ed States lies ahead. What if, soon­er or lat­er, the unfor­tu­nate Iraqis will ​"mis­use" democ­ra­cy and give major­i­ty rule, not nec­es­sar­i­ly to so-called ​"fun­da­men­tal­ists," but to anti-West­ern and anti-Zion­ist pan-Arab nationalists?
When Bush cel­e­brat­ed the explo­sive and irre­press­ible thirst for free­dom as a ​"fire in the minds of men," the unin­tend­ed irony was that he used a phrase from Dostoevsky's The Pos­sessed. Dos­to­evsky used the phrase to describe the ruth­less activ­i­ty of rad­i­cal anar­chists who burned a vil­lage: ​"The fire is in the minds of men, not on the roofs of hous­es." Today, we already see — and smell — the smoke of this fire.
In her 1979 Com­men­tary essay, ​"Dic­ta­tors and Dou­ble Stan­dards," Jeanne Kirk­patrick elab­o­rat­ed the dis­tinc­tion between ​"author­i­tar­i­an" and ​"total­i­tar­i­an" regimes, which served to jus­ti­fy the U.S. pol­i­cy of col­lab­o­rat­ing with right­ist dic­ta­tors, while treat­ing Com­mu­nist regimes much more harsh­ly. Author­i­tar­i­an dic­ta­tors are prag­mat­ic rulers who care about their pow­er and wealth and are indif­fer­ent toward ide­o­log­i­cal issues, even if they pay lip ser­vice to some big cause; in con­trast, total­i­tar­i­an lead­ers are self­less fanat­ics who believe in their ide­ol­o­gy and are ready to put every­thing at stake for their ideals. So while one can deal with author­i­tar­i­an rulers who react ratio­nal­ly and pre­dictably to mate­r­i­al and mil­i­tary threats, total­i­tar­i­an lead­ers are much more dan­ger­ous and have to be direct­ly confronted.
The irony is that this dis­tinc­tion encap­su­lates per­fect­ly what went wrong with the U.S. occu­pa­tion of Iraq. Sad­dam was a cor­rupt author­i­tar­i­an dic­ta­tor striv­ing for pow­er and guid­ed by bru­tal prag­mat­ic con­sid­er­a­tions — a prag­ma­tism that led him to col­lab­o­rate with the Unit­ed States through­out the ​'80s. The ulti­mate proof of this sec­u­lar nature is the iron­ic fact that, in the Iraqi elec­tions of Octo­ber 2002, in which Sad­dam Hus­sein got a 100 per­cent endorse­ment (and thus out­did the best Stal­in­ist results of 99.95 per­cent), the cam­paign song played again and again on all the state media was none oth­er than Whit­ney Houston's ​"I Will Always Love You." One of the out­comes of the U.S. inter­ven­tion is that it gen­er­at­ed a much more uncom­pro­mis­ing ​"fun­da­men­tal­ist" oppo­si­tion that pre­cludes any prag­mat­ic compromises.
Recall the old sto­ry about a work­er sus­pect­ed of steal­ing: Every evening, when he was leav­ing the fac­to­ry, the wheel­bar­row he was rolling in front of him was care­ful­ly inspect­ed, but the guards could not find any­thing, it was always emp­ty — until, final­ly, they got the point. What the work­er was steal­ing were the wheel­bar­rows them­selves. This is the trick that those who claim ​"but the world is nonethe­less bet­ter off with­out Sad­dam!" are try­ing to pull on us: They for­get to include in their cal­cu­la­tion the effects of the mil­i­tary inter­ven­tion against Sad­dam. Yes, the world is bet­ter with­out Sad­dam — but is it bet­ter if we also include in the over­all pic­ture the ide­o­log­i­cal and polit­i­cal effects of this very occupation?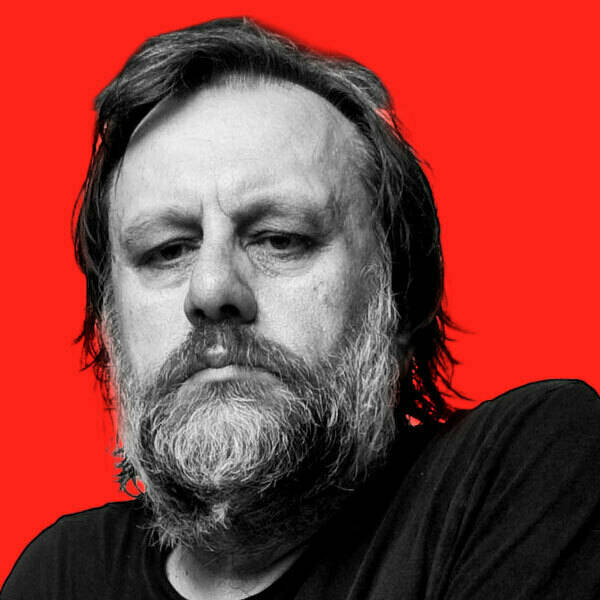 Slavoj Žižek
, a Sloven­ian philoso­pher and psy­cho­an­a­lyst, is a senior researcher at the the Insti­tute for Human­i­ties, Birk­beck Col­lege, Uni­ver­si­ty of Lon­don. He has also been a vis­it­ing pro­fes­sor at more than
10
uni­ver­si­ties around the world. Žižek is the author of many books, includ­ing Liv­ing in the End Times, First As Tragedy, Then As Farce, The Year of Dream­ing Dan­ger­ous­ly and Trou­ble in Paradise.