The Quiet Revolution
Venezuelans experiment with participatory democracy.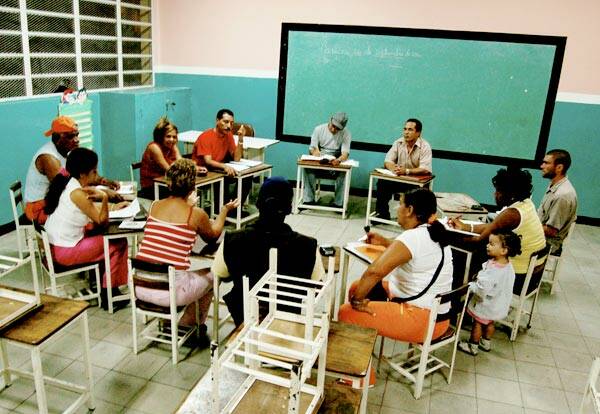 Sell­ing goods to passers­by on the street, Jen­ny Cara­bal­lo describes her local com­mu­nal coun­cil. ​"Some of our mem­bers are home­mak­ers who want their com­mu­ni­ty to be pret­ty," Cara­bal­lo says while try­ing to make eye con­tact with poten­tial clients in 23 de Enero, a bar­rio pop­u­lar that is one of many rough areas in Cara­cas, Venezuela.
Communal councils are an effort to combat red tape and the corruption related to it. They are also the product of a long history of movement politics.
The balmy weath­er south­west of Cara­cas, in the state of Táchi­ra, does not stop Pedro Her­nan­dez, 77, from play­ing chess with his retired friends in San Crist – bal's city square. ​"Before, the gov­ern­ment didn't help the peo­ple," he says. ​"Now they give us ben­e­fits. ​"Now there is cul­ture, dance and pro­grams free to the pub­lic and orga­nized by our com­mu­nal coun­cil." Her­nan­dez does his part by orga­niz­ing chess tournaments.
And in the pic­turesque moun­tain town of Meri­da, Alidio Sosa says: ​"The coun­cils are a sym­bol of how the old par­ties are dead and won't ever come back – the par­ties of the past nev­er con­cerned them­selves with the community."
Hugo Chávez, Venezuela's mega­lo­ma­ni­ac pres­i­dent who has spear­head­ed the country's Boli­var­i­an rev­o­lu­tion and gar­nered so much atten­tion, is not the only one shak­ing up the country's polit­i­cal sys­tem. A com­mu­ni­ty-based rev­o­lu­tion is under­way in Venezuela. Ordi­nary peo­ple all over are chang­ing how their com­mu­ni­ties are governed.
In the past four years, hun­dreds of thou­sands of Venezue­lans have been orga­niz­ing tens of thou­sands of con­se­jos comu­nales (com­mu­nal coun­cils). Each coun­cil is com­posed of about 150 fam­i­lies in urban areas, while in rur­al and indige­nous areas, each coun­cil is com­posed of 20 and 10 fam­i­lies, respec­tive­ly. The coun­cils are involved in every­thing from road build­ing and main­te­nance to cul­tur­al activ­i­ties and events, hous­ing improve­ments, and pro­vid­ing basic ser­vices like water and elec­tric­i­ty – all while strug­gling for the offi­cial gov­ern­ment recog­ni­tion that pro­vides the oppor­tu­ni­ty to get fund­ing for their com­mu­ni­ty projects.
Com­mu­nal coun­cils were mod­eled after par­tic­i­pa­to­ry democ­ra­cy in Ker­ala, India, and com­mu­ni­ty bud­get­ing prac­tices pio­neered in Por­to Ale­gre, Brazil. In Ker­ala, cit­i­zens play an impor­tant role in con­ceiv­ing and imple­ment­ing devel­op­ment projects at the local lev­el. Since 1989, Por­to Ale­gre has suc­cess­ful­ly run a sys­tem of decen­tral­ized plan­ning where­by cit­i­zens deter­mine local spend­ing pri­or­i­ties through a series of pub­lic meet­ings. Com­mu­nal coun­cils in Venezuela embody both of these munic­i­pal par­tic­i­pa­to­ry reforms.
The coun­cils are both Chávista and anti-Chávista; work­ing-class and oli­garchi­cal. The for­mer may­or of Caro­ra, Julio Chávez, told Michael Albert of Z‑Net and Greg Wilpert of Venezuela Analy­sis in Sep­tem­ber 2008:
The com­mu­nal coun­cils are an expres­sion of the ter­ri­to­ry where peo­ple live, and with­in that area they are the nat­ur­al lead­er­ship. In some com­mu­nal coun­cils, our can­di­dates, ones sup­port­ing the rev­o­lu­tion, were not elect­ed, but instead anti-Chávis­tas were elect­ed. In our area there is a com­mu­nal coun­cil that belongs to the oli­garchy, essen­tial­ly. They aren't with us, but they have invit­ed us to meet­ings where we dis­cuss their concerns.
The paper­work required to start and main­tain a coun­cil is one of the great­est obsta­cles to com­mu­nal coun­cil orga­niz­ing. Com­ple­tion of a mul­ti-step process, includ­ing con­duct­ing a cen­sus and numer­ous elec­tions, is required. Despite these com­plex­i­ties, coun­cils have tak­en on gov­ern­ment bureau­cra­cy by cre­at­ing a par­tic­i­pa­to­ry mod­el of gov­er­nance that bypass­es large insti­tu­tions and munic­i­pal officials.
Local offi­cials and bureau­crats feel threat­ened by this grow­ing form of self-gov­er­nance, which is fueled by bil­lions of dol­lars from the cen­tral gov­ern­ment. Of the many nation­al Boli­var­i­an social projects, the com­mu­nal coun­cils have arguably become the most pop­u­lar and suc­cess­ful inno­va­tions of the Chávez administration.
Beyond bureau­cra­cy
Most of Venezuela's work­force is divid­ed between an infor­mal econ­o­my, in which peo­ple hawk con­sumer goods in the street, and the gov­ern­ment agen­cies con­nect­ed to the nation­al­ized petro­le­um indus­try, which accounts for more than half of gov­ern­ment rev­enue and about 90 per­cent of the country's exports. Giv­en the large amount of fund­ing state agen­cies receive based on petro-dol­lars and the under-employ­ment out­side the pub­lic sec­tor, gov­ern­ment bod­ies have strong incen­tives to pro­long their own exis­tence. This breeds an Orwellian bureau­cra­cy of sorts, which roils the Venezue­lan public.
Com­mu­nal coun­cils are an effort to com­bat Venezuela's bureau­crat­ic red tape and the cor­rup­tion relat­ed to it. But they are also the lat­est man­i­fes­ta­tion of Venezuela's long tra­di­tion of com­mu­ni­ty activism and social struggle.
The coun­cils were not imme­di­ate­ly suc­cess­ful, giv­en the chal­lenges inher­ent to com­mu­ni­ty orga­niz­ing. The first attempt at par­tic­i­pa­to­ry demo­c­ra­t­ic reform was the 2001 insti­tu­tion of Boli­var­i­an Cir­cles. These neigh­bor­hood coun­cils were large­ly viewed as elec­toral orga­niz­ing arms of the Chávez administration.
Local Pub­lic Plan­ning Coun­cils (CLPPs) were next, but elect­ed coun­cil lead­ers found it dif­fi­cult to rub elbows with pow­er­ful pub­lic offi­cials while rep­re­sent­ing dis­tricts which con­tained, in some cas­es, upwards of 1 mil­lion peo­ple. By 2005, most CLPPs were dead­locked and ineffective.
The third try has been the charm. Com­mu­nal coun­cils sprung up across the coun­try in the wake of Nation­al Assem­bly leg­is­la­tion in Novem­ber 2006. Their suc­cess is attrib­uted to their more decen­tral­ized and demo­c­ra­t­ic struc­ture – each coun­cil is run by and serves a rel­a­tive­ly small num­ber of people.
Direct inspi­ra­tion for the Law of Com­mu­nal Coun­cils was drawn from Cumaná, a coastal state cap­i­tal locat­ed some 250 miles north­east of Cara­cas. In Cumaná, com­mu­nal coun­cils had been oper­at­ing suc­cess­ful­ly because cit­i­zens were com­fort­able delib­er­at­ing in small, com­mu­ni­ty-ori­ent­ed bod­ies. The Cumaná expe­ri­ence was trans­lat­ed into a nation­al suc­cess sto­ry, as the num­ber of offi­cial­ly sanc­tioned com­mu­nal coun­cils rose from about 21,000 in 2007 to 30,179 by 2009, with some 5,000 more slat­ed for formation.
This orga­niz­ing fren­zy was accom­pa­nied by sig­nif­i­cant fed­er­al fund­ing. Start­ing at $1.5 bil­lion in 2006, fund­ing for com­mu­nal coun­cils increased to $5 bil­lion by 2007. That same year, laws gov­ern­ing the dis­tri­b­u­tion of petro­le­um rev­enues were mod­i­fied so that 50 per­cent of funds – the por­tion pre­vi­ous­ly direct­ed to state and munic­i­pal gov­ern­ments – went to com­mu­nal councils.
Despite the abun­dance of financ­ing, leg­is­la­tion lim­its each coun­cil to project spend­ing caps of between about $14,000 and $28,000. The caps mean projects can do lit­tle more than pave a new road, so coun­cils fre­quent­ly depend on vol­un­teer labor, a prob­lem for impov­er­ished com­mu­ni­ties. Still, coun­cils are often able to rely on vol­un­teers due to the coun­cils' pop­u­lar­i­ty. A lack of com­pet­i­tive con­tracts for coun­cil work has also been a source of crit­i­cism from oppo­nents of the government.
An ​
'

alter­na­tive economy'?

New laws passed by the Nation­al Assem­bly since Novem­ber 2009 have helped coun­cils expand their focus into the eco­nom­ic sphere. Accord­ing to the leg­is­la­tion, coun­cils should now pro­mote new forms of ​"social prop­er­ty, based on the poten­tial­i­ties of their com­mu­ni­ty," through a tax-exempt ​"social, pop­u­lar, and alter­na­tive economy."

Since the coun­cils were cre­at­ed in part to com­bat bureau­cra­cy, some reforms aim to stream­line coun­cil finances and pre­vent cor­rup­tion. Finan­cial man­age­ment of the coun­cils was trans­ferred from com­mu­nal banks to finance com­mis­sions with elect­ed coun­cil admin­is­tra­tors, and recall mea­sures were insti­tut­ed for coun­cil spokesper­sons (elect­ed cit­i­zens who man­age the coun­cils). Osten­si­bly, these mea­sures grant more finan­cial auton­o­my and inde­pen­dence from med­dling local offi­cials, who often feel threat­ened by or are in con­flict with the councils.

In May 2010, about 15,000 elect­ed spokes­peo­ple par­tic­i­pat­ed in work­shops – con­duct­ed by the government's Foun­da­tion for Devel­op­ment and Pro­mo­tion of Com­mu­nal Pow­er – on how to imple­ment the new reforms.

Social­ist com­munes cre­at­ed through addi­tion­al fed­er­al ini­tia­tives since last Novem­ber rep­re­sent an effort to strength­en coun­cils and expand their scope into the eco­nom­ic realm. As of Feb­ru­ary 2010, more than 184 com­munes – each of which coor­di­nates between var­i­ous coun­cils around the coun­try – were being orga­nized to help coun­cils focus on ​"social-pro­duc­tive" projects and pro­vide Venezue­lans with access to cheap­er goods. These projects include grow­ing med­i­c­i­nal and agri­cul­tur­al plants in the coastal state of Miran­da, and oper­at­ing non­prof­it arepa shops, which sell food in Cara­cas at half the mar­ket price. Oth­er ini­tia­tives take advan­tage of cheap goods pro­duced or dis­trib­uted by cer­tain communes.
An exper­i­ment evolves
"Before, neigh­bor­hood asso­ci­a­tions took on the respon­si­bil­i­ties of many of the community's needs," says Cara­bal­lo, the com­mu­ni­ty activist in Cara­cas. ​"Now, the com­mu­nal coun­cil does much of the same work, but with the finan­cial sup­port of the gov­ern­ment – giv­ing us more resources to do the things we need to do."
As with any exper­i­ment in par­tic­i­pa­to­ry democ­ra­cy, the coun­cils are not per­fect. Ded­i­cat­ed cit­i­zen activists are often over­bur­dened with what arguably should be gov­ern­men­tal respon­si­bil­i­ties. In addi­tion, much of Venezuela's most impor­tant com­mu­nal coun­cil work is being done by un- or under-employed vol­un­teers often mired in poverty.
Oth­ers are con­cerned that cit­i­zens still lack a way, oth­er than elect­ed offi­cials, to be part of high­er-lev­el gov­ern­ment deci­sions that impact their lives. Some Venezue­lans ask: Why can't coun­cils also have a say over for­eign, macro­eco­nom­ic and nation­al poli­cies that impact their communities?
Lofty pro­nounce­ments about com­mu­nal coun­cils from fed­er­al offi­cials abound. Chávez him­self has declared the coun­cils to be ​"the great motors of the new era of the Rev­o­lu­tion," ​"a basic cell of the future soci­ety," and ​"fun­da­men­tal … for rev­o­lu­tion­ary democ­ra­cy." Yet ques­tions remain about the future role of coun­cils in larg­er polit­i­cal and eco­nom­ic spheres.
If they con­tin­ue to push for and real­ize the ambi­tious aim of assum­ing the pow­ers of bloat­ed, some­times cor­rupt, bureau­cra­cies, they could per­haps over­take local government's func­tion altogether.
Regard­less of how they evolve, if local cit­i­zens con­trol the future of the coun­cils, they will sure­ly remain an impor­tant part of the far-reach­ing polit­i­cal changes that have reshaped Venezuela dur­ing the last decade.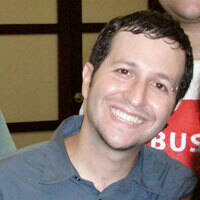 Andrew Ken­nis
is an inves­tiga­tive jour­nal­ist, an adjunct pro­fes­sor and a researcher who is receiv­ing his Ph.D. from the Insti­tute of Com­mu­ni­ca­tions Research at the Uni­ver­si­ty of Illi­nois, Urbana-Cham­paign. More of Ken­nis' arti­cles can be accessed
here
.