Meet the Radical Brownies
A Oakland girls' troop is inspired by the Girl Scouts ... and the Brown Berets.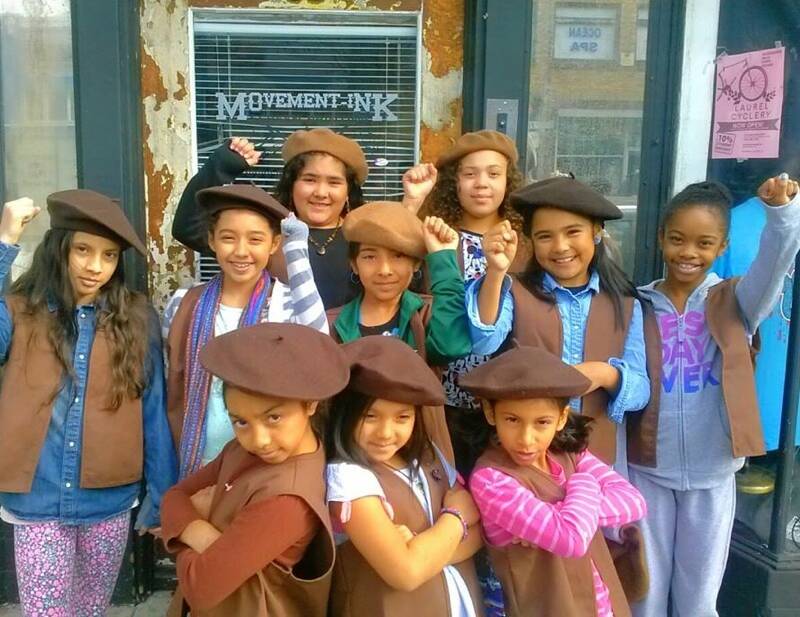 When Anayvette Martinez's daugh­ter, a fourth grad­er, want­ed ​"des­per­ate­ly" to join a girls' troop like the Girl Scouts of Amer­i­ca, it gave Mar­tinez an idea.
Instead of camping or selling cookies, these Brownies participate in protests and marches.
"I saw the need for a group that would empow­er and encour­age her to form bonds of sis­ter­hood with oth­er girls in her com­mu­ni­ty," wrote Mar­tinez on Face­book. ​"I began to imag­ine what a rad­i­cal young girl's social jus­tice troop looked like; a group that cen­tered and affirmed her expe­ri­ences as a beau­ti­ful and bril­liant brown girl against so many soci­etal pres­sures to con­form to main­stream ideals of girlhood."
Mar­tinez enlist­ed the help of a friend, Mar­i­lyn Hollinquest, and the result was the Rad­i­cal Brown­ies: an Oak­land, Cal­i­for­nia-based, social-jus­tice-focused girls' troop. Its mis­sion: to ​"empow­er young girls of col­or so that they step into their col­lec­tive pow­er, bril­liance and lead­er­ship in order to make the world a more rad­i­cal place."
The group takes its name from the junior divi­sion of the Girl Scouts, but is unaf­fil­i­at­ed. Instead of camp­ing or sell­ing cook­ies, these Brown­ies par­tic­i­pate in protests and march­es, car­ry­ing #Black­Lives­Mat­ter ban­ners and wear­ing small brown berets to pay homage to the Brown Berets and the Black Panthers.
The found­ing chap­ter has 12 mem­bers, all girls of col­or, ages 8 to 11. At the first meet­ing, in late 2014, the girls dis­cussed what the word ​"rad­i­cal" meant to them. They decid­ed it was "[being a] fierce com­mu­ni­ty advo­cate," Hollinquest told PBS.
Mar­tinez and Hollinquest are both queer women of col­or with a back­ground in child devel­op­ment. Togeth­er they cre­at­ed a cur­ricu­lum for the Brown­ies that weds cel­e­brat­ing diver­si­ty with social action. Girls can earn cus­tom-made badges like the rad­i­cal beau­ty badge, the food jus­tice badge, the rad­i­cal self-love badge or the LGBT ally badge.
The lead­ers plan to intro­duce more chap­ters and expand to include girls of all back­grounds. They've already met their first big goal: get­ting loud­er. The Brown­ies recent­ly announced that they had raised enough mon­ey on Face­book to buy two megaphones.