Meet the Radical Brownies
A Oakland girls' troop is inspired by the Girl Scouts ... and the Brown Berets.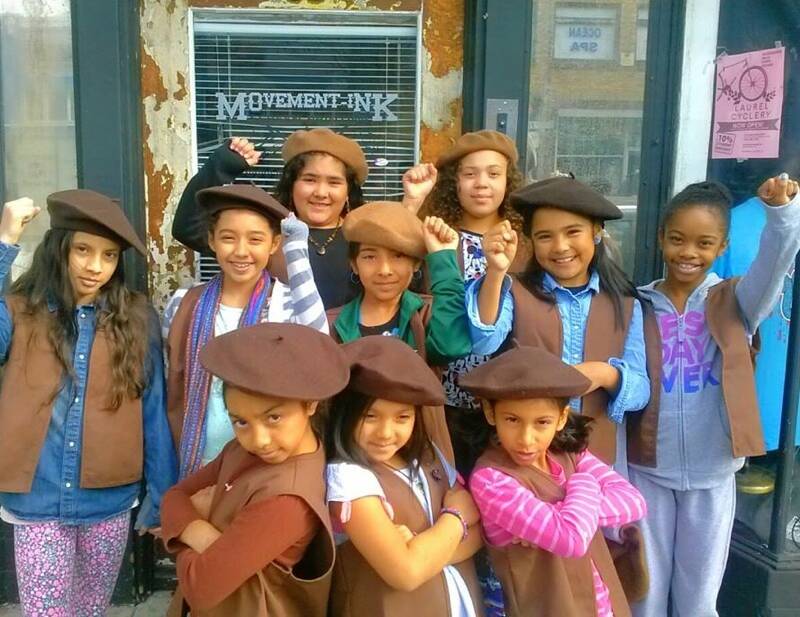 When Anayvette Martinez's daughter, a fourth grader, wanted ​"desperately" to join a girls' troop like the Girl Scouts of America, it gave Martinez an idea.
Instead of camping or selling cookies, these Brownies participate in protests and marches.
"I saw the need for a group that would empower and encourage her to form bonds of sisterhood with other girls in her community," wrote Martinez on Facebook. ​"I began to imagine what a radical young girl's social justice troop looked like; a group that centered and affirmed her experiences as a beautiful and brilliant brown girl against so many societal pressures to conform to mainstream ideals of girlhood."
Martinez enlisted the help of a friend, Marilyn Hollinquest, and the result was the Radical Brownies: an Oakland, California-based, social-justice-focused girls' troop. Its mission: to ​"empower young girls of color so that they step into their collective power, brilliance and leadership in order to make the world a more radical place."
The group takes its name from the junior division of the Girl Scouts, but is unaffiliated. Instead of camping or selling cookies, these Brownies participate in protests and marches, carrying #BlackLivesMatter banners and wearing small brown berets to pay homage to the Brown Berets and the Black Panthers.
The founding chapter has 12 members, all girls of color, ages 8 to 11. At the first meeting, in late 2014, the girls discussed what the word ​"radical" meant to them. They decided it was "[being a] fierce community advocate," Hollinquest told PBS.
Martinez and Hollinquest are both queer women of color with a background in child development. Together they created a curriculum for the Brownies that weds celebrating diversity with social action. Girls can earn custom-made badges like the radical beauty badge, the food justice badge, the radical self-love badge or the LGBT ally badge.
The leaders plan to introduce more chapters and expand to include girls of all backgrounds. They've already met their first big goal: getting louder. The Brownies recently announced that they had raised enough money on Facebook to buy two megaphones.
Be one of the first
Help kick off the new era of In These Times! Without a media that brings people together and creates a written record of the struggles of workers, their voices will be fragmented and forgotten.
The mission of In These Times is to be that written record, and to guide and grow those movements.
We have a lot of work ahead of us, and that work starts today. Early support is the most valuable support, and that's why we're asking you to pitch in now. If you are excited for this new era of In These Times, please make a donation today.