The May 1 U.S. attack on Osama bin Laden's com­pound vio­lat­ed mul­ti­ple ele­men­tary norms of inter­na­tion­al law, begin­ning with the inva­sion of Pak­istani territory.
The roots of the killing are deep. In the immediate aftermath of 9/11, the American desire for vengeance displaced concern for law or security.
There appears to have been no attempt to appre­hend the unarmed vic­tim, as pre­sum­ably could have been done by the 79 com­man­dos fac­ing almost no opposition.
Pres­i­dent Oba­ma announced that ​"jus­tice has been done." Many did not agree – even close allies.
British bar­ris­ter Geof­frey Robert­son, who gen­er­al­ly sup­port­ed the oper­a­tion, nev­er­the­less described Obama's claim as an ​"absur­di­ty" that should have been obvi­ous to a for­mer pro­fes­sor of con­sti­tu­tion­al law.
Pak­istani and inter­na­tion­al law require inquiry ​"when­ev­er vio­lent death occurs from gov­ern­ment or police action," Robert­son points out. Oba­ma under­cut that pos­si­bil­i­ty with a ​"hasty ​'bur­ial at sea' with­out a post mortem, as the law requires."
"It was not always thus," Robert­son use­ful­ly reminds us, ​"When the time came to con­sid­er the fate of men much more steeped in wicked­ness than Osama bin Laden – name­ly the Nazi lead­er­ship – the British gov­ern­ment want­ed them hanged with­in six hours of capture.
"Pres­i­dent Tru­man demurred, cit­ing the con­clu­sion of Jus­tice Robert Jack­son (chief pros­e­cu­tor at the Nurem­berg tri­al) that sum­ma­ry exe­cu­tion ​'would not sit eas­i­ly on the Amer­i­can con­science or be remem­bered by our chil­dren with pride … the only course is to deter­mine the inno­cence or guilt of the accused after a hear­ing as dis­pas­sion­ate as the times will per­mit and upon a record that will leave our rea­sons and motives clear."'
Anoth­er per­spec­tive on the attack comes in a report in The Atlantic by vet­er­an Mid­dle East and mil­i­tary cor­re­spon­dent Yochi Dreazen and col­leagues. Cit­ing a ​"senior U.S. offi­cial," they con­clude that the bin Laden killing was a planned assassination.
"For many at the Pen­ta­gon and the Cen­tral Intel­li­gence Agency who had spent near­ly a decade hunt­ing bin Laden, killing the mil­i­tant was a nec­es­sary and jus­ti­fied act of vengeance," they write.
Fur­ther­more, ​"cap­tur­ing bin Laden alive would have also pre­sent­ed the admin­is­tra­tion with an array of net­tle­some legal and polit­i­cal challenges."
They quote for­mer West Ger­man Chan­cel­lor Hel­mut Schmidt, who com­ment­ed that ​"the U.S. raid was ​'quite clear­ly a vio­la­tion of inter­na­tion­al law' and that bin Laden should have been detained and put on trial."
They con­trast Schmidt with U.S. Attor­ney Gen­er­al Eric Hold­er, who ​"defend­ed the deci­sion to kill bin Laden although he didn't pose an imme­di­ate threat to the Navy SEALs," and tes­ti­fied to Con­gress that the assault had been ​"law­ful, legit­i­mate and appro­pri­ate in every way."
They observe fur­ther that the assas­si­na­tion is ​"the clear­est illus­tra­tion to date" of a cru­cial dis­tinc­tion between the Bush and Oba­ma coun­tert­er­ror poli­cies. Bush cap­tured sus­pects and sent them to Guan­tanamo and oth­er camps, with con­se­quences now well known. Obama's pol­i­cy is to kill sus­pects (along with ​"col­lat­er­al damage").
The roots of the revenge killing are deep. In the imme­di­ate after­math of 9⁄11, the Amer­i­can desire for vengeance dis­placed con­cern for law or security.
In his book, ​"The Far Ene­my," Fawaz Gerges, a lead­ing aca­d­e­m­ic spe­cial­ist on the jiha­di move­ment, found that ​"the dom­i­nant response by jihadis to Sept. 11 is an explic­it rejec­tion of al-Qai­da and total oppo­si­tion to the inter­na­tion­al­iza­tion of jihad … Al-Qai­da unit­ed all social forces (in the Mus­lim world) against its glob­al jihad."
The influ­en­tial Lebanese cler­ic Sheikh Mohammed Hus­sein Fad­lal­lah sharply con­demned al-Qaida's 9⁄11 atroc­i­ties on prin­ci­pled grounds. ​"We must not pun­ish indi­vid­u­als who have no rela­tion­ship with the Amer­i­can admin­is­tra­tion or even those who have an indi­rect role," he said.
Fad­lal­lah was the tar­get of a CIA-orga­nized assas­si­na­tion oper­a­tion in 1985, a huge truck bomb placed out­side a mosque. He escaped, but 80 oth­ers were killed, most­ly women and girls, as they left the mosque – one of those innu­mer­able crimes that don't enter the annals of terror.
Sub­se­quent U.S. actions, par­tic­u­lar­ly the inva­sion of Iraq, gave new life to al-Qaida.
What are the like­ly con­se­quences of the killing of bin Laden? For the Arab world, it will prob­a­bly mean lit­tle. He had long been a fad­ing pres­ence, and in the past few months was eclipsed by the Arab Spring.
A fair­ly gen­er­al per­cep­tion in the Arab world is cap­tured by the head­line in a Lebanese news­pa­per: ​"The exe­cu­tion of bin Laden: A set­tling of accounts between killers."
The most imme­di­ate and sig­nif­i­cant con­se­quences are like­ly to be seen in Pak­istan. There is much dis­cus­sion of Washington's anger that Pak­istan didn't turn over bin Laden. Less is said about the fury in Pak­istan that the U.S. invad­ed their ter­ri­to­ry to car­ry out a polit­i­cal assassination.
Pak­istan is the most dan­ger­ous coun­try on Earth, with the fastest-grow­ing nuclear arse­nal. The revenge killing on Pak­istani soil only stoked the anti-Amer­i­can fer­vor that had long been building.
In his new book, Pak­istan: A Hard Coun­try, Ana­tol Lieven writes that ​"if the U.S. ever put Pak­istani sol­diers in a posi­tion where they felt that hon­or and patri­o­tism required them to fight Amer­i­ca, many would be very glad to do so."
And if Pak­istan col­lapsed, an ​"absolute­ly inevitable result would be the flow of large num­bers of high­ly trained ex-sol­diers, includ­ing explo­sive experts and engi­neers, to extrem­ist groups."
The pri­ma­ry threat is leak­age of fis­sile mate­ri­als to jiha­di hands, a hor­ren­dous eventuality.
The Pak­istani mil­i­tary has already been pushed to the edge by U.S. attacks on Pak­istani sov­er­eign­ty. One fac­tor is the drone attacks in Pak­istan that Oba­ma esca­lat­ed imme­di­ate­ly after the killing of bin Laden, rub­bing salt in the wounds.
But there is much more, includ­ing the demand that the Pak­istani mil­i­tary coop­er­ate in the U.S. war against the Afghan Tal­iban. The over­whelm­ing major­i­ty of Pak­ista­nis see the Tal­iban as fight­ing a just war of resis­tance against an invad­ing army, accord­ing to Lieven.
The killing of bin Laden could have been the spark that set off a con­fla­gra­tion, with dire con­se­quences, par­tic­u­lar­ly if the invad­ing force had been com­pelled to fight its way out, as was anticipated.
Per­haps the assas­si­na­tion was per­ceived as an ​"act of vengeance," as Robert­son con­cludes. What­ev­er the motive, it could hard­ly have been security.
© New York Times News Service/​Syndicate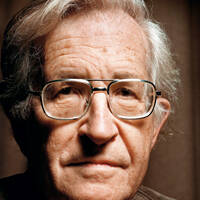 Noam Chom­sky
is Insti­tute Pro­fes­sor and Pro­fes­sor of Lin­guis­tics (Emer­i­tus) at the Mass­a­chu­setts Insti­tute of Tech­nol­o­gy, and the author of dozens of books on U.S. for­eign pol­i­cy. His most recent book is
Who Rules the World?
from Met­ro­pol­i­tan Books.