Meet the Latest Secret Free-Market Group That Wants to Take Over Your Public School
The Center on Reinventing Public Education (CRPE) has been an invisible player in the free-market education reform movement.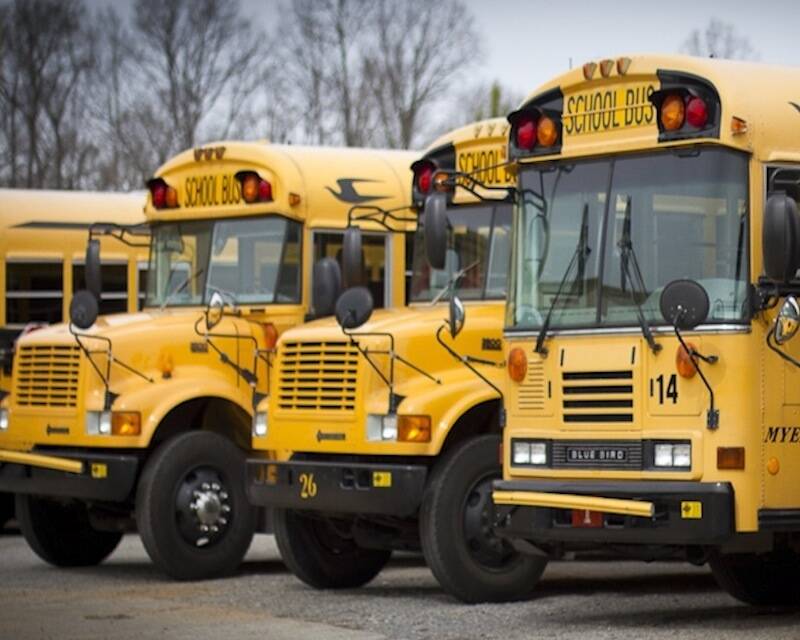 This sto­ry orig­i­nal­ly appeared at The Pro­gres­sive.
What does it look like when a district starts to view schools like businesses?
Don't look now, but there's some­thing creepy com­ing toward you, and it wants to take over your pub­lic school sys­tem. Sure, it's con­nect­ed — through all-impor­tant grants — to many of the big names in today's edu­ca­tion reform move­ment (Gates, Wal­ton, Broad), but most peo­ple have prob­a­bly nev­er heard of it.
This ​"edu­ca­tion reform pow­er­house" is the Cen­ter on Rein­vent­ing Pub­lic Edu­ca­tion, which goes by the acronym CRPE — or ​"creepy." How fit­ting. While there are many indi­vid­u­als and orga­ni­za­tions on the front lines of the free-mar­ket edu­ca­tion reform move­ment — from Teach for Amer­i­ca, to Edu­ca­tion Sec­re­tary Arne Dun­can, to the Recov­ery School Dis­trict in New Orleans — CRPE has not been pub­licly out­ed. Instead, it has steadi­ly carved out an influ­en­tial role for itself behind the scenes. In fact, CRPE oper­ates in a man­ner that is strik­ing­ly sim­i­lar to ALEC (the Amer­i­can Leg­isla­tive Exchange Coun­cil), the secre­tive, pow­er­ful group fund­ed by the Koch broth­ers and a large ros­ter of cor­po­ra­tions. Here's a look at how the two orga­ni­za­tions work:
1. Mem­ber net­works: Both CRPE and ALEC have a ​"secret club" com­po­nent, through their mem­ber net­works. With ALEC, the mem­bers are state leg­is­la­tors. With CRPE, they are school dis­tricts from across the Unit­ed States (there are cur­rent­ly thir­ty-nine of them).
2. Net­work meet­ings: Both CRPE and ALEC host mem­ber net­work meet­ings or con­fer­ences, where a com­mon phi­los­o­phy (based on a dis­tinct rightwing ide­ol­o­gy) is honed, artic­u­lat­ed, and shared.
3. Mod­el leg­is­la­tion: Both CRPE and ALEC cre­ate sam­ple, mod­el poli­cies (CRPE) or ​"cook­ie-cut­ter bills" (ALEC) for the dis­tricts or leg­is­la­tors who are part of their mem­ber networks.
4. Free-mar­ket fun­ders: Like ALEC, CRPE is fund­ed by very wealthy, free-mar­ket-focused spe­cial inter­ests, includ­ing the Wal­ton Foundation.
One dif­fer­ence is that ALEC has been around since the ear­ly 1970s while CRPE is a more recent con­coc­tion. Uni­ver­si­ty of Wash­ing­ton polit­i­cal sci­ence pro­fes­sor Paul T. Hill found­ed the group in 1993, just as the ​"account­abil­i­ty" move­ment in pub­lic edu­ca­tion was tak­ing off, and it is housed at the Uni­ver­si­ty of Wash­ing­ton-Both­ell. CRPE is affil­i­at­ed with the uni­ver­si­ty, but Hill explains, ​"Our work is fund­ed through pri­vate phil­an­thropic dol­lars, fed­er­al grants, and con­tracts." And, although CRPE describes itself as engag­ing in ​"inde­pen­dent research and pol­i­cy analy­sis," in 2011 the Cen­ter for Media and Democracy's Source Watch web­site tagged the group as an ​"indus­try-fund­ed research cen­ter that … receives fund­ing from cor­po­rate and bil­lion­aire phil­an­thropists as well as the U.S. Depart­ment of Education."
While Hill may not be well known nation­al­ly, he is no shrink­ing vio­let when it comes to agen­da-dri­ven pol­i­cy work. Beyond CRPE, he has been affil­i­at­ed with the right-lean­ing Hoover Insti­tute and its Koret Task Force on K‑12 Edu­ca­tion, which focus­es on vouch­ers and oth­er mar­ket-based, pri­va­ti­za­tion-cen­tered reforms for pub­lic schools.
And that right-lean­ing stamp is all over CRPE, which has built a net­work of ​"port­fo­lio school dis­tricts" from New York City to New Orleans and beyond. It promis­es to run these dis­tricts like a stock port­fo­lio. Under this mod­el, schools are to become more ​"autonomous," and dis­tricts will be decen­tral­ized for a more ​"hands-off" approach. In an eigh­teen-month port­fo­lio imple­men­ta­tion guide that CRPE pro­vides school dis­tricts, a sug­gest­ed strat­e­gy for the first two months is to ​"announce the dis­trict will replace five schools with char­ter schools." Schools will be closed for such fail­ures as ​"neg­a­tive labor-man­age­ment relations."
Many peo­ple in pro­gres­sive-mind­ed Min­neapo­lis would be shocked to know that the Min­neapo­lis pub­lic school sys­tem has been part of the CRPE net­work since 2010 (thanks to a makeover, led, for free, by con­sul­tants from the glob­al con­sult­ing firm McK­in­sey and Com­pa­ny). Today, this shad­owy orga­ni­za­tion is on the verge of com­plete­ly over­haul­ing the pub­lic school district's entire operation.
Any­one need­ing proof should look no fur­ther than the 2013 CRPE meet­ing for Port­fo­lio Net­work mem­bers that was held in Seat­tle. A video from that meet­ing lays bare the com­pet­i­tive, resource-scarce mind­set behind CRPE, and it even uses the Min­neapo­lis pub­lic schools — albeit super­fi­cial­ly — as a test case for the presentation.
The video — avail­able on YouTube as ​"Dol­lars and Sense Account­abil­i­ty" — offers atten­dees lots of sug­ges­tions for how schools can expand their lim­it­ed pots of mon­ey. The assump­tion always seems to be that schools just need to do more with less, so the sug­ges­tions are prag­mat­ic. They include encour­ag­ing schools to grow their enroll­ment (the pre­sen­ter, Mar­guerite Roza, who now works for CRPE, rec­om­mends push­ing schools on this, because they'll always say they're too full). CRPE also sug­gests pay­ing teach­ers extra to teach more kids, and pit­ting schools against one anoth­er in a bat­tle for resources. All of this is based around a cen­tral ques­tion: What does it look like when a dis­trict starts to view schools like businesses?
To begin, Roza prais­es Min­neapo­lis for its ​"enor­mous coop­er­a­tion," because the dis­trict has offered its data for use as an exam­ple of how to view schools ​"in terms of cost and out­comes." Roza then shows par­tic­i­pants a graph, where Min­neapo­lis school sites (unnamed) are splayed out accord­ing to how much mon­ey they spend in com­par­i­son to how ​"high per­form­ing" they are. Before she delves in too deeply, how­ev­er, Roza makes one point very clear: ​"I hope when you leave this ses­sion, you real­ize that the mon­ey part of the equa­tion has to be part of the account­abil­i­ty bit, so you have to start con­nect­ing the spend­ing and the out­comes togeth­er," she says.
Through­out the video, it becomes clear that what Roza means is that the ide­al school is one which spends less mon­ey but gets high test scores. It also becomes clear that, to Roza, and by exten­sion CRPE, kids and schools are mere wid­gets in the Hunger Games-like land­scape of school finance that CRPE promotes.
At one point, Roza points to the graph full of Min­neapo­lis exam­ples and says, ​"Look at the rela­tion­ship between spend­ing and out­comes! It's pret­ty dis­mal, right?" Roza acknowl­edges that ​"schools are messy," but then veers back to CRPE's mar­ket-dri­ven ide­ol­o­gy: ​"If we're try­ing to get to a sys­tem where we're lever­ag­ing our mon­ey to get the best pos­si­ble out­comes we could get, we need a more robust rela­tion­ship between spend­ing and out­comes than we have."
In the video, Roza zeros in on the con­cept of ​"nice" schools, which fall into the high-spend­ing, high-per­form­ing part of her graph, and she then makes a whole lot of creepy alle­ga­tions about them. In her Min­neapo­lis exam­ple, there is only one such school, which sits by itself up in the lone­ly far cor­ner of the graph.
Roza seems to assume that this school is a high-spend­ing hog, feed­ing off the trough, and get­ting great out­comes on every oth­er school's ​"dime." If such a school exists in your dis­trict, Roza tells the hushed crowd, ​"You should fig­ure out how much extra you're spend­ing for those kids," because this is not a ​"replic­a­ble mod­el." It's just too expen­sive, Roza concludes.
Her solu­tion? Force such schools to ​"take more kids," and don't lis­ten when they tell you they're too full. In fact, when they do tell you they are too full, sim­ply ask them, ​"All right, did you want to give up the jazz band or the golf team?" Because, it seems, they must be lying about their abil­i­ty to ​"cram more kids in," as Roza puts it, just so they can pro­tect their elite, dis­trict-fund­ed pro­grams. (Roza seems not to under­stand that, in Min­neapo­lis, there are wealthy neigh­bor­hoods, but there are no wealthy schools rolling in dis­trict dollars.)
It turns out that the school Roza was refer­ring to is Minneapolis's Dowl­ing Ele­men­tary, a K‑5 site that indeed spends a lot of mon­ey. But it spends a lot because it serves an ​"unusu­al­ly large per­cent of spe­cial needs kids," accord­ing to Minneapolis's for­mer bud­get direc­tor Sarah Snapp, who was at the CRPE meet­ing. Snapp shared this infor­ma­tion after Roza gave her fis­cal­ly con­ser­v­a­tive spiel.
Dowl­ing Ele­men­tary is named after edu­ca­tor and leg­is­la­tor Michael Dowl­ing, who, accord­ing to the school's web­site, ​"suc­ceed­ed in hav­ing the first bill passed pro­vid­ing state aid for hand­i­capped chil­dren in 1919. Being hand­i­capped him­self, Mr. Dowl­ing real­ized the impor­tance of equal access to edu­ca­tion for all peo­ple." Even today, the school has a pro­gram for stu­dents with health-relat­ed dis­abil­i­ties. These stu­dents have their own spe­cial edu­ca­tion clas­si­fi­ca­tion, and Dowl­ing was — and is — designed to meet their needs, along­side Dowling's non-spe­cial-needs population.
At the CRPE meet­ing, Snapp tells Roza that Dowl­ing does have a ​"unique set of fac­tors" that make it look like a big spender, and also warns that lump­ing all stu­dents in a dis­trict togeth­er ​"might mask some of what's going on."
Still, Roza moves on in her pre­sen­ta­tion, and makes a joke about the next sec­tion, called ​"Per­for­mance Fund­ing," say­ing wry­ly, ​"This is where the school does well and we give them more money."
Not quite. This would be a dan­ger­ous path to go down, Roza warns, because if you give a school ​"cash" for doing well (on stan­dard­ized tests, of course), then that ​"high-per­form­ing" school will also become a ​"high­er spend­ing" school. For­get that, says Roza. Instead, she advis­es redefin­ing ​"account­abil­i­ty" as, sim­ply, the ​"right to con­tin­ue to oper­ate" accord­ing to a ​"con­tin­u­ous improve­ment model."
Roza per­sists with her, and CRPE's, def­i­n­i­tion of account­abil­i­ty, say­ing schools will — no, must—"seek to con­tin­u­ous­ly go up," with no ​"thresh­old" or end in sight, in terms of test-based mea­sure­ments. The stakes are very high in this mod­el. Roza explains that it is ​"con­stant­ly the low­est-per­form­ing, at a par­tic­u­lar spend­ing lev­el, schools … that should go away or improve … and then you get a sys­tem that's con­stant­ly striv­ing for high­er performance."
The over­all goal is to strip schools down from their messy, com­pli­cat­ed ​"over­spend­ing" heights, and col­lapse them all into a pure ​"stu­dent-based" fund­ing mod­el. (CRPE shares their love of fund­ing stu­dents, not pro­grams, with ALEC, which has a mod­el ​"Stu­dent-Cen­tered Fund­ing" bill, essen­tial­ly a school vouch­er pro­gram.) Then, says Roza, dis­tricts will have arrived at a cost and out­comes Nir­vana, where they can ​"just man­age on performance."
This, she explains, will yield a ​"ver­ti­cal line full of dots" on a graph.
That may be the ide­al way to view schools, stu­dents, and teach­ers from a CRPE point of view. On the ground, in Min­neapo­lis, com­mu­ni­ty mem­bers would prob­a­bly object if it were known that their schools are being guid­ed by the CRPE's rightwing ide­ol­o­gy. But this may be changing.
At an April 14 Min­neapo­lis school board meet­ing, par­ents, teach­ers, and stu­dents from across the city came to express their frus­tra­tion with the dis­trict and its lat­est plans.
First up, there was a con­tin­gent from Roo­sevelt High School, an old-time school in south Min­neapo­lis that has 80 per­cent stu­dents of col­or and a high pro­por­tion of kids in pover­ty (76 per­cent). In March, Roo­sevelt par­ents and staff received their school's bud­get for the upcom­ing school year; it was $248,000 short of what they need­ed. The worst part? The bud­get cut — which was decep­tive­ly framed as an increase — came as Roo­sevelt stands to grow, by adding 100 new stu­dents to its incom­ing fresh­man class after years of being seen as one of Minneapolis's ​"less desir­able" schools.
It also came just as Min­neapo­lis Pub­lic Schools Inter­im Super­in­ten­dent Michael Goar was mak­ing very pub­lic claims about ​"right-siz­ing" the district's bud­get, in order to send mil­lions of dol­lars back into the pock­ets of the district's schools.
This strat­e­gy — of ​"right-siz­ing," with the promise that this will bring auton­o­my and funds straight to the schools — is CRPE all the way. Telling­ly, a brief CRPE video about the virtues of school auton­o­my includes the insis­tence that schools must be giv­en the ​"free­dom" to con­trol their mon­ey, as the ulti­mate goal, in the words of CRPE founder Paul Hill, is for a school to be ​"as free about what it does as a char­ter school."
But the Roo­sevelt par­ents and stu­dents are not buy­ing it. For the first time in years, under the ener­getic lead­er­ship of par­ent Jeanette Bow­er, the school has been get­ting orga­nized — and vocal. School sup­port­ers went to the school board meet­ing to ral­ly for Roo­sevelt, and to con­tin­ue chang­ing the school's image from that of a ​"ghet­to school," in the words of ninth grade stu­dent Lewis Mar­tin, to that of a school peo­ple choose to come to.
Their list of com­plaints about the lack of fund­ing for Roo­sevelt were long, and will sound famil­iar to any­one who has been watch­ing the move to defund and pri­va­tize America's pub­lic schools:
Roo­sevelt is the only high school in Min­neapo­lis with no the­ater pro­gram, and the dis­trict is not pro­vid­ing any funds to rem­e­dy this.
With bud­get cuts, the school will have to lay off its com­mu­ni­ty liaisons, who have been going out into the com­mu­ni­ty to change the nar­ra­tive of ​"fail­ure" (due to test scores) that hov­ers over the school.
The school will have to let its librar­i­an go, and class sizes may increase.
Also, the dis­trict will only pro­vide fund­ing for the 100 new stu­dents who have signed up to attend Roo­sevelt next year in the fall, when the stu­dents actu­al­ly show up. The prob­lem with this, in the eyes of the Roo­sevelt com­mu­ni­ty, is that the school can't hire extra teach­ers because the hir­ing sea­son is hap­pen­ing now, in the spring. (This is CRPE's pre­ferred way to fund schools: only accord­ing to the num­bers of stu­dents who show up.)
For Roo­sevelt High School senior Shah­mar Den­nis, who also spoke out at the April 14 board meet­ing, the lack of clear infor­ma­tion from the dis­trict around Roosevelt's bud­get is troubling.
"We are a school on the rise, but our music pro­gram will suf­fer," he says. ​"We have more stu­dents com­ing next year, but we can't buy new instruments."
Den­nis explained that he is going off to col­lege in the fall, but that he still deeply cares about his school: ​"I won't be here next year but I want to see Roo­sevelt High School grow­ing and doing well aca­d­e­m­i­cal­ly, with a goodthe­ater program."
That desire is dia­met­ri­cal­ly opposed to the CRPE agenda.
Sarah Lahm
is a Min­neapo­lis-based writer and for­mer Eng­lish Instruc­tor. She is a
2015
Pro­gres­sive
mag­a­zine Edu­ca­tion Fel­low and blogs about edu­ca­tion at bright​lights​mall​ci​ty​.com.