For the first time in more than a decade, Democ­rats seem to have a shot at tak­ing back Con­gress. But also for the first time in recent his­to­ry, Con­gress is on the cusp of switch­ing hands with­out a vot­er man­date. How is that pos­si­ble? Because Democ­rats are only in the hunt thanks to gross Repub­li­can mis­steps – and they are going out of their way to make sure their poten­tial elec­tion to the major­i­ty is about noth­ing. Call it the Sein­feld strategy.
Los Ange­les Times colum­nist Ron Brown­stein reports, ​"Demo­c­ra­t­ic lead­ers are drift­ing toward a midterm mes­sage that indicts Bush more on grounds of com­pe­tence (on issues such as Iraq, Hur­ri­cane Kat­ri­na and pre­scrip­tion drugs) than ideology."
As a short-term elec­toral tac­tic, the Sein­fel­dian ​"com­pe­tence" strat­e­gy allows the GOP to right itself with new man­age­ment. Sad­ly, it is not a strat­e­gy based on ide­o­log­i­cal dif­fer­ences that puts a boot to con­ser­v­a­tives' neck when their hypocrisy trips them up and they fall down. Thus, while Democ­rats cel­e­brate the res­ig­na­tions of peo­ple like Reps. Tom DeLay (Texas) and Duke Cun­ning­ham (Calif.), the GOP simul­ta­ne­ous­ly cel­e­brates because they can now counter the Democ­rats' ​"com­pe­tence" argu­ment by point­ing out that their par­ty has sloughed off the incom­pe­tents. In short, the Repub­li­can Par­ty and the right's ide­o­log­i­cal agen­da march for­ward, large­ly unscathed.
In mak­ing such a lim­it­ed cri­tique, Democ­rats tac­it­ly val­i­date con­ser­v­a­tives' ide­o­log­i­cal goals and fur­ther rein­force the pub­lic feel­ing that Democ­rats have no con­vic­tions of their own. For exam­ple, despite the GOP scan­dals and the polit­i­cal oppor­tu­ni­ties they present, Democ­rats refuse to push seri­ous reforms like pub­lic financ­ing of elec­tions and instead push half-mea­sures and focus on Repub­li­can missteps.
In the process, they are implic­it­ly say­ing they believe the sys­tem that most Amer­i­cans know is cor­rupt is actu­al­ly per­fect­ly accept­able. The same thing on Iraq: The Demo­c­ra­t­ic Par­ty refus­es to take a posi­tion whol­ly dif­fer­ent from the Repub­li­cans, sim­ply say­ing the man­age­ment of the war – rather than the war itself – is the problem.
Nation­al Demo­c­ra­t­ic lead­ers will say they are forced to use the ​"com­pe­tence" argu­ment because it is the one big theme that uni­fies their ide­o­log­i­cal­ly diverse con­gres­sion­al mem­ber­ship. But that hides the not-so-secret fact that very pow­er­ful, very vocal, and very ide­o­log­i­cal forces with­in the Demo­c­ra­t­ic Par­ty sup­port many of the con­ser­v­a­tive goals that a ​"com­pe­tence" strat­e­gy inher­ent­ly validates.
On domes­tic pol­i­cy, these forces went pub­lic in April at a press con­fer­ence at the Brook­ings Insti­tu­tion. Led by Cit­i­group chair­man Robert Rubin — Clinton's for­mer Trea­sury sec­re­tary — the ​"Hamil­ton Project" announced plans to ​"to take on entrenched Demo­c­ra­t­ic inter­ests" such as teach­ers' unions, accord­ing to the Finan­cial Times. Par­tic­i­pants at the event used words like ​"pro­tec­tion­ist" to describe coura­geous con­gres­sion­al Democ­rats fight­ing to reform the cor­po­rate-writ­ten trade pacts Rubin and oth­ers helped pass in the ​'90s. They also advo­cat­ed school ​"vouch­ers" and ​"enti­tle­ment reform" — code words for defund­ing pub­lic edu­ca­tion and evis­cer­at­ing bedrock Demo­c­ra­t­ic pro­grams like Social Secu­ri­ty and Medicare. At least they were hon­est in nam­ing them­selves after Alexan­der Hamil­ton, the leader of the elit­ist Fed­er­al­ist Par­ty and rival of Thomas Jef­fer­son, the pop­ulist founder of the Demo­c­ra­t­ic Party.
Pub­lic opin­ion data con­sis­tent­ly show Amer­i­cans are des­per­ate for polit­i­cal lead­ers who will rep­re­sent ordi­nary cit­i­zens' inter­ests – not just pow­er­ful lob­by­ists and their wealthy cor­po­rate clients.
Until Democ­rats decide to stop tak­ing part in ​"busi­ness as usu­al" and start fight­ing back against the right wing's ide­ol­o­gy, they will face the same polit­i­cal lia­bil­i­ties they do today.
Editor's Note: This arti­cle has been cor­rect­ed; due to an edit­ing error a quote from the
Finan­cial Times
was not prop­er­ly attrib­uted in the orig­i­nal article.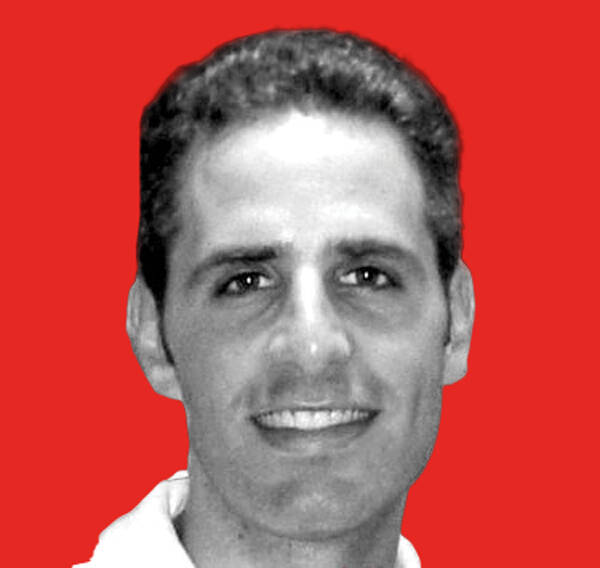 David Siro­ta
is an award­win­ning inves­tiga­tive jour­nal­ist and an
In These Times
senior edi­tor. He served as speech writer for Bernie Sanders'
2020
cam­paign. Fol­low him on Twit­ter @davidsirota.