The 'Sharing' Hype
Do companies like Lyft and Airbnb help democratize the economy?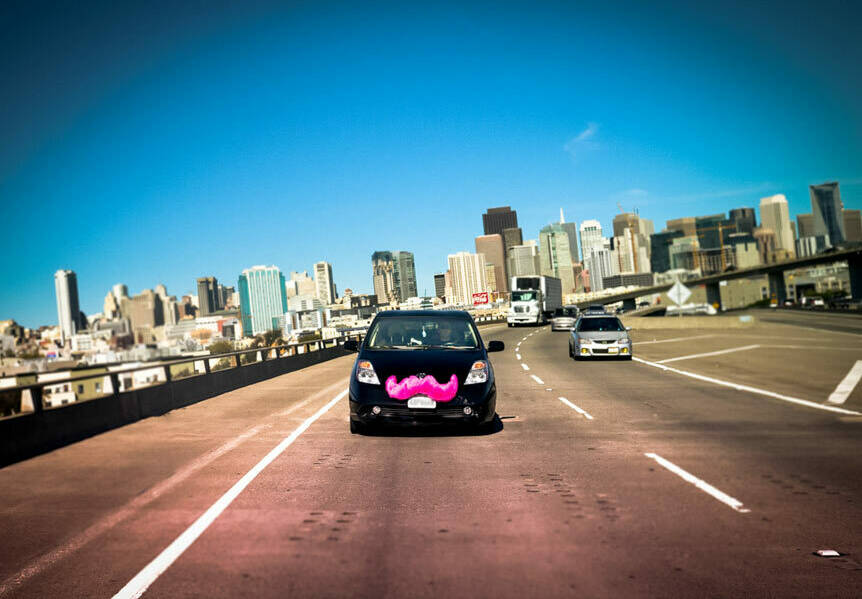 Those cars with the pink mus­tach­es? They may not be smil­ing for long, if some reg­u­la­tors get their way.
How can a movement that has been started by corporate and venture capital be any kind of socialism?
Last year year marked mete­oric growth in the new ​"shar­ing econ­o­my" — a catch-all term for web­sites and apps that let peo­ple charge oth­ers for use of resources such as cars and rooms. Ride-shar­ing com­pa­ny Lyft saw a twen­ty­fold increase in users of its sig­na­ture mus­ta­chioed cars, and room-shar­ing plat­form Airbnb gained 6 mil­lion cus­tomers.
But 2013 also exposed the iffy legal­i­ties of ​"shar­ing," as ride-shar­ing ser­vices tan­gled with city reg­u­la­tors and taxi unions, and Airbnb faced off against New York State Attor­ney Gen­er­al Eric Schnei­der­man in what For­tune mag­a­zine called the ​"sem­i­nal legal dis­pute" for the bur­geon­ing shar­ing econ­o­my. In Octo­ber, Schnei­der­man sub­poe­naed Airbnb for infor­ma­tion on its hosts, alleg­ing that some are using the plat­form to oper­ate de fac­to hotels. The com­pa­ny is fight­ing the order in court.
Pro­po­nents of the shar­ing econ­o­my bill it as a way to reduce con­sump­tion and cre­ate jobs, and say that the crack­down on Airbnb would harm New York­ers just try­ing to pay their bills. But crit­ics argue that beneath their feel-good veneer, shar­ing busi­ness­es are lit­tle more than a new way for cor­po­ra­tions to cir­cum­vent reg­u­la­tions, rob city cof­fers and under­cut union­ized labor.
In These Times con­vened a dis­cus­sion on the shar­ing conun­drum with David Golum­bia, assis­tant pro­fes­sor of Eng­lish at Vir­ginia Com­mon­wealth Uni­ver­si­ty and author of The Cul­tur­al Log­ic of Com­pu­ta­tion, Neal Goren­flo, co-founder and pub­lish­er of Share­able Mag­a­zine, and the Sol­i­dar­i­tyNYC col­lec­tive, which sup­ports the growth of coop­er­a­tives in New York City.
Pro­po­nents of the shar­ing econ­o­my tend to por­tray it as ben­e­fit­ing ordi­nary peo­ple by giv­ing them a leg up over cor­po­rate actors like hotel chains. Is this accurate?
NEAL: As the cost to cre­ate, mar­ket and sell an increas­ing­ly wide vari­ety of prod­ucts and ser­vices plum­mets, peo­ple have a new sys­tem to go to: the shar­ing econ­o­my. Much of what was only pos­si­ble for large cor­po­ra­tions just a few years ago is acces­si­ble to ordi­nary indi­vid­u­als now. There's a pos­si­bil­i­ty for a pow­er shift in favor of ordi­nary peo­ple, but they must wake up and take action to secure it.
DAVID: Sid­ing with upstart ven­ture cap­i­tal is not my idea of giv­ing ordi­nary peo­ple ​"a leg up." The ​"shar­ing econ­o­my" doesn't have much to do with indi­vid­u­als. Instead, it rep­re­sents cor­po­rate cap­i­tal doing what it typ­i­cal­ly does: Mon­e­tiz­ing parts of the social world that have pre­vi­ous­ly avoid­ed it. The dif­fer­ence between rent­ing one's apart­ment on Craigslist and Airbnb might seem small, but it's huge: the role of the inter­me­di­ary con­verts the effort from an indi­vid­ual one to a cor­po­rate one that is all about extract­ing prof­it from resources that are not, cur­rent­ly, mon­e­tized enough, in the opin­ion of some ven­ture capitalists.
SOL­I­DAR­I­TYNYC: There's a spec­trum of shar­ing econ­o­my groups, from coop­er­a­tives to pri­vate com­pa­nies like Airbnb. Airbnb is por­trayed as help­ing cash-strapped indi­vid­u­als, which may be true in some cas­es. But in the long-term, it will like­ly exac­er­bate New York City's hous­ing cri­sis, by allow­ing land­lords to charge more in rent because their ten­ants can turn to this sec­ondary mar­ket to make up the difference.
DAVID: Yes, and as this pro­ceeds, ​"shar­ing" tends to become required by mar­ket prices rather than vol­un­tary, in a dynam­ic I've been call­ing ​"crowd­forc­ing."
Most of the crit­i­cism of the shar­ing econ­o­my so far has come from con­ser­v­a­tives. Writer Milo Yiannopou­los has called it an ​"ugly throw­back to the dark days of social­ism." Is the shar­ing econ­o­my in fact social­ist, or in any way anti-capitalist?
DAVID: How can a move­ment that has been start­ed by cor­po­rate and ven­ture cap­i­tal be any kind of social­ism? If we reframed Airbnb as ​"Hilton wants access to every Man­hat­tan resident's apart­ment when he or she is out of town," we'd see more direct­ly what is happening.
NEAL: The best parts of the shar­ing econ­o­my are bot­tom up, self-gov­erned phe­nom­e­na. It isn't lim­it­ed to tech com­pa­nies, either — think about coop­er­a­tives, as well as depos­i­tor-owned cred­it unions. At Share­able, we use the term ​"shar­ing econ­o­my" in the broad­est sense pos­si­ble, as the whole­sale democ­ra­ti­za­tion of the economy.
But we def­i­nite­ly need to use resources more wise­ly, so star­tups that help us bet­ter use idle assets have tremen­dous val­ue. One shared car replaces up to 13 owned cars. Noth­ing else but shar­ing has the poten­tial to rad­i­cal­ly reduce resource use, rad­i­cal­ly increase access to resources, and act as a big, local eco­nom­ic stim­u­lus package.
DAVID: ​"Shar­ing" can be seen as a form of resis­tance to the cap­i­tal­ist econ­o­my. But the ​"shar­ing econ­o­my" becomes a way of cap­i­tal­iz­ing on that resis­tance. This strikes me as a strong instance of cyber­lib­er­tar­i­an­ism, which is the yok­ing of far-right ideas about ​"free­dom" and gov­ern­ment to an appar­ent­ly apo­lit­i­cal dig­i­tal utopi­anism. The polit­i­cal mushi­ness of the rhetoric sur­round­ing such projects masks what the lead­ers of the projects want, which is the extrac­tion of prof­it from sec­tors so far insu­lat­ed from such mon­e­ti­za­tion. The only ​"free­dom" such efforts ulti­mate­ly serve is the eco­nom­ic free­dom of con­cen­trat­ed capital.
SOL­I­DAR­I­TYNYC: ​"Sol­i­dar­i­ty econ­o­my" orga­niz­ers define and try to frame our work through five prin­ci­ples: democ­ra­cy, coop­er­a­tion, social jus­tice, mutu­al­ism, and eco­log­i­cal sus­tain­abil­i­ty. With­out the explic­it com­mit­ment to some or all of those val­ues, then the shar­ing econ­o­my — or the social econ­o­my, the new econ­o­my, or what­ev­er oth­er label we use — is just a new space of cap­i­tal­ist exchange where it didn't pre­vi­ous­ly exist or pre­dom­i­nate. It's the pol­i­tics of the stuff that real­ly mat­ters here.
How should urban pol­i­cy address the legal chal­lenges pre­sent­ed by ​"shar­ing" busi­ness­es like Airbnb?
NEAL: The shar­ing econ­o­my doesn't hinge on one rul­ing, or one com­pa­ny: There are many prac­ti­cal pol­i­cy direc­tions to increase the capac­i­ty cit­i­zens to co-con­sume, co-pro­duce, and cre­ate their own jobs. Share­able and the Sus­tain­able Economies Law Cen­ter recent­ly put out the first ever shar­ing econ­o­my pol­i­cy primer for urban lead­ers. In the case of hous­ing, poli­cies sup­port­ing hous­ing coops, micro-units, and moth­er-in-law suites can increase den­si­ty, make more afford­able hous­ing avail­able, and build social capital.
DAVID: But the NYC case is emblem­at­ic because it expos­es what Airbnb is real­ly up to: get­ting around tax­a­tion and reg­u­la­tion for prof­it. While there may be noth­ing wrong with indi­vid­u­als offer­ing their apart­ments for short-term rental them­selves, coor­di­na­tion of these efforts togeth­er by a cen­tral cor­po­rate enti­ty was always about get­ting around laws that were put in place by the demo­c­ra­t­ic process and are most­ly there for the pro­tec­tion of the pub­lic. Airbnb, like much of the ​"shar­ing econ­o­my," is a project designed to bypass demo­c­ra­t­ic gov­er­nance, which is some­thing no pro­gres­sive should favor.
SOL­I­DAR­I­TYNYC: Yes, and the kind of prof­it-mak­ing that Airbnb enables can also act as back­door gen­tri­fi­ca­tion that pre­vents com­mu­ni­ties from hav­ing a say in whether a neigh­bor­hood is most­ly long-term res­i­dents or a col­lec­tion of pop-up hotels and the busi­ness­es that cater to them.
It's also worth not­ing that Airbnb takes busi­ness from the hotel indus­try, which offers many liv­ing-wage union jobs in the pri­vate sec­tor in New York. Those jobs are backed by a com­plex web of reg­u­la­tion, col­lec­tive bar­gain­ing agree­ments, and cul­tur­al cus­tom that has gen­er­at­ed eco­nom­ic well-being for a large­ly immi­grant work­force. Under­min­ing democ­ra­cy and labor isn't shar­ing, in our book. Democ­ra­cy and social jus­tice will need to be includ­ed and pro­tect­ed with­in shar­ing econ­o­my ini­tia­tives from the start if it's going to be more than a tool for extrac­tion and exploitation.
How about the grow­ing num­bers of peo­ple who work in the shar­ing econ­o­my? The car-shar­ing com­pa­nies Uber and Lyft have both become the sub­ject of law­suits from dri­vers who say they were ripped off. But shar­ing econ­o­my com­pa­nies tend to argue that those pro­vid­ing ser­vices are users of their plat­forms rather than employ­ees, poten­tial­ly mak­ing labor action more difficult.
DAVID: I would sug­gest refrain­ing from get­ting involved in large-scale ven­ture cap­i­tal-backed projects to begin with. Any­one who doesn't is mak­ing not just them­selves but their peers and rela­tions into tar­gets for cap­i­tal, and his­tor­i­cal­ly cap­i­tal tends to get what it wants out of such relationships.
SOL­I­DAR­I­TYNYC: The abuse of labor can exist in any enter­prise or orga­ni­za­tion, no mat­ter how pro­gres­sive. Instead of sign­ing up as an Uber dri­ver, these dri­vers could form their own com­pa­ny as a taxi col­lec­tive — like Union Cab in Madi­son Wis­con­sin. Anoth­er way to do this that would improve upon the labor issues and the allo­ca­tion and dis­tri­b­u­tion of the sur­plus would be a con­sumer coop­er­a­tive in which the vehi­cles were actu­al­ly owned and shared by peo­ple who were the con­sumer-own­ers. You could even com­bine the two: a con­sumer-coop­er­a­tive that had stake in the equi­ty and gov­erned a work­er col­lec­tive, which would run the ser­vice as drivers.
NEAL: The pos­si­bil­i­ty to com­bine com­mu­ni­ty financ­ing, a coop­er­a­tive busi­ness form, and an inter­net-based shar­ing plat­form exists. Why not a ​"Fairbnb?" The chal­lenge, how­ev­er, is that com­mu­ni­ty financ­ing and coop­er­a­tive busi­ness­es take more time and mon­ey to set up. You typ­i­cal­ly see coops exe­cute on well-under­stood busi­ness mod­els like retail, dis­tri­b­u­tion, and man­u­fac­tur­ing. I don't see coops tack­ling unusu­al, risky tech ideas. I think that this can change, but it'll take a lot of time and hard work.
Giv­en these chal­lenges, how should pro­gres­sives approach the shar­ing econ­o­my at this juncture?
NEAL: Pro­gres­sives need a busi­ness mod­el. Repub­li­cans and Democ­rats have cor­po­rate Amer­i­ca; pro­gres­sives have a col­lec­tion of issues to appeal to people's moral instincts. But that can only go so far when peo­ple can't house, feed, or edu­cate them­selves. Pro­gres­sives need to get behind the peo­ple-pow­ered econ­o­my, all those ways ordi­nary peo­ple co-own what they need to thrive, as their main strat­e­gy. Until pro­gres­sives play the need­ed role as an insti­tu­tion builders in the new econ­o­my, they will con­tin­ue to fade in importance.
DAVID: Pro­gres­sives should be very sus­pi­cious of any and all lib­er­a­to­ry claims stem­ming from ven­ture cap­i­tal­ists, includ­ing those being made about the poten­tial of the ​"shar­ing econ­o­my." The advent of cyber­lib­er­tar­i­an­ism has pro­vid­ed cap­i­tal­ists with a means to attract Left activism with­out mak­ing clear how diver­gent their goals are from those of the Left. Many exist­ing coop­er­a­tive enter­pris­es have clear­ly artic­u­lat­ed their rela­tion­ship to Left pol­i­tics, and it is impor­tant to sup­port them. New­er ​"shar­ing econ­o­my" ini­tia­tives should be looked at very skep­ti­cal­ly, espe­cial­ly if they appear to have back­ing from ven­ture cap­i­tal­ists, and we should think very care­ful­ly about what the ulti­mate pic­ture such efforts paint appears to be. While vol­un­tar­i­ly shar­ing some extra space in one's apart­ment may well be appeal­ing, the prospect of being essen­tial­ly com­pelled to ​"share" one's liv­ing space in order to afford it is much less so.
SOL­I­DAR­I­TYNYC: We should be orga­niz­ing around eco­nom­ic activ­i­ties that con­tribute to com­mu­ni­ty wealth and that include all peo­ple, not just those with the abil­i­ty to access cap­i­tal for a start-up based on shar­ing tech­nol­o­gy. Pro­gres­sives need to ensure that the idea of the ​"shar­ing econ­o­my" is trans­lat­ed into real poli­cies for eco­nom­ic democracy.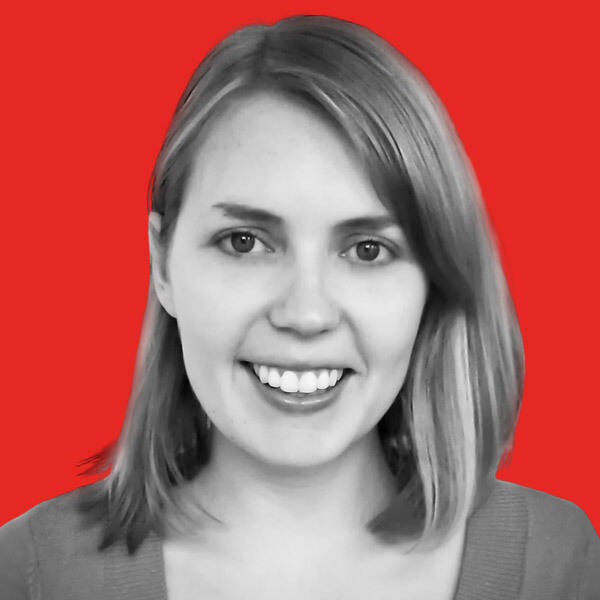 Rebec­ca Burns
is an award-win­ning inves­tiga­tive reporter whose work has appeared in The Baf­fler, the Chica­go Read­er, The Inter­cept and oth­er out­lets. She is a con­tribut­ing edi­tor at In These Times. Fol­low her on Twit­ter @rejburns.