The Tamale Underground
Street vendors must skirt the law to make a living.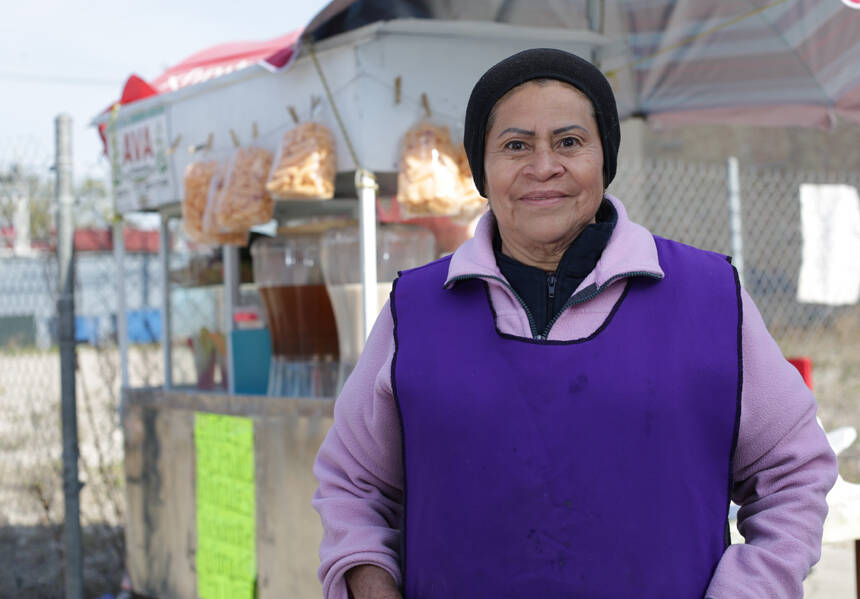 Each after­noon in Chicago's Lit­tle Vil­lage neigh­bor­hood, 70-year-old Cuala resumes her qui­et game of cat-and-mouse with police. After spend­ing a few hours open­ly hawk­ing cool drinks or hot choco­lates from a cart, the street ven­dor (who declined to give her last name because of legal con­cerns) stocks an unmarked cool­er with tamales, mak­ing furtive lunch sales to cus­tomers in the know. The stealth tac­tic reduces her prof­its, but lessens the chance that she will be arrest­ed and tick­et­ed: While the sale of drinks and pack­aged desserts is legal, street ven­dors like Cuala are pro­hib­it­ed from sell­ing pre­pared foods in Chicago.
One day last year, as she was handing tamales to a customer, a police officer grabbed them, threw them back at her and threatened to arrest her if she continued to sell on 26th street.
Though carts offer­ing tamales, elotes, cut fruit and oth­er treats are a com­mon sight on Chica­go streets, the Windy City is one of the few major metrop­o­lis­es that won't grant such ven­dors busi­ness licens­es, cit­ing the dif­fi­cul­ty of reg­u­la­tion and poten­tial health con­cerns. As a result, street ven­dors, many of whom are poor immi­grants, are sub­ject to harass­ment from police, arrest and pun­ish­ing fines of up to $1,000.
Some, like Cuala, resort to sub­terfuge; oth­ers vend only in the ear­ly morn­ing, when police offi­cers known for tar­get­ing ven­dors aren't on the beat; oth­ers dash off the street when­ev­er a police car approaches.
What­ev­er the strat­e­gy, the result is the same: Ven­dors, many of whom have already been shut out of the for­mal econ­o­my because of their age, child­care respon­si­bil­i­ties, lan­guage bar­ri­ers or immi­gra­tion sta­tus, are forced to remain in the shad­ows. Street ven­dors and their advo­cates say that the ongo­ing threat of arrest rep­re­sents a major bar­ri­er to grow­ing vend­ing busi­ness­es enough to make a decent liv­ing. It also takes a psy­cho­log­i­cal toll on vendors.
Cuala once worked tem­po­rary jobs, but can no longer get hired: ​"They don't want any­body old," she says. She began sell­ing tamales sev­en years ago. But one day last year, as she was hand­ing tamales to a cus­tomer, a police offi­cer grabbed them, threw them back at her and threat­ened to arrest her if she con­tin­ued to sell on 26th street, the bustling thor­ough­fare that runs through Lit­tle Village.
Since then, Cuala has been in ​"con­stant fear" when police pass by and sells her tamales more sur­rep­ti­tious­ly. But her new strat­e­gy can yield as lit­tle as $80 each day, she says, where­as when she sold in the open, she made up to $200. The result, she says, is that it's now impos­si­ble to save mon­ey, and she and two adult nephews whom she lives with must get by ​"day by day."
All this could change soon. Argu­ing that street vend­ing is an inex­tri­ca­ble part of the fab­ric of city life, a coali­tion of ven­dors, labor activists and com­mu­ni­ty groups are advo­cat­ing a City Coun­cil ordi­nance that would legal­ize vending.
The law would allow ven­dors to reg­is­ter their busi­ness­es and oper­ate in the open. In return, they would be required to cook in a city-inspect­ed kitchen, rather than in their homes or on the street. Street ven­dors were ini­tial­ly includ­ed in the ordi­nance that legal­ized food trucks in Chica­go two years ago, but were dropped from the final ver­sion. The move that dis­ap­point­ed advo­cates who hoped to see ven­dors grant­ed the same rights as their food-truck brethren, who often have greater access to start-up cap­i­tal and cater to a wealth­i­er clientele.
But the street ven­dor coali­tion even­tu­al­ly authored its own ordi­nance, which was intro­duced by 26th ward Alder­man Rober­to Mal­don­a­do in May. The City Council's license and con­sumer pro­tec­tion com­mit­tee is now study­ing it, and advo­cates hope to coor­di­nate a major push for pas­sage this fall.
How­ev­er, the pro­pos­al could face oppo­si­tion from the restau­rant indus­try, warns Beth Kre­gor, direc­tor of the Uni­ver­si­ty of Chica­go Law School's Insti­tute for Jus­tice Clin­ic on Entre­pre­neur­ship, which helped draft the ordi­nance. There's a his­to­ry, she explains, of antag­o­nism towards street vend­ing from brick-and-mor­tar busi­ness­es that believe that it will eat into their prof­its or that the pres­ence of ven­dors will decrease the ​"desir­abil­i­ty" of city streets. Such busi­ness inter­ests often hold con­sid­er­able sway with local politicians.
But Kre­gor is hope­ful that City Coun­cil mem­bers will rec­og­nize the pro­posed ordi­nance as ​"a great way to allow peo­ple in our city who have great ideas and great recipes — but a small bud­get — to earn a living."
Street ven­dors can also increase the avail­abil­i­ty of fresh food in low-income neigh­bor­hoods, she says. ​"It's kind of per­verse in this city that we wor­ry about peo­ples' access to healthy foods, and then we ban peo­ple … from sell­ing soup on a cart in neigh­bor­hoods where there aren't gro­cery stores."
Activists in Los Ange­les, the only oth­er major city that out­laws street vend­ing, are cur­rent­ly in the midst of a sim­i­lar fight for an ordi­nance that would legal­ize vend­ing and allow ven­dors to come out of the shadows.
But the expe­ri­ences of ven­dors in cities such as New York show that legal­iza­tion is just the begin­ning of the fight.
Accord­ing to the Street Ven­dor Project (SVP), an New York-based mem­ber­ship and advo­ca­cy orga­ni­za­tion, ven­dors still face a host of issues, includ­ing con­fus­ing reg­u­la­tions that lead to oner­ous tick­ets and fines, ongo­ing police harass­ment and attempts to pass ordi­nances exclud­ing ven­dors from oper­at­ing in cer­tain wealthy neighborhoods.
One exam­ple of police harass­ment is the tick­et­ing of chil­dren who are help­ing to tend their fam­i­lies' carts. ​"I got my first tick­et [for vend­ing with­out a license] when I was 11 years old," recalls Clementi­na, a mem­ber of the New York City street ven­dor orga­ni­za­tion Vamos Unidos, in a video dis­trib­uted by the orga­ni­za­tion. ​"One of our youth even got arrest­ed for tak­ing care of their par­ents' business."
SVP and oth­er com­mu­ni­ty orga­ni­za­tions in New York also say that immi­grant ven­dors are still pro­filed and sin­gled out for tick­ets and fines. For this rea­son, many orga­niz­ers see the fight for fair treat­ment of street ven­dors as part and par­cel of broad­er ones for police account­abil­i­ty and immi­grant jus­tice. Many ven­dors are also undoc­u­ment­ed, and there­by find them­selves crim­i­nal­ized twice over. Though Chica­go and Los Ange­les are both osten­si­bly ​"sanc­tu­ary cities" where local pol­i­cy dis­cour­ages police from call­ing in immi­gra­tion author­i­ties, ven­dors say that cer­tain police reg­u­lar­ly threat­en to do so, nonetheless.
In Chica­go, as well, legal­iza­tion alone is unlike­ly to remove all bar­ri­ers pre­vent­ing immi­grant and low-income ven­dors from mak­ing a decent liv­ing. In par­tic­u­lar, the ordinance's stip­u­la­tion that ven­dors must cook in cer­ti­fied kitchens could prove an oner­ous require­ment for many poor ven­dors, giv­en the pauci­ty and expense of such kitchens.
The Street Ven­dors' Asso­ci­a­tion (Aso­cia­cion de Vende­dores Ambu­lantes, or AVA) hopes to part­ner with church­es and oth­er com­mu­ni­ty orga­ni­za­tions to make more kitchens avail­able to the some 1,500 ven­dors across the city. Even­tu­al­ly, explains AVA Vice Pres­i­dent Vicky Lugo, the asso­ci­a­tion wants to buy or gain access to kitchens for ven­dors to run coop­er­a­tive­ly. One such coop­er­a­tive is in the works in Lit­tle Vil­lage, where an AVA mem­ber has pur­chased a closed-down restaurant.
Cuala, who recent­ly became a mem­ber of AVA, hopes that pas­sage of the street ven­dor ordi­nance would allow her to grow her busi­ness and begin sav­ing mon­ey again. Most impor­tant­ly, how­ev­er, she hopes that she and oth­er ven­dors will final­ly be able to sell on the streets ​"with­out fear."
In These Times cov­er­age of street ven­dors is part of Street Food: Meet the Peo­ple Who Make It, a part­ner­ship with Feet in 2 Worlds and Oak­land Local. This sto­ry was made pos­si­ble in part by The Media Con­sor­tium and the Voqal Fund.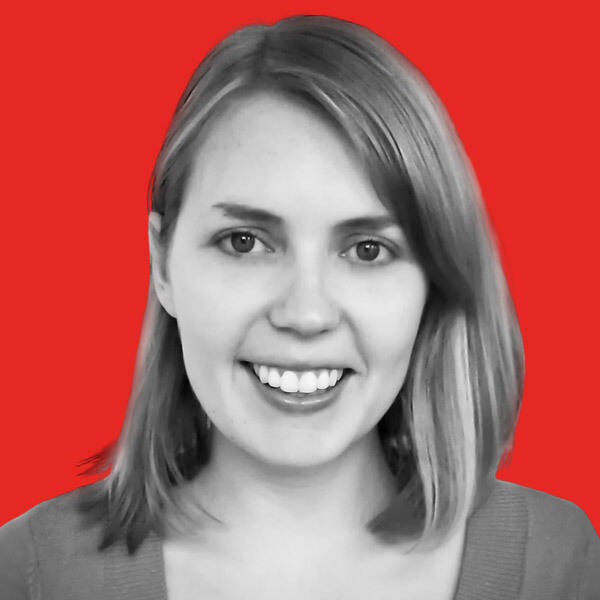 Rebec­ca Burns
is an award-win­ning inves­tiga­tive reporter whose work has appeared in The Baf­fler, the Chica­go Read­er, The Inter­cept and oth­er out­lets. She is a con­tribut­ing edi­tor at In These Times. Fol­low her on Twit­ter @rejburns.