The Threat of Warships on an 'Island of World Peace'
America's imperium reaches South Korea' idyllic Jeju island—but residents and peace activists are resisting.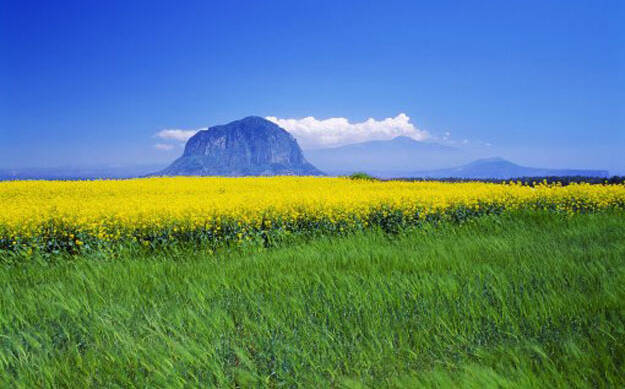 Jeju Island, 50 miles south­east of South Korea's main­land, has been called the most idyl­lic place on the plan­et. The pris­tine, 706-square-mile vol­canic island com­pris­es three UNESCO World Nat­ur­al Her­itage sites.
The resistance is a grassroots movement that goes well beyond the issue of the island's militarization. Human rights, the environment and free speech are also at stake.
Jeju's his­to­ry, how­ev­er, is far from idyl­lic. In 1948, two years before the out­break of the Kore­an War, the islanders staged an upris­ing to protest, among oth­er issues, the divi­sion of the Kore­an Penin­su­la into North and South. The main­land gov­ern­ment, then under U.S. mil­i­tary occu­pa­tion, cracked down on the Jeju insurgents.
South Kore­an police and mil­i­tary forces mas­sa­cred islanders and destroyed vil­lages. Korea his­to­ri­an John Mer­rill esti­mates that the death toll may have exceed­ed 30,000, about 15 per­cent of the island's population.
Decades lat­er, a gov­ern­ment com­mis­sion inves­ti­gat­ed the Jeju upris­ing. In 2005, Roh Moo-hyun, then South Korea's pres­i­dent, apol­o­gized for the atroc­i­ties and des­ig­nat­ed Jeju as an ​"Island of World Peace."
Today Jeju Island is once again threat­ened by joint U.S.-South Kore­an mil­i­ta­riza­tion and vio­lence: the con­struc­tion of a naval base on what many con­sid­er to be Jeju's most beau­ti­ful coastline.
For more than four years, island res­i­dents and peace activists have engaged in deter­mined resis­tance to the base, risk­ing their lives and freedom.
The stakes are high for the world as well. Recent­ly the Kore­an Joon­gAng Dai­ly, in Seoul, described the island as ​"the spear­head of the country's defense line" – a line reck­less­ly locat­ed 300 miles from China.
In these trou­bled waters, the Jeju base would host up to 20 Amer­i­can and South Kore­an war­ships, includ­ing sub­marines, air­craft car­ri­ers and destroy­ers, sev­er­al of which would be fit­ted with the Aegis bal­lis­tic-mis­sile defense system.
For the Unit­ed States, the base's pur­pose is to project force toward Chi­na – and to pro­vide a for­ward oper­at­ing instal­la­tion in the event of a mil­i­tary con­flict. The last thing the world needs is brinks­man­ship between the U.S. and China.
The protest now tak­ing place on Jeju counts as a crit­i­cal strug­gle against a poten­tial­ly dev­as­tat­ing war in Asia, and against the deeply root­ed insti­tu­tion­al struc­tures that are dri­ving the world toward ever more conflict.
Not sur­pris­ing­ly, Chi­na sees the base as a threat to its nation­al secu­ri­ty. At the very least, the base is like­ly to trig­ger con­fronta­tion and an arms race between South Korea and Chi­na, with the U.S. almost inevitably involved. Fail­ure to pre­vent this dan­ger­ous, destruc­tive project may well have con­se­quences reach­ing far beyond Asia.
We need not spec­u­late how Wash­ing­ton would react were Chi­na to estab­lish a base near the U.S. coast.
The new base on Jeju is locat­ed in Gang­jeong, a farm­ing and fish­ing vil­lage that has reluc­tant­ly become the site of an epic bat­tle for peace.
The resis­tance is a grass­roots move­ment that goes well beyond the issue of the island's mil­i­ta­riza­tion. Human rights, the envi­ron­ment and free speech are also at stake. Though small and remote, Gang­jeong is an impor­tant bat­tle­ground for all who believe in social jus­tice worldwide.
South Korea start­ed con­struc­tion of the base in Jan­u­ary but protests halt­ed the work in June.
An eye­wit­ness reports that the vil­lagers' non­vi­o­lent resis­tance has led to arrests tar­get­ing film­mak­ers, blog­gers, cler­ics, activists on social-net­work web­sites – and most notably, the lead­ers of the movement.
Last month, riot police broke up a non­vi­o­lent ral­ly and arrest­ed more than three dozen activists, includ­ing the may­or of Gang­jeong; the leader of one of the most effec­tive peace groups in Korea; and a Catholic priest.
Basic demo­c­ra­t­ic ideals are also under threat. In the 2007 vote to autho­rize the con­struc­tion of the naval base, 87 peo­ple, some of whom report­ed­ly were bribed, decid­ed the fate of an entire vil­lage of 1,900 and an island of more than a half-mil­lion people.
Islanders were told that the mil­i­tary base would dou­ble as a tourism hub for cruise ships – indeed, that it would be the only means for such ships to dock at the island, yield­ing com­mer­cial ben­e­fits. The claim is hard­ly cred­i­ble, if only because at the same time, on a dif­fer­ent shore, a mas­sive port expan­sion project has been under­way and could be com­plet­ed by sum­mer 2012. It has already been announced that this new port will host cruise liners.
Gang­jeong vil­lagers know full well what their future holds if their cry for peace is not heed­ed: an influx of South Kore­an and for­eign mil­i­tary per­son­nel, advanced arma­ments, and a world of suf­fer­ing deliv­ered to a small island that has already endured enough. The irony is that the seeds for future super­pow­er con­flict are being sown on an eco­log­i­cal pre­serve and island of peace.
© The New York Times News Service/​Syndicate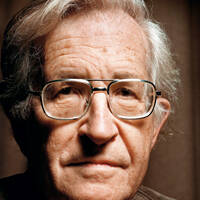 Noam Chom­sky
is Insti­tute Pro­fes­sor and Pro­fes­sor of Lin­guis­tics (Emer­i­tus) at the Mass­a­chu­setts Insti­tute of Tech­nol­o­gy, and the author of dozens of books on U.S. for­eign pol­i­cy. His most recent book is
Who Rules the World?
from Met­ro­pol­i­tan Books.