The Truth About Donald Trump's Populism
What Matt Taibbi's overlooking: All fascists achieve and cement power in remarkably similar ways.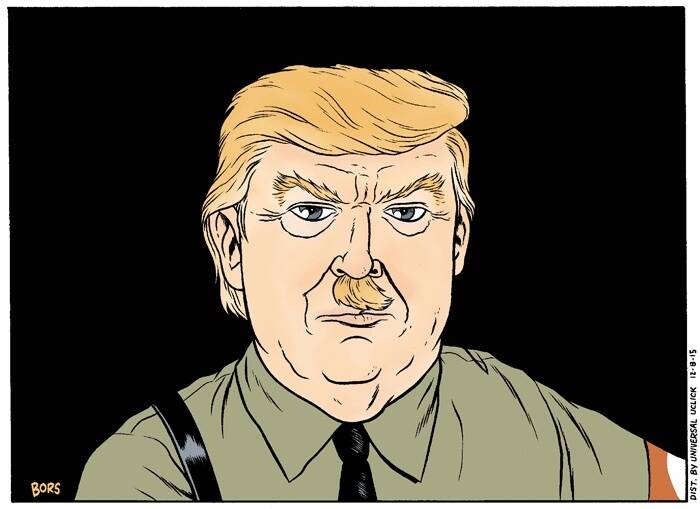 Why has Don­ald Trump been so suc­cess­ful? Matt Taib­bi, in Rolling Stone, thinks he has the answer.
There's a reason the saying "anti-Semitism is the socialism of fools" made so much sense in Weimar Germany.
He writes, ​"Reporters have focused quite a lot on the crazy/race-bait­ing/­na­tivist themes in Trump's cam­paign." Taib­bi, though, will not be bam­boo­zled: ​"These com­prise a very small part of his usu­al pre­sen­ta­tion. His speech­es increas­ing­ly are strik­ing­ly pop­ulist in their con­tent." Trump's pitch, which Taib­bi seems at least par­tial­ly to accept: ​"He's rich, he won't owe any­one any­thing upon elec­tion, and there­fore he won't do what both Demo­c­ra­t­ic and Repub­li­can politi­cians unfail­ing­ly do upon tak­ing office, i.e. approve rotten/​regressive poli­cies that screw ordi­nary people."
And though Taib­bi insists this insight lifts him above the com­mon scrib­bling herd, he's hard­ly alone. Ryan Liz­za, in the New York­er, quot­ed con­ser­v­a­tive intel­lec­tu­al Hen­ry Olsen to like­wise sug­gest that Trump is thriv­ing because he ​"is pos­ing a new ques­tion: To what extent should the GOP be the advo­cates for those strug­gling in the mod­ern economy?"
I attend­ed the same Trump ral­ly in Ply­mouth, N.H., as Taib­bi. Matt should clean the wax from his ears: I heard the crazy and the race-bait­ing and the nativist themes rain­ing down like dirty dol­lar bills at a strip joint.
But leave aside that Mex­i­cans and Syr­i­ans are also ​"ordi­nary peo­ple" who strug­gle in the mod­ern econ­o­my. And that you can't trust any­thing Don­ald Trump says.
No, the core inani­ty here cuts much deep­er. It's an igno­rance of a sim­ple his­tor­i­cal fact: Every fas­cist achieves and cements his pow­er by pledg­ing to res­cue ordi­nary peo­ple from the depre­da­tions of eco­nom­ic elites. That's how fas­cism works.
Read, for instance, this arti­cle from a Nazi-friend­ly web­site on ​"How Hitler Defied the Bankers":
When Hitler came to pow­er, Ger­many was hope­less­ly broke … Ger­many had no choice but to suc­cumb to debt slav­ery under inter­na­tion­al (main­ly Jew­ish) bankers until 1933, when the Nation­al Social­ists came to pow­er. Hitler began a nation­al cred­it pro­gram by devis­ing a plan of pub­lic works that includ­ed flood con­trol, repair of pub­lic build­ings and pri­vate res­i­dences, and con­struc­tion of new roads, bridges, canals, and port facil­i­ties … With­in two years, the unem­ploy­ment prob­lem had been solved. … Germany's eco­nom­ic free­dom was short-lived; but it left sev­er­al mon­u­ments, includ­ing the famous Auto­bahn, the world's first exten­sive superhighway…
And, for what it's worth, it's true! Hitler built the Au­tobahn! He con­quered infla­tion! (It's not hard, if you can shoot peo­ple who raise prices.) Unem­ploy­ment plummeted!
You might even say that for ​"ordi­nary Ger­mans" strug­gling in the mod­ern econ­o­my, things got pret­ty good.
But guess what? Under fas­cism, eco­nom­ic pro­tec­tion for the goose accom­pa­nies dis­pos­ses­sion of the gan­der. White peo­ple pros­per in part because minori­ties suf­fer — whether, under Hitler, by tak­ing away prop­er­ty from Jews, or as Herr Trump expects, by tak­ing back ​"our" jobs from ​"them," whether the them is immi­grants or our sup­pos­ed­ly duplici­tous trad­ing partners.
There's even a soci­o­log­i­cal term for it: her­ren­volk repub­licanism. We've had it here, too, if in milder form.
George Wal­lace said to Wil­liam F. Buck­ley Jr. in 1968 that the state of Alaba­ma ​"had five gen­er­a­tions of peo­ple who didn't go to school because there were no schools for black or white." Then he became gov­er­nor and — he claimed — turned Alaba­ma into an edu­ca­tion­al par­adise. Like all author­i­tar­i­ans, he lied: Edu­ca­tion stayed plen­ty awful, espe­cial­ly for blacks in segre­gated schools.
And, like all author­i­tar­i­ans, the bedrock of his appeal was his hate. As one vot­er in Mas­sachusetts asked Wallace's aide Tom Turnipseed in 1968, ​"When Wal­lace is elect­ed pres­i­dent he's going to round up all the nig­gers and shoot them, isn't he?" Turnipseed assured him, ​"We're not going to shoot any­body." At which the vot­er respond­ed, ​"Well, I don't know whether I'm for him or not." Which sounds a whole lot like what Trump fans told The Nation's Sasha Abram­sky. ​"I'd give ​'em a choice," said one un-cher­ry-picked vot­er, con­cern­ing Mus­lims in Amer­i­ca. ​"A trench on one side or a tick­et out of here."
Build infra­struc­ture, jail banksters: Hell, I'm for all that, too. It shouldn't take elect­ing thugs to do it. There's a rea­son the say­ing ​"anti-Semi­tism is the social­ism of fools" made so much sense in Weimar Ger­many: Social­ism and bar­barism can look very sim­i­lar in their sur­face appeals. The real fools are the media sophis­ti­cates who don't both­er to look a bare inch underneath.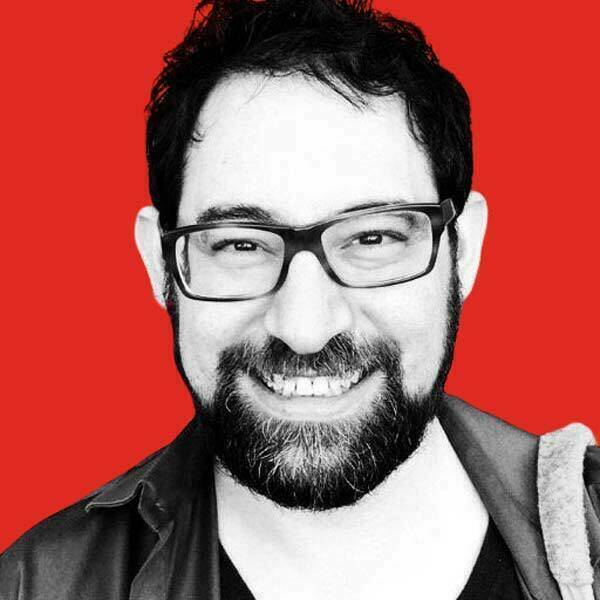 Rick Perl­stein
, an
In These Times
con­tribut­ing edi­tor, is the author of
The Invis­i­ble Bridge: The Fall of Nixon and the Rise of Rea­gan
(
2014
),
Nixon­land: The Rise of a Pres­i­dent and the Frac­tur­ing of Amer­i­ca
(
2008
), a
New York Times
best­seller picked as one of the best non­fic­tion books of the year by over a dozen pub­li­ca­tions, and
Before the Storm: Bar­ry Gold­wa­ter and the Unmak­ing of the Amer­i­can Con­sen­sus
, win­ner of the
2001
Los Ange­les Times
Book Award for his­to­ry. His book
Rea­gan­land
is forth­com­ing from Simon and Schus­ter in August.