The Truth About the 'Dirty Lie'
Anti-coal activists are adopting more radical tactics to get their message across to public officials.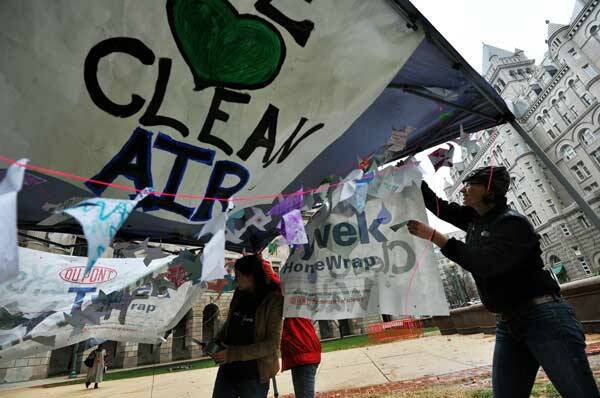 ST. LOUIS – The failure of mainstream environmental groups to push moderate cap-and-trade climate change legislation through Congress during the last two years has inspired more radical actions against the extraction and consumption of fossil fuels.
A case in point: About 20 protesters in St. Louis, Mo., recently disrupted a presentation at an official government advisory committee on coal by singing ​"clean coal is a dirty lie," prompting Committee Chair Frederick Palmer to abruptly adjourn the meeting. Palmer is also a senior vice president at Peabody Energy, the largest private coal company in the world.
Members of the Coal Policy Committee were unused to such public attention or protest. It had been at least 10 years since anyone from the public had even attended one of their meetings, says Michael Ducker, a general engineer with the U.S. Department of Energy. The committee is part of the National Coal Council, an advisory body to the U.S. Secretary of Energy that was established by the federal government in 1984. Its members consist largely of representatives of the coal and electric power industries.
Chris Singer, an organizer with Climate Action Saint Louis, says environmental activists targeted the late-February meeting to protest the idea that only those who stand to gain from increasing the consumption of coal should advise the Energy Secretary on coal policy.
The St. Louis protesters have connections to the Heartland Coalfield Alliance, a group working to transform the coal basin of Illinois, Indiana and Kentucky into a clean energy economy, and Rising Tide North America, which opposes all fossil fuel extraction and the construction of fossil fuel infrastructure. These groups have not been afraid of confrontational actions akin to the St. Louis meeting disruption: In February, some of their members participated in the ​"Kentucky Rising" anti-coal sit-in at the Kentucky governor's office. Rising Tide is organizing a national ​"day of action against extraction" set for April 20.
Low-income activists from Missourians Organizing for Reform and Empowerment (MORE) also protested at the coal committee's meeting. MORE, which had previously focused on fighting home foreclosures, got drawn into the anti-coal movement a year ago when it opposed a local ordinance to grant an array of tax breaks to Peabody Energy, which is headquartered in St. Louis. MORE opposed the tax breaks on the grounds that they would take money away from schools and other critical government services.
After the protest, MORE organizer Hannah Allison said the same tax break/​spending cut dynamic is at work on the national level. Noting that Peabody Energy is a highly profitable company that has not paid federal taxes in three of the last four years, Allison said that if the federal government has to cut spending, Congress should cut subsidies to profitable corporations like Peabody instead of heating aid to the poor.
Palmer seemed surprised by the criticism. He had intended for the policy committee to vote on recommendations for promoting technologies to trap and store carbon emissions from coal-burning power plants. Specifically, he wanted the committee to support increased federal spending on carbon capture and storage projects; increased tax incentives for private spending on such projects; and exemptions from some environmental regulations for the project. ​"It advocates what we all desire: to use more coal with lower emissions," Palmer said during the committee meeting.
For Peabody Energy, coal equals prosperity. Speaking to an energy industry conference in Houston, Texas, in March, Peabody Energy Chairman and CEO Gregory Boyce said, ​"Energy is essential to help people live longer and better, and coal is the sustainable solution." He called on world leaders to ensure that ​"at least half" of all new electricity generation is fueled by coal and that old coal plants are replaced with new coal plants.
The Union of Concerned Scientists, however, calls putting money into Boyce's prescription ​"an extremely risky long-term investment." Barbara Freese, co-author of ​"A Risky Proposition," a March 2011 Union of Concerned Scientists report on the financial risks of investing in coal plants, said, ​"Replacing old, dirty coal plants with cleaner, cheaper, less risky alternatives would be a much better bet. And it would save lives, protect our health, and reduce the emissions that cause climate change."
MORE believes it would promote fuller employment, too. ​"Municipally-owned sustainable energy companies will create more jobs and keep more money in cities to promote local economic growth," MORE organizer Jeff Ordower says.
Support progressive media
As a nonprofit, reader-supported publication, In These Times depends on donations from people like you to continue publishing. Our final, end-of-year fundraising drive accounts for nearly half of our total budget. That's why this fundraising drive is so important.
If you are someone who depends on In These Times to learn what is going on in the movements for social, racial, environmental and economic justice, the outcome of this fundraising drive is important to you as well.
How many readers like you are able to contribute between now and December 31 will determine the number of stories we can report, the resources we can put into each story and how many people our journalism reaches. If we come up short, it will mean making difficult cuts at time when we can least afford to do so.
If it is within your means, please make a tax-deductible donation today, to ensure that In These Times can continue publishing in the year ahead.

This is important
As a nonprofit, reader-supported publication, In These Times depends on our end-of-year fundraising drive for nearly half of our total budget. That's how important this fundraising drive is. If you support progressive media, please consider making a tax-deductible donation today to ensure that In These Times can continue publishing in the year ahead.