The U.S. Department of Double Standards
Corporate criminals go free while the Justice Department targets those without expensive lawyers and lobbyists.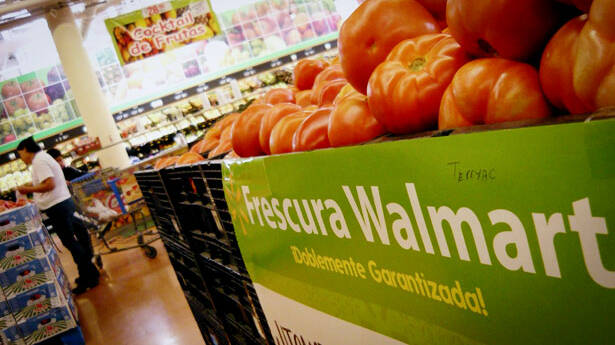 On April 21, The New York Times report­ed that Wal-Mart de Mex­i­co paid $24 mil­lion in bribes to local land use offi­cials in exchange for allow­ing the com­pa­ny to build stores in vir­tu­al­ly every cor­ner of the coun­try, and to make envi­ron­men­tal objec­tions van­ish. Although its top exec­u­tives appar­ent­ly approved of and helped con­ceal the bribery scheme – in vio­la­tion of the For­eign Cor­rupt Prac­tices Act – the chances that any of them will face crim­i­nal pros­e­cu­tion is remote.
It's not that the DOJ doesn't criminally prosecute people who pay bribes... The feds prefer to bring such cases against people who don't have access to corporate lobbyists.
It's not that the U.S. Depart­ment of Jus­tice (DOJ) doesn't crim­i­nal­ly pros­e­cute peo­ple who pay bribes to avoid land-use restric­tions on their prop­er­ty. Rather, the feds pre­fer to bring such cas­es against peo­ple who don't have access to cor­po­rate lob­by­ists – or even to pri­vate lawyers. Accord­ing to Bureau of Jus­tice sta­tis­tics, just one in five felony defen­dants has pri­vate counsel.
Con­sid­er the case of Dumitru Cures­cu, a for­mer jan­i­tor who recent­ly faced two fed­er­al tri­als for the crime of pay­ing $10,000 to an expe­diter for help obtain­ing a per­mit to build two addi­tion­al gar­den apart­ments in his 13-unit build­ing on Chicago's North Side. Cures­cu, an immi­grant from com­mu­nist Roma­nia who became a nat­u­ral­ized U.S. cit­i­zen in 1988, was advised by his archi­tect in 2006 to hire the expe­diter Cather­ine Romas­an­ta, when he did his first ren­o­va­tion project. But when he called her again in 2007, she was work­ing as an infor­mant for the feds and record­ing their calls.
In the fall of 2007, Cures­cu paid Romas­an­ta the agreed-upon fee and received his build­ing per­mit. Sev­en months lat­er, with the ren­o­va­tions near­ly com­plete, fed­er­al agents arrest­ed Cures­cu and his wife Lavinia and seized their build­ing. The feds charged both hus­band and wife with five counts of bribery and conspiracy.
Finan­cial­ly ruined, the cou­ple chose to fight the case; I was Curescu's court-appoint­ed coun­sel. Dur­ing a three-week jury tri­al, fed­er­al pros­e­cu­tors played tapes of Curescu's nego­ti­a­tions with Romas­an­ta and argued to the jury that he and Lavinia know­ing­ly passed a bribe through Romas­an­ta to a city offi­cial to get around Chicago's zon­ing restrictions.
The jury acquit­ted Lavinia on all charges but failed to reach a ver­dict on her hus­band. The gov­ern­ment decid­ed to try again. At the retri­al, the pros­e­cu­tors elicit­ed false tes­ti­mo­ny from Romas­an­ta about the num­ber of apart­ments Dumitru Cures­cu had added dur­ing his first ren­o­va­tion project in 2006, there­by mak­ing a tape-record­ed com­ment by Cures­cu about the fees he had paid her sound like a com­ment about a bribe pay­ment. The pros­e­cu­tors then false­ly argued to the jury that this com­ment was proof that Cures­cu knew that his expe­diter bribed offi­cials. Cures­cu was con­vict­ed on two of five counts and sen­tenced to six months in prison.
On March 21, Curescu's appeal was denied. In a ground­break­ing opin­ion authored by Judge Richard Pos­ner, the U.S. Court of Appeals ruled that fed­er­al pros­e­cu­tors may present false tes­ti­mo­ny to prove their case ​"hop­ing the error would not be caught" as long as they can estab­lish on appeal that the ​"error [did not] reduce the defendant's like­li­hood of being acquit­ted." ​"Judges are not to use rever­sal to pun­ish gov­ern­men­tal mis­con­duct," Pos­ner declared.
New York Times colum­nist James B. Stew­art has writ­ten exten­sive­ly about cor­po­rate exec­u­tives at com­pa­nies such as Wal-Mart and Tyson Foods, which reg­u­lar­ly pay bribes to avoid trou­ble­some reg­u­la­tions. In his recent col­umn about the Wal-Mart scan­dal, Stew­art reports that he ​"couldn't find a case of an exec­u­tive at a major Amer­i­can-based, pub­licly trad­ed com­pa­ny who was suc­cess­ful­ly pros­e­cut­ed and sent to jail."
Yet the feds spared no expense or eth­i­cal restraints to make sure that Cures­cu went to jail, despite the tes­ti­mo­ny of his archi­tect that the for­mer jan­i­tor had ​"no knowl­edge" about the per­mit­ting process.
On April 2, after two lengthy and expen­sive fed­er­al tri­als and an unsuc­cess­ful appeal, Cures­cu entered a fed­er­al prison in Oxford, Wis. Three weeks lat­er his bank sent notice that it is fore­clos­ing on the Cures­cus' home where Lavinia lives with their three chil­dren. Mean­while, in a recent SEC fil­ing, Wal-Mart pre­dict­ed its bribery scan­dal will not have a ​"mate­r­i­al adverse effect on [its] busi­ness … or cash flows."