War Profiteering Ain't Physics
Even Trump can't buck the iron law of U.S. foreign policy: Follow the money.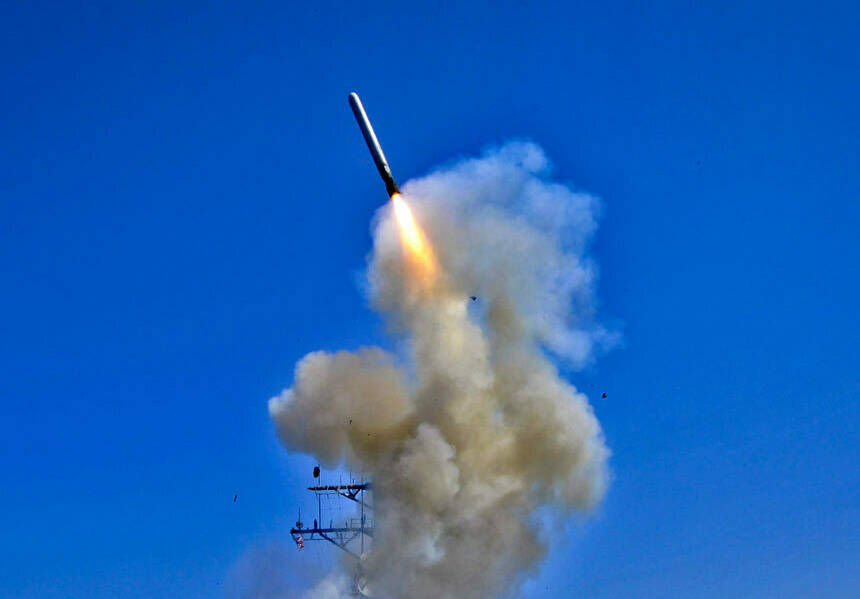 Albert Ein­stein spent the last two decades of his life in a frus­trat­ing quest to bring togeth­er all the forces of nature into a sin­gle set of equa­tions: a ​"uni­fied field the­o­ry." Even today, such a the­o­ry remains elusive.
Nearly every policy that comes out of our national government can be explained by the influence of one thing: big money.
Had Ein­stein stud­ied polit­i­cal sci­ence instead, he might have had a much eas­i­er time devel­op­ing a uni­fied the­o­ry. From health­care to land use, near­ly every pol­i­cy that comes out of our nation­al gov­ern­ment can be explained by the influ­ence of one thing: big mon­ey. This holds strongest at the nation­al lev­el, where the gov­ern­ment has the lux­u­ry of deficit spend­ing. For state and munic­i­pal gov­ern­ments, which have to deliv­er ser­vices with­in a lim­it­ed bud­get — edu­ca­tion, garbage pick­up, pub­lic safe­ty — it's much hard­er to com­plete­ly ignore constituents.
Take the mys­tery of why fed­er­al offi­cials, guid­ed by intel­li­gent and expe­ri­enced advi­sors, con­tin­ue to lead us into unpop­u­lar wars that exac­er­bate the very prob­lems they were intend­ed to solve. For exam­ple, in 2001, al Qae­da was a small band of rebels stuck in trib­al areas of Afghanistan and Pak­istan. Today, after 15 years of mil­i­tary inva­sions, régime changes, bomb­ing raids, drone strikes and the deliv­ery of Amer­i­can-made weapons to var­i­ous rebel groups — poli­cies endorsed by both the Demo­c­ra­t­ic and Repub­li­can par­ties as the prop­er response to 9⁄11 — al Qae­da and its even more bru­tal off­spring, ISIS, have grown expo­nen­tial­ly, spread­ing through­out the Mid­dle East and into West Africa and South­east Asia.
Under our uni­fied the­o­ry, these dis­as­ters are eas­i­ly explained. The arms indus­try needs a for­eign pol­i­cy that pre­serves a lev­el of fear and vio­lence around the globe suf­fi­cient to sus­tain tril­lion-dol­lar defense bud­gets; the Iraq War alone gen­er­at­ed $138 bil­lion in gov­ern­ment con­tracts. Oil and gas pro­duc­ers need access to ener­gy resources around the globe, mean­ing a strong U.S. mil­i­tary pres­ence in ener­gy-rich regions to sup­port cor­po­rate-friend­ly rulers who will sup­press pop­ulist movements.
Let's apply our the­o­ry to the lat­est for­eign pol­i­cy mys­tery: why Don­ald Trump, despite Russ­ian sym­pa­thies, launched an air strike against Russ­ian ally Bashar al-Assad.
Although the arms indus­try lav­ished more than $14 mil­lion on Repub­li­can con­gres­sion­al can­di­dates in 2016 (com­pared to $9 mil­lion on Democ­rats), Hillary Clin­ton was its favorite pres­i­den­tial can­di­date, receiv­ing more than $1 mil­lion while Trump received only $320,000. Yes, Trump had promised to drop even more bombs on ISIS — like Raytheon's Tom­a­hawk mis­sile, at $1 mil­lion a pop. But Trump also threat­ened to improve rela­tions with Rus­sia, and this could not be tolerated.
While the War on Ter­ror has been great for busi­ness, it is lim­it­ed by the lack of sophis­ti­cat­ed armies to clash with in the Mid­dle East — except for Sau­di Ara­bia, but we can't bomb the Saud­is because they buy their weapons from U.S. man­u­fac­tur­ers and part­ner with our ener­gy pro­duc­ers. Hos­tile rela­tions with Rus­sia — or even bet­ter, a sec­ond Cold War — are nec­es­sary if U.S. mil­i­tary bud­gets are to con­tin­ue to con­sume more and more of our dis­cre­tionary spend­ing. ​"The [Berlin] Wall came down [and] all defense bud­gets went south," an exec­u­tive at defense con­trac­tor L‑3 Com­mu­ni­ca­tions explained to share­hold­ers in August 2016. How do you con­vince the Amer­i­can peo­ple to sup­port tril­lion-dol­lar weapons sys­tems like the F‑35 Joint Strike Fight­er to fight a bunch of cave dwellers in Afghanistan? Even the ​"moth­er of all bombs," dropped in April, cost only $170,000.
Once Trump was elect­ed, the arms indus­try kicked into high gear. Boe­ing gave $1 mil­lion to Trump's inau­gu­ra­tion, and Lock­heed Mar­tin, Boe­ing, Northrop Grum­man and Raytheon col­lec­tive­ly spent more than $13 mil­lion in lob­by­ing dur­ing Trump's first three months in office.
It didn't take Trump long to get the mes­sage. He launched mis­siles at Syr­ia, an ally of Rus­sia, and promised to sup­port NATO, which is car­ry­ing out maneu­vers just hun­dreds of yards from the Russ­ian bor­der. After the Syr­ia strike, mis­sile mak­ers Raytheon and Lock­heed Mar­tin ral­lied on Wall Street, along with oth­er defense stocks, like Gen­er­al Dynam­ics and Northrop Grumman.
So our for­eign pol­i­cy is back to nor­mal, serv­ing cor­po­rate inter­ests rather than the pub­lic. It doesn't take an Ein­stein to under­stand that.