The Walmart Black Friday Protests
A photo essay on the ground outside the mega-retailer's store in Richmond, California.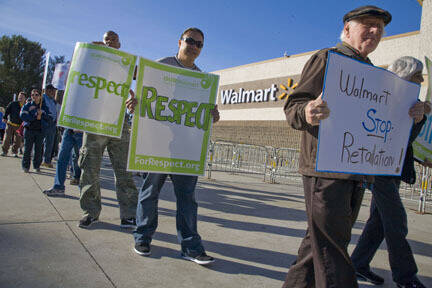 RICH­MOND, CA — This city just north of Oak­land was ground zero for the Black Fri­day protests at Wal­mart, as two inter­na­tion­al union pres­i­dents and one of the most pro-labor voic­es in Con­gress joined fired work­ers and some still employed, and sev­er­al hun­dred of their sup­port­ers. At one point, Ser­vice Employ­ees Inter­na­tion­al Union (SEIU) Pres­i­dent Mary Kay Hen­ry (below left) and Rev. Car­ol Been (right), senior orga­niz­er for Cler­gy and Laity Unit­ed for Eco­nom­ic Jus­tice, led a del­e­ga­tion into the store to present its man­ag­er with a peti­tion demand­ing the rehir­ing of fired work­ers, and respect for the right of all work­ers to free­dom of expres­sion and orga­ni­za­tion. The man­ag­er refused to accept it.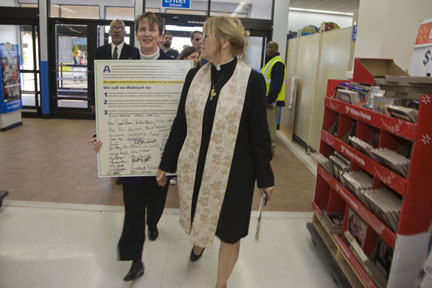 Mean­while, fired work­ers them­selves angri­ly con­front­ed Wal­mart offi­cials, sup­port­ed by a hand­ful of those who were still employed and had clocked out in order to par­tic­i­pate in the protest.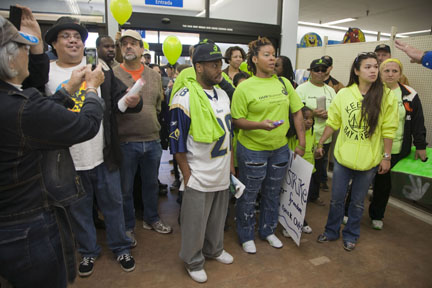 ​"I was fired because I protest­ed the racist remarks of a store man­ag­er," declared Misty Tan­ner. Accord­ing to SEIU, when an African-Amer­i­can asso­ciate used a rope to move mer­chan­dise, one inter­im man­ag­er told him, ​"Leave it up to me, I'd put that rope around your neck." Sub­se­quent­ly, when a dif­fer­ent Wal­mart work­er was speak­ing with mem­bers of the news media, the same man­ag­er threat­ened to run her over with his car.
Tan­ner worked for four years at the Rich­mond store that was tar­get­ed by the demon­stra­tion, most recent­ly on a night crew doing ren­o­va­tions. She says she was sud­den­ly told that there was no more work for her, despite the fact that ren­o­va­tions con­tin­ued afterwards.
Man­agers refused to com­ment on her case or make any oth­er statement.
The Rich­mond protest was orga­nized by the Orga­ni­za­tion Unit­ed for Respect at Wal­mart, or OUR Wal­mart, and the group's green t‑shirts were omnipresent in the crowd. While sup­port­ed by the Unit­ed Food and Com­mer­cial Work­ers (UFCW) and oth­er unions, it is an autonomous work­ers' asso­ci­a­tion, accord­ing to the Wal­mart work­ers them­selves. In the days pri­or to Black Fri­day, Wal­mart filed charges with the Nation­al Labor Rela­tions Board (NLRB), alleg­ing that the UFCW and OUR Wal­mart were orga­ni­za­tion­al­ly tied, and that the union had vio­lat­ed the law by con­duct­ing recog­ni­tion strikes for longer than 30 days with­out fil­ing for an NLRB rep­re­sen­ta­tion election.
​"This just shows the lack of respect Wal­mart has for us," Tan­ner said. We're not orga­niz­ing a union, we're demand­ing respect from the com­pa­ny and an end to the way they vio­late our rights. OUR Wal­mart is an orga­ni­za­tion of Wal­mart associates."
Wal­mart's NLRB com­plaint, call­ing the work stop­pages ille­gal, seemed an effort to head off work­er par­tic­i­pa­tion in the protests, which were timed to appeal to cus­tomers on the sin­gle biggest shop­ping day of the year. Big retail­ers like Wal­mart rely on the day after Thanks­giv­ing to kick off the hol­i­day shop­ping fren­zy. In response, OUR Wal­mart, accord­ing to orga­niz­ers, protest­ed at more than 1,000 stores in 46 states.
Bill Simon, Wal­mart's pres­i­dent and chief exec­u­tive offi­cer, said in a state­ment that ​"only 26 protests occurred at stores last night [the evening before Black Fri­day] and many of them did not include any Wal­mart asso­ciates. We had very safe and suc­cess­ful Black Fri­day events at our stores across the coun­try and heard over­whelm­ing­ly pos­i­tive feed­back from our cus­tomers," he said. He might not have heard from Rich­mond man­agers, how­ev­er, since that store was almost emp­ty for hours, and many cus­tomers turned away after asso­ciates out­side explained why they were there.
Rep. George Miller (D‑Calif.), who spon­sored the Employ­ee Free Choice Act labor reform bill in the last few ses­sions of Con­gress, told work­ers in the store park­ing lot that the Rich­mond com­mu­ni­ty, which he rep­re­sents, would rise to their defense. ​"We won't let any employ­er pun­ish work­ers for try­ing to orga­nize," he said, ​"espe­cial­ly when they are call­ing for a decent stan­dard of liv­ing, some­thing all work­ers deserve."
Hen­ry respond­ed to the Wal­mart unfair labor prac­tice charge by ask­ing, ​"Do you know what is an unfair labor prac­tice?" She answered her own ques­tion: ​"Unfair labor is work­ing full time and liv­ing in pover­ty. Unfair labor is see­ing your health care pre­mi­ums sky­rock­et year after year. Unfair labor is being denied the hours need­ed to sup­port your fam­i­ly. Unfair labor is being pun­ished for exer­cis­ing your free­dom of speech and asso­ci­a­tion. Wal­mart work­ers know what unfair labor is — because they endure it every day."
More pho­tos from the pick­et:
Com­mu­ni­ty sup­port­ers hold plac­ards announc­ing that the actions of Wal­mart work­ers in stop­ping work con­sti­tute a ​"ULP Strike" — that is, a protest over Wal­mart's ​"unfair labor prac­tices" against work­ers for their col­lec­tive activ­i­ty in OUR Walmart.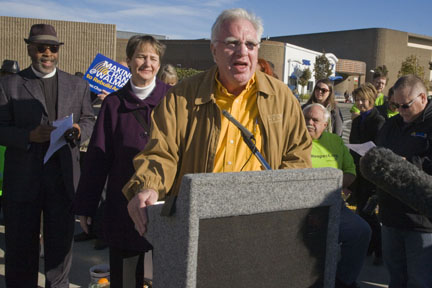 Joe Hansen, pres­i­dent of the Unit­ed Food and Com­mer­cial Work­ers, speaks at the ral­ly out­side the store.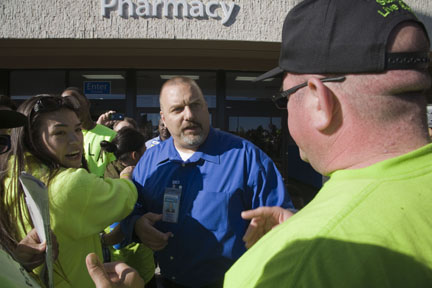 Ray­mond Bra­vo (right), an asso­ciate still employed in the Rich­mond store, tells a store man­ag­er that Wal­mart should rehire the work­ers it has fired.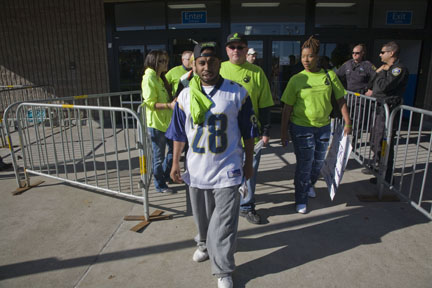 Work­ers walk out of the store entrance after mak­ing their demand that Wal­mart rehire those who have been fired.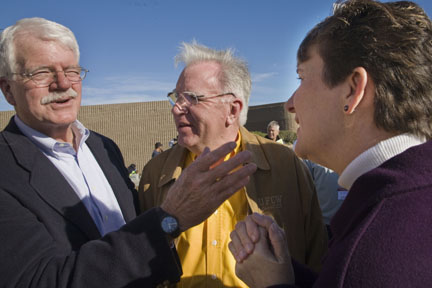 Rep. George Miller (left) talks with SEIU Pres­i­dent Mary Kay Hen­ry and UFCW Pres­i­dent Joe Hansen.
The Lib­er­a­tion Brass Orches­tra plays out­side the Rich­mond store dur­ing the protest.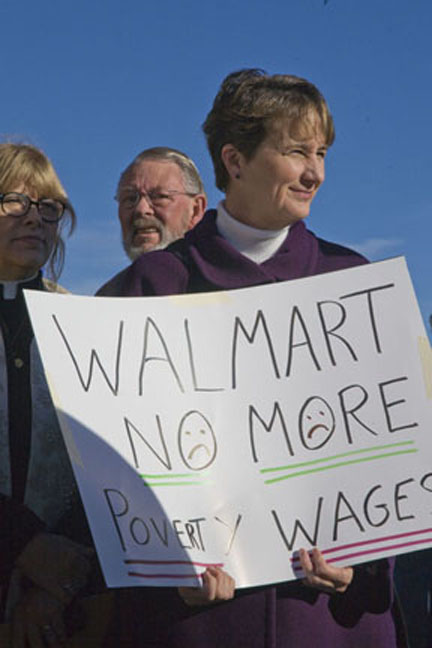 SEIU Pres­i­dent Mary Kay Hen­ry holds a sign sup­port­ing the desire of Wal­mart work­ers and Rich­mond res­i­dents for bet­ter wages and ben­e­fits at the retail chain.
David Bacon
is a writer, pho­tog­ra­ph­er and for­mer union orga­niz­er. He is the author of The Right to Stay Home: How US Pol­i­cy Dri­ves Mex­i­can Migra­tion (
2013
), Ille­gal Peo­ple: How Glob­al­iza­tion Cre­ates Migra­tion and Crim­i­nal­izes Immi­grants (
2008
), Com­mu­ni­ties With­out Bor­ders (
2006
), and The Chil­dren of NAF­TA: Labor Wars on the US/​Mexico Bor­der (
2004
). His web­site is at dba​con​.igc​.org.