The War Logs – a six-year archive of clas­si­fied mil­i­tary doc­u­ments about the war in Afghanistan, released on the Inter­net by the orga­ni­za­tion Wik­iLeaks – doc­u­ments a grim strug­gle becom­ing grim­mer, from the U.S. per­spec­tive. And for the Afghans, a mount­ing horror.
The War Logs, released by WikiLeaks, may contribute to the unfortunate and prevailing doctrine that wars are wrong only if they aren't successful.
The War Logs, how­ev­er valu­able, may con­tribute to the unfor­tu­nate and pre­vail­ing doc­trine that wars are wrong only if they aren't suc­cess­ful – rather like the Nazis felt after Stalingrad.
Last month came the fias­co of Gen. Stan­ley A. McChrys­tal, forced to retire as com­man­der of U.S. forces in Afghanistan and replaced by his supe­ri­or, Gen. David H. Petraeus.
A plau­si­ble con­se­quence is a relax­ation of the rules of engage­ment so that it becomes eas­i­er to kill civil­ians, and an exten­sion of the war well into the future as Petraeus uses his clout in Con­gress to achieve this result.
Afghanistan is Pres­i­dent Obama's prin­ci­pal cur­rent war. The offi­cial goal is to pro­tect our­selves from al-Qai­da, a vir­tu­al orga­ni­za­tion, with no spe­cif­ic base – a ​"net­work of net­works" and ​"lead­er­less resis­tance," as it's been called in the pro­fes­sion­al lit­er­a­ture. Now, even more so than before, al-Qai­da con­sists of rel­a­tive­ly inde­pen­dent fac­tions, loose­ly asso­ci­at­ed through­out the world.
The CIA esti­mates that 50 to 100 al-Qae­da activists may now be in Afghanistan, and there is no indi­ca­tion that the Tal­iban want to repeat the mis­take of offer­ing sanc­tu­ary to al-Qaeda.
By con­trast, the Tal­iban appear to be well-estab­lished in their vast for­bid­ding land­scape, a large part of the Pash­tun territories.
In Feb­ru­ary, in the first exer­cise of Obama's new strat­e­gy, U.S. Marines con­quered Mar­ja, a minor dis­trict in Hel­mand province, the main cen­ter of the insurgency.
There, report­ed The New York Times' Richard A. Oppel Jr., ​"The Marines have col­lid­ed with a Tal­iban iden­ti­ty so dom­i­nant that the move­ment appears more akin to the only polit­i­cal orga­ni­za­tion in a one-par­ty town, with an influ­ence that touch­es everyone."
"'We've got to re-eval­u­ate our def­i­n­i­tion of the word ​'ene­my,' said Brig. Gen. Lar­ry Nichol­son, com­man­der of the Marine expe­di­tionary brigade in Hel­mand Province. ​'Most peo­ple here iden­ti­fy them­selves as Tal­iban. We have to read­just our think­ing so we're not try­ing to chase the Tal­iban out of Mar­ja, we're try­ing to chase the ene­my out.'"
The Marines are fac­ing a prob­lem that has always bedev­iled con­querors, one that is very famil­iar to the U.S. from Viet­nam. In 1969, Dou­glas Pike, the lead­ing U.S. gov­ern­ment schol­ar on Viet­nam, lament­ed that the ene­my – the Nation­al Lib­er­a­tion Front – was the only ​"tru­ly mass-based polit­i­cal par­ty in South Vietnam."
Any effort to com­pete with that ene­my polit­i­cal­ly would be like a con­flict between a min­now and a whale, Pike rec­og­nized. We there­fore had to over­come the NLF's polit­i­cal force by using our com­par­a­tive advan­tage, vio­lence – with hor­ri­fy­ing results.
Oth­ers have faced sim­i­lar prob­lems: for exam­ple, the Rus­sians in Afghanistan dur­ing the 1980s, where they won every bat­tle but lost the war.
Writ­ing of anoth­er U.S. inva­sion – the Philip­pines in 1898 – Bruce Cum­ings, an Asia his­to­ri­an at the Uni­ver­si­ty of Chica­go, made an obser­va­tion that applies all too apt­ly to Afghanistan today: ​"When a sailor sees that his head­ing is dis­as­trous he changes course, but impe­r­i­al armies sink their boots in quick­sand and keep march­ing, if only in a cir­cle, while the politi­cians plum the phrase book of Amer­i­can ideals."
After the Mar­ja tri­umph, the U.S.-led forces were expect­ed to assault the major city of Kan­da­har, where, accord­ing to a U.S. Army poll in April, the mil­i­tary oper­a­tion is opposed by 95 per­cent of the pop­u­la­tion, and 5 out of 6 regard the Tal­iban as ​"our Afghan broth­ers" – again, echoes of ear­li­er con­quests. The Kan­da­har plans were delayed, part of the back­ground for McChrystal's leavetaking.
Under these cir­cum­stances, it is not sur­pris­ing that U.S. author­i­ties are con­cerned that pub­lic sup­port for the war in Afghanistan may erode even further.
In May, Wik­iLeaks released a March CIA mem­o­ran­dum about how to sus­tain West­ern Europe's sup­port for the war. The memorandum's sub­ti­tle: ​"Why Count­ing on Apa­thy Might Not Be Enough."
"The Afghanistan mission's low pub­lic salience has allowed French and Ger­man lead­ers to dis­re­gard pop­u­lar oppo­si­tion and steadi­ly increase their troop con­tri­bu­tions to the Inter­na­tion­al Secu­ri­ty Assis­tance Force," the mem­o­ran­dum states.
"Berlin and Paris cur­rent­ly main­tain the third and fourth high­est ISAF troop lev­els, despite the oppo­si­tion of 80 per­cent of Ger­man and French respon­dents to increased ISAF deploy­ments." It is there­fore nec­es­sary to ​"tai­lor mes­sag­ing" to ​"fore­stall or at least con­tain backlash."
The CIA mem­o­ran­dum should remind us that states have an inter­nal ene­my: their own pop­u­la­tion, which must be con­trolled when state pol­i­cy is opposed by the public.
Demo­c­ra­t­ic soci­eties rely not on force but on pro­pa­gan­da, engi­neer­ing con­sent by ​"nec­es­sary illu­sion" and ​"emo­tion­al­ly potent over­sim­pli­ca­tion," to quote Obama's favorite philoso­pher, Rein­hold Niebuhr.
The bat­tle to con­trol the inter­nal ene­my, then, remains high­ly per­ti­nent – indeed, the future of the war in Afghanistan may hinge on it.
© The New York Times Syndicate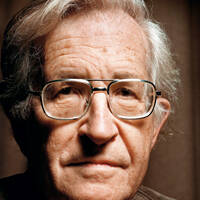 Noam Chom­sky
is Insti­tute Pro­fes­sor and Pro­fes­sor of Lin­guis­tics (Emer­i­tus) at the Mass­a­chu­setts Insti­tute of Tech­nol­o­gy, and the author of dozens of books on U.S. for­eign pol­i­cy. His most recent book is
Who Rules the World?
from Met­ro­pol­i­tan Books.