When the Government Orders You to Burn Your Crops
Colombian farmers are a casualty of the war on coca.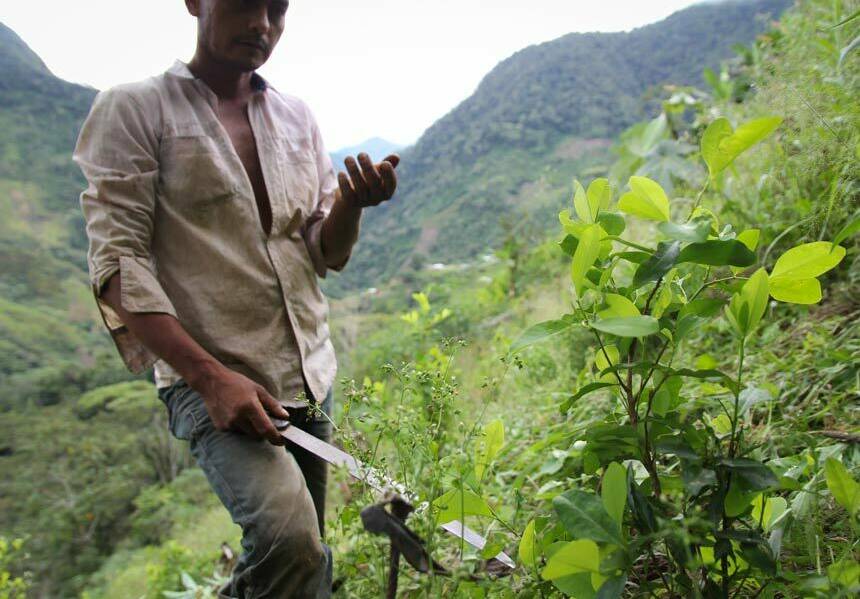 MADRI­GAL, COLOM­BIA — Each day at 6 a.m., Jorge Moreno walks to his coca field to har­vest leaves that will even­tu­al­ly be made into cocaine. He inspects the leaves by hand and cuts them with a machete — his only tool — while swat­ting away mosquitoes.
As politicians debate the best way to tackle the global war on drugs, Colombian farmers remain a convenient scapegoat.
He start­ed recent­ly, because there were few oth­er options. The only thing he was ever taught to do was use a machete, he says, and at least coca farm­ing allows him to make a bit of mon­ey to pro­vide for his five children.
"The gov­ern­ment thinks we coca farm­ers are nar­co­traf­fick­ers, that we're rolling in mon­ey, but no, it's not like that," Moreno tells In These Times. ​"We cul­ti­vate coca because it's the only way to survive."
Moreno is one of hun­dreds of coca farm­ers in Colombia's south­west­ern state of Nar­iño, among the poor­est in the coun­try. Rur­al areas of Nar­iño lack every­thing from prop­er roads and basic pub­lic ser­vices to, of course, jobs. It's also the state with the most acres of coca. Almost every­one in Madri­gal, Moreno's vil­lage, depends on it for their liveli­hood, since coca mon­ey dri­ves the local economy.
Dur­ing Colombia's 52-year civ­il war, Madri­gal was repeat­ed­ly sur­round­ed by armed groups fight­ing over con­trol of the illic­it crop. The gov­ern­ment and gueril­la groups final­ly reached a peace agree­ment in 2016, part of which includes a gov­ern­ment clam­p­down on coca fields.
Ear­li­er this year, author­i­ties announced a plan to erad­i­cate about 400 square miles of coca across the coun­try. The first half would go through crop sub­sti­tu­tion pro­grams promised in the peace accords, to replace coca with alter­na­tive crops such as corn, yuc­ca or cacao. The rest is to be wiped out through forced erad­i­ca­tion, with the Colom­bian army and anti­nar­cotics troops man­u­al­ly rip­ping out or spray­ing crops, though the land will remain in farm­ers' hands. Farm­ers who do not vol­un­teer for the sub­sti­tu­tion pro­grams risk arrest.
Since these ini­tia­tives have begun, farm­ers have come out in large num­bers to defend their crops through block­ades and protests, clash­ing with anti­nar­cotics forces head on. These spe­cial forces haven't been through Madri­gal yet, but Moreno says he would fight them off if they were to come.
Ten­sions reached a peak in Sep­tem­ber, when spe­cial forces report­ed­ly used bombs armed with sta­ples against pro­test­ers in the north­ern state of Cata­tum­bo. In the coastal state of Cau­ca, more than 300 farm­ers, armed with machetes, wood­en pal­lets and rocks, approached an army brigade man­u­al­ly tear­ing out their coca crops; one pro­test­er was killed and four more wounded.
Accord­ing to Ale­jan­dra Tor­res, the Nar­iño coor­di­na­tor for COC­CAM, a nation­al body that rep­re­sents coca, pop­py and mar­i­jua­na farm­ers, most farm­ers want to get out of the coca indus­try because of the secu­ri­ty risks involved. Moreno says he would glad­ly stop cul­ti­vat­ing coca, but lacks the start-up cap­i­tal to change crops and wor­ries the gov­ern­ment will back out on its promises.
In the­o­ry, after sign­ing up for the sub­sti­tu­tion pro­gram, farm­ers will have 60 days to destroy their har­vest, then receive fund­ing for a new crop. Gov­ern­ment offi­cials insist they are com­mit­ted to the pro­gram, but ​"the gov­ern­ment has made numer­ous deals with com­mu­ni­ties and not fol­lowed through," Tor­res says. ​"So it's a risk to make a deal with them."
This is not the first time that coca farm­ers have faced harsh erad­i­ca­tion poli­cies. Many remem­ber when the gov­ern­ment car­ried out mass aer­i­al spray­ing in 2003, as part of the U.S.-funded Plan Colom­bia, which involved spray­ing the her­bi­cide glyphosate over rur­al areas where coca was grown. The spray killed oth­er crops, trees and ecosys­tems, con­t­a­m­i­nat­ed rivers, and land­ed on peo­ple, burn­ing their skin. The Colom­bian gov­ern­ment banned the prac­tice in 2015.
Accord­ing to the Wash­ing­ton Office on Latin Amer­i­ca, aer­i­al spray­ing in Colom­bia — which occurred from 1994 to 2015 with vary­ing inten­si­ty — had no effect on over­all pro­duc­tion of coca cul­ti­va­tion, despite the U.S. gov­ern­ment insist­ing oth­er­wise. Coca farm­ers in Madri­gal tell In These Times they sim­ply moved far­ther into the mountains.
In June, U.S. Sec­re­tary of State Rex Tiller­son sug­gest­ed start­ing mass aer­i­al fumi­ga­tions again, but so far the Colom­bian gov­ern­ment says it will stick to the peace accords, which allow spray­ing only as a last resort. Pres­i­dent Don­ald Trump has also threat­ened to sus­pend the $450 mil­lion in U.S. aid to Colom­bia if it doesn't do more to tack­le the drug prob­lem, which he says has led to an increase in U.S. consumption.
The U.S. has long been the world's top cocaine con­sumer, with Europe not far behind. But as politi­cians debate the best way to tack­le the glob­al war on drugs, Colom­bian farm­ers remain a con­ve­nient scapegoat.
"We are appar­ent­ly the source of the drug prob­lem," says Moreno, walk­ing home after a day in the field. ​"But we get the least."
Kim­ber­ley Brown
is a writer, mul­ti­me­dia jour­nal­ist and anthro­pol­o­gist cur­rent­ly based in Quito, Ecuador, cov­er­ing region­al pol­i­tics, soci­ety and envi­ron­ment, with a focus on human rights.