Indigenous Organizers Halted Plans for Oil Drilling in the Amazon
Sustained demonstrations in Ecuador got the government to back down—at least for now.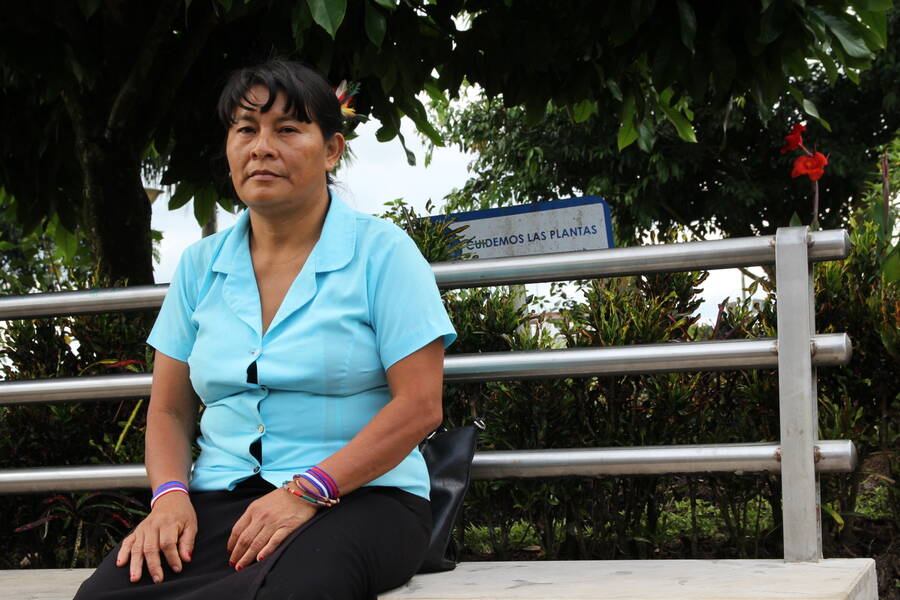 PUYO, ECUADOR — Rosa Elvi­ra Chu­ji Gualin­gai, 50, came to the city to pres­sure the gov­ern­ment. Watch­ing the traf­fic out­side her office win­dow, she says, ​"I can't get used to this lifestyle." The indige­nous activist, leader of the Shi­wiar com­mu­ni­ty of Kur­intsa, was raised deep in the Ama­zon rain­for­est, sur­round­ed by tow­er­ing cei­bo and palm trees. With no roads, the only way to trav­el is up to six days by boat or to char­ter a plane. With lit­tle elec­tric­i­ty and no plumb­ing, the Shi­wiar bathe in the near­by rivers and live main­ly by hunt­ing and fish­ing. But this way of life is under threat, as the Ecuado­ri­an gov­ern­ment sells rain­for­est land to oil companies.
The country's well orga­nized indige­nous move­ment, how­ev­er, has a his­to­ry of giant slay­ing — it held demon­stra­tions that helped over­throw pres­i­dents in 2000 and 2005. To pro­tect the Ama­zon from the lat­est round of oil devel­op­ment, indige­nous groups held ral­lies, closed down high­ways and marched for over two weeks from the rain­for­est to Quito, the cap­i­tal. After months of protest, the gov­ern­ment scaled back its plans — at least temporarily.
Ecuador's par­tial­ly nation­al­ized oil indus­try has long helped the gov­ern­ment pay for social pro­grams and pover­ty relief. But with a glob­al drop in oil prices, Ecuador's much-need­ed oil rev­enue plum­met­ed from 12.1 to 5.4 per­cent of GDP between 2013 and 2016. The cen­ter-left Pres­i­dent Lenin Moreno, elect­ed in 2017, launched an ambi­tious cam­paign to recov­er lost income by expand­ing oil pro­duc­tion in the Ama­zon. This includ­ed auc­tion­ing 16 blocks, each up to 2,000 square kilo­me­ters, of the South­east oil fields, which encom­pass Kur­intsa. It also includ­ed the devel­op­ment of oil fields in Yasuni Nation­al Park, one of the most bio­di­verse regions of the plan­et and home to two uncon­tact­ed indige­nous communities.
Indige­nous groups reject­ed these plans, say­ing that leaks and waste have con­t­a­m­i­nat­ed the soil and water in oth­er regions of the Ama­zon, dis­plac­ing indige­nous com­mu­ni­ties who could no longer live off the land.
Envi­ron­men­tal­ists also argue roads built to enable oil pro­duc­tion will increase defor­esta­tion, invit­ing destruc­tive indus­tries deep­er into the region. A 2014 report from the World Resources Insti­tute and the Rights and Resources Ini­tia­tive found that, because many indige­nous groups live in car­bon-stor­ing forests, ​"strength­en­ing the land and resource rights of indige­nous peo­ples" is key to fight­ing cli­mate change.
Rep­re­sen­ta­tives of the Ama­zon com­mu­ni­ties say Moreno nev­er con­sult­ed them about his plans, a vio­la­tion of Ecuador's con­sti­tu­tion and inter­na­tion­al law. This asser­tion is backed up by Vic­to­ria Tauli-Cor­puz, UN spe­cial rap­por­teur on the rights of indige­nous peo­ples, who trav­elled to Ecuador in Novem­ber 2018.
"Unless they change the path of devel­op­ment," she says, ​"the threat to the for­est is real­ly seri­ous." She will deliv­er her final assess­ment and rec­om­men­da­tions by Sep­tem­ber, but the UN has no enforce­ment mechanism.
Chu­ji, soft-spo­ken, but firm, is a mem­ber of the group Mujeres Ama­zon­i­cas (Ama­zon Women), made up of indige­nous women who live in the rain­for­est. In March 2018, Chu­ji and more than 100 oth­er Ama­zon women protest­ed in front of the pres­i­den­tial palace for five days, demand­ing a meet­ing with Moreno and an imme­di­ate stop to all oil and min­ing activ­i­ties in the rainforest.
On anoth­er occa­sion, Chu­ji says, she con­front­ed the pres­i­dent her­self. ​"He said, ​'I'll see what I can do,' and I said, ​'You will com­ply. If you don't com­ply, we'll be back,'" she says. ​"And we are going back."
In Novem­ber 2018, eight women from Mujeres Ama­zon­i­cas walked into the office of the min­istry of ener­gy and non­re­new­able nat­ur­al resources and demand­ed a meet­ing with the min­is­ter, Car­los Perez. When they were told he was out of town, they occu­pied his office for the next 30 hours, wait­ing for him to return.
In Decem­ber 2018, Perez called off plans to devel­op more oil fields in Yasuni Nation­al Park. The min­istry already had decid­ed to reduce the South­east Oil auc­tion down to two blocks, and is now debat­ing whether to can­cel it. Perez cit­ed indige­nous and envi­ron­men­tal­ist protests as a main rea­son. But he left the door open for the future, telling local media the plans were not nec­es­sar­i­ly abandoned.
Car­los Man­z­a­ban­da, the Ecuador field coor­di­na­tor for the advo­ca­cy group Ama­zon Watch, says Perez's announce­ment should be tak­en ​"with cau­tion." The coun­try is deeply in debt, main­ly dri­ven by the con­tin­ued low price of oil, and has slashed social spend­ing and can­celed gaso­line sub­si­dies meant to help low-income fam­i­lies. The gov­ern­ment is doing every­thing in its pow­er not to anger peo­ple any fur­ther, says Man­z­a­ban­da, and could reverse its deci­sion when the coun­try is more stable.
Chu­ji says she's pre­pared. ​"I have been fight­ing since I was young," she says, ​"and I will die doing this, fight­ing for my kids."
Kim­ber­ley Brown
is a writer, mul­ti­me­dia jour­nal­ist and anthro­pol­o­gist cur­rent­ly based in Quito, Ecuador, cov­er­ing region­al pol­i­tics, soci­ety and envi­ron­ment, with a focus on human rights.