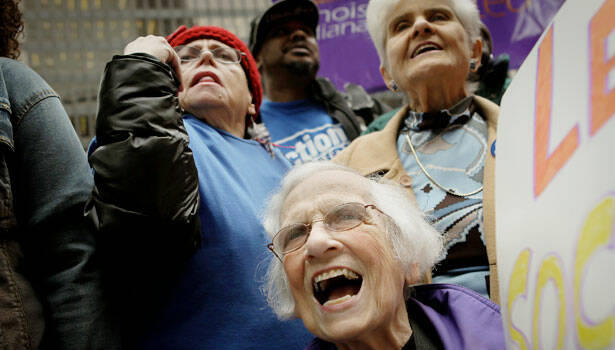 I'm sitting here feeling my bile rise as I eye the cover of the publication I most love to hate, AARP The Magazine. This one features Diane Keaton and promises to explain ​"How she stays forever young." The featured tip? ​"Take risks – do things you can't imagine!" Month in and month out, this rag features well-preserved, wealthy, beaming celebrities who suggest that aging can be defied, and also that it's just one big blast.
I'd like to see a somewhat different cover. This one would feature a sick, homeless grandma taking risks and doing all the things Keaton can't imagine. Like living without Medicare. Or Social Security. Or affordable housing. Because if the Republicans get their way, more and more retirees are going to be increasingly impoverished. Sarah Palin and others may have gone ballistic over alleged ​"death panels," but the real ghouls facing older people are the right-wingers in Congress, and in all too many state houses and legislatures.
While the Republican War on Women has gained national attention, there has been less outrage over the Republican War on Older Americans. But the battles are everywhere. State after state is going after pension funds. Here in Michigan, for example, one of the first things Republican Gov. Rick Snyder did was to impose new and higher taxes on retirement income and public pensions. Making matters worse, our state's long recession forced many people in their 50s to take early retirement as employers downsized. When you retire early, your benefits are lower than if you wait until you're 65. So now, a larger percentage of smaller retirement eggs will be subject to income tax. Why? To make up for cuts in the state's business taxes.
Beyond Michigan, the AFL-CIO finds that older workers who lose their jobs have the highest rate of long-term unemployment, which in turn means significantly reduced retirement income. Plus, they often have to tap into what savings they have to get by.
So how are compassionate conservatives at the national level responding to the needs of aging Americans? Congressman Paul Ryan's (R-Wis.) proposed budget is a full-out, concerted assault on old folks. According to the Service Employees International Union (SEIU), he would cut Medicaid by $1 trillion over the next decade and convert it into a block grant to the states, which would result in deep cuts to vital services for seniors. Medicaid, according to SEIU, ​"is the nation's main source of payment for long-term care, covering a million nursing home residents and paying for 41 percent of all long-term care expenditures in the country." Clearly, those folks will be much more comfy living in a refrigerator box under an overpass.
Also, under Ryan's plan, starting in 2022, Medicare would no longer exist. Instead, people currently in their early 50s would, when they retire, get a voucher to purchase private health insurance, thus transferring control of Medicare to the health insurance industry.Citing a Congressional Budget Office estimate, SEIU predicts that under this plan 20 million retirees won't have Medicare when they retire, and that such a voucher program will double healthcare costs for seniors. It also notes that Ryan's plan proposes to ​"cut future Social Security benefits for everyone who is earning more than $22,000 a year right now."
According to Howard Gleckman, author of Caring for Our Parents, other services targeted at seniors also face threats. In an article for Forbes, Gleckman writes, ​"These critical supports for those receiving care at home, such as transportation, nutrition, and counseling, as well as caregiver assistance … would take the biggest hit," with the possibility that federal funding for most of these programs would be entirely eliminated. The Administration on Aging budget took a $23 million hit in 2012, about a 2 percent decrease; Aging network supports like the Eldercare Locator, the ombudsman program and the Alzheimer's Disease demonstration program were cut by almost two-thirds.
So, my dears, despite what AARP The Magazine and many of us would like to pretend, we actually all do age. And public policy may matter more for us then than ever, given fixed incomes and increased vulnerabilities. In short, those among us who are not Diane Keaton should be scared, and we need to resist this assault with all we've got.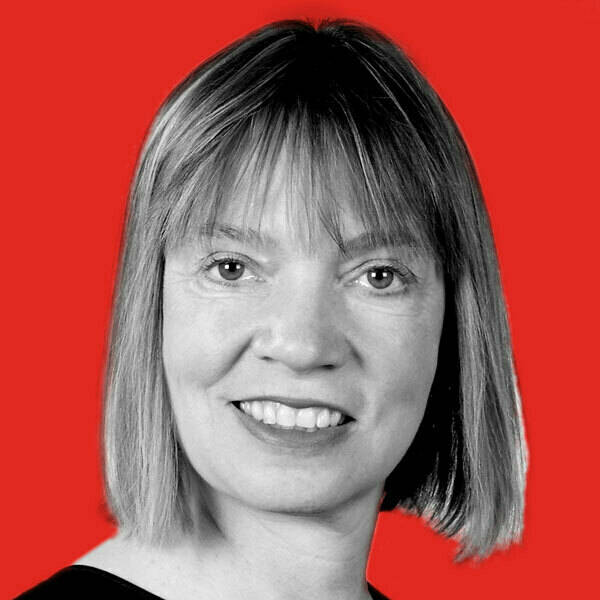 Susan J. Douglas is a professor of communications at the University of Michigan and a senior editor at In These Times. She is the author of In Our Prime: How Older Women Are Reinventing the Road Ahead.