Ah, this is the life. To be on vaca­tion near the ocean, sun­ning on the beach by day, and, by night, hear­ing Hard­ball​'s Chris Matthews, of all peo­ple, repeat­ed­ly liken Bush to Ted Bax­ter, the obtuse anchor­man on the old Mary Tyler Moore Show. As I eat fried cala­mari and striped bass, I get to see Matthews, hard­ly a friend of pro­gres­sives, ham­mer Team Bush over their ser­i­al lying about weapons of mass destruc­tion and yel­low­cake. Was Bush such a clue­less pup­pet, sput­ters Matthews, that he sim­ply read what­ev­er Cheney or Rums­feld put in front of him and told him to sell to the nation? Why, I must be in Margaritaville.

Since Team Bush came to pow­er, those of us lucky enough to have the time and mon­ey to go on vaca­tion have tried to escape from, or for­get, how­ev­er briefly, the total­i­tar­i­an and impe­ri­al­is­tic schemes of our in-house Amer­i­can Tal­iban. Nonethe­less, it was dif­fi­cult to shake the sense of doom unleashed by the forces of dark­ness, and some of us spent pre­vi­ous vaca­tions look­ing long­ing­ly at maps of Cana­da, fan­ta­siz­ing about where to move. A supine media rein­forced our sense that we were exiles in our own land.

But this sum­mer, the worm is turn­ing. The inside sto­ry of how and why so many in the press have final­ly begun to ask hard ques­tions remains to be told. But cracks in the edi­fice are every­where. And while, under­stand­ably, we on the left are prone to see­ing the polit­i­cal glass as always half emp­ty — or less — it is sum­mer, things are falling apart for Team Bush, and we need to appre­ci­ate that, for now, the glass is start­ing to look half full.

As the days pass, my vaca­tion gets bet­ter all the time. First off, Jamie McIn­tyre of CNN, clear­ly weary of denials and eva­sions, reads the dic­tio­nary def­i­n­i­tion of ​"guer­ril­la war" out loud at a Rums­feld press con­fer­ence to dri­ve home the point that what­ev­er the admin­is­tra­tion says, our troops are, in fact, engulfed by a guer­ril­la war. I can bare­ly believe my eyes when, after a day of sun and surf, I turn on ABC News to see Jef­frey Kofman's now infa­mous inter­views with sol­diers from the 3rd Infantry Divi­sion in Fal­lu­jah who had been told three times they were going home, only to have their reprieve rescind­ed. ​"If Don­ald Rums­feld were sit­ting here … what would you say to him," Kof­man asks. ​"I don't know if I can real­ly say that on cam­era," responds one sol­dier. Anoth­er was more force­ful, ​"I'd ask him for his res­ig­na­tion." I near­ly drop the tequi­la — is ABC real­ly air­ing this? Even bet­ter, Good Morn­ing Amer­i­ca replays the inter­views the next morning.

The next night, when ABC News learns that the army might dis­ci­pline those sol­diers who spoke out, the net­work airs por­tions of the inter­views yet again, and then puts on some of the sol­diers' mid­dle-Amer­i­ca, young blonde wives who demand to know why their hus­bands sud­den­ly have no free speech rights. Then, cut to adorable African-Amer­i­can kids hold­ing up signs ask­ing when their dad­dies are com­ing home. Peter Jen­nings clos­es the seg­ment by quot­ing a com­mand­ing offi­cer who said, ​"We are in Iraq to defend democ­ra­cy, not to prac­tice it." Jen­nings gives a slight but telling grimace.

In this same week I can read, on the beach, The Wall Street Jour­nal​'s Al Hunt write about the ​"Fog of Deceit" and demand an inves­ti­ga­tion into Team Bush's ​"per­va­sive pat­tern of exag­ger­a­tion and dis­tor­tion." Next I can turn to The Boston Globe​'s tru­ly bril­liant op-ed piece by James Car­roll iron­i­cal­ly titled ​"Bush's War Against Evil" that makes clear how all-out cam­paigns to alleged­ly purge the world of evil have always deeply cor­rupt­ed the cru­saders, lead­ing to ​"the most igno­ble deeds." He asks whether ​"rid­ding of the world of evil," as Bush promised, jus­ti­fies tor­ture, the killing of chil­dren, the ​"launch­ing of dubi­ous wars," and the ​"mil­i­ta­riza­tion of civ­il soci­ety." Of Bush, Car­roll writes, ​"there is noth­ing at the core of this man but vis­cer­al mean­ness." After that, I can flip through a Time mag­a­zine whose cov­er shows Bush giv­ing the State of the Union address under a huge head­line read­ing ​"Untruth & Consequences."

Even the lat­est Har­ry Pot­ter book takes on the con­se­quences of creep­ing total­i­tar­i­an­ism. Har­ry and Dum­b­le­dore, the head­mas­ter of Hog­warts, insist that the Dark Lord Volde­mort is back, and is recruit­ing fol­low­ers to his evil cause. But the Min­istry of Mag­ic, in total denial, refus­es to believe this, and sends a ​"high inquisi­tor" to the school to silence dis­sent, sup­press cer­tain kinds of knowl­edge, and iden­ti­fy and pun­ish trai­tors. The offi­cial news­pa­per, The Dai­ly Prophet, tows the Min­istry of Mag­ic line until its decep­tions can no longer stand scruti­ny. Mil­lions of kids, through the book, feel the infu­ri­at­ing injus­tices of autoc­ra­cy. And in the­aters, the movie Seabis­cuit sneaks in paeans to FDR and the impor­tance of gov­ern­ment social wel­fare pro­grams in between dra­mat­ic horse races.

Yes, the Dark Lord is still pres­i­dent. Ann Coulter's book is still on the best­seller list. But maybe in the wake of Jayson Blair's pla­gia­risms, the Pri­vate Lynch fic­tions, Bush's inad­ver­tent admis­sion of how high­ly he regards the lives of Iraqis (and even our own troops) by dar­ing Iraqis to ​"bring ​'em on," and the mount­ing evi­dence of repeat­ed bald-faced lying, the press and oth­ers in the media will redis­cov­er that por­tion of the body known as a spine. I know one thing — I and mil­lions of oth­ers are hav­ing a much bet­ter sum­mer this year than those hun­kered down in the ​"beloved ranch" in Crawford.

Mar­gar­i­tas, anyone?
On ABC, young blonde wives demand to know why their husbands have no free speech rights.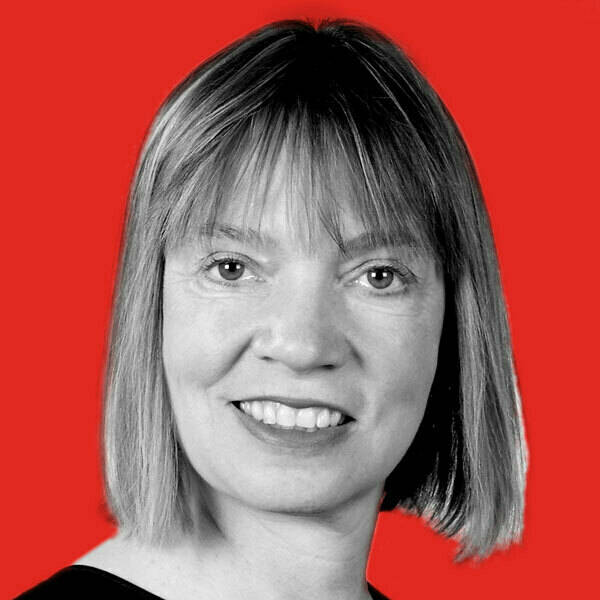 Susan J. Dou­glas
is a pro­fes­sor of com­mu­ni­ca­tions at the Uni­ver­si­ty of Michi­gan and a senior edi­tor at
In These Times
. Her forth­com­ing book is
In Our Prime: How Old­er Women Are Rein­vent­ing the Road Ahead.
.