Thomas Friedman's Latest Book Is a Tour Through His Troubled, Neoliberal Mind
We read 500 pages of corporate platitudes and ungainly metaphor so you don't have to.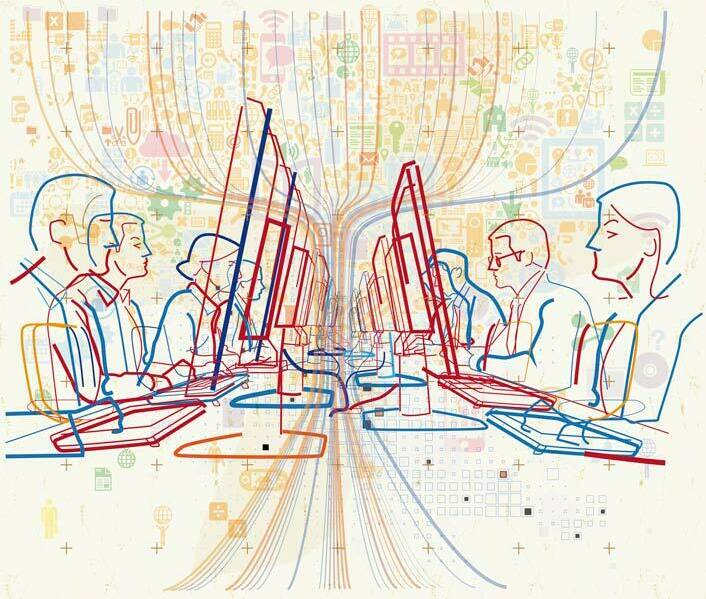 Pity New York Times colum­nist Thomas L. Fried­man: His cred­u­lous take on the fre­net­i­cal­ly wired, capital‑M Mar­ket (as he likes to call it) may have earned him a world-class rep­u­ta­tion as a plugged-in pun­dit and sent him trot­ting around the globe, but late­ly it's been tuck­er­ing him out. That's why this breath­less Mar­ket savant has titled his lat­est doorstop-sized man­i­festo Thank You for Being Late—a phrase, he explains, that he inad­ver­tent­ly blurt­ed to a guest who turned up late to one of the D.C. pow­er break­fasts he hosts for the sake of scar­ing up col­umn fod­der. Fried­man had used the unsched­uled bit of down­time to con­duct an over­due inward inven­to­ry. Amid the dai­ly crush of pres­tige think­flu­enc­ing, Fried­man sud­den­ly real­ized, ​"I need­ed per­mis­sion to be alone with my thoughts."
This witless, reflexive endorsement of corporate prerogative runs so deep in Thank You for Being Late that even Friedman's cautionary environmentalism is steeped in it.
If this sprawl­ing mias­ma of buzz­words is any indi­ca­tion of what hap­pens when Fried­man is left alone with his thoughts, we'd bet­ter hope he keeps furi­ous­ly breakfast-scheduling.
It's hard to say just what the orga­niz­ing con­ceit of Thank You for Being Late is, except an impres­sion­is­tic tour of the things occu­py­ing Tom Friedman's mind. It opens in the clas­sic fash­ion of many a Fried­man col­umn: with a ran­dom encounter with a ser­vice-sec­tor employ­ee. Fried­man learns that a park­ing-garage atten­dant in his tony D.C. sub­urb of Bethes­da, Md., an Ethiopi­an immi­grant named Ayele Z. Bojia, authors a pol­i­tics blog focused on com­bat­ing cor­rup­tion in his home­land. Think­ing of his own voca­tion as a colum­nist, Fried­man starts to riff, with an ungain­ly grasp of metaphor tru­ly unpar­al­leled among today's pundits:
When I refer to the world's big gears and pul­leys, I am talk­ing about what I call ​'the Machine.' … To be an opin­ion writer, you need to be car­ry­ing around a work­ing hypoth­e­sis of how the Machine works. … If you don't have a the­o­ry … you'll either push it in a direc­tion that doesn't accord with your beliefs, or you won't move it at all.
It goes on like this, unfath­omably, for near­ly 500 pages. Fried­man revis­its the harum-scarum themes of his past busi­ness-advice best­sellers, such as The Lexus and the Olive Tree and The World Is Flat: The world is get­ting small­er — i.e., more inter­con­nect­ed — as dig­i­tal inno­va­tion quick­ens. Glob­al warm­ing, over­pop­u­la­tion and defor­esta­tion are also accel­er­at­ing. The inca­pac­i­ty of humans to adapt to the bewil­der­ing pace may well jeop­ar­dize civ­i­liza­tion and the plan­et alike.
The diag­no­sis is unob­jec­tion­able, but Friedman's catch-all rem­e­dy is stun­ning­ly obtuse: Re-engi­neer all human insti­tu­tions for the dig­i­tal age. Sure, jobs will be dis­placed, liveli­hoods jeop­ar­dized and work­er auton­o­my sac­ri­ficed on the altar of dig­i­tal accel­er­a­tion, but hey, ​"Jobs have always come and gone thanks to cre­ative destruc­tion. If hors­es could have vot­ed, there would nev­er have been cars."
Ha, good one, Tom! This wit­less, reflex­ive endorse­ment of cor­po­rate pre­rog­a­tive runs so deep in Thank You for Being Late that even Friedman's cau­tion­ary envi­ron­men­tal­ism is steeped in it. Moth­er Nature, he bur­bles, is ​"relent­less­ly entre­pre­neur­ial," pos­sess­es a wel­ter of ​"killer apps" and knows that ​"allow­ing the weak to die off unlocks more resources and ener­gy for the strong."
As we learn from Friedman's inter­views, the own­ing-and-man­ag­ing class's dig­i­tal­ly upgrad­ed brand of social Dar­win­ism is remark­ably of a piece with that of its strike-break­ing, time-man­ag­ing rob­ber-baron fore­bears. ​"When I walk into a sub­way and see some­one play­ing Can­dy Crush … on their phone, [I think] there's a wast­ed five min­utes when they could be bet­ter­ing them­selves," Zach Sims, founder of the dig­i­tal cod­ing com­bine Codecad​e​my​.com, tells Friedman.
It's clear­ly a short step, in the Big Data scheme of things, for grim­ly pur­pose­ful man­agers like Sims to dig­i­tal­ly sur­veil their employ­ees, and per­haps give them a brisk jolt to the fin­gers should they furtive­ly acti­vate the Can­dy Crush icon — a strik­ing con­trast to the book's tit­u­lar plea for more pre­cious time for the maun­der­ings of the dig­i­tal pow­er elite. The only con­so­la­tion is that the Fried­man op-ed gen­er­a­tor—a genius online fount of Fried­man-brand­ed future­s­peak — will soon set him on the path to obsolescence.