Through the Glasses Darkly
What if the between-the-lines Republican message (don't be afraid, there will be no real change) is the true illusion?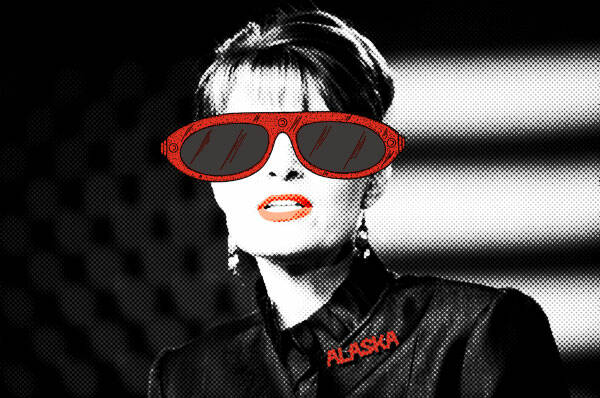 When the hero of John Carpenter's 1988 They Live puts on a pair of weird sun­glass­es that he has stum­bled upon in an aban­doned church, he notices a bill­board that once invit­ed us to a Hawaii beach hol­i­day now sim­ply dis­plays the words:
Today, even the strongest advocates of diminishing the excessive role of Washington accept the necessity of a state intervention that is sublime in its unimaginable quantity.
"MAR­RY AND REPRO­DUCE." Ad copy on anoth­er bill­board – this one for a new col­or TV – says, ​"DON'T THINK, CONSUME!"
The glass­es, then, func­tion as a device for the cri­tique of ide­ol­o­gy. In oth­er words, they enable him to see the real mes­sage lying beneath the glossy, col­or­ful surface.
What would we see if we were to observe the Repub­li­can pres­i­den­tial cam­paign through such glasses?The first thing would be a long series of con­tra­dic­tions and inconsistencies:
• Their call to reach across par­ty lines – while wag­ing the cul­tur­al war pol­i­tics of ​"us" against ​"them."
• Their warn­ing that the can­di­dates' fam­i­ly life should be off lim­its – while parad­ing their fam­i­lies on stage.
• Their promis­es of change – while offer­ing the same old pro­grams (low­er tax­es and less social wel­fare, a bel­liger­ent for­eign pol­i­cy, etc.).
• Their pledge to reduce state spend­ing – while inces­sant­ly prais­ing Pres­i­dent Rea­gan. (Recall Reagan's answer to those who wor­ried about the explod­ing debt: ​"It is big enough to take care of itself.")
• Their accu­sa­tions that Democ­rats priv­i­lege style over sub­stance – which they deliv­er at per­fect­ly staged media events.
The next thing we would see is that these and oth­er incon­sis­ten­cies are not a weak­ness, but a source of strength for the Repub­li­can mes­sage. Repub­li­can strate­gists mas­ter­ful­ly exploit the flaws of lib­er­al­ism: Its patron­iz­ing ​"con­cern" for the poor that is com­bined with a thin­ly dis­guised indif­fer­ence toward – if not out­right con­tempt for – blue-col­lar work­ers, and its polit­i­cal­ly cor­rect fem­i­nism that is usu­al­ly com­bined with an under­ly­ing mis­trust of women in pow­er. Alas­ka Gov. Sarah Palin was a hit on both counts, parad­ing both her work­ing-class hus­band and her femininity.
The ear­li­er gen­er­a­tions of women politi­cians (Indi­an Prime Min­is­ter Indi­ra Gand­hi, Israeli Prime Min­is­ter Gol­da Meir, British Prime Min­is­ter Mar­garet Thatch­er and even, up to a point, U.S. Sen. Hillary Clin­ton) were what can be referred to as ​"phal­lic" women. They act­ed as ​"iron ladies" who imi­tat­ed and tried to out­do male author­i­ty, to be ​"more men than men themselves."
Writ­ing in Le Point, a French week­ly, Jacques-Alain Miller, a fol­low­er of the late French philos­pher Jacques Lacan, point­ed out that Palin, on the con­trary, proud­ly dis­plays her fem­i­nin­i­ty and moth­er­hood. She has a ​"cas­trat­ing" effect on her male oppo­nents, not by being more man­ly than them, but by sar­cas­ti­cal­ly down­grad­ing the puffed-up male author­i­ty. Accord­ing to Miller, Palin instinc­tive­ly knows that male ​"phal­lic" author­i­ty is a pos­ture, a sem­blance to be exploit­ed and mocked. Recall how she mocked Sen. Barack Obama's work as a com­mu­ni­ty organizer.
Palin pro­vides a ​"post-fem­i­nist" fem­i­nin­i­ty with­out com­plex­i­ty, unit­ing the fea­tures of moth­er, prim teacher (glass­es, hair in a bun), pub­lic fig­ure and, implic­it­ly, sex object, proud­ly dis­play­ing the ​"first dude" as a phal­lic toy. The mes­sage is that she doesn't lack any­thing – and, to add insult to injury, it was a Repub­li­can woman who real­ized this left-lib­er­al dream. It is as if she sim­ply is what left-lib­er­al fem­i­nists want to be. No won­der the Palin effect is one of false lib­er­a­tion: ​"Drill, baby, drill!" Fem­i­nism and fam­i­ly val­ues! Big cor­po­ra­tions and blue collars!
So, back to Carpenter's They Live. To get the true Repub­li­can mes­sage, one should take into account not only what is said but what is implied.
Where we hear the mes­sage of pop­ulist frus­tra­tion over Wash­ing­ton grid­lock and cor­rup­tion, the glass­es would show a con­don­ing of the public's refusal to under­stand: ​"We allow you NOT to under­stand – so have fun, vent your frus­tra­tion! We will take care of busi­ness. We have enough behind-the-scenes experts who can fix things. In a way, it's bet­ter for you not to know." (Recall Vice Pres­i­dent Dick Cheney's hints at the dark side of pow­er, as he suc­cess­ful­ly orches­trat­ed an expan­sion of pres­i­den­tial exec­u­tive power.)
And where the mes­sage is the promise of change, the glass­es would show some­thing like this: ​"Don't wor­ry, there will be no real change, we just want to change some small things to make sure that noth­ing will real­ly change." The rhetoric of change, of trou­bling Washington's stag­nant waters, is a per­ma­nent Repub­li­can sta­ple. (Recall for­mer Repub­li­can House Speak­er Newt Gingrich's pop­ulist anti-Wash­ing­ton rise to pow­er in 1994.)
Let us not be naïve here: Repub­li­can vot­ers know there will be no real change. They know the same sub­stance will go on with changes in style. This is part of the deal.
Four years ago, Sen. John Ker­ry lost because he was Pres­i­dent Bush with a human face. Today, Sen. John McCain is Bush with a lip­sticked face. It's a rhetor­i­cal lip­stick of ​"No bull­shit!" When Prince­ton philoso­pher Har­ry Frank­furt, author of the best­selling On Bull­shit, was asked which U.S. politi­cian breaks out of the pre­dom­i­nant bull­shit­ting, he named McCain – and there­by tra­gi-com­i­cal­ly missed a key point. Talk­ing straight, dis­play­ing no-bull­shit hon­esty, can be the clever­est form of bull­shit­ting, a mere pop­ulist pose.
What if, how­ev­er, the between-the-lines Repub­li­can mes­sage (don't be afraid, there will be no real change) is the true illu­sion, not the secret truth? What if there real­ly will be a change? Or, to para­phrase the Marx broth­ers: McCain and Palin look like they want a change and talk like they want a change – but this shouldn't deceive us, they might very well accom­plish a change!
Per­haps this is the true dan­ger, since it would be change in the direc­tion of ​"Coun­try first!" and of ​"Drill, baby, drill!"
Luck­i­ly, as an elec­toral bless­ing in dis­guise, a sober­ing thing hap­pened to remind us where we real­ly live: in the real­i­ty of glob­al cap­i­tal­ism. The state is plan­ning emer­gency mea­sures to spend hun­dreds of bil­lions of dol­lars – if not $1 tril­lion – to repair the con­se­quences of the finan­cial cri­sis caused by free-mar­ket speculations.
The les­son is clear: The mar­ket and state are not opposed. Indeed, strong state inter­ven­tions are need­ed to keep mar­kets balanced.
The ini­tial Repub­li­can reac­tion to the finan­cial melt­down was a des­per­ate attempt to reduce it to a minor mis­for­tune that could eas­i­ly be healed by a prop­er dose of the old Repub­li­can med­i­cine (a prop­er respect for mar­ket mech­a­nisms, etc.). In short, the Repub­li­cans' between-the-lines mes­sage was this: We allow you to con­tin­ue to dream.
How­ev­er, all the polit­i­cal pos­tur­ing of low­er state spend­ing became irrel­e­vant after this sud­den brush with the real. Today, even the strongest advo­cates of dimin­ish­ing the exces­sive role of Wash­ing­ton accept the neces­si­ty for a state inter­ven­tion that is sub­lime in its almost unimag­in­able quan­ti­ty. Con­front­ed with this sub­lime grandeur, all the ​"no bull­shit" brava­do was reduced to a con­fused mum­ble. Where, today, are McCain's steely resolve and Palin's sarcasm?
But was the finan­cial melt­down real­ly the awak­en­ing from a dream? It depends on how the melt­down will be per­ceived by the gen­er­al pub­lic. In oth­er words, which inter­pre­ta­tion will win? Which ​"sto­ry" about it will predominate?
When the nor­mal run of things is trau­mat­i­cal­ly inter­rupt­ed, the field of ​"dis­cur­sive" ide­o­log­i­cal com­pe­ti­tion opens up. In Ger­many in the late ​'20s, Adolf Hitler won the com­pe­ti­tion for the nar­ra­tive that explained to Ger­mans the rea­sons for the cri­sis of the Weimar Repub­lic and the way out of it. (His plot was the Jew­ish plot.) In France in 1940, Mar­shall Petain's nar­ra­tive, that France lost because of the Jew­ish influ­ence and demo­c­ra­t­ic degen­er­a­tion, won in explain­ing the rea­sons for the French defeat.
Con­se­quent­ly, the main task of the rul­ing ide­ol­o­gy is to impose a nar­ra­tive that will not put the blame for the melt­down onto the glob­al cap­i­tal­ist sys­tem as such, but on, say, lax legal reg­u­la­tions and the cor­rup­tion of big finan­cial insti­tu­tions. Against this ten­den­cy, we should insist on the key ques­tion: which ​"flaw" of the sys­tem as such opens up the pos­si­bil­i­ty for – and con­tin­u­ous out­breaks of – such crises and collapses?
The first thing to bear in mind is that the ori­gin of the cri­sis is a ​"benev­o­lent" one. After the dot-com bub­ble explod­ed in the first years of the new mil­len­ni­um, the deci­sion across par­ty lines was to facil­i­tate real estate invest­ments to keep the econ­o­my grow­ing and pre­vent reces­sion. Today's melt­down is the price paid for the Unit­ed States avoid­ing a pro­longed reces­sion five years ago.
The dan­ger is that the pre­dom­i­nant nar­ra­tive of the melt­down will be the one that, instead of wak­ing us from a dream, will enable us to con­tin­ue to dream. And it is here that we should start to wor­ry – not only about the eco­nom­ic con­se­quences of the melt­down, but also about the obvi­ous temp­ta­tion to rein­vig­o­rate the ​"war on ter­ror" and U.S. inter­ven­tion­ism in order to keep the econ­o­my running.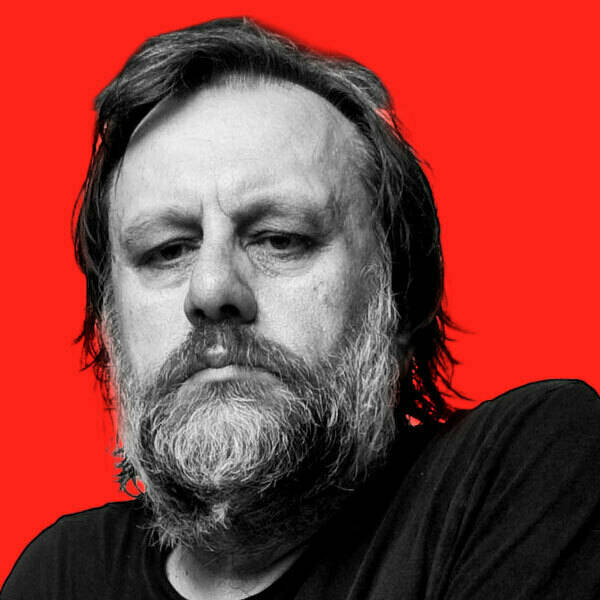 Slavoj Žižek
, a Sloven­ian philoso­pher and psy­cho­an­a­lyst, is a senior researcher at the the Insti­tute for Human­i­ties, Birk­beck Col­lege, Uni­ver­si­ty of Lon­don. He has also been a vis­it­ing pro­fes­sor at more than
10
uni­ver­si­ties around the world. Žižek is the author of many books, includ­ing Liv­ing in the End Times, First As Tragedy, Then As Farce, The Year of Dream­ing Dan­ger­ous­ly and Trou­ble in Paradise.