How To Catch a Wage Thief
Day laborers in Denver are tracking down runaway employers.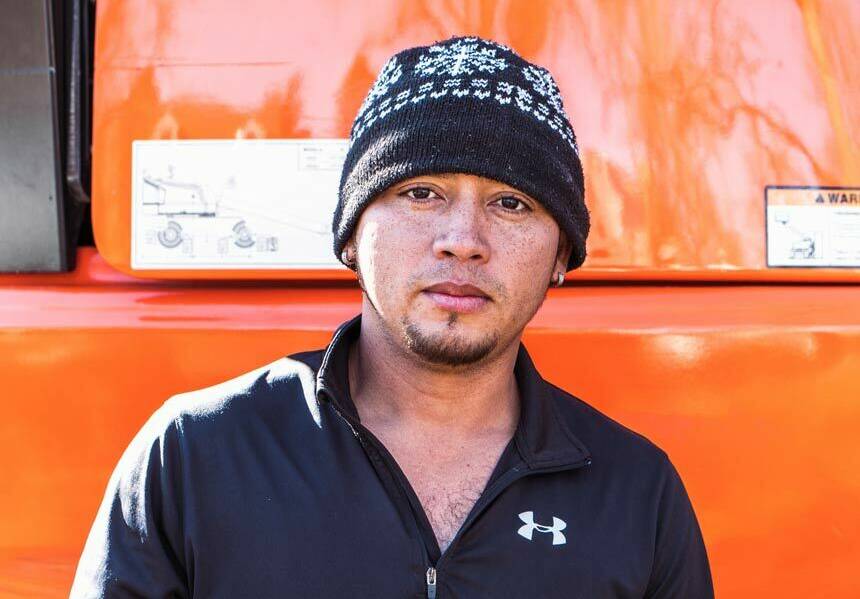 At 7:15 p.m. Nov. 14, 2017, day labor­er Vic­tor Alfon­so San­tos and orga­niz­er Amy Czu­la­da meet near an illu­mi­nat­ed, two-sto­ry sub­ur­ban home, just out of sight of the win­dows. They con­fer qui­et­ly in Span­ish, solid­i­fy­ing a game plan. They believe this is the address of Alfon­so San­tos' for­mer employ­er, whom Alfon­so San­tos says owes him $1,080. To date, the employ­er has proven elu­sive, fail­ing to respond to phone calls, text mes­sages and snail mail.
"In my survey of 411 workers, we found all day laborers to be vulnerable, regardless of immigration status," says Rebecca Galemba, assistant professor of international studies at the University of Denver. "Employers assume all low-wage immigrants, especially day laborers, lack status and therefore are easy to exploit."
A woman in sweats and ankle socks answers their knock. Czu­la­da defers to Alfon­so San­tos, who asks calm­ly for the employ­er. After mak­ing a terse phone call, the woman tells her unwel­come guests that the employ­er — her father — will return shortly.
When he arrives 45 min­utes lat­er, he denies with­hold­ing the wages. ​"I'm one of the ones who fol­lows the rules," he says.
Czu­la­da is skep­ti­cal. ​"In my expe­ri­ence, the peo­ple who start out the con­ver­sa­tion by say­ing, ​'I'm a good per­son,' are the ones real­ly fuck­ing peo­ple over," she tells In These Times.
Near­ly two years ago, Alfon­so San­tos took a friend's advice and moved to Col­orado to find work in con­struc­tion. Alfon­so San­tos, an asy­lum seek­er from Hon­duras whose case is still pend­ing, has a work per­mit. In fall 2017, he was hired to work on sev­er­al res­i­den­tial ply­wood and sid­ing projects in Den­ver, Lit­tle­ton and Boulder.
That Octo­ber, a nail gun sent a thick met­al nail through his left arm. Requir­ing a few weeks off to heal, he asked to be paid for pri­or work: 60 hours over an eight-day peri­od. But Alfon­so San­tos found that, as for many immi­grant work­ers, secur­ing pay­ment can be thorny.
Accord­ing to the Col­orado Fis­cal Insti­tute, about $750 mil­lion in wages are stolen in the state each year.
"In my sur­vey of 411 work­ers, we found all day labor­ers to be vul­ner­a­ble, regard­less of immi­gra­tion sta­tus," says Rebec­ca Galem­ba, assis­tant pro­fes­sor of inter­na­tion­al stud­ies at the Uni­ver­si­ty of Den­ver. ​"Employ­ers assume all low-wage immi­grants, espe­cial­ly day labor­ers, lack sta­tus and there­fore are easy to exploit."
More than 60 per­cent of respon­dents to Galemba's sur­vey expe­ri­enced wage theft, and only 22 per­cent of those tried to recov­er pay­ment. Pur­su­ing a legal claim is not easy. State wage and hour depart­ments are often under­staffed, and it can be hard to find attor­neys to take such low-dol­lar cases.
Col­orado has rel­a­tive­ly robust wage and hour enforce­ment with 17 inspec­tors, and a 2014 law required the depart­ment to make a deter­mi­na­tion on claims with­in 90 days. How­ev­er, fil­ing a claim requires a work con­tract or oth­er doc­u­men­ta­tion, which is rare in day labor.
After repeat­ed requests for the $1,080, Alfon­so San­tos con­tact­ed the Cen­tro Human­i­tario Para Los Tra­ba­jadores' Wage Theft Direct Action Team (DAT). Formed in 2013, DAT con­sists of vol­un­teers and two part-time staff mem­bers. Many vol­un­teers are stu­dents from local uni­ver­si­ties, often mem­bers of Demo­c­ra­t­ic Social­ists of Amer­i­ca and Indus­tri­al Work­ers of the World. The group has helped work­ers recov­er more than $40,000 in lost wages.
DAT begins with infor­mal out­reach to employ­ers, includ­ing phone calls and com­plaint let­ters. If employ­ers are unre­spon­sive, it esca­lates to more pub­lic action, such as demon­stra­tions and small claims court.
"Some­times," says Czu­la­da, a DAT coor­di­na­tor, ​"peo­ple come in with noth­ing and can't remem­ber the hours they worked or an address. They might not even have a full name of the per­son they think owes them money."
But Czu­la­da says Alfon­so San­tos came with metic­u­lous notes. He said that the employ­er feigned con­cern at first, then stopped answer­ing his calls.
Czu­la­da sent a demand let­ter Nov. 3, 2017, to an address list­ed for the employ­er that ulti­mate­ly led to a stor­age unit. They found a sec­ond address through WhitePages​.com, which is where she and Alfon­so San­tos visited.
As they talked, the employ­er main­tained that anoth­er man is actu­al­ly respon­si­ble for the wages in ques­tion. DAT will now seek out the home­own­er who con­tract­ed the job and try to find out who was in charge of payment.
DAT typ­i­cal­ly has 15 to 20 cas­es open at any one time, Czu­la­da says. ​"All these cas­es are super hard to prove," she says. But that doesn't mean they're unwinnable. ​"Judges under­stand this is an infor­mal economy."
Edi­tor's Note: The print ver­sion of this sto­ry in the Jan­u­ary 2018 issue erro­neous­ly stat­ed that the Wage Theft Direct Action Team (DAT) has helped work­ers recov­er more than $4,000 in lost wages. The cor­rect amount is actu­al­ly $40,000. The error has been cor­rect­ed above.
Gigi Sukin
is dig­i­tal edi­tor at Col­orado­Biz mag­a­zine and free­lances as a food, tech and cul­ture reporter.