Toppling the Tea Party
In 2014, progressives hope to take down the GOP gubernatorial class of 2010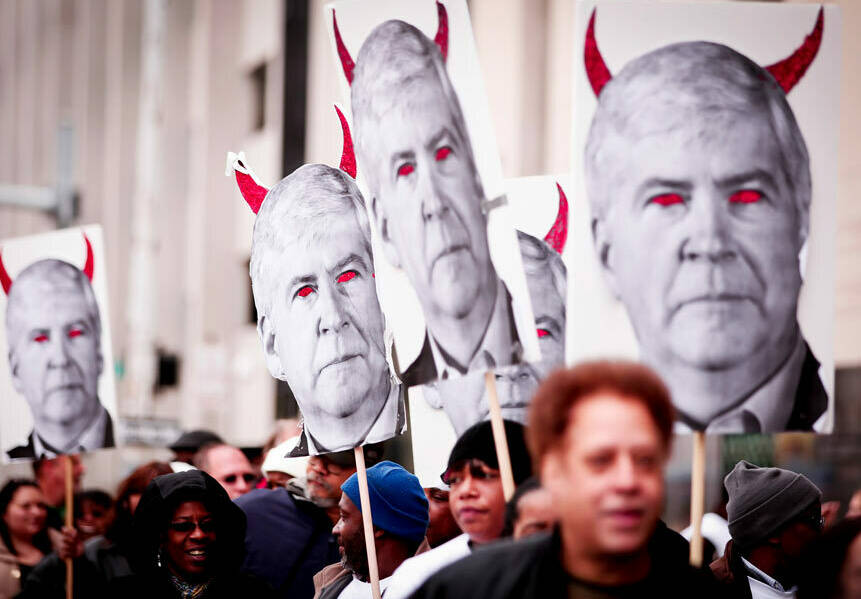 Prospects look grim for con­gres­sion­al Democ­rats this fall. Polit­i­cal fore­cast­ers are pre­dict­ing that the par­ty will fail to wrest con­trol of the House from the GOP and will lose its major­i­ty in the Senate.
Those governors accelerated the downward spiral for workers and the upward spiral for the richest 1%.
A num­ber of forces are work­ing against the Democ­rats: Obama's low approval rat­ings, the fail­ure of seg­ments with­in the Demo­c­ra­t­ic base — young peo­ple and peo­ple of col­or — to turn out in midterm elec­tions, lin­ger­ing weak­ness in job mar­kets and income growth, and the abun­dance of mon­ey for right-wing ​"inde­pen­dent expenditures."
Most frus­trat­ing­ly, Democ­rats must win a super­ma­jor­i­ty of the pop­u­lar vote to gain a major­i­ty in the House, thanks to a com­bi­na­tion of Repub­li­can ger­ry­man­der­ing after the 2010 cen­sus and the greater con­cen­tra­tion of Demo­c­ra­t­ic vot­ers in urban Amer­i­ca. Until 2020, when the next round of redis­trict­ing takes effect, Democ­rats will need about 55 per­cent of the pop­u­lar vote in elec­tions to win a major­i­ty of House seats. In 2012, Repub­li­can House can­di­dates lost the nation­al pop­u­lar vote by 1.12 per­cent­age points but won 33 more seats than the Democrats.
The gloomy fed­er­al out­look is prompt­ing groups that sup­port pro­gres­sive Democ­rats — labor unions, com­mu­ni­ty orga­ni­za­tions and online polit­i­cal mobi­liz­ers — to turn their atten­tion to state and local elec­tions, espe­cial­ly guber­na­to­r­i­al races.
​"Make no mis­take about it; our pri­or­i­ties are going to be the state and local gov­ern­ment races across the coun­try," Lee Saun­ders, pres­i­dent of the Amer­i­can Fed­er­a­tion of State, Coun­ty and Munic­i­pal Employ­ees and chair of the AFL-CIO polit­i­cal com­mit­tee, told reporters in February.
Pro­gres­sive orga­niz­ers are increas­ing­ly con­scious of how state gov­ern­ments, once her­ald­ed by Jus­tice Louis Bran­deis as ​"lab­o­ra­to­ries of democ­ra­cy," have today become, under Repub­li­can con­trol, lab­o­ra­to­ries of plutocracy.
The ​"shel­lack­ing" Democ­rats expe­ri­enced in the 2010 elec­tions extend­ed beyond Con­gress to the governor's man­sions. The num­ber of Demo­c­ra­t­ic gov­er­nors dropped from 26 to 20, with Lin­coln Chafee, an Inde­pen­dent, win­ning Rhode Island and Repub­li­can gov­er­nors tak­ing the remain­ing 29 states. Eight of the new­ly elect­ed Repub­li­can gov­er­nors were far-right ide­o­logues with ties to the Tea Par­ty: Scott Walk­er of Wis­con­sin, John Kasich of Ohio, Rick Sny­der of Michi­gan, Tom Cor­bett of Penn­syl­va­nia, Rick Scott of Flori­da, Sam Brown­back of Kansas, Nik­ki Haley of South Car­oli­na, and Paul LeP­age of Maine.
Those gov­er­nors prompt­ly ini­ti­at­ed poli­cies that accel­er­at­ed the down­ward spi­ral for work­ers and the upward spi­ral for the rich­est 1%. They share a com­mon play­book, thanks to the influ­ence of the right-wing, cor­po­rate-ori­ent­ed Amer­i­can Leg­isla­tive Exchange Coun­cil, which pro­vides mod­el leg­is­la­tion to con­ser­v­a­tive state exec­u­tives and law­mak­ers. That play­book includes break­ing pub­lic employ­ee unions and their con­tracts; shred­ding or elim­i­nat­ing social safe­ty nets; shrink­ing gov­ern­ment spend­ing (includ­ing long-term invest­ment in research and infra­struc­ture); and impos­ing vot­ing restric­tions that tar­get the poor, young, black and Lati­no — all heav­i­ly Demo­c­ra­t­ic blocs.
In the past four years, for exam­ple, Pennsylvania's Cor­bett has slashed state edu­ca­tion spend­ing, Michigan's Sny­der has cut the dura­tion of state unem­ploy­ment com­pen­sa­tion dur­ing a deep reces­sion, Ohio's Kasich and Wisconsin's Walk­er have restrict­ed vot­ing, and Maine's LeP­age has reduced state Med­ic­aid cov­er­age. But their biggest pre­oc­cu­pa­tion is to court the cor­po­rate inter­ests that fund their cam­paigns— by cut­ting tax­es on busi­ness and the wealthy, under­min­ing unions, pri­va­tiz­ing gov­ern­ment ser­vices and edu­ca­tion, and weak­en­ing envi­ron­men­tal reg­u­la­tions. Although these mea­sures were under­tak­en in the name of boost­ing eco­nom­ic activ­i­ty, they have actu­al­ly erod­ed work­ing-class liv­ing stan­dards and indulged the rich.
This silent, one-sided class war is a threat to the Amer­i­can econ­o­my and the qual­i­ty of our social relations.
The actions of these gov­er­nors, as much as those of con­gres­sion­al leaders,set the polit­i­cal agen­da for the GOP— because so many of these gov­er­nors are angling to run for pres­i­dent, but also because they set the terms of polit­i­cal debate in each state. The cor­po­rate wing of the Demo­c­ra­t­ic Par­ty often tries to posi­tion itself close to Repub­li­can posi­tions on many eco­nom­ic issues — pri­va­ti­za­tion, cor­po­rate tax incen­tives and min­i­miza­tion of busi­ness tax­es over­all. (Chica­go May­or Rahm Emanuel typ­i­fies this wing of the party.)
The new Repub­li­can cohort, now up for reelec­tion, won in 2010 for a vari­ety of rea­sons: high unem­ploy­ment, a demor­al­ized Demo­c­ra­t­ic base, an activist Tea Par­ty, and, thanks to the Supreme Court's Cit­i­zens Unit­ed deci­sion ear­li­er that year, big bucks from oli­garchs like the Koch broth­ers. Although employ­ment has improved slight­ly, the oth­er advan­tages hold true today, and Repub­li­cans are hop­ing to gain fur­ther lever­age by attack­ing Obamacare.
In 2014, how­ev­er, the class of 2010 will have guber­na­to­r­i­al records to defend. Some relied on bait-and-switch decep­tion to gain office. In his 2010 cam­paign, Walk­er ran on a con­ven­tion­al­ly con­ser­v­a­tive, anti-gov­ern­ment plat­form, but said noth­ing of a rad­i­cal plan to destroy pub­lic-sec­tor unions. A few months after tak­ing office, he pro­posed a ​"bud­get repair bill" that cut state work­ers' retire­ment and health ben­e­fits deeply and, more omi­nous­ly, elim­i­nat­ed or ren­dered mean­ing­less the rights of state employ­ees to bar­gain col­lec­tive­ly. Hun­dreds of thou­sands of peo­ple protest­ed at the Capi­tol and around the state, then tried — but failed — to recall Walk­er in 2012.
Along with the sur­pris­es came bro­ken promis­es, espe­cial­ly around job cre­ation. Though Walk­er pleased Big Mon­ey with new tax cuts for the wealthy, he almost cer­tain­ly won't deliv­er on his pledge of 250,000 new pri­vate-sec­tor jobs by the end of his first terms. Poli­ti­Fact esti­mates that Wis­con­sin has added just over 100,000 jobs under Walk­er as of April 1. The state now ranks 35th in job cre­ation.
The sto­ry is much the same for the oth­er new con­ser­v­a­tive Repub­li­can gov­er­nors. Kasich pri­va­tized Ohio's busi­ness devel­op­ment agen­cies and enabled tax breaks for busi­ness own­ers, promis­ing eco­nom­ic mir­a­cles, but the state's pri­vate-sec­tor job growth dropped from 26th to 34th in the nation.
In Flori­da, Scott promised 700,000 more new jobs in sev­en years than the state legislature's non-par­ti­san econ­o­mists were pro­ject­ing — a goal that would require about 20,000 new jobs each month. Scott has imple­ment­ed much of his stat­ed agen­da: cut­ting gov­ern­ment spend­ing and pub­lic-sec­tor jobs, pri­va­tiz­ing many gov­ern­ment func­tions, and dereg­u­lat­ing busi­ness. But since he took office, the state has gen­er­at­ed only about 12,000 jobs per month.
Cor­bett promised job growth in Penn­syl­va­nia as well, but dur­ing his term, the state ran well below aver­age near­ly every month, rank­ing 46th in the rate of job growth from Jan­u­ary 2011 to Decem­ber 2013. Unem­ploy­ment did fall, but most­ly due to work­ers drop­ping out of the job mar­ket. Cor­bett added insult to injury when he implied at a press con­fer­ence in 2013 that the unem­ployed couldn't find jobs because of their drug use: ​"Many employ­ers … say, ​'We're look­ing for peo­ple but we can't find any­body that has passed a drug [test].' "
Claim­ing he would be the ​"come­back kid" for the Michi­gan econ­o­my, Sny­der cut state busi­ness tax­es and signed an anti-union right-to-work law, but in Feb­ru­ary of this year, 7.7 per­cent of the work­force was unem­ployed, putting the state in 46th place in employ­ment — the same as when he took office.
Repub­li­can gov­er­nors will also have to face the music for reject­ing Med­ic­aid funds under the Afford­able Care Act, depriv­ing pop­u­la­tions that most need health­care of cov­er­age that is almost total­ly fed­er­al­ly financed. The Med­ic­aid rejec­tions in the South and Great Plains states were out­ra­geous, but they fit a his­tor­i­cal pat­tern of anti-gov­ern­ment ide­ol­o­gy, polit­i­cal hos­til­i­ty toward Oba­ma, and long­stand­ing, struc­tur­al neglect of the poor and peo­ple of col­or. But Repub­li­can gov­er­nors in some north­ern states also decid­ed not to expand Med­ic­aid — Walk­er in Wis­con­sin and LeP­age in Maine — while Mike Pence in Indi­ana and Cor­bett in Penn­syl­va­nia con­tin­ued to attempt to sub­sti­tute an infe­ri­or alter­na­tive. Their choic­es broke rad­i­cal­ly with past state tra­di­tions under past gov­er­nors from both parties.
Their states will suf­fer as a result. For exam­ple, Cit­i­zen Action of Wis­con­sin, a statewide, com­mu­ni­ty-based advo­ca­cy group, cal­cu­lates that Walker's rejec­tion of mil­lions of fed­er­al dol­lars in Med­ic­aid cov­er­age will not only deprive 84,700 low-income Wis­con­sinites of free health insur­ance, but also cost the state more than 16,600 new jobs, many in health­care. Because Walk­er reject­ed ACA reg­u­la­to­ry require­ments, Wis­con­sin res­i­dents may also pay insur­ance exchange rates near­ly twice as high as those in neigh­bor­ing Minnesota.
Their eco­nom­ic records alone should make the new class of Repub­li­can gov­er­nors vul­ner­a­ble to chal­lengers. That is clear­ly true in Maine and Penn­syl­va­nia, where LeP­age and Corbett's far-right poli­cies have not gone over well with the elec­torate, but the races look much clos­er in some states. Walk­er demon­strat­ed his resilience by win­ning a recall with a mod­er­ate Demo­c­rat, Tom Bar­rett, in 2012. Ana­lysts believe many vot­ers were unhap­py with Walk­er but thought that recalls should be reserved for moral fail­ings. How­ev­er, some also blamed Democ­rats for fail­ing to choose a more aggres­sive candidate.
It's unclear whether Walker's new Demo­c­ra­t­ic chal­lenger, Mary Burke, will fare bet­ter. Although an ear­ly March Ras­mussen poll of Wis­con­sin vot­ers showed a 45 – to – 45 tie, a poll by Mar­quette Uni­ver­si­ty Law School a few weeks lat­er found that Walk­er was lead­ing Burke 48 to 41. Polit­i­cal prog­nos­ti­ca­tors, such as Uni­ver­si­ty of Vir­ginia Pro­fes­sor Lar­ry Saba­to, call the race as ​"like­ly Republican."
Lit­tle-known and an inex­pe­ri­enced cam­paign­er, Burke seems more the earnest cor­po­rate lib­er­al admin­is­tra­tor than a razor-sharp pop­ulist fight­er for the com­mon man; more ready to seek coop­er­a­tion from Repub­li­cans than carve up Walker's record to reveal its hol­low core. Burke is a busi­ness­woman — she worked to expand for­eign mar­kets at her father's bicy­cle com­pa­ny, Trek — as well as a for­mer state com­merce sec­re­tary. Her web­site touts her ​"pri­vate sec­tor approach" to job cre­ation and ​"fis­cal respon­si­bil­i­ty," but does not direct­ly address the nation's grow­ing inequal­i­ty — hard­ly the pro­gram of a con­tem­po­rary ​"Fight­ing Bob" (or Rober­ta) LaFol­lette to ral­ly work­ing peo­ple to vote against Walk­er. How­ev­er, unlike Walk­er, Burke sup­ports pri­vate and pub­lic-sec­tor unions, accept­ing the ACA's expand­ed Med­ic­aid, halt­ing expan­sion of school vouch­ers and rais­ing the state min­i­mum wage to $10.10.
Wis­con­sin is usu­al­ly ​"even­ly divid­ed" between par­ties, with Madi­son and Mil­wau­kee Demo­c­ra­t­ic strong­holds, Mil­wau­kee sub­urbs and exurbs solid­ly Repub­li­can, and many small cities from Janesville to Supe­ri­or pro­vid­ing the swing votes, says Robert Kraig, exec­u­tive direc­tor of Cit­i­zen Action of Wis­con­sin. Defeat­ing Walk­er, espe­cial­ly if there is a nation­al ​"surge" of sup­port for Repub­li­cans, will depend great­ly on the work of unions, com­mu­ni­ty-based groups such as Cit­i­zen Action, and labor-com­mu­ni­ty coali­tions like We Are Wis­con­sin. Ser­vice Employ­ees Inter­na­tion­al Union (SEIU) Health­care Wis­con­sin Vice-Pres­i­dent Bruce Col­burn says that Burke's sup­port­ers will have to work to ​"tie the issues [of inequal­i­ty] to the elec­tion" in order for work­ing-class vot­ers to appre­ci­ate the stakes.
Prospects look rosier for Democ­rats in Maine, where chal­lenger Rep. Mike Michaud is run­ning ahead of both incum­bent Gov. Paul LeP­age and Inde­pen­dent Eliot Cut­ler. Michaud, a long­time paper mill work­er and union mem­ber, has already estab­lished him­self as ​"the cham­pi­on of the work­ing man," accord­ing to Mike Tip­ping, com­mu­ni­ca­tions direc­tor of the Maine People's Alliance. More lib­er­al than his past cau­cus­ing with the Blue Dogs would sug­gest, he is a lead­ing crit­ic of con­ven­tion­al trade deals. By con­trast, LePage's deci­sion to remove a state labor his­to­ry mur­al from the Maine Labor Depart­ment because the depic­tions of work­ers were ​"anti-busi­ness" sym­bol­ized for many his flam­boy­ant Tea Par­ty pol­i­tics. Cut­ler, a wealthy lawyer at a pow­er­ful D.C. law firm, split the Demo­c­ra­t­ic vote four years ago. LePage's embod­i­ment of Tea Par­ty style and ide­ol­o­gy is also unlike­ly to go over well with Maine's mod­er­ate Repub­li­cans and large inde­pen­dent bloc.
In some of the oth­er hot­ly con­test­ed guber­na­to­r­i­al races, such as Penn­syl­va­nia, Flori­da, and Ohio, the prospects remain mixed but encour­ag­ing for Democ­rats. Either of the fron­trun­ners in the upcom­ing Penn­syl­va­nia Demo­c­ra­t­ic pri­ma­ry, busi­ness­man Tom Wolf and cen­trist U.S. Rep. Alyson Schwartz, should be able to beat incum­bent Tom Cor­bett. In Flori­da, Demo­c­ra­t­ic chal­lenger Char­lie Crist, a for­mer Repub­li­can gov­er­nor, leads ultra-con­ser­v­a­tive incum­bent Repub­li­can Rick Scott, part­ly because of Scott's fail­ure to get his party's leg­is­la­tors to sup­port expan­sion of Med­ic­aid under the ACA. In Ohio, vot­ers rebuffed Repub­li­can Gov. John Kasich when they reject­ed his anti-union law by a 62 – 38 mar­gin in a 2011 ref­er­en­dum. While the Demo­c­ra­t­ic chal­lenger, Cuyahoga
Coun­ty exec­u­tive Ed FitzGer­ald, trails in the polls, Ohio AFL-CIO polit­i­cal direc­tor Jason Perl­man thinks that blue-col­lar FitzGer­ald will pick up both unde­cid­ed vot­ers and soft Kasich sup­port­ers as they get to know him.
Seiz­ing the terms of the debate
One impor­tant ele­ment of the guber­na­to­r­i­al elec­tions involves chal­leng­ing the anti-gov­ern­ment Tea Par­ty ide­ol­o­gy with a com­pelling vision of how work­ing peo­ple can make gov­ern­ment work for them. In many ways, each bat­tle over min­i­mum wage or the right-wing attacks on Oba­macare is also a fight over the role of gov­ern­ment in the economy.
​"This is about more than the min­i­mum wage," said Amer­i­can Fed­er­a­tion of Teach­ers Pres­i­dent Ran­di Wein­garten at a Feb­ru­ary press con­fer­ence. ​"What kind of econ­o­my do we need in the rich­est coun­try in the world to raise liv­ing standards?"
Polls indi­cate that a con­ver­sa­tion about the econ­o­my could allow Democ­rats to gain trac­tion, even with Repub­li­can vot­ers. A Feb­ru­ary poll by Hart Research Asso­ciates of vot­ers in Flori­da, Michi­gan, Ohio, Penn­syl­va­nia and Wis­con­sin — five states with Repub­li­can gov­er­nors from the 2010 Tea Par­ty cohort — found that three-fifths are dis­sat­is­fied with the econ­o­my and feel they are falling behind finan­cial­ly. This dis­con­tent is espe­cial­ly pro­nounced among fam­i­lies earn­ing $50,000 or less, includ­ing low­er-income Repub­li­cans, and it is hurt­ing gov­er­nors' approval ratings.
The Hart sur­vey indi­cates that any can­di­date will gain sig­nif­i­cant sup­port if he or she promis­es to crack down on wage theft, pro­pos­es paid fam­i­ly and sick leave, and requires that com­pa­nies doing busi­ness with the state pay a ​"liv­ing wage" and not vio­late labor law.
​"Rais­ing wages for Amer­i­cans, for all work­ers, is the issue of our time and, hope­ful­ly, the issue of this elec­tion," AFL-CIO Pres­i­dent Richard Trum­ka told reporters at the federation's Feb­ru­ary exec­u­tive coun­cil meet­ing, adding that it would be the frame­work for polit­i­cal action by the federation.
Despite its well-pub­li­cized decline, the labor move­ment is prob­a­bly the largest grass­roots polit­i­cal orga­ni­za­tion in the coun­try. The AFL-CIO can muster its 56 affil­i­at­ed unions, plus its 3 mil­lion-mem­ber com­mu­ni­ty affil­i­ate, Work­ing Amer­i­ca, and its Super PAC, Work­ers' Voice. Unions reach not only their 14.5 mil­lion mem­bers, but also those mem­bers' fam­i­lies and neigh­bors — at work, at home, by mail, print and phone, online, and on the air. Unions both give mon­ey direct­ly to can­di­dates and, increas­ing­ly, run their own cam­paigns for can­di­dates, pick­ing mes­sages they think are both effec­tive in the short run and will con­tribute to labor's long-term goals. Some local labor fed­er­a­tions even offer class­es to candidates.
Labor's cam­paign­ing appears to have an impact: In 2012, 65 per­cent of union mem­bers vot­ed for Oba­ma, while 33 per­cent vot­ed for Rom­ney. The union effect is even clear­er with­in a nar­row­er demo­graph­ic: In 2008, white peo­ple who had not grad­u­at­ed from col­lege favored McCain by 18 per­cent­age points, but of that group, those who were union mem­bers favored Oba­ma by 23 points.
This time around, the army of union cam­paign­ers will not rely sole­ly on the con­ven­tion­al polit­i­cal work of dis­trib­ut­ing leaflets, mak­ing phone calls and knock­ing on doors of union mem­bers. The AFL-CIO, its affil­i­ates and the inde­pen­dent, 1.8 mil­lion-mem­ber SEIU have all said they will also take direct action to sup­port ongo­ing labor and com­mu­ni­ty cam­paigns for high­er wages, includ­ing ref­er­en­da that are expect­ed in many places around the coun­try. By doing so, they will rein­force their plan to make income and inequal­i­ty the focus of the elec­tion, and boost the appeal of pro­gres­sive can­di­dates run­ning on these themes. Repub­li­can lead­ers oppose such ini­tia­tives as a high­er min­i­mum wage, but they are win­ners with the major­i­ty of Amer­i­cans. In a Jan­u­ary 2014 Pew poll, 73 per­cent of peo­ple favored a $10.10 fed­er­al min­i­mum wage.
While com­mu­ni­ty groups tra­di­tion­al­ly focused nar­row­ly on local issue-based cam­paigns, they are increas­ing­ly wad­ing into the elec­toral fray. Nation­al People's Action (NPA), an umbrel­la orga­ni­za­tion of more than 30 com­mu­ni­ty orga­niz­ing groups with some 90,000 total mem­bers, recent­ly launched a 501©4 arm, the Nation­al People's Action Cam­paign (NPAC). NPAC and its affil­i­ates are work­ing to secure the reelec­tion of pro­gres­sive gov­er­nors such as Mark Day­ton of Min­neso­ta. They've also set their sights on remov­ing right-wingers like Sam Brown­back in Kansas. They are attack­ing Brown­back by high­light­ing the actions of his extreme­ly anti-immi­grant sec­re­tary of state, Kris Kobach, who estab­lished a strict vot­er-ID law and wants to require that all vot­ers demon­strate pro­fi­cien­cy in writ­ten Eng­lish. Already, offi­cials have used the vot­er-ID pro­vi­sion to remove about 20,000 vot­ers, pre­dom­i­nate­ly poor, from the rolls, says NPAC Direc­tor of Move­ment Pol­i­tics Ryan Green­wood. To fight back, Kansas People's Action plans to edu­cate and turn out many of the 100,000 vot­ers who sup­port­ed Oba­ma in 2012 but did not vote in 2010.
NPAC's ulti­mate goal is not just to stop the pain being inflict­ed by right-wing gov­er­nors, but to ush­er in can­di­dates who will make real pro­gres­sive strides. Michaud, for exam­ple, has expressed sup­port for a state sin­gle pay­er insur­ance plan and is like­ly to be sym­pa­thet­ic to Maine People's Alliance's plan to roll back LePage's tax cuts and raise tax­es on the wealthy. And besides cam­paign­ing for can­di­dates, union and com­mu­ni­ty groups often ​"bird-dog" can­di­dates they oppose at the oppo­si­tion ral­lies, rais­ing crit­i­cisms and ques­tion­ing their posi­tions on issues (as Maine People's Alliance is doing against LeP­age). Many of these guber­na­to­r­i­al bat­tles will indi­rect­ly be ref­er­en­da on the Tea Par­ty fac­tion in the Repub­li­can Par­ty. They will also be tests of how well the com­bined efforts of labor and com­mu­ni­ty groups, operating
through their sep­a­rate polit­i­cal orga­ni­za­tions, can edu­cate and turn out their mem­bers and oth­er vot­ers. But first they will have to teach can­di­dates for gov­er­nor that chal­leng­ing the inequal­i­ty and unfair­ness of today's Amer­i­can econ­o­my — and the abuse of pow­er by cor­po­ra­tions and the very rich — is not only the right thing to do. It's also, prag­mat­i­cal­ly, the way to win.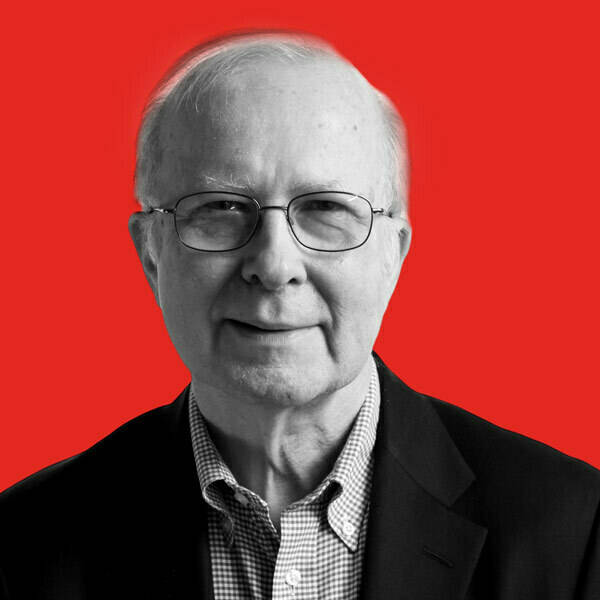 David Moberg, a senior edi­tor of In These Times, has been on the staff of the mag­a­zine since it began pub­lish­ing in 1976. Before join­ing In These Times, he com­plet­ed his work for a Ph.D. in anthro­pol­o­gy at the Uni­ver­si­ty of Chica­go and worked for Newsweek. He has received fel­low­ships from the John D. and Cather­ine T. MacArthur Foun­da­tion and the Nation Insti­tute for research on the new glob­al economy.