In 2028 Olympics, L.A. Residents See a Police State on Steroids
Community groups are torching the city's Olympic plans.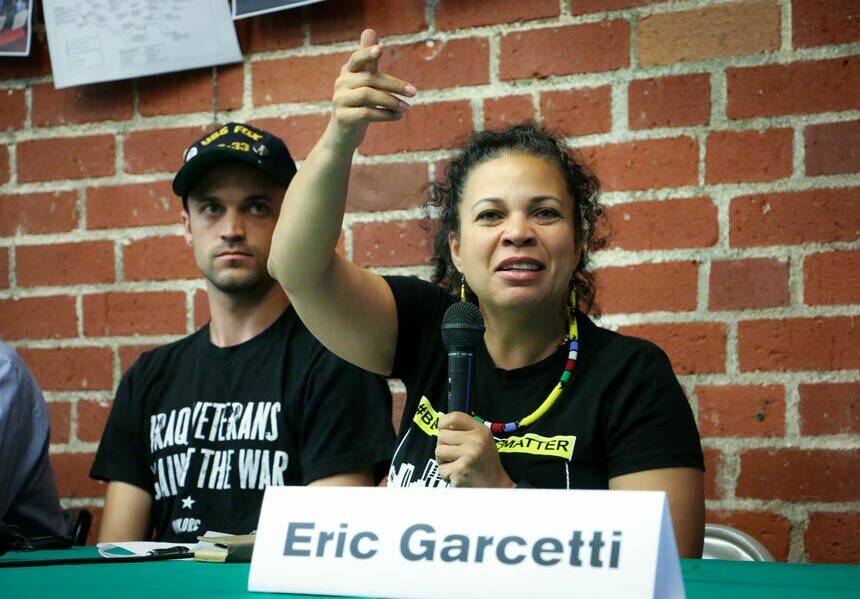 Facing an audience of about 150 in a barnyard-sized building in South Los Angeles, a paper placard marked ​"Eric Garcetti" sat before an empty seat. The mayor had been invited to the public forum, hosted by the Democratic Socialists of America (DSA), on the potential negative impacts of the 2028 Olympics. To no one's surprise, the mayor did not show.
The Olympic Games are a colossal event that affects practically every part of a host city—its infrastructure, politics and lifeblood. As such, any opposition to the Olympics becomes a laboratory of intersectionality.
In late July, the 2028 Olympics were awarded to Los Angeles, following a lengthy bidding process that involved the mayor, city council, a number of wealthy donors, President Trump, and the International Olympics Committee. According to DSA spokesperson Jonny Coleman, L.A. officials barely engaged ordinary residents, beyond a few overpriced luncheons billed as ​"public forums." (The mayor's press secretary did not respond to a request for comment.)
The Olympic Games are a colossal event that affects practically every part of a host city — its infrastructure, politics and lifeblood. As such, any opposition to the Olympics becomes a laboratory of intersectionality. Anne Orchier, a ​"NOlympics" organizer, says one of the reasons DSA chose to launch a major campaign targeting the Olympics was the potential to ​"increase solidarity" across a wide range of issues. At the panel in South L.A., more than a dozen activists working on issues of homelessness, affordable housing, public transit, police violence and gentrification spoke on panels dissecting the common threat posed by the games.
Joe Donlin, from the housing advocacy group Strategic Actions for a Just Economy, described how the political will to ​"clean up" neighborhoods before the Olympics will afford land speculators the opportunity to gobble up properties, evict tenants and convert units into Airbnbs. Pete White, founder of the homeless advocacy organization Los Angeles Community Action Network, talked about how the mere announcement of the games is an ​"accelerant to gentrification" for neighborhoods surrounding proposed facilities. Nancy Popp, from the Los Angeles Tenants Union, described how the Olympics incentivize cities to invest in transit lines that serve tourists and developers, rather than working residents.
And in the city of Rodney King, organizers worry that the Olympics will boost the power of the LAPD. The price tag on security has been projected to reach $2 billion. For the 1984 Olympics, L.A. created what the New York Times described as ​"the largest and most expensive [security net] ever imposed on a peacetime enterprise," with ​"thousands of federal agents, National Guardsmen and local law enforcement," ​"a huge arsenal" of ​"silencer-equipped machine guns and scores of sniper rifles," ​"a task force of antiterrorist specialists," more than 100 helicopters and a ​"399-foot icebreaker" Coast Guard ship patrolling the ports. In the weeks leading up to the opening ceremony, the LAPD swept through historically Black, working-class South L.A., where much of the Olympics were held, clearing the area of suspected gang members and drug dealers (that is, Black and Latino teenagers) and homeless people.
After the tourists and athletes went home, the security apparatus built for the occasion remained. In February 1985, the LAPD deployed an armored vehicle with a 14-foot battering ram to smash through the wall of a suspected crack house with no crack in it, just a negligible amount of marijuana and some women and children eating ice cream. The armored vehicle was left over from the games.
The 1984 Olympics didn't open this chapter of LAPD overreach, but the windfall of money, equipment and new hires expanded and modernized its capacity to oppress. ​"Communities were under siege," recalls Pete White, who grew up in South L.A. He expects the 2028 games to be no different.
Melina Abdullah, a panelist from Black Lives Matter – L.A., notes that some people spend more than $20,000 to attend the Olympics. ​"So what kind of people are they trying to protect?" she asks. ​"People who have $20,000 to spend on a fucking game."
Deadline: Saturday
We're down to the final hours of our summer fundraising drive. If you've already chipped in, thank you so much. If you haven't yet, there's still time.
Every story you see on inthesetimes.com or in the monthly magazine is funded entirely through fundraising drives like this. That's why they're so important, and that's why we're asking you to give.

Even as little as $5 helps, and it only takes a minute to donate. Will you chip in before the deadline?
Help In These Times get back on track
As a nonprofit, reader-supported publication, In These Times is funded entirely by readers like you—but through the first half of 2021, reader donations are down nearly 20%. Saturday is the deadline for our summer fundraising drive. Will you chip in to help get us back on track?