In 2028 Olympics, L.A. Residents See a Police State on Steroids
Community groups are torching the city's Olympic plans.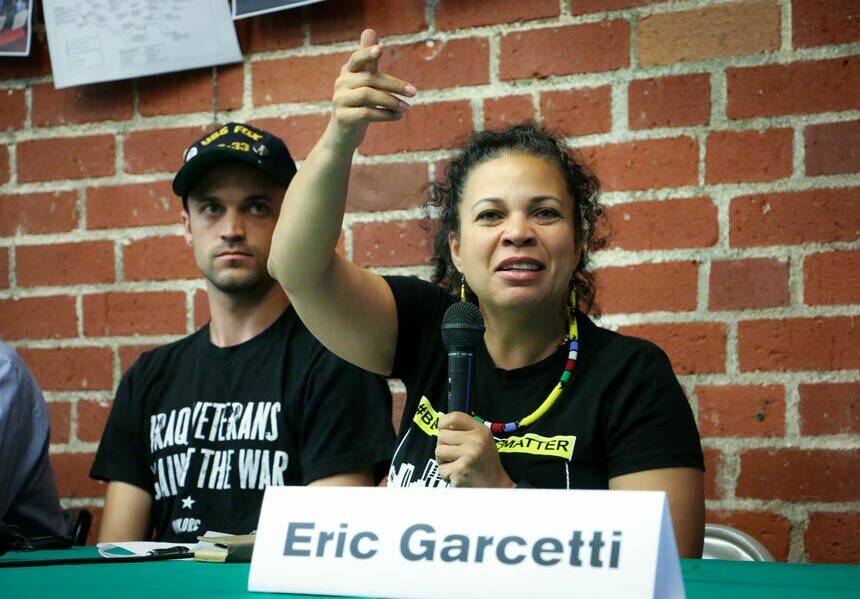 Fac­ing an audi­ence of about 150 in a barn­yard-sized build­ing in South Los Ange­les, a paper plac­ard marked ​"Eric Garcetti" sat before an emp­ty seat. The may­or had been invit­ed to the pub­lic forum, host­ed by the Demo­c­ra­t­ic Social­ists of Amer­i­ca (DSA), on the poten­tial neg­a­tive impacts of the 2028 Olympics. To no one's sur­prise, the may­or did not show.
The Olympic Games are a colossal event that affects practically every part of a host city—its infrastructure, politics and lifeblood. As such, any opposition to the Olympics becomes a laboratory of intersectionality.
In late July, the 2028 Olympics were award­ed to Los Ange­les, fol­low­ing a lengthy bid­ding process that involved the may­or, city coun­cil, a num­ber of wealthy donors, Pres­i­dent Trump, and the Inter­na­tion­al Olympics Com­mit­tee. Accord­ing to DSA spokesper­son Jon­ny Cole­man, L.A. offi­cials bare­ly engaged ordi­nary res­i­dents, beyond a few over­priced lun­cheons billed as ​"pub­lic forums." (The mayor's press sec­re­tary did not respond to a request for comment.)
The Olympic Games are a colos­sal event that affects prac­ti­cal­ly every part of a host city — its infra­struc­ture, pol­i­tics and lifeblood. As such, any oppo­si­tion to the Olympics becomes a lab­o­ra­to­ry of inter­sec­tion­al­i­ty. Anne Orchi­er, a ​"NOlympics" orga­niz­er, says one of the rea­sons DSA chose to launch a major cam­paign tar­get­ing the Olympics was the poten­tial to ​"increase sol­i­dar­i­ty" across a wide range of issues. At the pan­el in South L.A., more than a dozen activists work­ing on issues of home­less­ness, afford­able hous­ing, pub­lic tran­sit, police vio­lence and gen­tri­fi­ca­tion spoke on pan­els dis­sect­ing the com­mon threat posed by the games.
Joe Don­lin, from the hous­ing advo­ca­cy group Strate­gic Actions for a Just Econ­o­my, described how the polit­i­cal will to ​"clean up" neigh­bor­hoods before the Olympics will afford land spec­u­la­tors the oppor­tu­ni­ty to gob­ble up prop­er­ties, evict ten­ants and con­vert units into Airbnbs. Pete White, founder of the home­less advo­ca­cy orga­ni­za­tion Los Ange­les Com­mu­ni­ty Action Net­work, talked about how the mere announce­ment of the games is an ​"accel­er­ant to gen­tri­fi­ca­tion" for neigh­bor­hoods sur­round­ing pro­posed facil­i­ties. Nan­cy Popp, from the Los Ange­les Ten­ants Union, described how the Olympics incen­tivize cities to invest in tran­sit lines that serve tourists and devel­op­ers, rather than work­ing residents.
And in the city of Rod­ney King, orga­niz­ers wor­ry that the Olympics will boost the pow­er of the LAPD. The price tag on secu­ri­ty has been pro­ject­ed to reach $2 bil­lion. For the 1984 Olympics, L.A. cre­at­ed what the New York Times described as ​"the largest and most expen­sive [secu­ri­ty net] ever imposed on a peace­time enter­prise," with ​"thou­sands of fed­er­al agents, Nation­al Guards­men and local law enforce­ment," ​"a huge arse­nal" of ​"silencer-equipped machine guns and scores of sniper rifles," ​"a task force of antiter­ror­ist spe­cial­ists," more than 100 heli­copters and a ​"399-foot ice­break­er" Coast Guard ship patrolling the ports. In the weeks lead­ing up to the open­ing cer­e­mo­ny, the LAPD swept through his­tor­i­cal­ly Black, work­ing-class South L.A., where much of the Olympics were held, clear­ing the area of sus­pect­ed gang mem­bers and drug deal­ers (that is, Black and Lati­no teenagers) and home­less people.
After the tourists and ath­letes went home, the secu­ri­ty appa­ra­tus built for the occa­sion remained. In Feb­ru­ary 1985, the LAPD deployed an armored vehi­cle with a 14-foot bat­ter­ing ram to smash through the wall of a sus­pect­ed crack house with no crack in it, just a neg­li­gi­ble amount of mar­i­jua­na and some women and chil­dren eat­ing ice cream. The armored vehi­cle was left over from the games.
The 1984 Olympics didn't open this chap­ter of LAPD over­reach, but the wind­fall of mon­ey, equip­ment and new hires expand­ed and mod­ern­ized its capac­i­ty to oppress. ​"Com­mu­ni­ties were under siege," recalls Pete White, who grew up in South L.A. He expects the 2028 games to be no different.
Meli­na Abdul­lah, a pan­elist from Black Lives Mat­ter – L.A., notes that some peo­ple spend more than $20,000 to attend the Olympics. ​"So what kind of peo­ple are they try­ing to pro­tect?" she asks. ​"Peo­ple who have $20,000 to spend on a fuck­ing game."