25,000 Workers Strike Across Europe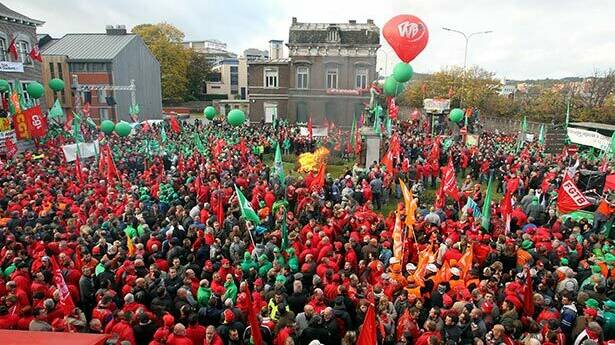 We wanted to make sure you didn't miss the announcement of our new Sustainer program. Once you've finished reading, take a moment to check out the new program, as well as all the benefits of becoming a Sustainer.

Steelworkers from a handful of nations took action today against a corporate giant they claim prioritizes profit over long-term industrial productivity and job security.
The European Metalworkers' Federation (EMF) — a group of 75 unions from 36 countries representing the interests of 5.5 million members — protested recent layoffs and plant closures announced by ArcelorMittal, the world's largest steel producer.
Labor actions today included: 24-hour strikes at factories in Luxembourg, Belgium and France; a rally of more than 40,000 steelworkers and sympathizers in Liege, Belgium; symbolic protests and work stoppages at plants in Italy, Germany and Spain; and assemblies and solidarity rallies in the Czech Republic, Macedonia, Romania and Poland.
In total, 25,000 workers walked out across Europe.
In response to EMF's activity, Willie Smit — the head of human resources at ArcelorMittal—claims that the company respects workers' right to protest, but that such actions are counterproductive: ​"No company enjoys having to stop production or even having to consider permanent closures." According to ArcelorMittal, the demand for European steel is only 75 percent of pre-financial crisis levels, thus warranting cuts in its workforce and infrastructure.
Workers and unions, however, contend that the company is liquidating productive plants that could provide the basis for a long-term, stable and profitable steel industry in Europe.
Bart Samyn, deputy general secretary to the EMF, argues that ArcelorMittal is behaving more like ​"an investment bank than a steel producer," as the company overlooks the economic value of a skilled workforce, pumping money overseas instead of investing in a bedrock industry at home. Samyn accuses ArcelorMittal of a myopic obsession with profit that will ultimately eliminate industry from Europe, rendering European steel jobs obsolete while nations with lower-wage workforces churn out poor-grade product in return.
A similar scenario presented itself last year, when ArcelorMittal shut down two profitable U.S. mills — one in Lackawanna, N.Y., and another in Hennepin, Ill. — despite offers from other businesses that would have kept both operational.
For In These Times, Roger Bybee wrote about the Lackawanna mill (whose productive output hovered around $6 million a month), saying that "[a] perspective buyer had been pressing ArcelorMittal for at least two months to sell the mill and thus keep open the profitable operation … and the jobs alive." Instead, ArcelorMittal ​"pushed aggressively to gut the mill, rushing to dismantle complex, custom-built ovens and other equipment that would be very costly to replace."
As a result, the workers — who had earned between $40,000 and $50,000 at the mill — were thrown into Upstate New York's shoddy job market, taking work with significantly lower salaries. Anthony Fortunato, president of United Steelworkers Local 2604 at the time, remarked before the mill's closing that "[o]ur guys will have to work two or three jobs to make what they earn here." ArcelorMittal sent one of the closed mills' product lines to low-wage-paying Brazil.
This pattern mirrors events in Europe, where steelworkers now face the same corporate behemoth whose bottom-line matters more than the preservation of trained workforces and domestic industries.
But EMF is not alone in decrying the loss of well-paying industrial work to overseas job markets. As more than 25,000 ArcelorMittal workers walk out today — scalling back production by 10 to 20 percent — many others stand in solidarity with their actions. Eric de Deyn, spokesperson for the BBTK union in Belgium, told Reuters that, at the rally in Liege, ​"There are not just steelworkers here today, there are also workers from other sectors, both industry and services, who are on strike."
​"All shops in the city center are closed out of solidarity with the workers of ArcelorMittal," he added.
Become a Sustainer
We surveyed thousands of readers and asked what they would like to see in a monthly giving program. Many of you expressed interest in magazine subscriptions, gift subscriptions, tote bags, events and books —and we've added all of those. Some of you said that cost was an issue, so we've kept our starting tier at just $5 a month—less than 17 cents a day.

Now, for the first time, we're offering three different levels of support, with unique rewards at each level, for you to choose from. Check out the new Sustainer program.
Patrick Glennon
is a writer and musician living in Chicago. He received his B.A. in History from Skidmore College and currently works as Communications Manager for the Michael Forti for Cook County Court campaign and as the web intern at
In These Times
.