Troubled Mayoral Race in St. Louis Shows Need for Ranked Choice Voting
Ranked choice voting offers a proven solution that empowers communities of color as well as candidates.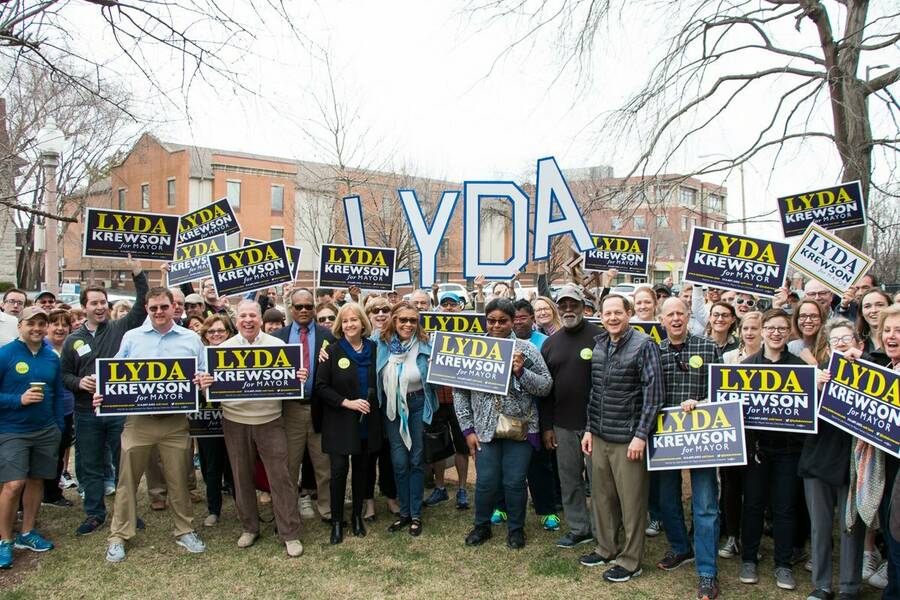 Fer­gu­son. Michael Brown. Racial ten­sions at the Uni­ver­si­ty of Mis­souri. St. Louis being crowned as the fifth most seg­re­gat­ed city in the Unit­ed States.
"The result in St. Louis should be a wake up call for people of color and progressive leaders everywhere."
If ever there were places in need of racial heal­ing, they are the state of Mis­souri and the St. Louis region. Instead, what St. Louis got was a racial­ly divid­ed elec­tion for may­or that has poured salt into the wounds. Tuesday's win­ner, a white mod­er­ate Demo­c­rat, ben­e­fit­ed from a split with­in the black com­mu­ni­ty that chose among a heav­i­ly African-Amer­i­can field of candidates.
It has been decades since St. Louis, which is almost major­i­ty black, elect­ed its first African-Amer­i­can may­or, and many are upset that, in their view, unchecked egos cost the black com­mu­ni­ty an oppor­tu­ni­ty to lead this racial­ly strained city. But also at fault was the defec­tive ​"win­ner-take-all" elec­toral method used in the pri­ma­ry, which result­ed in the black vote frag­ment­ing among too many candidates.
In the Demo­c­ra­t­ic pri­ma­ry, Alder­woman Lyda Krew­son eked out a slim vic­to­ry against six chal­lengers, five of them African-Amer­i­can, win­ning with only 32 per­cent of the vote and a nar­row 879-vote mar­gin. That means more than two thirds of vot­ers picked anoth­er can­di­date besides the victor.
In a city that is 49 per­cent black, the African-Amer­i­can vote was not able to come togeth­er around a sin­gle can­di­date, result­ing in city Trea­sur­er Tishau­ra Jones fin­ish­ing sec­ond with 30 per­cent of the vote while Lewis Reed, city coun­cil pres­i­dent, was third with 18 per­cent, fol­lowed by Alder­man Anto­nio French with 16 per­cent. All three leaned pro­gres­sive, with some dif­fer­ences over spe­cif­ic issues.
This dynam­ic allowed the only promi­nent white can­di­date in the Demo­c­ra­t­ic pri­ma­ry, and the more con­ser­v­a­tive can­di­date in the race among the fron­trun­ners, to walk away with the win. Because St. Louis is a heav­i­ly Demo­c­ra­t­ic city, Krew­son eas­i­ly out­dis­tanced her main oppo­nent, a black Repub­li­can, in the gen­er­al election.
St. Louis Uni­ver­si­ty polit­i­cal sci­en­tist Ken War­ren has observed that if either Reed or French had dropped out, Jones could have beat­en Krew­son, per­haps easily.
"The fact that the black com­mu­ni­ty did not ral­ly around one can­di­date makes it clear they spoiled their chances of being rep­re­sent­ed by a black may­or," War­ren said.
In the face of this dis­ap­point­ing loss, fin­ger-point­ing and recrim­i­na­tions are flying.
"Over­all I felt like ego, patri­archy and sex­ism were the things that were lead­ing the oth­er can­di­dates not to want to get out of the race. At some point we have to stop fight­ing each oth­er and try to come togeth­er because now we are look­ing at four more years of poli­cies that we all claim that we did­n't want," said Jones.
The pos­si­bil­i­ties of ranked choice voting
This dynam­ic has hap­pened in oth­er heav­i­ly pop­u­lat­ed African-Amer­i­can cities, where what would seem to be favor­able demo­graph­ics does not always result in more black lead­ers. Chica­go, for exam­ple, where African-Amer­i­cans make up almost a third of the pop­u­la­tion, has had only one black may­or in the last 30 years. Detroit and New Orleans, which are 83 per­cent and 60 per­cent black, respec­tive­ly, have white may­ors. New York City and Los Ange­les haven't had African Amer­i­can may­ors in decades.
Split­ting the vote among too many can­di­dates has long been a sig­nif­i­cant bar­ri­er for racial minor­i­ty com­mu­ni­ties, but pro­posed solu­tions have their own prob­lems. Emory Uni­ver­si­ty polit­i­cal sci­en­tist Michael Leo Owens has made the case that a class of influ­en­tial polit­i­cal elites must exert pres­sure to dis­cour­age weak­er con­tenders from run­ning in order to pre­vent too many minor­i­ty can­di­dates. But in the past such tac­tics have result­ed in the worst kind of back­room pol­i­tics and polit­i­cal machines.
Isn't there a way to allow mul­ti­ple can­di­dates to run, and vot­ers to pick the can­di­dates they like, with­out the con­tenders knock­ing each oth­er out of the race?
For­tu­nate­ly, there is. It's called ranked choice vot­ing (RCV). With this method, which is used in a num­ber of major U.S. cities, includ­ing Min­neapo­lis, St. Paul, Oak­land and San Fran­cis­co, as well as in Lon­don, Ire­land and Aus­tralia, vot­ers get to rank at least three choic­es, instead of pick­ing only one can­di­date. Vot­ers put their favorite can­di­date in the top spot, and then rank oth­er can­di­dates, in order of pref­er­ence, as backups.
With RCV in the St. Louis elec­tion, a vot­er could have ranked Reed or French as her first choice and then Jones as her sec­ond or third choice. When Reed or French were elim­i­nat­ed from what's called the ​"instant runoff," due to lack of sup­port, their sup­port­ers' votes would have gone to their sec­ond choice.
Ranked choice vot­ing pre­vents ​"spoil­er" can­di­dates and split votes with­in groups of like-mind­ed vot­ers. In the case of St. Louis, it also would have ensured that the fron­trun­ners, Krew­son and Jones, tried to reach out beyond their bases to win a true major­i­ty coali­tion. RCV pro­vides incen­tives for can­di­dates to extend across the usu­al bat­tle lines and find com­mon ground. It changes the strat­e­gy of an elec­tion from one of ​"you against me" to one of build­ing coalitions.
This becomes espe­cial­ly impor­tant in any city that is divid­ed, whether on racial, par­ti­san or eco­nom­ic grounds. RCV helps to reduce the divi­sion and polar­iza­tion that can too eas­i­ly creep into our pol­i­tics. Racial minori­ties in San Fran­cis­co, Min­neapo­lis and Oak­land all have done par­tic­u­lar­ly well using the RCV system.
In San Fran­cis­co, for exam­ple, the first Asian-Amer­i­can may­or was elect­ed in 2011, and in Oak­land the first Asian-Amer­i­can woman was elect­ed may­or in 2010. Both con­tests used RCV elec­tions. Addi­tion­al­ly, RCV has helped pro­duce the most rep­re­sen­ta­tive and diverse Board of Super­vi­sors in San Fran­cis­co's his­to­ry. Cur­rent­ly, eight out of 11 mem­bers of the Board of Super­vi­sors are eth­nic or racial minori­ties and six are women of col­or. Indeed, of all 53 seats elect­ed by RCV in the Bay Area, 61 per­cent are held by peo­ple of col­or. Min­neapo­lis' RCV elec­tions result­ed in the first Lati­no, Soma­li and Hmong Cam­bo­di­an can­di­dates being elect­ed to the city council.
In city after city, RCV has pro­duced a diverse and rep­re­sen­ta­tive group of elect­ed offi­cials. And can­di­dates are win­ning by build­ing coali­tions with racial minor­i­ty com­mu­ni­ties, no longer split­ting their votes among too many candidates.
RCV also pro­vides some cam­paign finance reform, as well as boosts vot­er turnout. Using RCV, tax­pay­ers have saved the cost of a need­less sec­ond runoff elec­tion, and can­di­dates don't have to raise mon­ey for two elec­tions. Vot­ers and orga­ni­za­tions can max­i­mize turnout by mobi­liz­ing for one elec­tion. By get­ting the vote over in a sin­gle RCV elec­tion in Novem­ber, when more vot­ers are at the polls to vote for pres­i­dent or gov­er­nor, more peo­ple get to have a say in who their local elect­ed offi­cials are.
A wake up call
If RCV had been used in St. Louis's Demo­c­ra­t­ic may­oral pri­ma­ry, it's very like­ly that Jones would have been able to make up the 879-vote dif­fer­ence by pick­ing up the sec­ond and third rank­ings from sup­port­ers of the oth­er black can­di­dates. But anoth­er pos­si­bil­i­ty is that Krew­son would have had to reach out beyond her base in the white neigh­bor­hoods to the black com­mu­ni­ty and to the sup­port­ers of the oth­er can­di­dates. She might still have fin­ished first, but only if she was suc­cess­ful in build­ing a coali­tion by attract­ing enough black vot­ers to win a major­i­ty, which would have result­ed in less divi­sion, more legit­i­ma­cy and a stronger mandate.
The result in St. Louis should be a wake up call for peo­ple of col­or and pro­gres­sive lead­ers every­where. When a white can­di­date wins in a black city with less than a third of the vote — and those votes are won pre­dom­i­nant­ly in the white areas, while the votes from African Amer­i­cans get split among too many black can­di­dates —it's time to take a look at the rules of the game that allowed that out­come to hap­pen. Ranked choice vot­ing offers a proven solu­tion that empow­ers com­mu­ni­ties of col­or as well as can­di­dates. It is a pow­er­ful tool in the vot­ing rights arse­nal that should be deployed in every U.S. city.
Steven Hill is co-founder of Fair­Vote and the author of sev­en books, includ­ing​"10 Steps to Repair Amer­i­can Democ­ra­cy" and ​"Fix­ing Elec­tions: The Fail­ure of America's Win­ner Take All Pol­i­tics". His opin­ions are his own.