A Rundown of All the Ways Trump Is Overseeing an All Out, Under-the-Radar Attack on Workers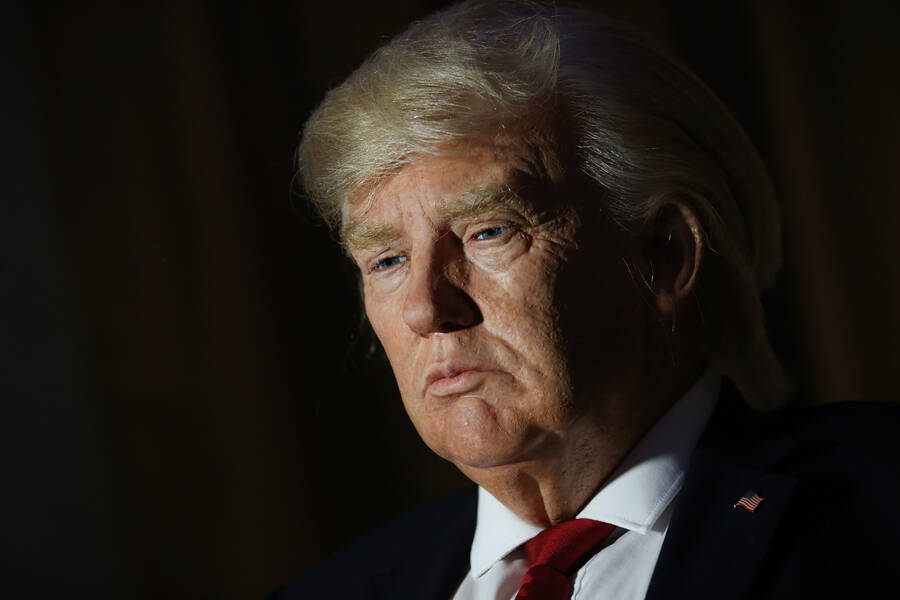 Amidst head­lines about porn stars and bro­mance with Russ­ian Pres­i­dent Vladimir Putin, it can be hard to track the many ways the Trump admin­is­tra­tion is hurt­ing work­ers in the Unit­ed States. The Supreme Court's Janus rul­ing that struck a blow to unions' abil­i­ty to col­lect mem­ber­ship dues held a brief spot­light in the nation­al news churn. But in a more-qui­et fash­ion, the Trump admin­is­tra­tion already has been slow­ly dis­man­tling work­er pro­tec­tions, espe­cial­ly those enact­ed under the Oba­ma administration.
Dur­ing his pres­i­den­tial cam­paign, Don­ald Trump repeat­ed­ly pro­claimed that he would help work­ers. He even boast­ed, ​"I have great rela­tion­ships with unions." But actions speak loud­er than words, and the poli­cies pur­sued by the Trump admin­is­tra­tion have direct­ly tar­get­ed mid­dle and low­er-income work­ers and labor unions.
The anti-labor attack gained momen­tum in the last weeks of 2017. Pres­i­dent Trump had to wait until his two nom­i­nees to the five-mem­ber Nation­al Labor Rela­tions Board (NLRB) were con­firmed. Those new mem­bers flipped the board's major­i­ty from Demo­c­ra­t­ic to Repub­li­can. The NLRB, which over­sees col­lec­tive bar­gain­ing law and enforce­ment of U.S. labor laws and stan­dards, then quick­ly issued a slew of key deci­sions that rolled back a num­ber of work­er- and union-relat­ed reforms.
In one of the most impor­tant changes, the NLRB reversed a 2011 rul­ing that helped work­ers form small­er unions with­in a sin­gle work­place. The prece­dent set under Oba­ma allowed the hold­ing of a union elec­tion with­out includ­ing all the dif­fer­ent types of jobs with­in that busi­ness that don't share sim­i­lar job duties, wages and work­ing con­di­tions. Employ­ers com­plained that it led to ​"micro unions." In a spe­cif­ic case, after 100 welders union­ized at a large man­u­fac­tur­ing plant, the NLRB ruled that the small­er orga­niz­ing unit was ille­git­i­mate since any union elec­tion would have to include all 2,500 work­ers at the com­pa­ny, span­ning 120 job clas­si­fi­ca­tions. The NLRB ruled 3 – 2 along par­ti­san lines.
Anoth­er con­se­quen­tial case decid­ed under Trump will hurt low-income fast food work­ers. The Trump board over­turned a major 2015 deci­sion that ruled employ­ers are respon­si­ble for bar­gain­ing with work­ers, even if they have only indi­rect con­trol over those work­ers' employ­ment. Fast-food com­pa­nies like McDonald's license small­er fran­chise busi­ness­es to run most of their restau­rants. McDonald's instructs these fran­chis­es on how to oper­ate but leaves them to con­trol many aspects of their day-to-day busi­ness. For decades, fran­chise employ­ees who wished to bar­gain col­lec­tive­ly were caught in a vicious trap. Their boss, the fran­chise oper­a­tor, could insist that McDonald's con­trolled the terms of their employ­ment. But if they tried to bar­gain with McDonald's, the com­pa­ny would insist that the fran­chise oper­a­tor was their true employer.
Obama's NLRB solved this prob­lem by clar­i­fy­ing that com­pa­nies like McDonald's are, joint­ly with fran­chise oper­a­tors, employ­ers of these work­ers and can be forced to the bar­gain­ing table. This new stan­dard per­mit­ted much more mean­ing­ful col­lec­tive bar­gain­ing among mil­lions of low-wage work­ers. Longer term, that rul­ing on joint employ­ers would have dra­mat­i­cal­ly improved col­lec­tive bar­gain­ing rights in the fast-food indus­try. But the GOP major­i­ty on the NLRB scrapped this stan­dard, return­ing to an old, strin­gent pol­i­cy that requires employ­ers to exer­cise ​"imme­di­ate and direct" con­trol in order to be liable under labor law.
Oth­er dam­ag­ing deci­sions by Trump's NLRB include:
— Revers­ing a 2004 deci­sion bol­ster­ing work­ers' rights to orga­nize free from employ­er interference.
— Revers­ing a 2016 deci­sion safe­guard­ing union­ized work­ers' rights to bar­gain over changes in employ­ment terms.
— Over­turn­ing a 2016 deci­sion that required set­tle­ments between employ­ers and employ­ees to pro­vide a ​"full rem­e­dy" to aggriev­ed work­ers, instead of par­tial settlements.
All of these were 3 – 2 deci­sions, with Repub­li­cans in the major­i­ty and Democ­rats dissenting.
Beyond the NLRB
But the NLRB is only one fed­er­al agency. Trump's Labor Depart­ment has also rolled back sev­er­al rules and exec­u­tive orders that the Oba­ma admin­is­tra­tion issued to pro­tect work­ers. Those include the Fair Pay and Safe Work­places rule, which required com­pa­nies bid­ding for large fed­er­al con­tracts to dis­close and cor­rect past labor and safe­ty vio­la­tions. Anoth­er rescind­ed rule had estab­lished guide­lines for when states can drug-test appli­cants for unem­ploy­ment insur­ance ben­e­fits. Also rescind­ed was the ​"per­suad­er rule," which required law firms to pub­licly dis­close any work they do for employ­ers try­ing to fight against union orga­ni­za­tion efforts.
Mean­while, the Occu­pa­tion­al Safe­ty and Health Admin­is­tra­tion (OSHA) has delayed three work­place safe­ty rules issued dur­ing the last year of Oba­ma's pres­i­den­cy. Those rules required cer­tain employ­ers to sub­mit injury and ill­ness data elec­tron­i­cal­ly to OSHA for pub­li­ca­tion on the agen­cy's web­site; tight­ened expo­sure stan­dards for sil­i­ca dust, which is often breathed in by cer­tain con­struc­tion work­ers and linked to lung dis­ease; and weak­ened work­place expo­sure lim­its for beryl­li­um, an indus­tri­al min­er­al linked to lung cancer.
The Supreme Court also ruled to allow employ­ers to require work­ers to sign arbi­tra­tion agree­ments that waive their rights to file class or col­lec­tive action law­suits. Last June, Trump's act­ing solic­i­tor gen­er­al filed a brief with the Court that took the oppo­site stance from the Oba­ma admin­is­tra­tion, assert­ing that manda­to­ry arbi­tra­tion agree­ments do not vio­late the Nation­al Labor Rela­tions Act and are enforce­able under the Fed­er­al Arbi­tra­tion Act.
Anoth­er impor­tant rul­ing made under the Oba­ma admin­is­tra­tion regard­ed which work­ers were eli­gi­ble to receive over­time pay. The Oba­ma-era rules required near­ly every­one paid less than $47,476 a year to be eli­gi­ble for time-and-a-half over­time pay when they worked more than 40 hours a week. That was a big jump from the $23,660 thresh­old in place since 2004, and a cor­ner­stone of the Oba­ma admin­is­tra­tion's efforts to lift wages. But a fed­er­al judge in Texas blocked that rule a week before it was sched­uled to take effect, and Oba­ma's Labor Depart­ment appealed. How­ev­er, Trump's Labor Depart­ment filed a brief in fed­er­al appel­late court indi­cat­ing it will not advo­cate for these over­time changes.
In addi­tion to all that, the Trump admin­is­tra­tion has pro­posed $2.6 bil­lion in bud­get cuts—an enor­mous 21 per­cent — to the Depart­ment of Labor. Those cuts include a pro­posed elim­i­na­tion of four depart­ment pro­grams and their ser­vices, such as train­ing for work­er-safe­ty and for migrant farm­work­ers. The bud­get also seeks to sig­nif­i­cant­ly slash fund­ing for Job Corps, a pro­gram that pro­vides job train­ing to dis­ad­van­taged youth, by $407 mil­lion, or 24 per­cent. Dim­itri Iglitzin, a labor attor­ney in Seat­tle, says that ​"Of all of the ways that the Trump admin­is­tra­tion has been crush­ing labor, the most impor­tant has been the neu­ter­ing of the Depart­ment of Labor. On a day-to-day basis, the agency that should be fight­ing for work­ing peo­ple is doing so no longer."
Typ­i­cal­ly, when the U.S. gov­ern­ment shifts from a Demo­c­ra­t­ic pres­i­den­tial admin­is­tra­tion to a Repub­li­can one, a cer­tain lev­el of pro-busi­ness poli­cies and ero­sion of labor rights is expect­ed. How­ev­er, many labor experts say that the pres­i­den­cy of Don­ald Trump has led to a repeal of Oba­ma admin­is­tra­tion reg­u­la­tions that is unprece­dent­ed, and is pro­ceed­ing faster than is typ­i­cal under a new GOP admin­is­tra­tion. Celine McNi­cholas, labor coun­sel at the Eco­nom­ic Pol­i­cy Insti­tute in Wash­ing­ton D.C., says the Trump roll­backs of var­i­ous pro-labor rules and reg­u­la­tions, in addi­tion to deep cuts to the Labor Depart­men­t's bud­get, have been dev­as­tat­ing to U.S. work­ers and ​"are not busi­ness as usual."
In just over a year and a half as pres­i­dent, Don­ald Trump has wiped away a num­ber of the mod­est pol­i­cy gains that orga­nized labor made dur­ing the Oba­ma years. The nom­i­nees he chose to fill cru­cial reg­u­la­to­ry roles already are mak­ing it more dif­fi­cult for work­ers. Tak­en togeth­er, this bliz­zard of deci­sions will hurt mil­lions of work­ers and weak­en their abil­i­ties to union­ize and bar­gain collectively.
Anoth­er way forward
But it does not have to be like this. Ger­many, Swe­den and oth­er EU mem­ber states show anoth­er path that is bet­ter for work­ers and that cre­ates a stronger rela­tion­ship between busi­ness­es, employ­ees and trade unions.
Coun­tries like Ger­many and Swe­den have stronger labor laws than in the Unit­ed States, and con­se­quent­ly more influ­en­tial trade unions. In addi­tion, many EU mem­ber states ben­e­fit from what is known as ​"co-deter­mi­na­tion," which includes works coun­cils at every job site and work­er-elect­ed boards of direc­tors for the biggest of busi­ness­es, includ­ing For­tune 500 com­pa­nies. Imag­ine if Wal­mart and Ama­zon were legal­ly required to allow its work­ers to elect up to 50% of the mem­bers of its board of direc­tors? It's unimag­in­able to most Amer­i­cans, yet this is stan­dard prac­tice through­out Europe. Co-deter­mi­na­tion fos­ters a ​"cul­ture of con­sul­ta­tion" and a degree of eco­nom­ic democ­ra­cy. As a result, there is more broad­ly shared pros­per­i­ty, with social sup­ports like uni­ver­sal health care, child care, afford­able uni­ver­si­ty edu­ca­tion, afford­able hous­ing, job train­ing/re-skilling, work­place pro­tec­tions, a decent retire­ment and more.
In an age of grow­ing inequal­i­ty, the Euro­pean prac­tice of co-deter­mi­na­tion has bro­ken with a strict­ly ​"share­hold­er mod­el," and has set a stan­dard for cor­po­rate gov­er­nance that holds great poten­tial for the dig­i­tal age if used in a wide­spread fashion.
Labor attor­ney Thomas Geoghe­gan has pro­posed that U.S. states should try out code­ter­mi­na­tion. Geoghe­gan says states should offer tax breaks to com­pa­nies that allow rank-and-file employ­ees to elect a third to a half of its cor­po­rate board of direc­tors. Doing so, says Geoghe­gan, would allow U.S. com­pa­nies to test dri­ve an alter­na­tive mod­el to the cur­rent dys­func­tion­al stock­hold­er mod­el. Also, states could try out this mod­el by requir­ing that non­prof­its, NGOs and uni­ver­si­ties allow their employ­ees to elect a por­tion of its board of direc­tors or trustees.
Three sen­a­tors (Democ­rats Tam­my Bald­win, Eliz­a­beth War­ren and Bri­an Schatz) have intro­duced leg­is­la­tion that would require that com­pa­nies allow work­ers to elect one-third of their cor­po­rate board. The bill is not expect­ed to pass, and while the AFL-CIO has endorsed this leg­is­la­tion, his­tor­i­cal­ly unions and labor advo­cates have not tak­en up this cause. Yet labor lead­ers don't seem to have any oth­er pro­pos­als that might stop the hem­or­rhag­ing of union members.
Cer­tain­ly such pro­gres­sive pro­pos­als are going nowhere at the fed­er­al lev­el under the admin­is­tra­tion of Don­ald Trump. So the land­scape for polit­i­cal change has shift­ed to states and to cities where Democ­rats and pro­gres­sives are more dom­i­nant. Still, even when Democ­rats have been in con­trol, whether at the fed­er­al lev­el under Pres­i­dent Oba­ma or in heav­i­ly Demo­c­ra­t­ic states like Cal­i­for­nia, Mary­land and Mass­a­chu­setts, there has been lit­tle appetite to push the bound­aries of ways to sup­port labor unions or pro­gres­sive labor reform.
Which is sur­pris­ing, since the union­iza­tion rate in the Unit­ed States has fall­en to few­er than 7 per­cent in the pri­vate sec­tor and 11 per­cent of all work­ers. And future prospects don't look too bright.
In an age when many work­ers are becom­ing free­lancers and con­trac­tors who sup­pos­ed­ly are the ​"CEOs of their own busi­ness" (whether dri­ving for Uber, or being a hote­lier for Airbnb, or a free­lancer for Upwork and dozens of oth­er online plat­form com­pa­nies), the fate of labor unions hasn't been this threat­ened in near­ly a cen­tu­ry. The Trump admin­is­tra­tion is just the lat­est nail in a slow­ly clos­ing cof­fin that has been in process for decades. It's time for U.S. labor unions to try new tactics.
Steven Hill is co-founder of Fair­Vote and the author of sev­en books, includ­ing​"10 Steps to Repair Amer­i­can Democ­ra­cy" and ​"Fix­ing Elec­tions: The Fail­ure of America's Win­ner Take All Pol­i­tics". His opin­ions are his own.