Meet the New Leader of Chicago's Principals Who's Taking on Rahm Emanuel and Corporate School Reform
Troy LaRaviere is an award-winning educator and a fierce critic of Emanuel's education agenda. Bernie Sanders has his back—and he's not closing the door on a run for mayor.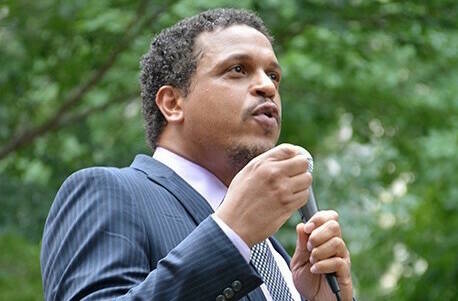 The Chica­go Board of Edu­ca­tion sus­pend­ed Blaine Ele­men­tary Prin­ci­pal Troy LaR­aviere with­out expla­na­tion on April 20. The ouster did not go over well. Sup­port­ers held ral­lies through­out the city. Chica­go news­pa­pers ran edi­to­ri­als blast­ing the board. And Bernie Sanders issued a state­ment defend­ing LaR­aviere, blam­ing "[May­or] Rahm Emanuel's unhealthy obses­sion with revenge."
"Rahm Emanuel's administration has an unhealthy obsession with redirecting our tax dollars toward people who don't need them—the wealthy interests that support them. Anything that gets in the way of that—my work, the work of others—is a target."
Why so much uproar over one pub­lic school prin­ci­pal? LaR­aviere is no ordi­nary edu­ca­tor. Besides his stel­lar record at Blaine, he has made a name as a vocal crit­ic of the pro-cor­po­rate edu­ca­tion poli­cies of Emanuel and the may­or's hand-picked school board. LaR­aviere endorsed Emanuel's 2015 chal­lenger, Jesus ​"Chuy" Gar­cia, as well as Bernie Sanders ear­li­er this year. In a pow­er­ful ad for Sanders, LaR­aviere states, ​"the chief politi­cian stand­ing in the way of us get­ting good schools is our mayor."
When the list of charges against LaR­aviere was final­ly released, it includ­ed reject­ing stan­dard­ized test­ing man­dates and ​"improp­er polit­i­cal activ­i­ty." His fel­low prin­ci­pals appar­ent­ly weren't both­ered, elect­ing him on May 19 to head the city­wide Prin­ci­pals and Admin­is­tra­tors Asso­ci­a­tion with an over­whelm­ing two-thirds of the vote.
In These Times sat down with LaR­aviere at a cof­fee shop in his Lake­view neigh­bor­hood to dis­cuss his recent elec­tion, top-down school reform and rumors of a may­oral run.
Many viewed your elec­tion as a ref­er­en­dum on Emanuel's edu­ca­tion agen­da. Were you sur­prised by the outcome?
I wouldn't have been sur­prised either way. Before I was asked to run, I didn't see myself as a rep­re­sen­ta­tive of prin­ci­pals — I saw myself as a prin­ci­pal who has both a bird's‑eye view and an on-the-ground view of edu­ca­tion pol­i­cy. Peo­ple were being mis­led on the impact of this administration's poli­cies and the peo­ple who have the best posi­tion to inform peo­ple — us prin­ci­pals — weren't say­ing any­thing. So I saw myself as one prin­ci­pal doing what I could to inform the public.
I didn't know if it was going to be worth the time to try to invest in orga­niz­ing prin­ci­pals or con­tin­ue to do my thing on my own. I was called by four or five dif­fer­ent prin­ci­pals — mem­bers of the Asso­ci­a­tion — right before the nom­i­na­tion. I didn't intend on run­ning before then. You know who the first per­son to sug­gest I run was? [For­mer Chica­go Pub­lic Schools CEO] Paul Vallas.
I was on a City Club pan­el with him last August. Three days before, we met in a down­town law office with oth­er mem­bers of the pan­el. When I walked in, Paul was there and he said: ​"Troy." I was like, ​"Paul Val­las knows me?" After we fin­ished the meet­ing, he stuck around and talked to me for almost an hour. He seemed very inter­est­ed in my work. He made the sug­ges­tion that I run. He said, ​"I think you can do a lot with that office."
I didn't decide to take the plunge until those mem­bers called me. I had already been effec­tive at get­ting my own voice heard. I accept­ed the nom­i­na­tion in order to get the voic­es of all prin­ci­pals heard. They nom­i­nat­ed me and vot­ed that day. Ken Hunter was nom­i­nat­ed and I was nom­i­nat­ed. I won the vote 6 to 4. So I was the board's nom­i­nee. Ken decid­ed to peti­tion to get on the bal­lot for the gen­er­al elec­tion. So we actu­al­ly had two com­pe­ti­tions for this presidency.
One you ini­tial­ly won out with the board, and then you get an over­whelm­ing vote from the membership.
And here's the cra­zi­est thing: There's been a lot of talk about me run­ning for may­or. You know who the very first per­son to ask me to run for may­or was? Ken Hunter.
This was back in the spring of 2014. Bob Fioret­ti and a bunch of then-Chica­go may­oral can­di­dates reached out to me. [Chica­go Teach­ers Union Pres­i­dent] Karen Lewis wasn't a can­di­date but she reached out. Karen was real­ly cool about it, she didn't ask for any­thing. Every­body else want­ed some­thing. There's noth­ing wrong with that, ​"Can you speak at this event?" Can you come here?" But Karen was just very sup­port­ive, she didn't ask for anything.
Fioret­ti asked me to come to a pro­gres­sive cau­cus fundrais­er where Howard Dean was going to be. So I came and was intro­duced to Ken Hunter. He was sit­ting at a table and I sat down and he asked, ​"so are you run­ning for may­or or what?" Those were the first words out of his mouth. This was before Chuy had jumped in the race. He talked to me about all these pos­i­tives, ​"you're artic­u­late, black, hand­some, etc.," tick­ing off box­es, real­ly try­ing to con­vince me to run for may­or. The idea that he and I would end up run­ning for this office against each oth­er — my life is surreal.
In a 2014 op-ed for the Chica­go Sun Times, you wrote to edu­ca­tors who were fear­ful of los­ing their jobs if they spoke out, ref­er­enc­ing your Navy ser­vice: ​"I did not trav­el across an ocean and risk my life to defend Amer­i­can free­doms only to return and relin­quish those free­doms to an elect­ed offi­cial and his appoint­ed board of edu­ca­tion." The school board has now removed you as a prin­ci­pal, yet your fel­low prin­ci­pals vot­ed for you. Do you feel vindicated?
I'll feel vin­di­cat­ed when we have a great school sys­tem that uses evi­dence to orga­nize and reform the schools rather than ide­ol­o­gy. I'll feel vin­di­cat­ed when we put world-class resources behind the rhetoric of a world-class school sys­tem. The things we need to do to cre­ate a great school sys­tem are sim­ple. They just take some polit­i­cal will.
At Blaine we were one of only four schools in the city — four schools — out of 650-some­thing, to have had the kind of con­sis­ten­cy in rais­ing stu­dent achieve­ment that got us the top two may­ors awards three years in a row. Now, I would love to be able to say: ​"Man, this hap­pened because I'm just awe­some. I came in with all these inno­v­a­tive ideas." But that's bull­shit. You know what I did? I just looked at the research. And I imple­ment­ed it. It was that sim­ple. The research goes against this wave of ide­ol­o­gy that's over­tak­en our school sys­tem. The ide­ol­o­gy says choice and selec­tive enroll­ment. But the research says that if you have a cur­ricu­lum gap, then you're going to guar­an­tee you have an achieve­ment gap.
You've said that op-ed changed your life. How so?
Once I got the job at Blaine, for the first two years all that I did was focus on cre­at­ing a great school. I didn't get involved in any kind of pol­i­tics. I sat and endured this admin­is­tra­tion qui­et­ly like every oth­er prin­ci­pal in this city.
But while I was try­ing to do the things that got Blaine where it was, there was one bad deci­sion after anoth­er by this admin­is­tra­tion. The Ara­mark con­tract [pri­va­tiz­ing cus­to­di­al duties at CPS schools], the ridicu­lous­ness of the longer school day and how that was han­dled, hear­ing that net­work chief tell us ​"you don't get to have a say, you don't get to have an opin­ion, that's the board's opinion."
So I wrote the op-ed, and the response was just incred­i­ble. You've got to remem­ber, I'm just this dude who worked his way up from 43rd street. All of a sud­den, there are all these reporters try­ing to talk to me, one thing after anoth­er. It was over­whelm­ing, peo­ple express­ing all this hope, in me, in what I wrote.
There was a line in the op-ed that said that when­ev­er this admin­is­tra­tion did some­thing that mis­leads the peo­ple, we need to get up and set the record straight. That goes back to my see­ing myself as some­one who is an instru­ment of democracy.
That's how that changed my life — it was the cat­alyt­ic event in which I gave myself the respon­si­bil­i­ty of inform­ing the public.
CPS is fac­ing a steep bud­get cri­sis at the moment. Will the school sys­tem be able to survive?
We cer­tain­ly can sur­vive, but only if we learn the lessons of how we got here. We have seen com­plete­ly reck­less, irre­spon­si­ble, incom­pe­tent man­age­ment of mon­ey. We have con­tracts [with pri­vate com­pa­nies] like SUPES, Ara­mark, Sodexo. Any plan to get us out of here has to put in safe­guards so that kind of reck­less spend­ing can­not hap­pen again.
We also failed to gen­er­ate ade­quate rev­enue. So any solu­tion has to involve gen­er­at­ing new revenue.
City Trea­sur­er Kurt Sum­mers recent­ly lent his sup­port to the Chica­go Teach­ers Union's plan to sue the banks, like Bank of Amer­i­ca, that know­ing­ly sold junk deriv­a­tives deals to the school sys­tem, cost­ing the dis­trict $228 mil­lion in penal­ties. Do you sup­port that strategy?
We have to push the idea of suing the banks. It keeps how we got into this mess in the pub­lic eye. The city can also enter into agree­ments with CPS to pick up expens­es cur­rent­ly being cov­ered by the school board [such as pen­sion pay­ments], free­ing up funds for schools and class­rooms. Then there are the typ­i­cal rev­enue ideas being men­tioned: sales of ser­vices, a finan­cial trans­ac­tions tax.
But one thing that I'm not impressed with is that I haven't heard any­thing about rev­enue com­ing from the Trea­sur­er Kurt Sum­mers' office. But now he's talk­ing about suing the banks? Where was he two years ago before the city decid­ed to pay these banks? Now that they've paid every­thing, he wants to sue them. It seems like a polit­i­cal stunt: Pay all the mon­ey first, then ask to sue, after being in office two years. I don't accept any­thing he says [about suing banks] as being done with any kind of sin­cer­i­ty what­so­ev­er. But I do sup­port the idea itself.
You cut ads for Chica­go may­oral can­di­date Jesus ​"Chuy" Gar­cia and Bernie Sanders. CPS cit­ed this in its ratio­nale for sus­pend­ing you. Do you agree with Sanders that Emanuel has an ​"unhealthy obses­sion with revenge"?
Rahm Emanuel's admin­is­tra­tion has an unhealthy obses­sion with redi­rect­ing our tax dol­lars toward peo­ple who don't need them — the wealthy inter­ests that sup­port them. Any­thing that gets in the way of that — my work, the work of oth­ers — is a target.
Does May­or Emanuel have a polit­i­cal future in Chicago?
No. I think he knows he has no future. More impor­tant­ly, the peo­ple who sup­port him and the insti­tu­tions that under­gird him — Gold­man Sachs, Bank of Amer­i­ca, real estate devel­op­ers — know he has no future, which means they must begin to look elsewhere.
What kind of lead­er­ship does Chica­go need?
I think we need some­one who has a very clear sense of the prob­lem and a very clear sense of how to solve it. Most impor­tant­ly, we need some­one who can com­mu­ni­cate that to res­i­dents, to stu­dents, to par­ents, to com­mu­ni­ty mem­bers. We need some­one who can help raise the polit­i­cal IQ of the entire city, so that, when they're gone, we're left with a pop­u­lace that can make bet­ter decisions.
Are you con­sid­er­ing a run for may­or yourself?
I con­sid­er it every time some­one asks me, but I have no plans to run, no explorato­ry com­mit­tee, nobody look­ing into it.
What made you sup­port Sanders?
Bernie Sanders woke me up from a deep sleep. I think he woke a lot of us up from a deep sleep. He woke us up the way Don­ald Trump woke up racists. Bernie has made it OK to believe. We had accept­ed the idea that a coun­try that works for every­body is not pos­si­ble, and kept our con­ver­sa­tions aligned with the main­stream — ​"get what you can get," ​"less­er of two evils." All my life, that has been the conversation.
He just blew that out of the water: ​"We can have a sys­tem where every­body has access to health­care, that every­body should have pub­lic col­lege at no cost." Wow, you can say that and not be ridiculed.
This cam­paign has brought out one absolute­ly hor­rid, racist sub­cul­ture. It's also brought out this oth­er, hope­ful, demo­c­ra­t­ic-lean­ing subculture.
What do you see as the lega­cy of Sanders' campaign?
We can't go back. The con­ver­sa­tion in the Amer­i­can polit­i­cal land­scape will nev­er be the same. He has clear­ly iden­ti­fied, more than any­one else, the con­cen­tra­tion of wealth in the hands of a few who use that wealth to cor­rupt our polit­i­cal system.
That mes­sage can man­i­fest itself all across the coun­ty. It's going to man­i­fest itself in the next may­oral cam­paign. What Bernie has said is a word-for-word descrip­tion of what ails Chica­go. The mayor's office is the embod­i­ment, and now we have the lan­guage to talk about it. There's ground­work you don't have to do in this city because of Bernie.
The CTU has said it may strike ear­ly next year. If teach­ers do walk out, will you join them on the pick­et line as you've done in the past?
It depends on the issues they're strik­ing for. The last strike was about fund­ing. This dis­trict is not doing what it needs to do to gen­er­ate rev­enue. I sup­port that, so I sup­port­ed that strike. I would imag­ine that the goals and objec­tives of the union, should they strike, would be aligned with my beliefs. But I have to wait and see.
What is the biggest chal­lenge fac­ing urban edu­ca­tion in America?
There's a three-part answer to that. First is the nation­al attempt to prof­it from pub­lic edu­ca­tion. ​"Altru­is­tic" cap­i­tal­ists have decid­ed the tril­lions of dol­lars that gov­ern­ments spend on edu­ca­tion are a source of great prof­it. They real­ized that in order to get access to that mon­ey you have to con­vince the pop­u­la­tion that schools are fail­ing. Then you can come in with a solu­tion that you can be paid for. Char­ters are a part of that. They see our schools as prof­it centers.
Part two is that the reforms they've imple­ment­ed have no evi­dence base what­so­ev­er. What oth­er realm of human activ­i­ty would accept that? If you go to a doc­tor and he tells you he wants to remove your appen­dix in the most orig­i­nal man­ner pos­si­ble, I high­ly rec­om­mend you go to anoth­er doctor.
Part three is that the reforms don't draw any atten­tion to what hap­pens to stu­dents before they reach school. If we want stu­dents to reach their full poten­tial, the foun­da­tion of that poten­tial is cre­at­ed from con­cep­tion to 5 years old. A kid walks into kinder­garten in a poor com­mu­ni­ty four years behind peers in a high-income com­mu­ni­ty. How the hell can it be the fault of the school that that gap exists on day one?
Most stu­dents were failed by the busi­ness and polit­i­cal com­mu­ni­ty long before they ever reached a school, and the peo­ple in the polit­i­cal com­mu­ni­ty want to blame the school for not com­pen­sat­ing for their fail­ure. We have to cre­ate a sys­tem that deliv­ers chil­dren to the class­room ready to learn. That means — among oth­er things — cre­at­ing jobs that give par­ents the income and time off they need to make sure their kids are more aca­d­e­m­i­cal­ly prepared.
What advice would you give to edu­ca­tors ner­vous about speak­ing out?
Unite. I was out here on my own, I took a lot of risks on my own. I don't know if I would rec­om­mend that to my col­leagues. Unite and cre­ate a com­mon voice. It's easy to pick peo­ple off in iso­la­tion, but it's damn near impos­si­ble to pick them off when they're united.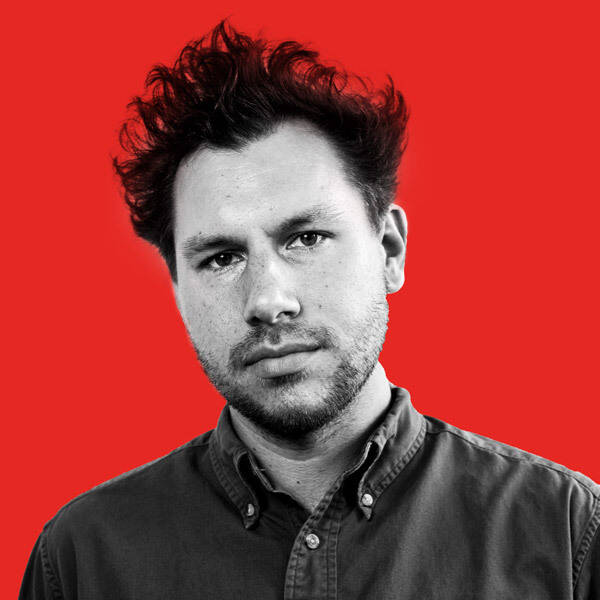 Miles Kampf-Lassin, a grad­u­ate of New York Uni­ver­si­ty's Gal­latin School in Delib­er­a­tive Democ­ra­cy and Glob­al­iza­tion, is a Web Edi­tor at In These Times. Fol­low him on Twit­ter @MilesKLassin