Trump Appointees Are Pushing a Deregulation Plan That Could Dramatically Erode Consumer Protections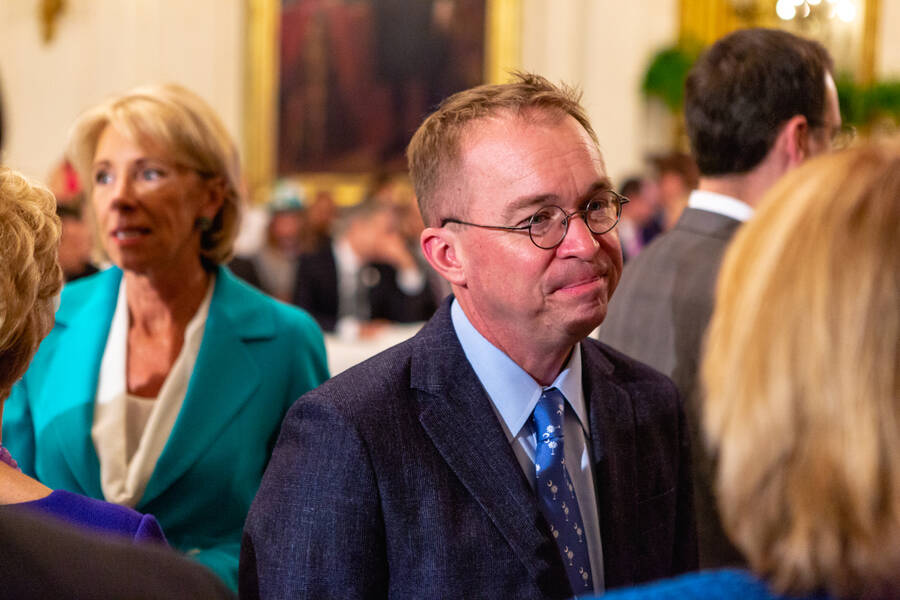 A year ago, high-cost pay­day loans that preyed upon at-risk bor­row­ers looked to be under assault.
In Octo­ber 2017, the Con­sumer Finan­cial Pro­tec­tion Bureau final­ized fed­er­al reg­u­la­tions to force pay­day lenders to con­sid­er whether bor­row­ers could actu­al­ly pay back their loans. Those rules, com­bined with a smat­ter­ing of state laws that capped inter­est rates, were set to final­ly con­strain the industry's reach. Even the time-hon­ored gim­mick of using Inter­net sites or even Indi­an reser­va­tions to make pay­day loans nation­al­ly with­out abid­ing by state con­sumer pro­tec­tions faced resis­tance from state and fed­er­al law enforce­ment.
But now that frame­work is in tat­ters. CFPB act­ing direc­tor Mick Mul­vaney has vowed to recon­sid­er the pay­day rule and even unsuc­cess­ful­ly joined a pay­day lender in court to argue against his own agency's reg­u­la­tion. Either Mul­vaney or his Trump-picked suc­ces­sor will like­ly fin­ish can­cel­ing the rule before it takes effect in August 2019. And state pro­tec­tions may be under­mined by this week's announce­ment that online lenders can apply for nation­al bank charters.
The Office of the Comp­trol­ler of the Cur­ren­cy (OCC), which grants fed­er­al char­ters to banks, began accept­ing appli­ca­tions on Tues­day from finan­cial tech­no­log­i­cal (or ​"fin­tech") firms like robo-stock advi­sors such as Bet­ter­ment or lenders like SoFi or Lend­ing Club. ​"The fed­er­al bank­ing sys­tem must con­tin­ue to evolve and embrace inno­va­tion to meet the chang­ing cus­tomer needs and serve as a source of strength for the nation's econ­o­my," said Joseph Otting, who heads the OCC.
Otting's announce­ment dropped just hours after the Trea­sury Depart­ment released a report rec­om­mend­ing a nation­al bank char­ter for fin­tech firms, to reduce ​"reg­u­la­to­ry frag­men­ta­tion." The head of the Trea­sury Depart­ment, Steven Mnuchin, pre­vi­ous­ly worked with Otting at OneWest Bank, where Mnuchin served as chair­man and Otting as CEO. So the main lead­er­ship of OneWest, which car­ries a short and noto­ri­ous his­to­ry, has worked in tan­dem to boost fin­tech firms.
It may make sense to bring this grow­ing num­ber of com­pa­nies doing bank-like activ­i­ties inside the bank reg­u­la­to­ry infra­struc­ture, so that fed­er­al reg­u­la­tors can more eas­i­ly mon­i­tor the entire finan­cial sys­tem. But giv­ing fin­tech com­pa­nies nation­al char­ters could revive the ugly his­to­ry of fed­er­al bank reg­u­la­tors pre-empt­ing state con­sumer pro­tec­tions, which would prove dis­as­trous for borrowers.
Under a nation­al bank char­ter, fin­tech firms would not be allowed to take deposits, and would be sub­ject to fed­er­al cap­i­tal and liq­uid­i­ty stan­dards and super­vi­sion by OCC bank exam­in­ers. If a com­pa­ny failed, the OCC would be respon­si­ble for unwind­ing it.
But OCC could also assert, as it often does with nation­al­ly-char­tered banks, that its rules super­sede those in the states in which these firms oper­ate. That would include caps on pay­day loan inter­est rates at 36 per­cent, as is the case in Ore­gon and sev­er­al oth­er states. State pros­e­cu­tors could even be pre­vent­ed from super­vis­ing a fin­tech firm through exam­i­na­tions or sub­poe­nas of records.
Fin­tech firms can cur­rent­ly oper­ate nation­wide by part­ner­ing with nation­al banks on loans. But when it comes to issues like inter­est rate caps, they still have to abide by the rules of the state where their bor­row­ers live. If a nation­al char­ter were put in place, these firms could dis­re­gard those rules, with the OCC back­ing them up. That could enable online lenders to charge 582 per­cent annu­al inter­est, as is the aver­age in Ida­ho, or poten­tial­ly even more.
This kind of pre-emp­tion was rou­tine in the run-up to the finan­cial cri­sis. In 2002, Geor­gia passed the strongest anti-preda­to­ry mort­gage laws in the nation, but the OCC pre-empt­ed the law for nation­al banks, claim­ing that there was ​"no evi­dence that nation­al banks are engaged in preda­to­ry lend­ing prac­tices." This cre­at­ed a chill­ing effect, as, wary of a fed­er­al over­ride, state leg­is­la­tures sim­ply stopped work­ing on mort­gage fraud laws.
A pre-emp­tion for fin­tech could serve sim­i­lar ends. Think about online lenders using Big Data to pin­point vul­ner­a­ble would-be bor­row­ers. This tar­get­ing can steer peo­ple toward high-cost, preda­to­ry loans, and states would be pow­er­less to act under con­sumer pro­tec­tion or even pri­va­cy laws. And don't expect only niche oper­a­tors to pile into this space — Google or Ama­zon Bank is lurk­ing in the dis­tance, armed with far more infor­ma­tion on cus­tomers to use toward ped­dling loans.
In the­o­ry, the Dodd-Frank Act lim­its pre-emp­tion, and pro­vides states the option of suing banks. But per Dodd-Frank Sec­tion 1044, the OCC still could pre-empt state con­sumer finance laws at its dis­cre­tion, if the agency deter­mines that the law dis­crim­i­nates against nation­al banks or ​"inter­feres with the exer­cise by the nation­al bank of its powers."
Dodd-Frank also states that the OCC could not stop the CFPB from enforc­ing its rules. How­ev­er, those are pre­cise­ly the rules sched­uled for the chop­ping block by Pres­i­dent Trump's hand­picked team. In its report, the Trea­sury Depart­ment also rec­om­mend­ed that CFPB rescind the pay­day lend­ing rule, iron­i­cal­ly stat­ing that ​"the states already main­tain the nec­es­sary reg­u­la­to­ry author­i­ties." But fin­tech firms could end-run those author­i­ties, if armed with a nation­al bank charter.
The Trea­sury report argues that demand for small-dol­lar loans is high, and plac­ing ​"unnec­es­sary reg­u­la­to­ry guid­ance" on their use reduces access to cred­it for those who need it. At the OCC, Otting has even encour­aged big banks like Wells Far­go and Bank of Amer­i­ca to return to small-dol­lar lend­ing, cre­at­ing more options for bor­row­ers. But state con­sumer pro­tec­tion rules exist to pre­vent out­ra­geous­ly high inter­est rates, mul­ti­ple re-bor­row­ing to pay off the pre­vi­ous loan, and decep­tive prac­tices that trap peo­ple in a seem­ing­ly per­ma­nent debt cycle. The pub­lic is clear­ly not clam­or­ing to wipe out such laws that defend cit­i­zens from unscrupu­lous finan­cial actors.
Trump's gallery of dereg­u­la­tors can­not take cred­it for this pro­pos­al alone. Indeed, Pres­i­dent Obama's OCC chair, Thomas Cur­ry, kicked this idea off in Decem­ber 2016 by open­ing up the con­cept of nation­al fin­tech char­ters for dis­cus­sion. Cur­ry knew he wouldn't com­plete the char­ter before his term end­ed the fol­low­ing March. So he sim­ply invent­ed a tool for his suc­ces­sor to eas­i­ly under­mine state con­sumer protections.
And that suc­ces­sor pre­dictably devised the worst pos­si­ble ver­sion of a fin­tech char­ter, allow­ing for state pre-emp­tion and even weak­en­ing require­ments for com­mu­ni­ty rein­vest­ment for the fin­tech firms, accord­ing to House Finan­cial Ser­vice Com­mit­tee rank­ing Demo­c­rat Max­ine Waters. ​"This action could allow online pay­day lenders to use a fed­er­al char­ter to skirt state usury laws and evade respon­si­bil­i­ty to rein­vest in the com­mu­ni­ties where they are oper­at­ing," Waters said in a statement.
State bank­ing reg­u­la­tors have called fin­tech nation­al char­ters a ​"reg­u­la­to­ry train wreck in the mak­ing." New York's bank­ing reg­u­la­tor already tried once to shut down the OCC's abil­i­ty to grant nation­al char­ters in court, but was turned away because the OCC hadn't com­plet­ed the process. We can expect that law­suit to resume the moment the OCC bestows a char­ter on a fin­tech firm.
Until then, this devel­op­ment could expose bor­row­ers to seri­ous risk. Tak­ing state reg­u­la­tors off the field at a time when fed­er­al reg­u­la­tors have glee­ful­ly hand­cuffed them­selves leaves nobody to pro­tect the public.