I went to the Bull­frog look­ing for Dan and Rhonda.
But clearly something about the Bullfrog, like countless such bars in other hardscrabble towns, offers a balm beyond the alcohol: a feeling of solidarity and camaraderie—often expressed in shared rants about immigrants or liberals—that people can depend on even when everything else is uncertain.
Or rather, look­ing for their pasts. I knew Dan was liv­ing on the streets of down­town Chica­go and Rhon­da had died the pre­vi­ous sum­mer from an infec­tion relat­ed to her hero­in addic­tion. I was report­ing on their lives as part of a larg­er project on hero­in and homelessness.
Dan and Rhon­da had met at the Bull­frog Hotel and Bar in their home­town of Jamestown, N.Y., when Dan was liv­ing in the cut-rate rooms above the bar. He described it as a seedy and rau­cous place.
When I walked into the Bull­frog on Valentine's Day, the first thing that caught my eye was a grin­ning, larg­er-than-life print of Don­ald Trump's face. It was posi­tioned right behind a ceram­ic bull­frog with a huge, erect penis.
At first I assumed the por­trait of Trump was a protest sign. But soon I learned that Trump is the Bullfrog's patron saint. Near­ly all the Bull­frog reg­u­lars are Trump true believ­ers, and the hotel is owned by an ardent Trump backer, Ted­dy Lang­wor­thy, Jr. Teddy's son, Nick Lang­wor­thy, runs the Repub­li­can com­mit­tee for near­by Erie Coun­ty, N.Y., and served on Trump's tran­si­tion team.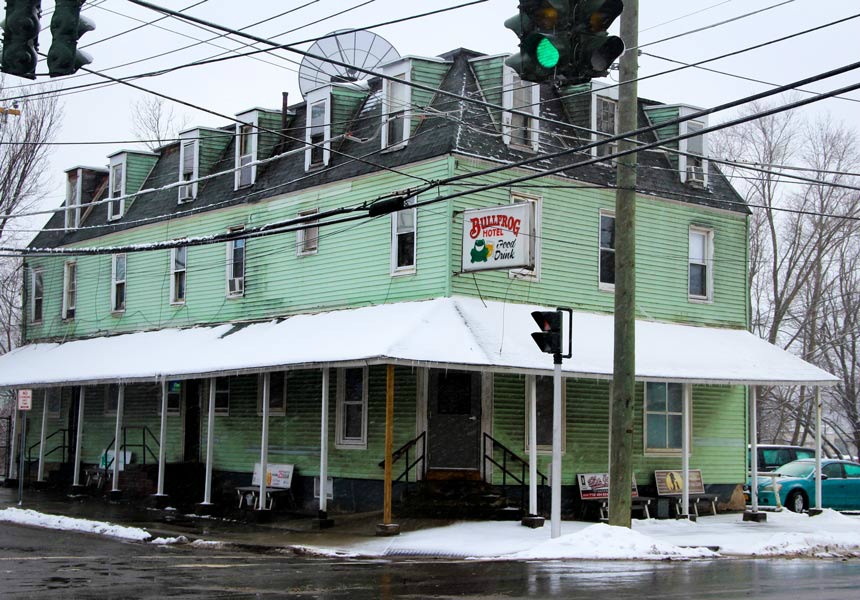 The Bull­frog hotel (Kari Lydersen)
Dur­ing three 2017 trips to James-town, I learned about Rhon­da and Dan's for­mer lives. And I learned a lot more about Jamestown, a strug­gling town like so many oth­ers across the Rust Belt, hard-hit by dein­dus­tri­al­iza­tion and unem­ploy­ment and fall­en prey to the opi­oid epidemic.
Jamestown is 88 per­cent white, and 29 per­cent of its res­i­dents live below the pover­ty line, more than twice the nation­al aver­age. Many of the patrons and res­i­dents I met at the Bull­frog are scared, frus­trat­ed and angry at how the glob­al econ­o­my has left them behind. As unions were bust­ed and jobs shipped to oth­er coun­tries or nonunion South­ern states, they were laid off or had their wages slashed. Some became addict­ed to alco­hol and drugs. Many strug­gle to sur­vive on mea­ger month­ly checks from gov­ern­ment pro­grams for dis­abil­i­ty, Social Secu­ri­ty, work­ers' com­pen­sa­tion or unemployment.
Most have been com­ing to the Bull­frog for a long time. For many, it's been a rock in a sea of instability.
Ted­dy Langworthy's father, Theodore, bought the Bull­frog in 1979. Both men also worked for decades at the near­by Black­stone fac­to­ry, which made auto­mo­tive radi­a­tors and oth­er prod­ucts. Now renamed TitanX and owned by the multi­na­tion­al Tata Group, the fac­to­ry has laid off a large por­tion of its work­force — includ­ing some Bull­frog patrons — over the years, includ­ing when it opened a plant out­side Mon­ter­rey, Mex­i­co, in 2015.
In its hey­day, Jamestown was known as the fur­ni­ture cap­i­tal of the coun­try. Through­out most of the 20th cen­tu­ry, it was a thriv­ing city, its streets lined with depart­ment stores, bak­eries, butch­er shops and ice cream par­lors, its bars packed with fac­to­ry work­ers. The Bull­frog, which sits on the swift Chadakoin Riv­er, once served as a stage­coach stop and way sta­tion for vis­it­ing mer­chants. Today, it's a short walk from the brick build­ings, many now emp­ty, that once housed fur­ni­ture fac­to­ries, yarn mills and oth­er indus­tri­al shops.
As he tends bar, Ted­dy rails against lib­er­als, sanc­tu­ary cities and the wel­fare state. He and his fam­i­ly have worked hard all their lives — ​"my father nev­er took a vaca­tion," he says. Now, as Ted­dy sees it, unde­serv­ing peo­ple are get­ting their food, hous­ing and med­ical care paid for by the gov­ern­ment. When his moth­er was in a nurs­ing home, his father drained their sav­ings to pay for her care, while the woman in the next bed was on pub­lic assis­tance and got the same treat­ment for free, he says. He also bit­ter­ly recounts the sto­ry of a local man who got a free ambu­lance ride to the den­tist for a toothache.
Many of the Bull­frog patrons and ten­ants share Teddy's views. They are espe­cial­ly upset at the grow­ing num­bers of Puer­to Ricans liv­ing in Jamestown, who (they believe) are mov­ing into sub­si­dized hous­ing and col­lect­ing oth­er pub­lic benefits.
"The may­or wants to take every­one from New York City and make this a wel­fare state," says Rita Swan­son, 52, who has a room at the Bull­frog and spends much of her time at the bar. She worked for 16 years at a near­by fac­to­ry that makes truck lights. But when the com­pa­ny laid off work­ers and, she recalls, invit­ed her to reap­ply for her job at $8 an hour instead of $15, she said no thanks. ​"I loved my job. … Now I just do this," she says, ges­tur­ing at her drink. I couldn't help but be struck by the irony of the antipa­thy toward peo­ple on pub­lic assis­tance despite the fact that many of the Bullfrog's ten­ants and patrons are them­selves sur­viv­ing on dis­abil­i­ty and oth­er social wel­fare pro­grams. ​"You should see this place on the first of the month," says one patron, refer­ring to the day gov­ern­ment checks come in.
Those checks don't pro­vide for a very com­fort­able life. The hall­ways and shared bath­rooms above the bar can only be described as filthy, suf­fo­cat­ing and sad. Ten­ants do their best to make homes out of the cramped, stuffy rooms.
I was ini­tial­ly dis­turbed that Ted­dy was charg­ing des­per­ate peo­ple mon­ey to live in such con­di­tions. But as with much sin­gle-room-occu­pan­cy hous­ing, the hotel is actu­al­ly a cru­cial last-ditch option for peo­ple who might oth­er­wise be out on the street.
And while Ted­dy told me repeat­ed­ly how much he detests peo­ple who live off the gov­ern­ment, I soon real­ized that he and his niece and nephew, who also tend bar, gen­uine­ly care about their cus­tomers, includ­ing those who depend on the country's frayed safe­ty net.
Ed Gustafson has lived at the Bull­frog on and off for almost 40 years, after a child­hood bounc­ing between fos­ter homes. Ted­dy pays him to answer the phone and do odd jobs. One evening, Gustafson is in a bad mood. He yells at Ted­dy and scrapes his hand along the bar, say­ing, ​"If I had claws!" with the most men­ac­ing atti­tude his small frame and wide blue eyes can muster. Ted­dy smiles kind­ly and calms him down.
"I remem­ber when Ed would sell pork pies for one cent each," he says. ​"It was three cents!" Gustafson cor­rects him.
Bill, 40, is also not hav­ing a good day. He is wor­ried about an upcom­ing surgery for a seri­ous back injury he suf­fered in 2014 in a fall at his job installing retail dis­plays. After a pre­vi­ous surgery, Bill was pre­scribed Oxy­con­tin and Per-cocet — opi­oid painkillers. He real­ized he was addict­ed when he missed a dose and went into con­vul­sions at a birth­day par­ty for his girlfriend's daughter.
"You could get addict­ed in a heart­beat," says Bill, who declined to give his last name because he's pur­su­ing a law­suit over the acci­dent. He man­aged to stop tak­ing opi­oids after a painful with­draw­al. But he's wor­ried what will hap­pen after the next surgery.
Two pain clin­ics not far from the Bull­frog dis­pense the same pre­scrip­tion painkillers that start­ed the nation­al opi­oid cri­sis, which has espe­cial­ly rav­aged Rust Belt towns like Jamestown. As in Bill's case, opi­oid addic­tion often starts with a work­place injury. In an indus­tri­al or post-indus­tri­al area like Jamestown, such injuries are com­mon. A 2013 state assess­ment of Chau­tauqua Coun­ty, which con­tains Jamestown, found there were 397 work-relat­ed hos­pi­tal­iza­tions for every 100,000 employed peo­ple between 2009 and 2011, com­pared to 172 for the state as a whole.
Inter­est­ing­ly, opi­oid addic­tion also has been sta­tis­ti­cal­ly cor­re­lat­ed with vot­ing for Trump, even when oth­er fac­tors like race and pover­ty are con­trolled. As in count­less oth­er towns, the pro­lif­er­a­tion of pre­scrip­tion opi­oids has sparked a hero­in epi­dem­ic. In 2012, Jamestown police seized 119 bags of hero­in, which amounts to a lit­tle less than half an ounce. In 2014, they seized a total of 18 ounces, and in 2015, they seized 31.6 ounces.
Dan and Rhon­da actu­al­ly didn't start doing hero­in until they got to Chica­go, but they used oth­er drugs and drank heav­i­ly while hang­ing out at the Bull­frog. Though Rhon­da didn't offi­cial­ly live there, ten­ants would some­times care for her and let her stay in their rooms when she was in bad shape.
Patrons at the Bull­frog were not sur­prised to hear that Rhon­da had died from a hero­in-relat­ed infec­tion; they've lost mul­ti­ple friends and fam­i­ly mem­bers to the drug.
Research has been incon­clu­sive on whether opi­oids are help­ful in man­ag­ing long-term chron­ic pain — like the kind caused by work­place injuries or just a life­time of hard phys­i­cal labor. One recent study found they were inef­fec­tive. Mean­while, hero­in and oth­er drugs will not real­ly soothe the emo­tion­al pain of see­ing oppor­tu­ni­ties dis­si­pate, dreams fal­ter, jobs leave, bore­dom set in. Alco­hol can, of course, dull pain, calm anx­i­ety and make one feel cheer­ful and empow­ered, while the buzz lasts.
But clear­ly some­thing about the Bull­frog, like count­less such bars in oth­er hard­scrab­ble towns, offers a balm beyond the alco­hol: a feel­ing of sol­i­dar­i­ty and cama­raderie — often expressed in shared rants about immi­grants or lib­er­als — that peo­ple can depend on even when every­thing else is uncertain.
"Jamestown used to be the great­est place; it was boom­ing," says Al, 55, whose grand­fa­ther and father both worked at Black­stone until retire­ment. Al was laid off by Black­stone in 1991 and hasn't found a job as good since. ​"Back then, there were so many bars. With the loss of work, the bars closed too — the loss of big busi­ness means the loss of small busi­ness. But we've still got this. We still have the Bullfrog."
The print ver­sion of this sto­ry in the August 2017 issue erro­neous­ly stat­ed that Nick Lang­wor­thy is the chair of the Repub­li­can Com­mit­tee in Erie, Pa. He is the chair of the Erie Coun­ty, N.Y.