The Good and the (Potentially Very) Bad in Trump's NAFTA Renegotiation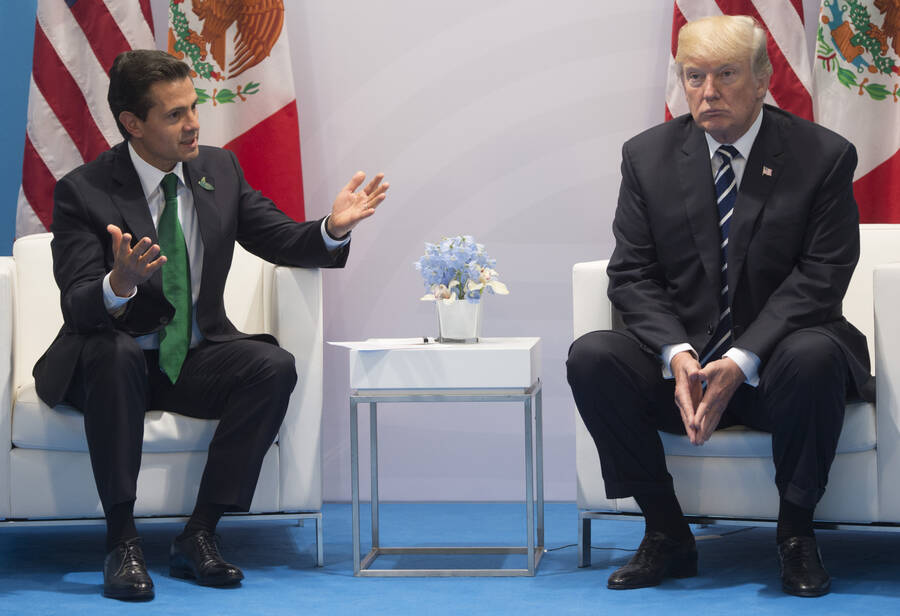 With the Unit­ed States and Mex­i­co hav­ing both signed off on a reworked North Amer­i­can Free Trade Agree­ment (or what­ev­er Pres­i­dent Trump wants to call it), nego­tia­tors are now attempt­ing to secure a last-minute agree­ment with Cana­da by a Fri­day dead­line. The Trump admin­is­tra­tion has threat­ened auto tar­iffs on Cana­da if they don't climb aboard. Because Mex­i­can pres­i­dent Enrique Peña Nieto's term ends in Novem­ber, and U.S. trade law requires a 90-day wait­ing peri­od before all par­ties can sign, the final agree­ment must be com­plet­ed by August 31.
If Cana­da does sign on board, the results of the year-long nego­ti­a­tions will be decid­ed­ly mixed. Only lazy pun­dits would call the U.S./Mexico agree­ment ​"TPP 2.0." A num­ber of fea­tures do elim­i­nate cor­po­rate favors from pri­or trade agree­ments, and dri­ve a bet­ter bar­gain for work­ers in all part­ner coun­tries. Since this will be the tem­plate for oth­er U.S. trade deals mov­ing for­ward, that's impor­tant. On the oth­er hand, those anti-cor­po­rate pro­vi­sions have their lim­its, par­tic­u­lar­ly because it's unclear how they will be enforced. And Cana­di­an involve­ment means everything's sub­ject to change. Let's take a look at what we know.
The end of cor­po­rate shake­downs: Per­haps the best pro­vi­sion sig­nals the demise of the noto­ri­ous investor-state dis­pute set­tle­ment (ISDS) process. Under ISDS, for­eign cor­po­ra­tions can sue coun­tries for ​"expect­ed future prof­its" when laws and reg­u­la­tions change. Extra­ju­di­cial tri­bunals com­posed of three cor­po­rate lawyers decide on the claims; some of the arbi­tra­tors simul­ta­ne­ous­ly serve as coun­sel for cor­po­ra­tions bring­ing oth­er complaints.
ISDS has led to gov­ern­ments pay­ing hun­dreds of mil­lions of dol­lars to cor­po­ra­tions. And it has increas­ing­ly become a means for rich investors to spec­u­late on law­suits, win­ning huge awards and forc­ing local tax­pay­ers to foot the bill.
Under the new agree­ment, this process is vir­tu­al­ly elim­i­nat­ed. U.S. and Cana­di­an com­pa­nies will only have access to domes­tic courts, mak­ing impos­si­ble near­ly all pre­vi­ous NAF­TA ISDS cas­es against the two coun­tries, which have func­tion­ing legal sys­tems to han­dle those com­plaints. For cas­es involv­ing Mex­i­co, domes­tic courts and admin­is­tra­tive pro­ceed­ings would have to be exhaust­ed before ISDS could be invoked. Tri­bunals could not be stocked with lawyers work­ing on ISDS claims for cor­po­ra­tions, and sev­er­al com­mon ​"investor rights" — like demand­ing a min­i­mum stan­dard of treat­ment from a for­eign gov­ern­ment — would be revoked. Dam­ages for ​"expect­ed future prof­its" would be elim­i­nat­ed; only con­crete dam­ages could be demanded.
A small group of U.S. investors in Mex­i­co who have con­tracts in the oil and gas sec­tor would get wider pro­tec­tions through a carve-out. This led Roo­sevelt Insti­tute fel­low and ISDS expert Todd Tuck­er to call the changes ​"a priv­i­leged forum for Big Oil and Big Gas… hand­outs to big com­pa­nies afraid of left­ward pro­gres­sive change in Mex­i­co." While this was appar­ent­ly the price of tak­ing down ISDS else­where, if the new NAF­TA sets a prece­dent that most cor­po­ra­tions can't rely on a spe­cial process to hold up gov­ern­ments for cash, it might be worth it.
Auto rules: For some rea­son, the U.S.-Mexico agree­ment gets incred­i­bly detailed on auto man­u­fac­tur­ing, even though far more is trad­ed between the two coun­tries. Under the agree­ment, 75 per­cent of a car's val­ue must be made in North Amer­i­ca, as opposed to 62.5 per­cent in the orig­i­nal NAF­TA. Close to half the vehi­cle must be made by work­ers who earn at least $16 an hour, either rais­ing wages sharply for some Mex­i­can work­ers (the cur­rent aver­age wage for auto parts work­ers is between $3.60 and $3.90 an hour) or shift­ing pro­duc­tion to high­er-wage coun­tries. This is the first wage stan­dard in a trade agreement's ​"rule of ori­gin" chap­ter. The deal also caps tar­iff-free imports of Mex­i­can-made cars at 2.4 mil­lion per year, which may also move production.
Glob­al trade experts are shocked that this may raise the price of cars for con­sumers, but this is a peren­ni­al com­plaint, that giv­ing work­ers a liv­ing wage is just too bur­den­some to com­pa­nies. Giv­en the spike in cor­po­rate prof­its as a share of over­all wealth, a work­er back­stop isn't the end of the world. But only auto work­ers can access such a back­stop in the new agree­ment. Oth­er U.S. and Mex­i­can man­u­fac­tur­ing work­ers are left out in the cold.
Labor stan­dards, and the miss­ing teeth: All North Amer­i­can work­ers, how­ev­er, would ben­e­fit from the new labor chap­ter. Mex­i­can ​"pro­tec­tion unions," set up before any­one is hired to lock in low wages, would be effec­tive­ly banned under the agree­ment. All Mex­i­can work­ers would have access to secret-bal­lot union elec­tions for bar­gain­ing and con­tracts. Union lead­ers are excit­ed about the prospect of using the trade deal to obtain valu­able rights for work­ers in Mexico.
How­ev­er, five U.S. union lead­ers not­ed in a state­ment that ​"there is more work that needs to be done to deliv­er the need­ed, real solu­tions to NAFTA's deeply ingrained flaws." Chief among their com­plaint is that the labor chap­ter doesn't have suf­fi­cient enforce­ment mech­a­nisms to ensure work­er rights. There's a his­to­ry of weak enforce­ment in NAF­TA when it comes to work­ers, and with­out leg­isla­tive guar­an­tees and active par­tic­i­pa­tion from all coun­tries involved, that's bound to con­tin­ue. That makes the pret­ty words in the labor chap­ter poten­tial­ly all but irrelevant.
Odds and ends: Cor­po­rate lob­by­ists will not go home emp­ty-hand­ed in this deal. Copy­right terms have been extend­ed from 50 to 75 years, a gift to intel­lec­tu­al prop­er­ty hold­ers like music and movie com­pa­nies. The dig­i­tal chap­ter may also include legal immu­ni­ty for Inter­net com­pa­nies that host ille­gal or pirat­ed con­tent; it's as yet unclear where that stands.
A gov­ern­ment dis­pute res­o­lu­tion mech­a­nism to pre­vent state sub­si­dies and ​"dump­ing" of low-cost exports has been removed, and while those cas­es could still be fought at the World Trade Orga­ni­za­tion, Cana­da has pre­vi­ous­ly called the faster NAF­TA-spe­cif­ic dis­pute res­o­lu­tion vital. Nego­tia­tors have expressed will­ing­ness to end the pro­tec­tion of the Cana­di­an dairy indus­try, with its 200 – 300 per­cent tar­iffs, in exchange for retain­ing dis­pute res­o­lu­tion, though Prime Min­is­ter Justin Trudeau quick­ly walked that back.
While the Unit­ed States was seek­ing a five-year ​"sun­set" of the entire agree­ment, the deal with Mex­i­co has a 16-year expi­ra­tion date, with the abil­i­ty to extend every six years. There's also no men­tion of cli­mate change in the agree­ment, some­thing Cana­da deeply sought.
All in all, it's a good heuris­tic to judge trade deals by how mad busi­ness lob­by­ists are about them, and judg­ing from the Busi­ness Roundtable's grum­blings, the rene­go­ti­a­tion has the poten­tial to be decent. Cor­po­rate pow­er is def­i­nite­ly weak­ened in key areas of the agree­ment. But you would have to believe that the Trump admin­is­tra­tion would be unique­ly attuned to the con­di­tions of Mex­i­can labor­ers to believe that work­ers will real­ly advance in this deal. There's not much his­to­ry to sug­gest such concern.