Instead of Watching Trump's Speech, Watch This 12 Year Old Eviscerate the Immigration Crackdown
Leah, whose parents are undocumented, slammed Trump's "evil" family separations.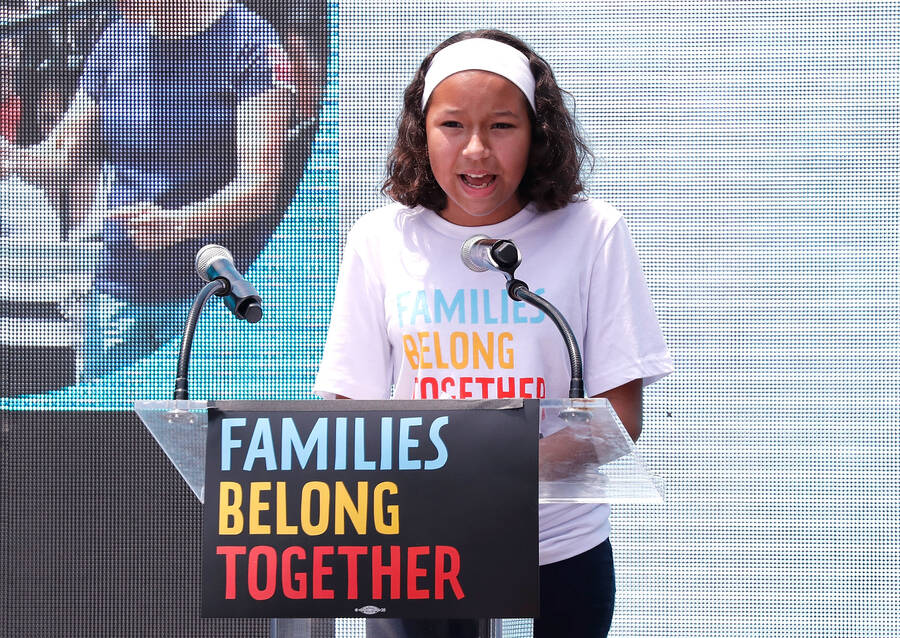 Pres­i­dent Don­ald Trump is slat­ed to give a nation­al address Tues­day at 9:00 p.m. east­ern time to dis­cuss, as he put it, ​"the Human­i­tar­i­an and Nation­al Secu­ri­ty cri­sis on our South­ern Border."
"Why don't they care about us children?"
But Leah, the daugh­ter of undoc­u­ment­ed par­ents, says the real human­i­tar­i­an cri­sis is the Trump administration's bru­tal sep­a­ra­tion of fam­i­lies — at the bor­der and through­out the country.
Leah, 12 years old when she addressed the ​"Fam­i­lies Belong Togeth­er" ral­ly in Wash­ing­ton, D.C. last June, iden­ti­fied her­self as the ​"proud daugh­ter of a domes­tic work­er who loves me very much."
"The gov­ern­ment is sep­a­rat­ing and detain­ing refugee par­ents and chil­dren at the bor­der who are look­ing for safe­ty," she told the cheer­ing crowd. ​"Our gov­ern­ment also con­tin­ues to sep­a­rate u.s. cit­i­zen chil­dren like me from their par­ents every day."
"This is evil," she con­tin­ued. ​"It needs to stop."
"Don't they have a fam­i­ly too?" Leah demand­ed. ​"Why don't they care about us children?"
The full speech can be viewed below.